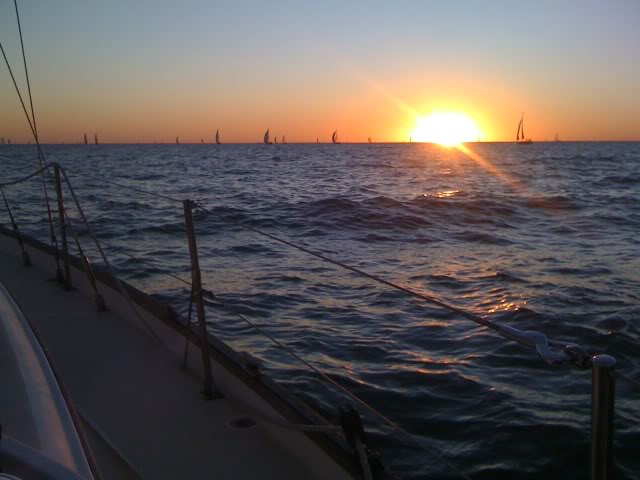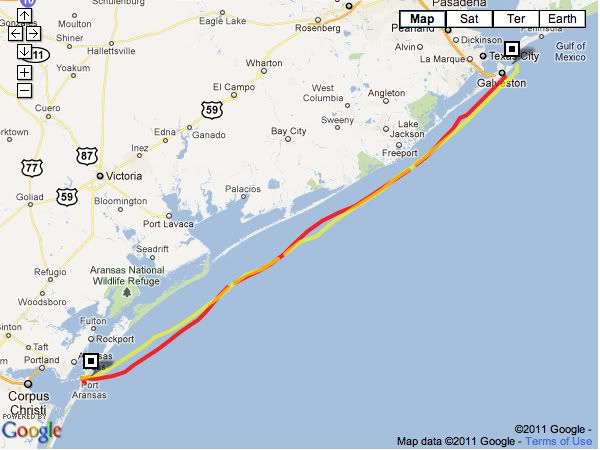 Our GPS track (red is the race, yellow is the return). Click image for actual Google Map.
PREFACE:
This past summer I was fortunate enough to crew in my very first ocean race, the "2011 Race to The Border" (See here for throwdown). Though our results for that one were less than stellar, I had a blast and was hoping to get the chance to do another famous Gulf of Mexico race, the "2011 Harvest Moon Regatta". It is one of the biggest regattas in the US in terms of participation, and presented the perfect opportunity for more offshore experience, which was priority #1. So I waited for "the call" from the previous skipper. And I waited…and waited…until two weeks before the race.
I was, of course, certain that this "oversight" was in no way a reflection on my lack of basic competency or hygiene…so I emailed the guy. Unfortunately, he had already booked his crew. Hmm. Maybe I did suck.
I took some solace in the fact that virtually none of the old crew was on his boat for this one. But that left me very little time to score a spot. So, I resorted to desperate measures…
THE SKIPPERS' MEETING HAIL-MARY:
After begging around the GBYC forum for the last remaining crew spots, I was told that my best chance was to essentially whore myself at the Skippers' Meeting the week before the race. I, of course, have no pride so I put on my game face and spray tan and headed east in my Cooper Mini for the Lakewood Yacht Club in Kemah.
After milling around a very unfamiliar crowd of taquito-munching hundreds and feeling like a complete goof (I'm not much on big crowds), I finally walked up to the woman in charge and told her I was extremely available…and cheap. She very kindly decided to throw me a bone and got up on stage and directed all available crew and in-need skippers to move to the corner of the room for some speed-dating.
It was me and one other guy. This wasn't looking good. However, that guy turned around and asked if I was crew or skipper. When I informed him I was the former, he shook my hand and introduced himself as Jim, the skipper of a Pearson 365 in need of one more. Ka-ching!
I spent the next seven seconds exhaustively regaling him with my racing CV, then hesitatingly responded in the affirmative when asked if I could be at his slip the next morning for a safety run-down and check sail. I had just driven 3-1/2 hours from Austin and was intending to drive back that night (i.e. – no gear, no extra clothes, nothing). But I figured I'd better step-up if I was going to inspire any confidence with this guy. So, I left him with a firm handshake, found a skanky hotel up the road and had a couple of beers while watching a fascinating documentary about the Honey Badger. Then I drifted off to soothing sounds of gunfire and spousal abuse.
THE CHECK SAIL:
I arose at the crack of 10 the next morning and headed over to MickeyD's for the famous #3 breakfast combo. Then it was off to the Houston Yacht Club for the check sail. After wandering the docks, I finally found the slip and headed down for my first view of the S/V "Blame It On Buffett"…a really, really well-maintained and well-equipped Pearson 365 Ketch. My confidence in this skipper was building by the moment. Here's her glory shot…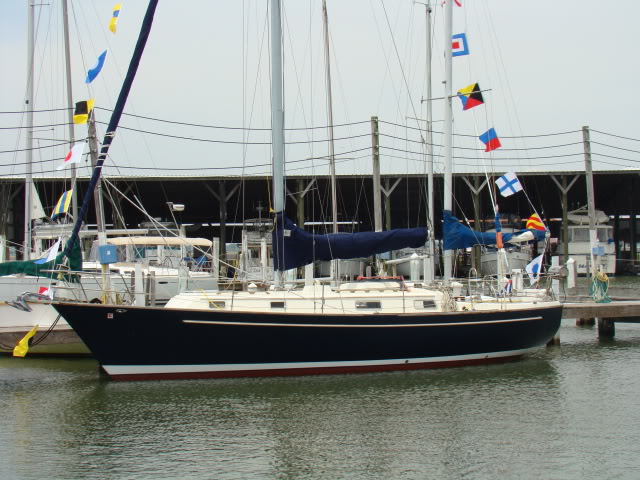 Now, as you'd imagine, there's quite a story behind S/V Blame It On Buffett. She had been neglected for several years and was about to fall victim to the chainsaw when Jim found her. Her bilge was full of oil and water, covering the cabin sole, her engine was shot, interior trashed, she was a complete basket case. But, he bought her and spent 3 years and a good deal of juice bringing her back to what you see above. Pristine. Then came the name…
One of Jim's favorite musicians, besides Jimmy Buffett, is a guy who sings a lot about…Jimmy Buffett. That guy is the up-and-coming musician, Kelly McGuire. And one of his most popular songs on the Texas/Florida/California/Caribbean/Mexico circuit is, you guessed it, "Blame It On Buffett". It's a song that kind of nails the sentiment of many a cruiser. It was a perfect fit. So, Jim named the boat, and Kelly came out to its christening.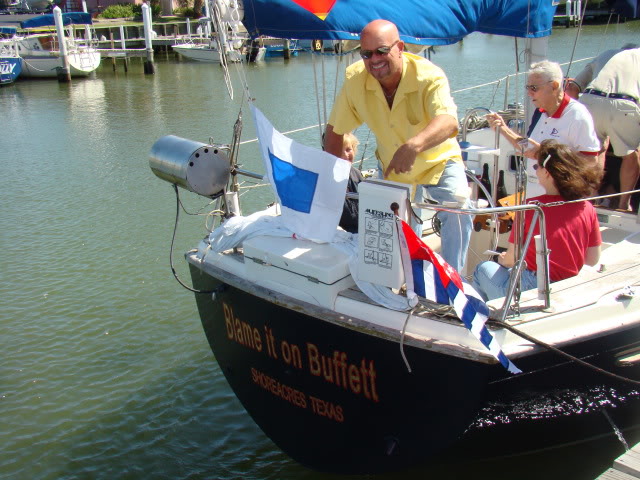 You can find out more about Kelly and his music HERE.
And you can see him performing "Blame It On Buffett" HERE.
Finally, it so happened that Kelly was playing the party at the end of the race. So it was one of those "Full Circle" things. Now, back to the check sail…
In the cockpit were Jim and a wonderfully attractive and able sailing chick named Riddhi. Things were looking up. Soon another two of the crew showed up. One of them was a wonderfully attractive and able sailing chick named Ginny. Yes, things were indeed looking up. The other was a dude named Dan…and, well, he was a dude. As we waited for the last crewmember, Maarten, to show…Jim walked us through the ample safety equipment and features of the boat, as well as a run-through of all the critical systems. I realized how lucky I was to be on this boat. Jim was seriously squared-away and, judging by the fact that he was a US Sailing judge and a high-up in the Power Squadron organization, he knew exactly what he was doing. I was going to learn a lot on this run. And this is always my main objective.
Maarten never showed, so Jim ran us through some basic navigation using these strange paper charts and pointy things…all of which completely mystified me. I really need to study some of this old-timey stuff. Chartplotters are just so easy! Then it was time to cast off the lines and put this Pearson through its paces. We spent the afternoon practicing reefing and helming heads-down on a set compass heading. The wind was fairly fresh, kicking up to about 22 knots. And even with a double reefed main and 140 flying, we still managed to peg 8 knots SOG! Not bad for a "4KSB", eh?
It was about this time that we had our first emergency…a HOB. We immediately executed a crash tack into a heave-to and stopped about a boat length from the victim. Kind of awesome. But it quickly became clear that the the skipper's hat was either unconscious, or completely unwilling to swim back to the boat. It just floated there like a….hat…as we quickly drifted away. Not even the Life Sling was going to be of use. We, therefore, fell off and came back around at full speed. I was on the foredeck with the boathook when I spotted the victim 50 yards off the port bow, just barely keeping his little bill above surface of the sea. We were running out of time. And he was counting on us.
Jim steered the boat toward the victim as I readied the hook. Trying to judge the wave/current action as we approached, I called for Jim to fall off a couple of degrees to starboard. He asked if I was sure. I said yes. And this was just enough to ensure the hat's doom as we passed about 3 feet too far away for me to snag it. Not as awesome. As the poor hat slipped beneath the waves to its eternal reward, Riddhi assured me that she would not be going overboard while I was on watch.
Dan, Ginny and Riddhi proved themselves to be great crew. We worked well together – and Jim did a great job of managing everyone. As we pulled back into the marina, followed by a dismasted Laser or two just finishing up an obviously sporty Nationals race, we knew we were in for a fun ride on this trip.
I drove back to Austin a very happy dude.
THE PRE-RACE MEET-UP:
The following Wednesday afternoon I drove back to Kemah and stayed at a buddy's condo on the lake. After a round of ribeyes, scotch, and exquisitely mediocre live music at T-Bone Toms, we went back to the condo for some of the finest entertainment YouTube had to offer… YachtRock, I'm On A Boat, and Benny Lava. I was inspired and now ready to race.
I arrived early at about 0620. I didn't want to be late for this one. After a few minutes, up pulled Jim and Dan and we began loading the Buffett. Riddhi and Ginny soon showed up, along with Maarten and Jim's wife, Jo (who had the food…oh, the food…just wait).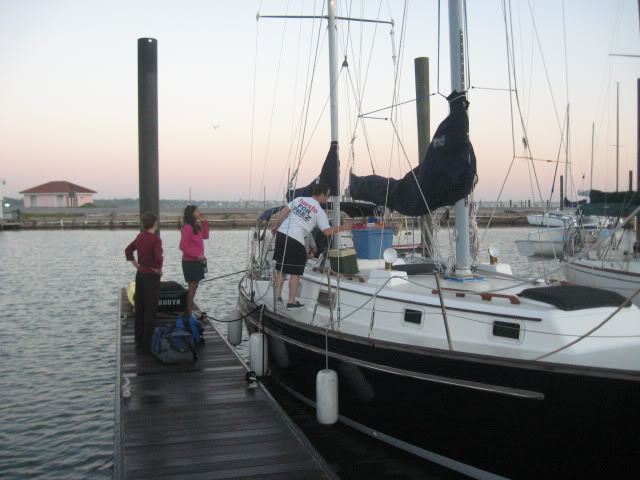 The loading went pretty quickly, and after a quick stop at the fuel dock to take on diesel and water, we began making our way out of the marina for the 3-hour trip across the freakin' huge Galveston Bay to the start position just outside the jetties. The wind was picking up into the high-teens. So things were looking promising. If we could hit that same 8 knots as in the test sail, this was going to be a very fast 150 miles.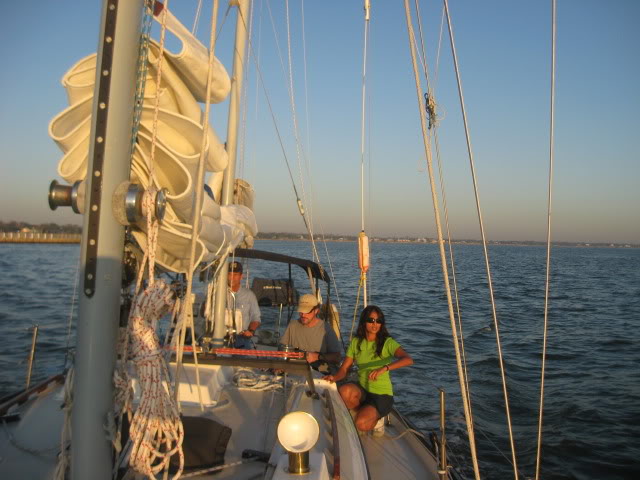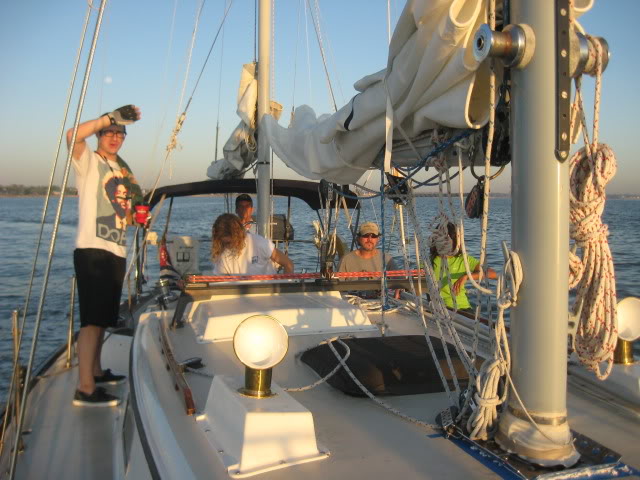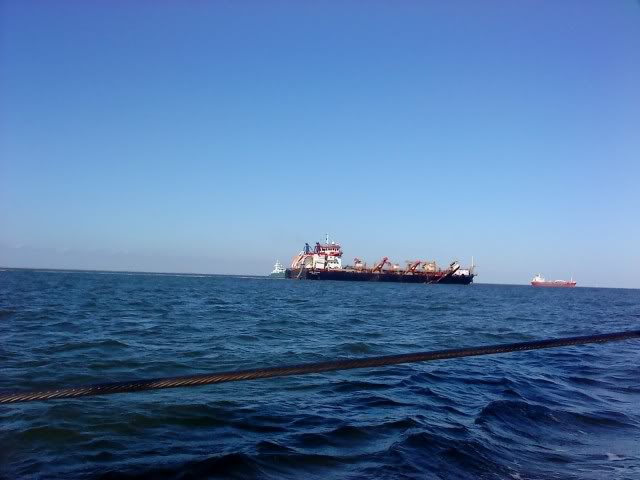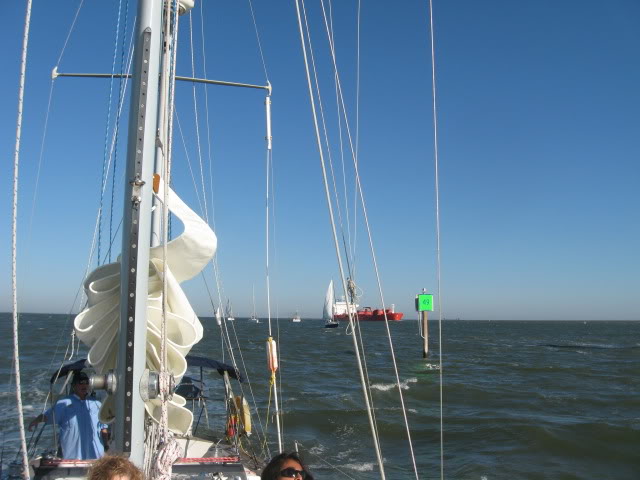 As we continue toward the start, now might be a good time to introduce the fine captain and crew of Blame It On Buffett.
First, there's Jim, the skipper. A very laid-back, confident, and gracious dude. I've already gone into some of his sailing background – but suffice to say, he's a great guy to crew for. Oh, you'll also notice a very cool hat on Jim's head. Yep, certified BFS Gear to replace the hat I'd allowed to drown. Let's just say he was overjoyed…as you can tell by the look on his face.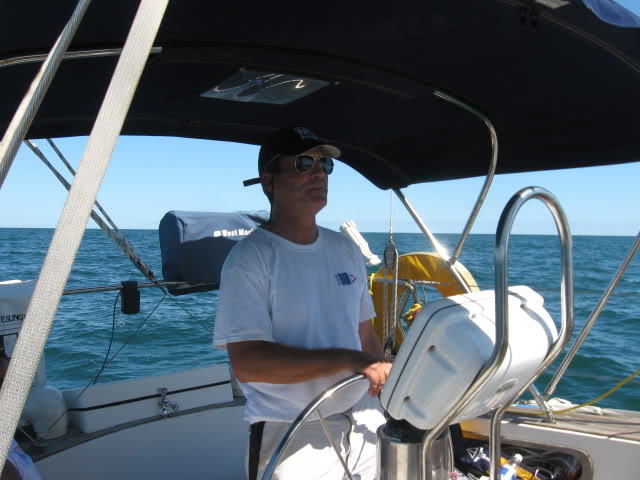 Then, there's second-in-command, Maarten. He usually runs these races skippering his own Alberg 37. And he wins…a lot. But he was not going to be able to do the return, so he scored this ride down with Jim. Two skippers on one boat isn't always the best situation…but this one worked out perfectly. Nobody had anything to prove. Everyone just wanted to sail. Again, we were lucky to have so much experience and knowledge aboard.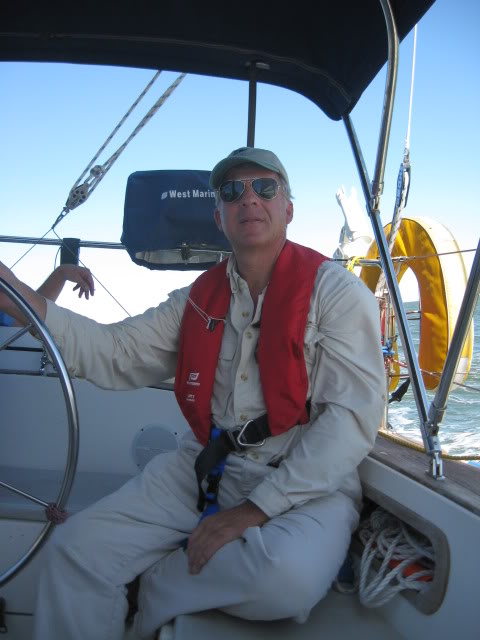 Next comes yours truly, decked out in full BFS regalia and ready to rock this thing.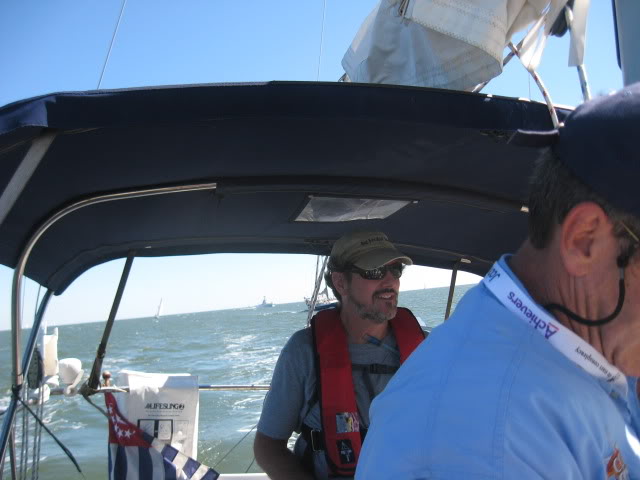 Then comes the lovely Riddhi, who turns out to be a monster trimmer/grinder. The chick can sail. But we'll get to that…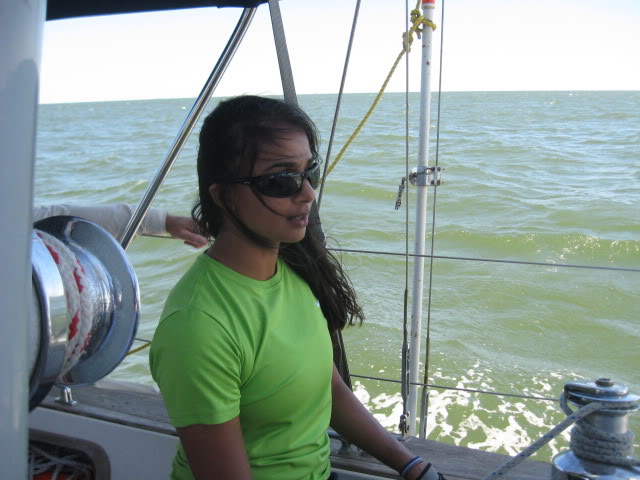 And then, the lovely Ginny, who can tackle just about anything that needs to be done on a racing boat. A tough sailor chick with a sharp wit. What more could you ask for?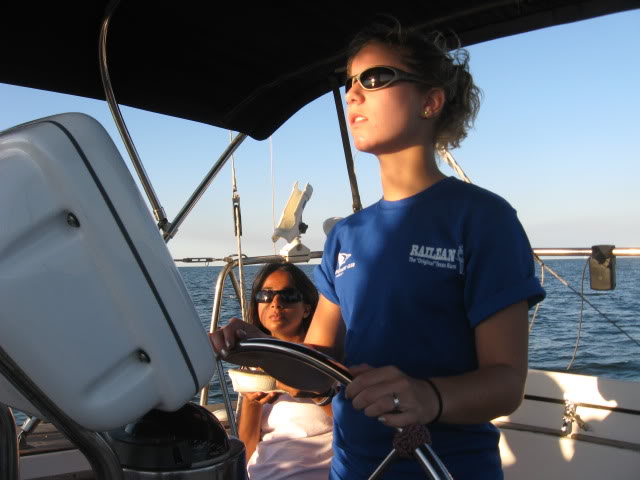 Finally, there's Dan. Not a lot of ocean racing experience, (this coming from the guy with only one ocean race under his belt…cough), but seriously gung-ho….and seriously smart. He had a good deal of experience racing Lasers on Lake Michigan – so there was very little learning curve.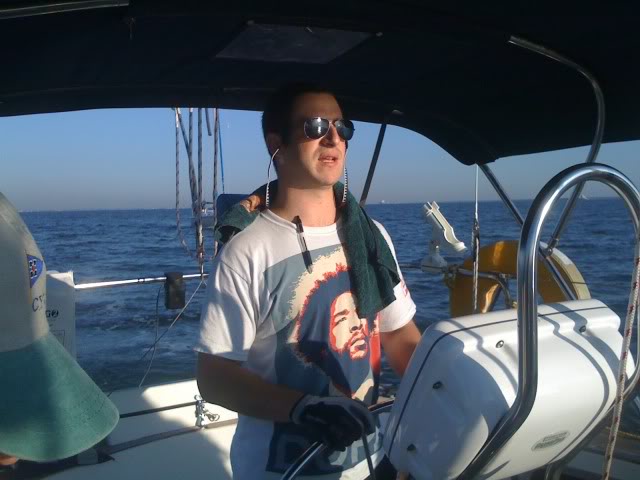 We continue on to the start of the 2011 Harvest Moon Regatta. We're provisioned. We're focused. We're on the foredeck cracking jokes. Ginny did not find them funny…which totally mystified me. I mean, who doesn't like blonde jokes? Oh. I see. My bad.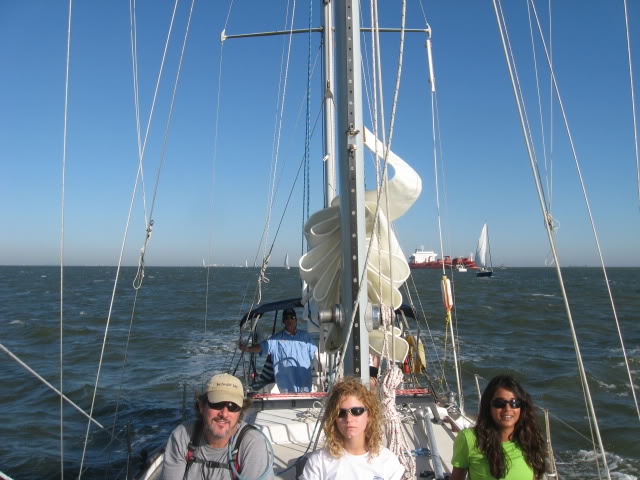 (Am I the luckiest guy in the ocean or what? Booyah!)
So, this boatload of beautiful people finally made it to the start…and got ready to kick it.
THE START & DAY ONE:
If you've read the account of my previous race, you'll recall that I pulled an over-wrap on the genny sheet just after the start right in the middle of the ship channel. That one cost us pretty dearly. I was determined to not make that mistake again.
Our class (Cruising Non-Spin Ketch) was set to hit the line at 1400. So we worked our way up into the box and began working our magic. Bear in mind that there were over 180 boats in this race so it was indeed crowded.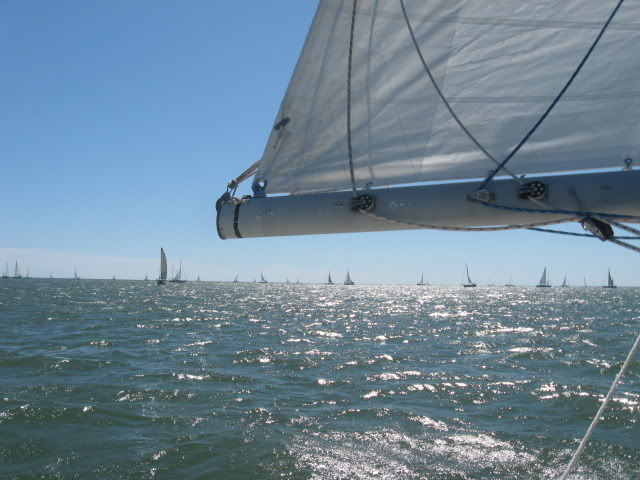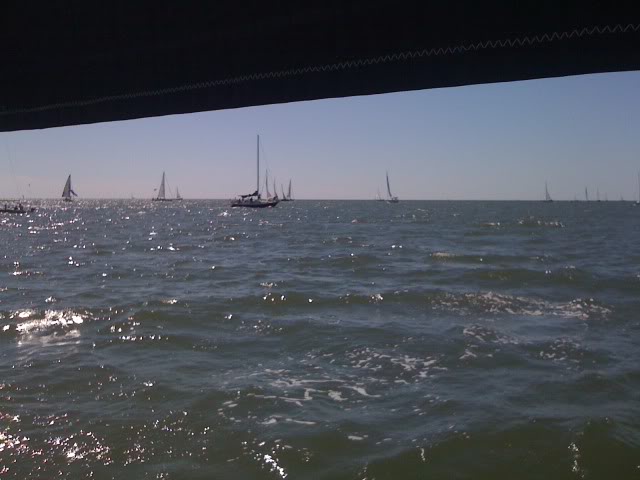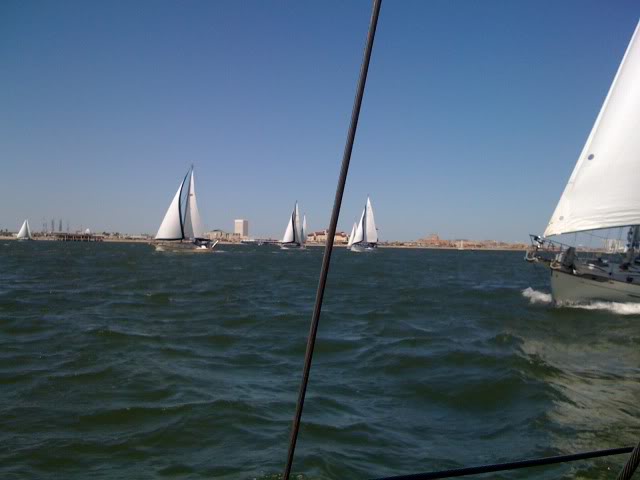 As Ginny and Maarten counted down, Riddhi and I pulled off several flawless tacks – not a single over-wrap. We were quite the team. The wind was coming straight out of the north at 20+, which was perfect for this boat. We were hitting a consistent 7+. Things were looking good. Jim took us up to the line at 5 minutes, then turned us back for 2 minutes to set up our sprint. At 2:30 we gybed back toward the line while Ginny and Maarten kept counting. Riddhi and I worked the sails at Jim's command to control our speed. Feather, harden-up, feather…10…9…8…we were getting really close to the line. It seemed we were going to jump it…harden it up!…3…2…1…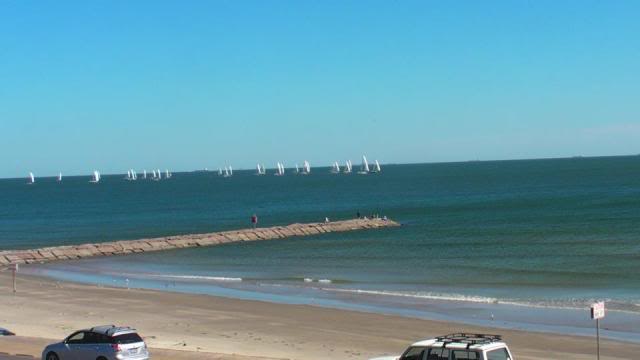 (We're the blue-hulled boat out front.)
We were first across. Literally. It had been about as perfect a start as you could ask for. Two bigger boats had been right beside us and were penalized for jumping it. Not us, we were on our way to Port A with nothing but ocean in front of us – and 180+ sailboats behind. It was a very beautiful thing…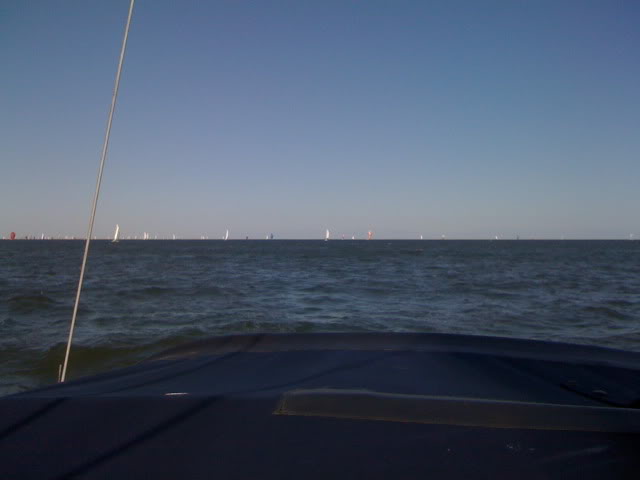 And the skipper was a happy man.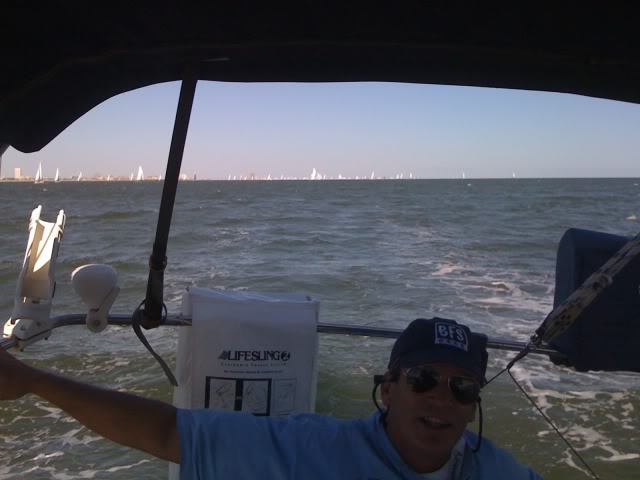 Of course, it didn't last for long as the bigger, faster boats and spin division dudes started catching us.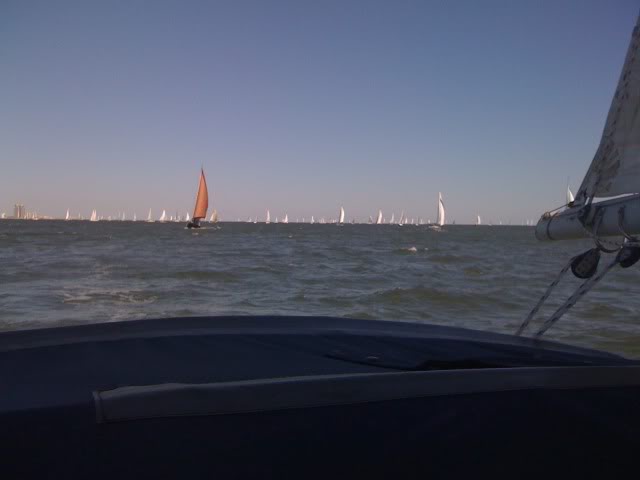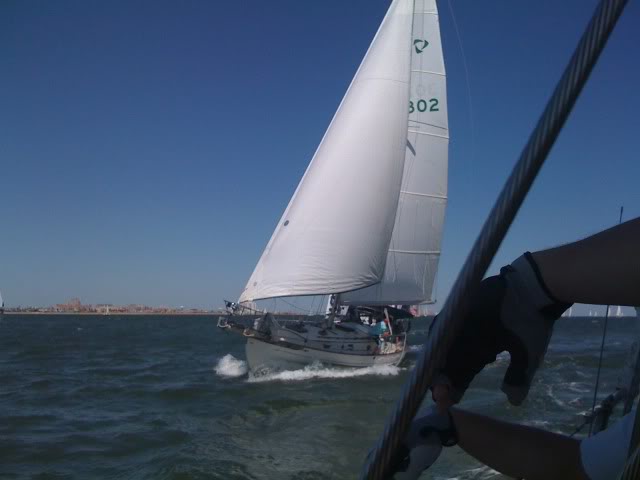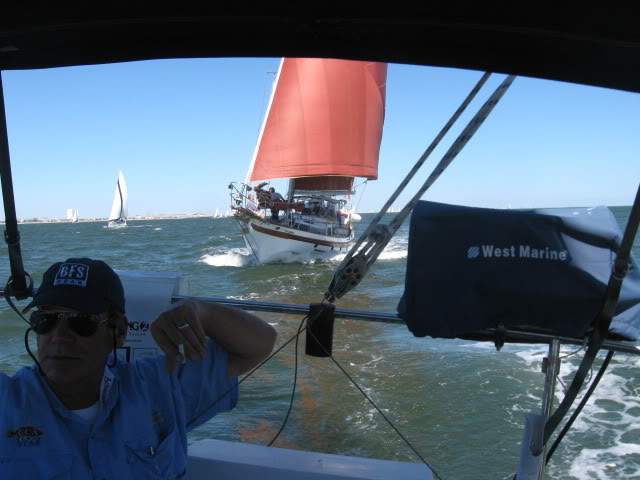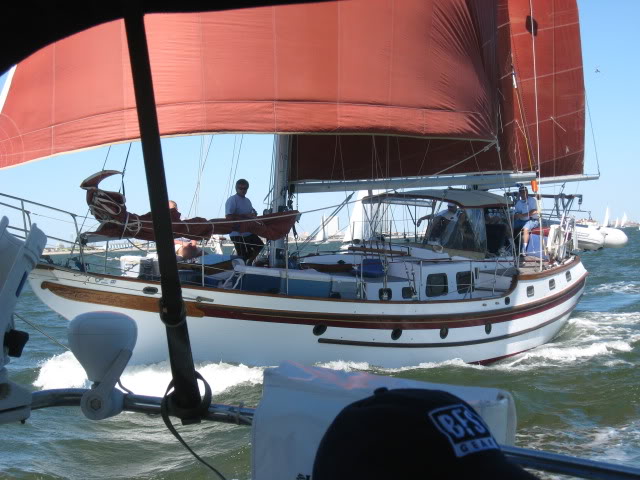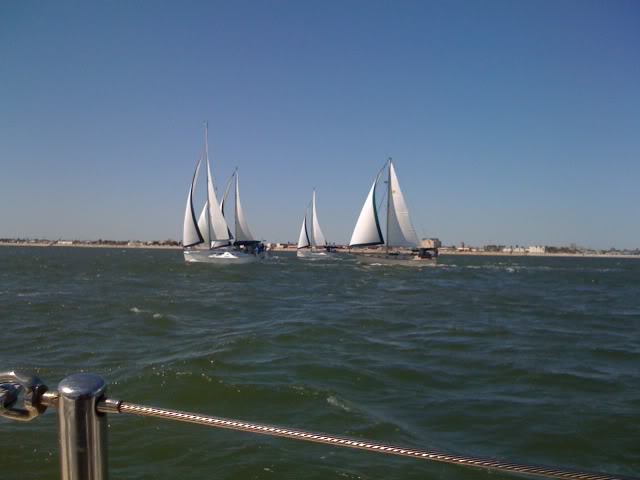 This, of course, put everyone in a very foul mood.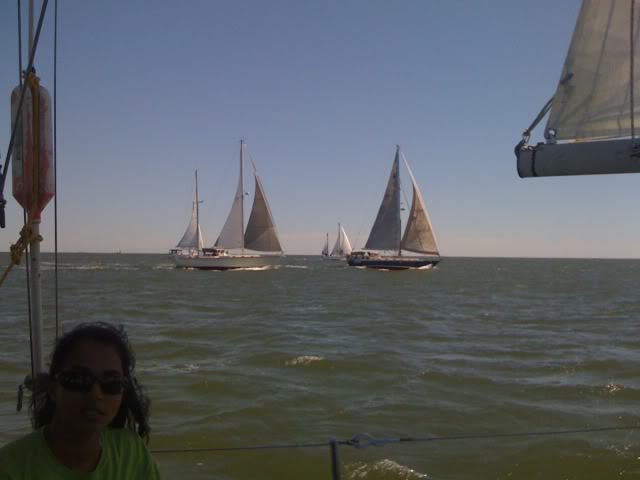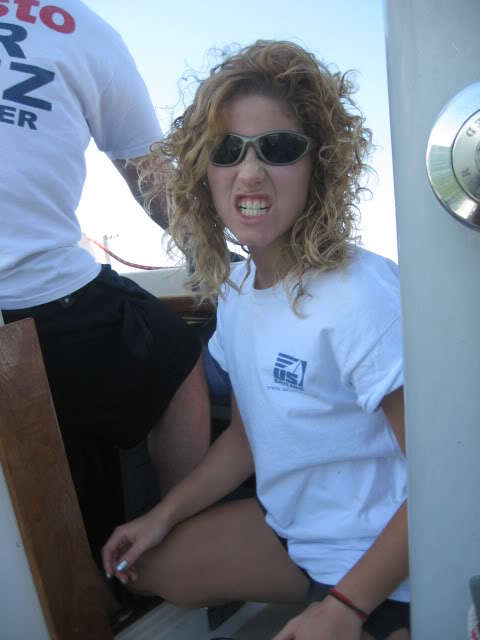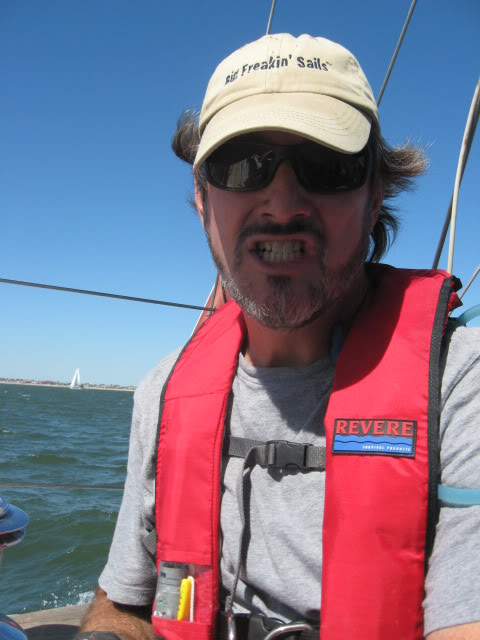 Except, of course, Maarten. He just decided to serenade the passing boats with the "Che gelida manina" aria from Puccini's "La Bohemme". The dude can sing.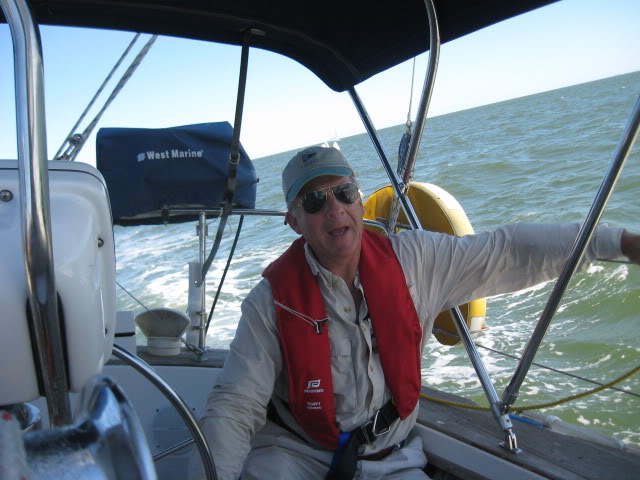 Then there was Jim. Despite getting passed by all the fast boats, we were still doing well in our division so he was just chillin'. An attitude I admire. It just makes you want to work that much harder for a skipper like that.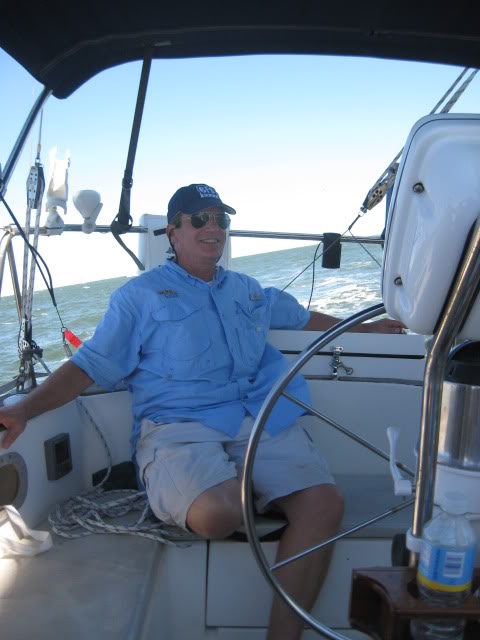 So, we settled into our groove. And as the sun began to set, we once again realized how incredibly awesome racing a yacht around the ocean can be. Freakin' brilliant.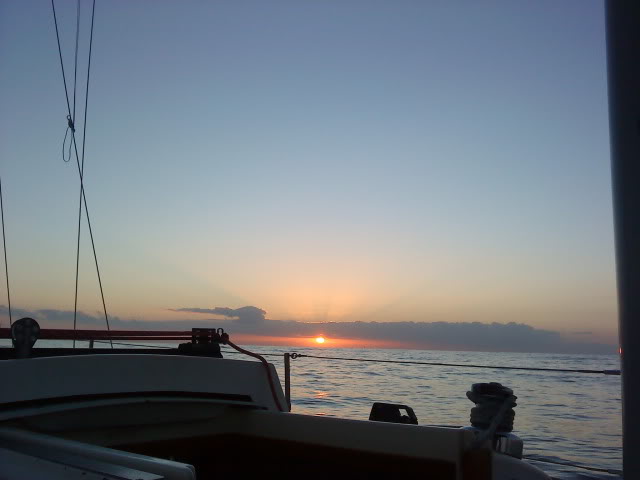 About this time, Jim disappeared below decks, then came back up with steaming bowls of dinner. We were eating piping hot Shrimp-Freakin'-Bisque baby! On the previous boat, we had been responsible for our own food. No big deal of course, but that meant cheese, crackers, fruit, jerky, snacks, etc…stuff you could put in a sandwich bag and not worry about. But this! THIS! This was like being on a freakin' cruise ship! Jim and Jo were definitely taking tremendous care of us. And we were very, very grateful.
I mean, does it get any better than great food, great company, and spinnakers flying into the sunset? Answer: No.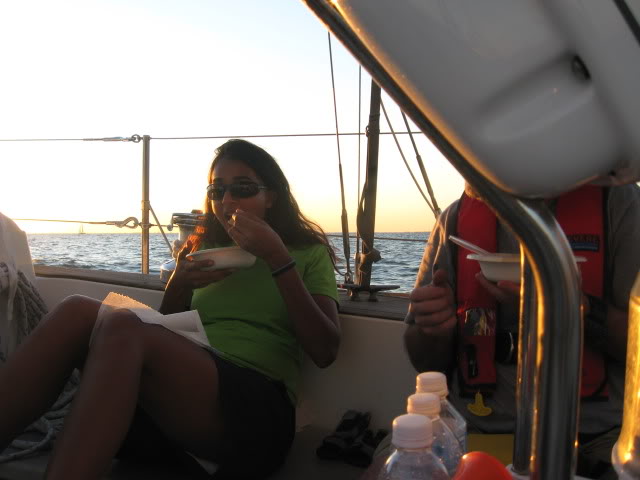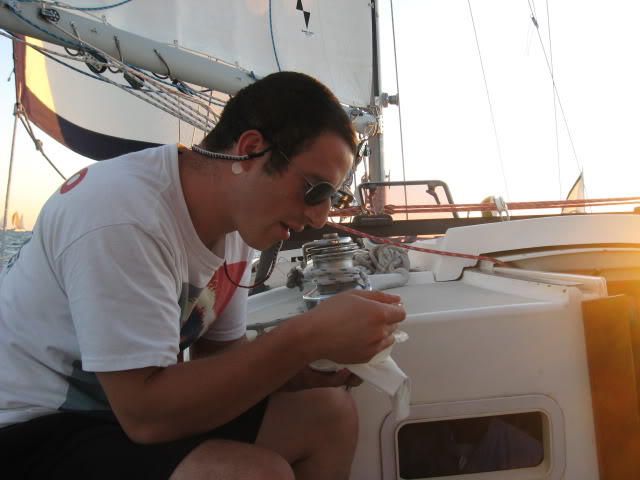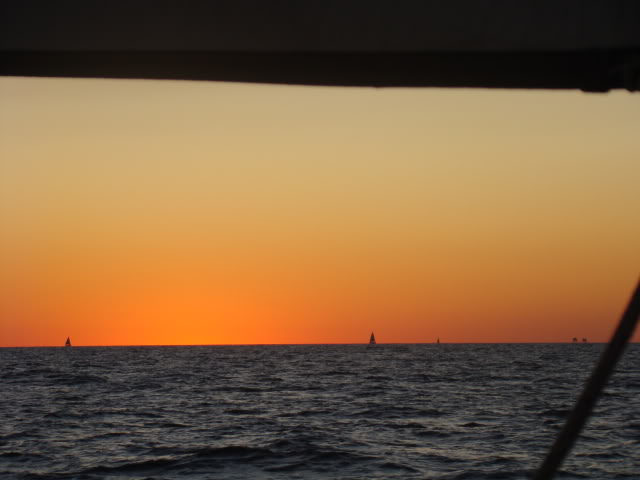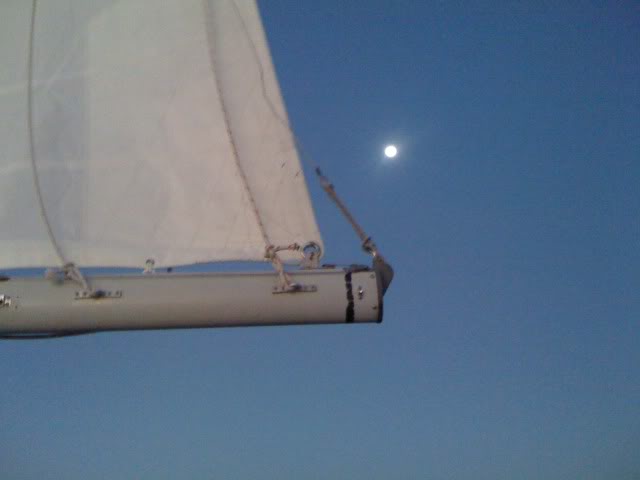 (The regatta's namesake.)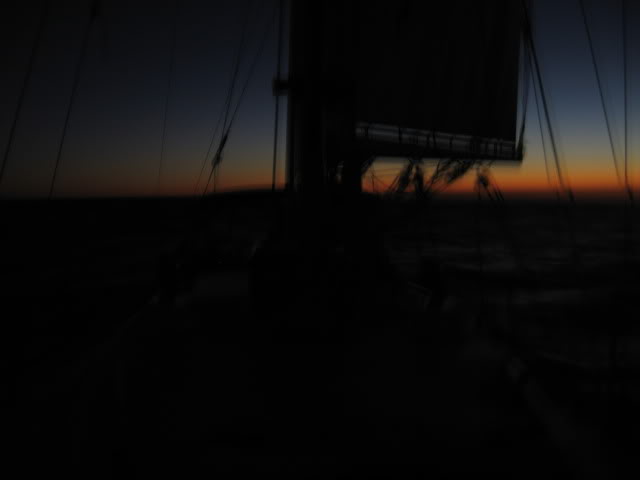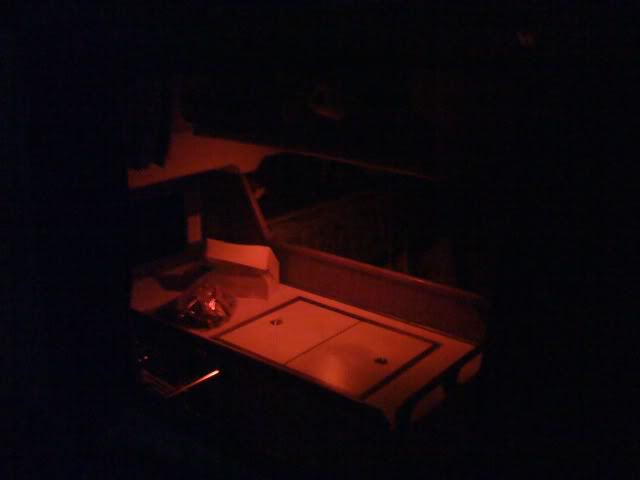 As the sun set, the wind began to shift to the east and die off. 12 knots, then 10, then 7. Crap. Not again! Just like the last race! Surely it would pick up in the morning. The last thing we needed was a dead-downwind run. These heavy cruising boats are known for being pigs on that particular point-of-sail…especially with no spinnaker. We still had just enough north to stay on a broad reach. So we kept our fingers crossed.
Jim had decided that we'd do 2-person, 4-hour sleep rotations. This meant 4-hours of sleep, then 8-hours on watch, then repeat. Maarten and Dan took the 3-7, then Riddhi and I headed below for the 7-11. Both settee bunks had been rigged with lee cloths – so we were each safe and cozy in our bunks.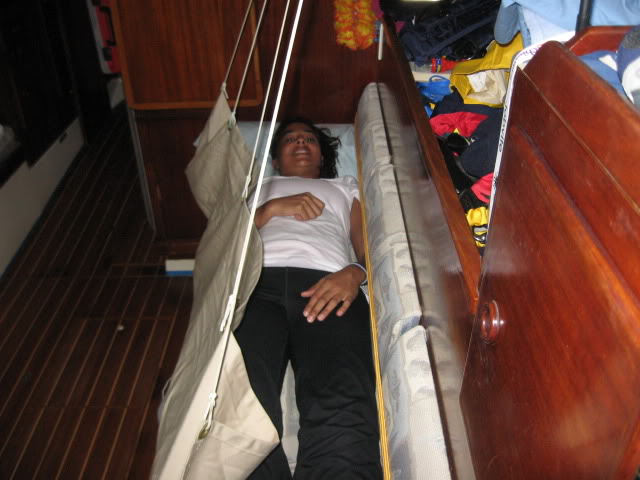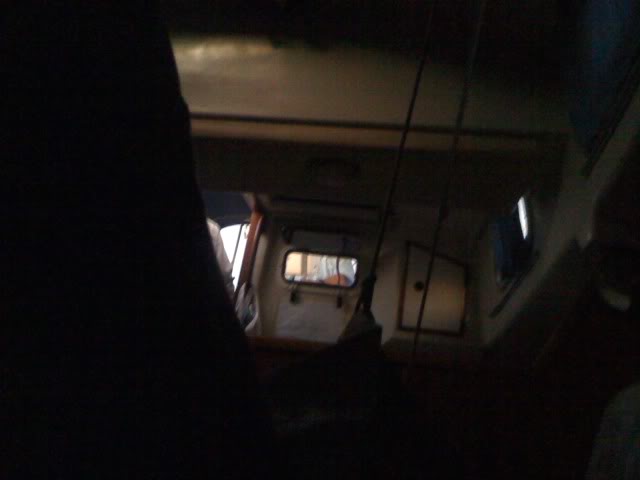 Buenos noches Day 1.
DAY 2:
The wind got worse through the night. We hit a brisk dawn on Friday morning with a very light 5 knots from directly behind us. Bummer.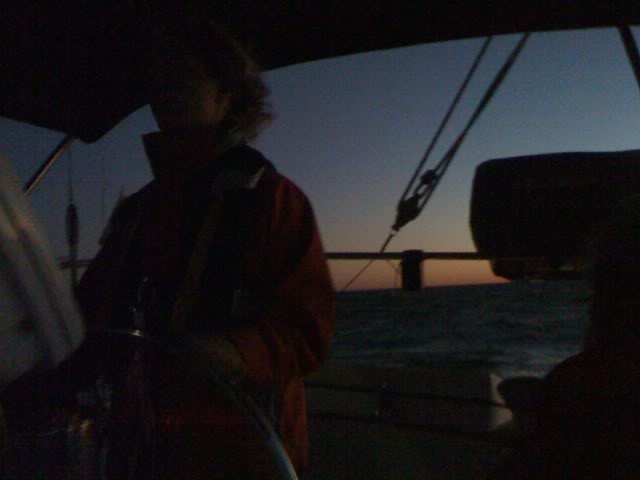 And though we still had a good number of boats behind us, they were steadily gaining on us.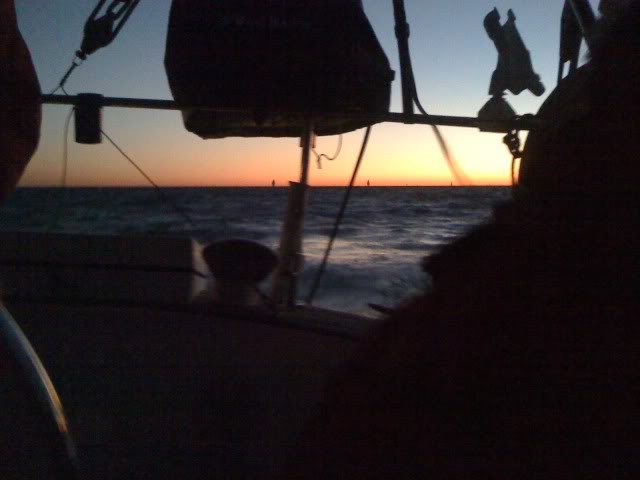 So we needed a more effective tactic. Time for the whisker pole and the good old wing-on-wing…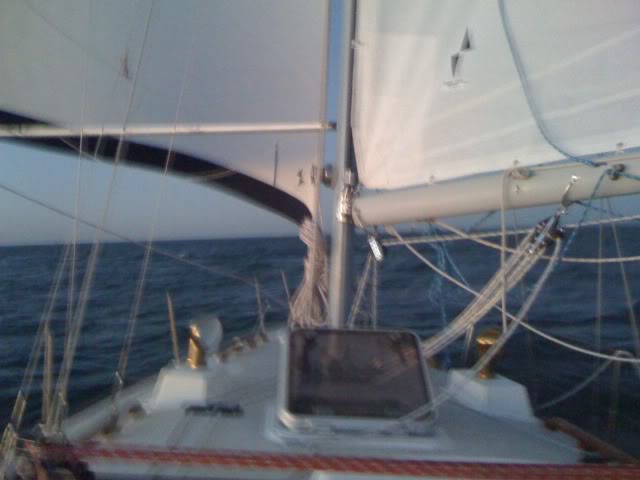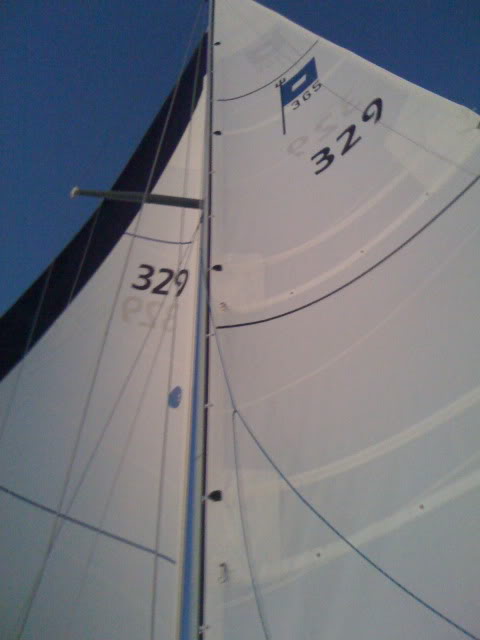 We were now making about 3-5 knots SOG. Excruciating. This was going to be a very long race if this kept up.
We were also starting to get into the oil rigs. Because we were further inshore on this race (no more than 15 miles out as opposed to 80 miles out on the last race), there were a lot more rigs. And, as we'd find out, a frightening number of those were unlit at night. But more on that later.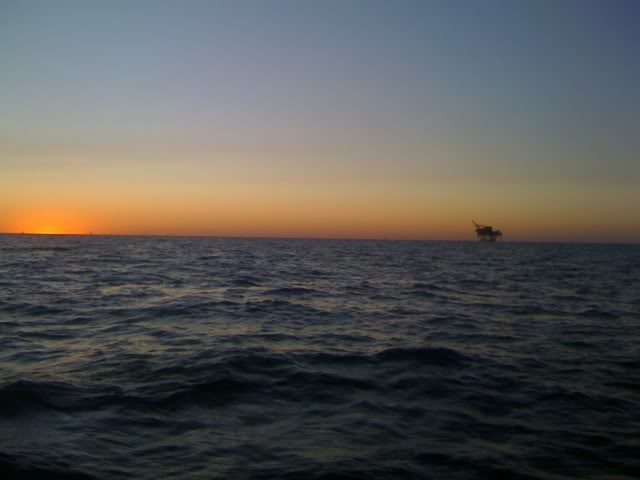 To me, the very worst type of sailing is light wind sailing. I know some people think it's cool…just not me. It's really hard to have a BFS in 5 knots of wind. Instead, you have rolly seas and flogging sails, incessantly driving you to keep trimming to try to figure out something, anything, to grab some wind. Then you have acute boredom mixed with an incessant desire to snack. It's just lame.
Not even Maarten's arias could cheer us up.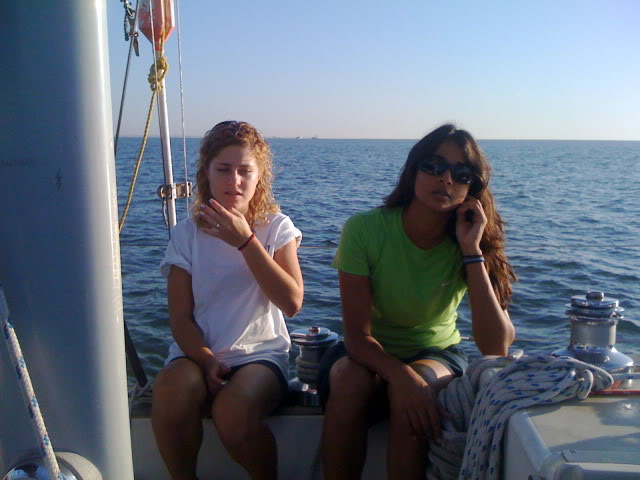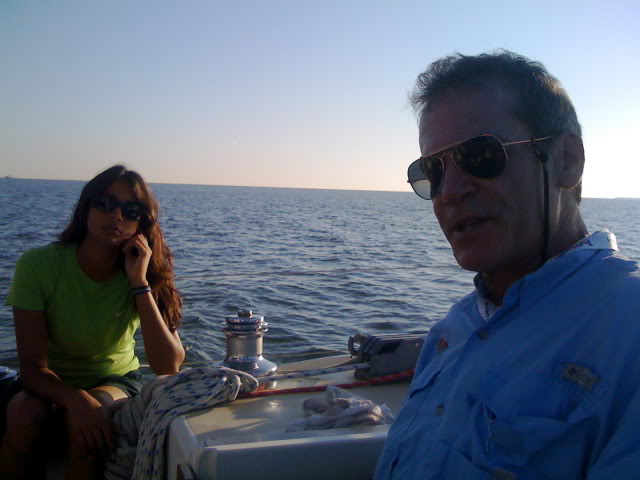 Our speed dropped to just over 2 knots. We were going to finish this damn race some time in the late spring at this rate. Our sails were trimmed and we had 5+ knots of wind, we just weren't moving. So there was obviously something else slowing us down. Maybe a crab-trap wrapped around the rudder? A wayward Gulf Kraken sucked-up onto Buffet's nice clean bottom? And then we saw them…those little bastards…slowing us down to a crawl. Not one…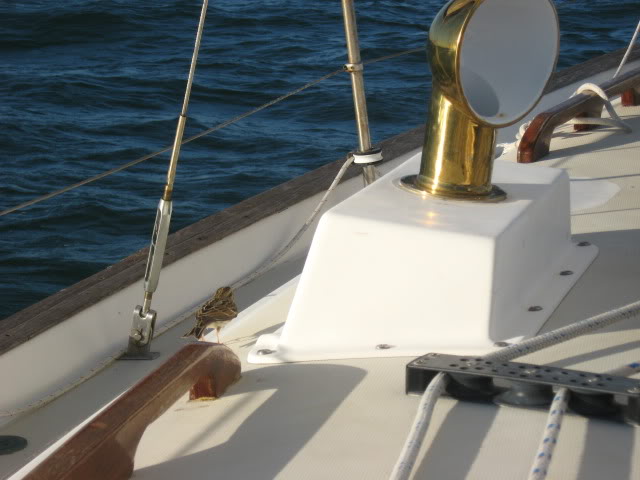 Not two…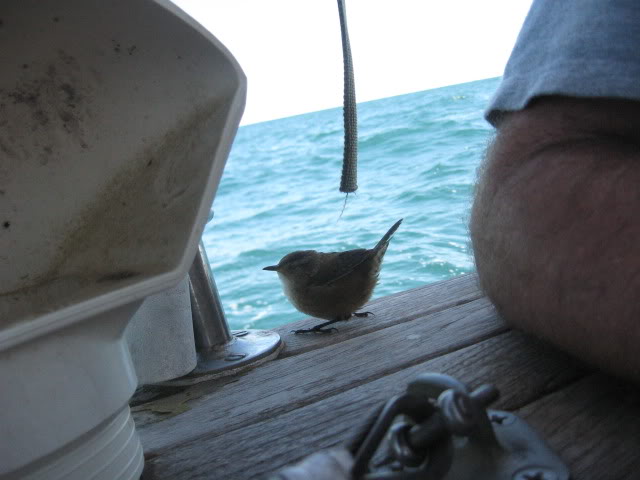 But three feathered stowaways creating a tremendous amount of drag! They were costing us this race damn it!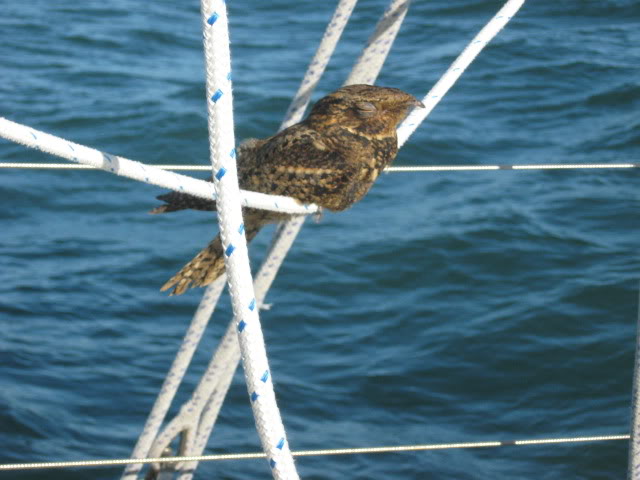 They had to go…and…well…it was dinner time you know. So we hatched a plan. Jim sneaked below and surreptitiously got the water boiling…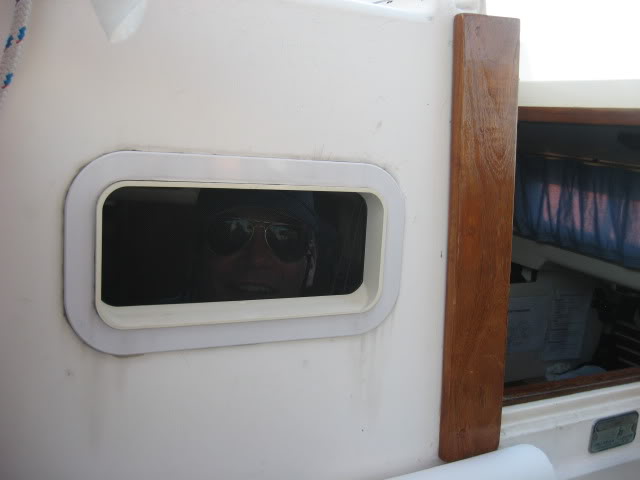 The rest of the crew then slowly eased to the back of the cockpit, careful not to disturb any of those cute furry bastards. Then, on the count of 3, we screamed in unison and waved our arms as Jim brought up the trusty Speed Mitt, smacking each one into the pot as it fluttered by. Three-for-three. The guy was definitely Golden Glove material.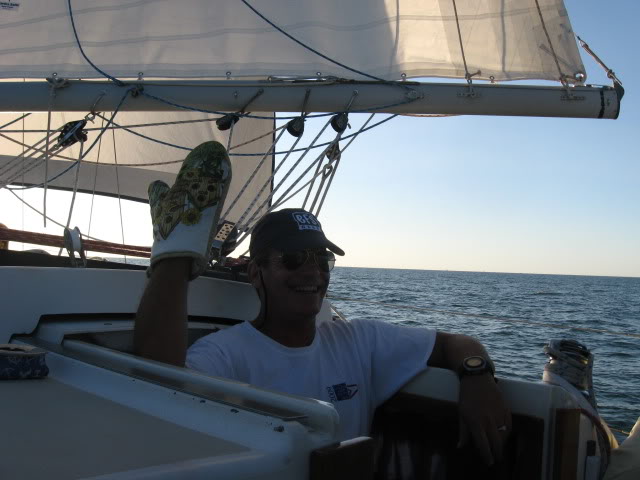 A little garlic. A little pepper. And soon…we were all enjoying a nice helping of Titmouse Tartar.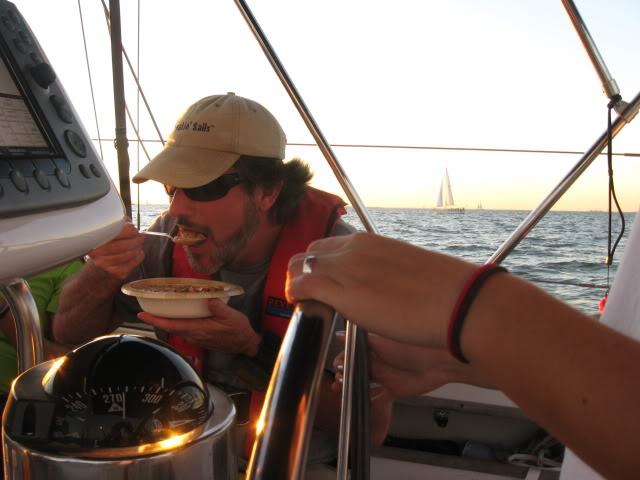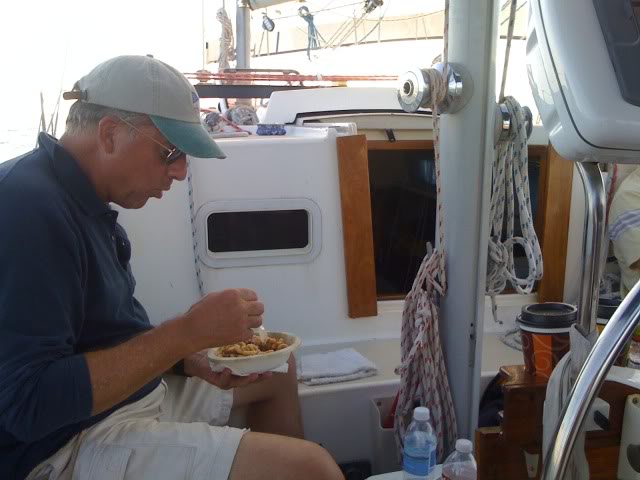 A fine meal indeed. Oh, and we picked up a knot. So the plan was a rousing success.
The sun was now setting on Day 2. If we could maintain this pace, we'd finish some time before dawn. Of course, we were now entering the worst section of oil rigs. And things were about to get crazy.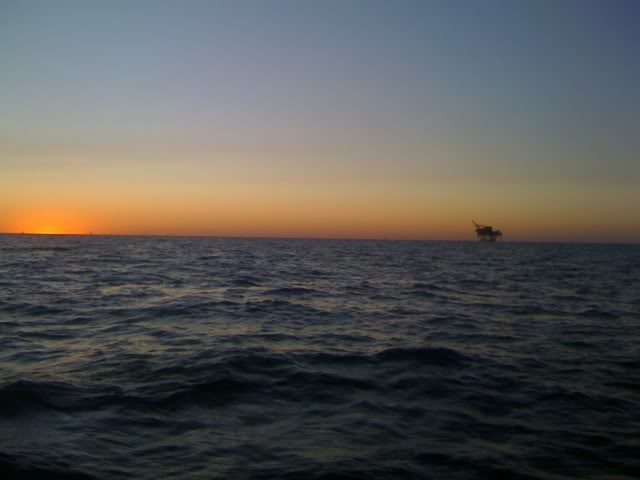 DAY 2.5:
The moon was waning, and rising later and later each night. So for the first few hours after sunset, it was pitch black. When a rig is well-lit, there is nothing to worry about. There are even rigs with audio tones blasting from them so that even if you can't see them, you can hear them.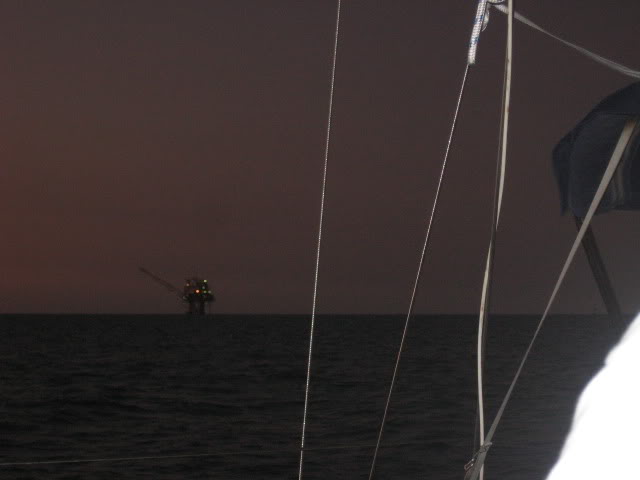 The problem, a very real and dangerous problem, comes with the vast number of unlit rigs and standpipes jutting up out of the water. Unless you have a bright moon, or some kind of light on the horizon, you can't see them. Period. That's when radar becomes critical. And, thank goodness, Jim had the toyz.
As we worked our way through the minefield using the radar, I asked Maarten why there were so many more unlit rigs closer to shore and he gave me the answer that should have been obvious before: less risk. See, it's cheaper to drill closer in and in shallower water. So more people tried it. The difference is that when a big company fails in an area, there's still a company – and they have resources to take care of the rig's safety requirements. When a small, struggling company comes up dry…they BK and walk, leaving the rig as it was. And there were TONS of these things.
See the field of rigs indicated on this section of the chart?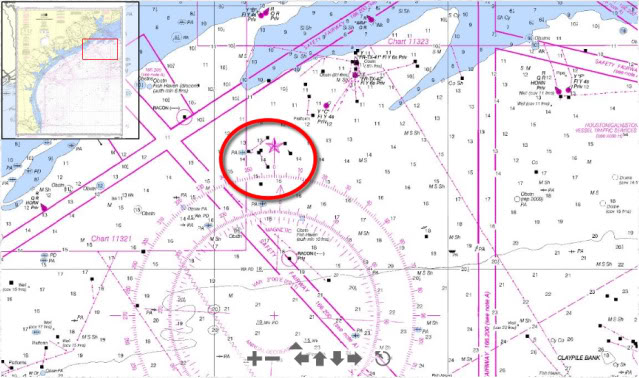 The whole area is dark…and surprisingly easy to run into on a black stormy night. It would be great if the CG had the resources to put lights on these things. We sailors would do the bake sale if they could make it happen.
I was beginning to see the very real utility of Maartens's lesson with the paper chart and pointy things. You need to know where this stuff is…and where you are in relation to it. Otherwise, things can go very bad. Of course, sometimes even that's not enough.
After several hours of straining into the black, we saw an old lit rig ahead of us. And about 150′ away was a fully lit shrimp boat…its bow pointed toward the rig. Though it was tempting to sail between the boat and the rig, thinking the shrimper might have his gear out behind him, something didn't feel right to Jim and he veered off and sailed behind the shrimp boat. Another sailboat to our port shot the gap…yelling to the shrimper "Do you have any shrimp?" as they cut through. At that very moment, they came to an abrupt halt as their keel snagged the shrimper's bow line tied to the rig. Ouch. The joke kind of evaporated at that point under the intense blue flame of cursing from the shrimper. Hard to blame the guy. The sailboat drifted over into the rig, dragging the shrimper with it, and tangled its shrouds, coming very near to a dismasting. Good call Jim.
In a few minutes, we heard that the same boat had also wrapped a sheet around its prop. Bad to worse. Oh well, at least they had a shrimp boat and an oil platform just a few feet away to offer assistance. Ouch.
We just kept on sailing.
In another few minutes, with beautiful moon behind us, I heard a large splash off our port quarter. I turned to look just as some large beastie, about the size of a man, jumped 6 feet out of the water and splashed again…then again….and again. I never got a good look at it, but it was big. A dolphin? A marlin? In any case, it kept leaping and leaping, moving away from us in the moonlit water. It made me wonder what exactly was down there feeding to scare up something of this size…shudder.
The wind was still painfully weak as the lights of Port Aransas came into view. For the past few hours, we had held steady at 3-4 knots SOG while hearing on the VHF boat after boat crossing the finish line ahead of us. We couldn't wait to make that call ourselves. We could smell it. We were just moving so SLOW!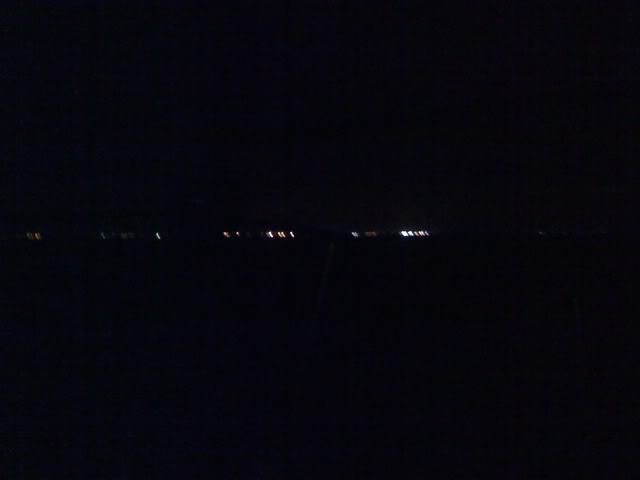 We just needed something to gain that edge…something to give us that extra push over the line. Not being able to use a spinnaker, we summoned the next best thing we'd found for velocity enhancement…The Speed Mitt.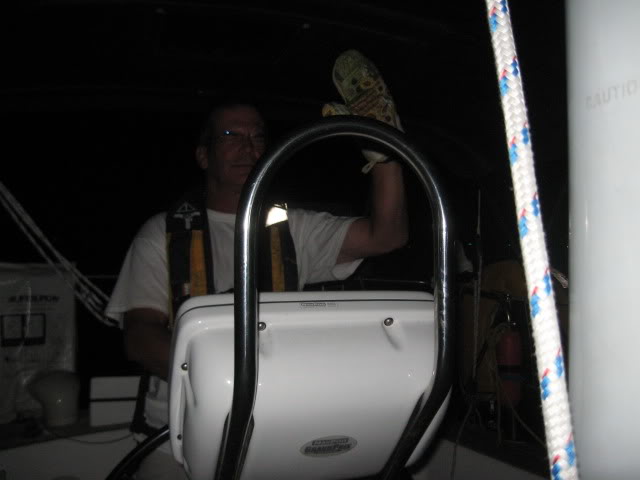 Within 30 seconds of Jim pulling out the Speed Mitt and meditating, the wind built to 15 knots (no joke)…and we were in business baby! We now had the magic key to big wind with only half-a-mile to go. Excitement built.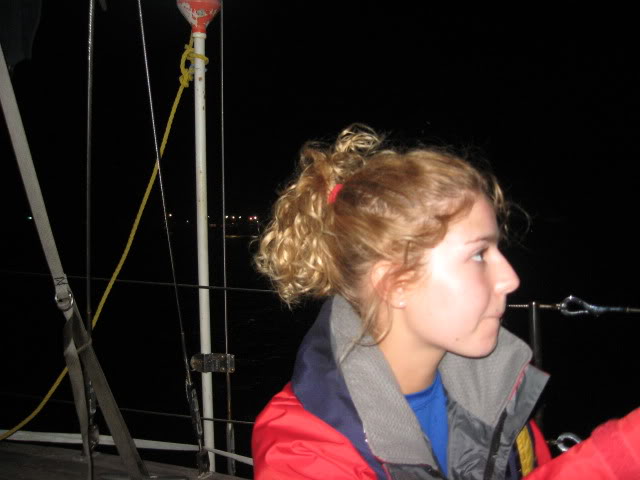 Then, in one last blaze of speed…we crossed the line with a corrected time of 26:57:57, putting us right in the middle of our fleet of 108 boats, and 6th of 8 in our division. Not great, but not bad.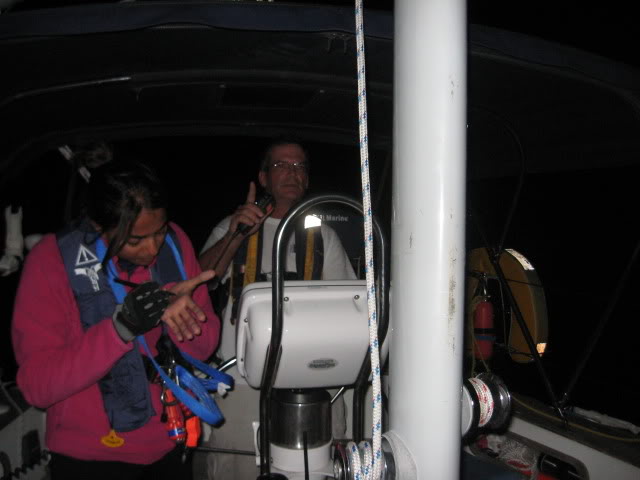 It had indeed been a hard-fought battle for mediocrity. Sure, we wanted to take the pickle dish, but light winds and heavy boats just don't usually go well together.
We pulled into our slip at around 0300 and popped the champagne (thanks Maarten!). These were some great people and this was a great race. Another one of the biggest adventures of my life. I felt pretty damn lucky.
To the Blame It On Buffet skipper and crew – and the 2011 HMR! Prost!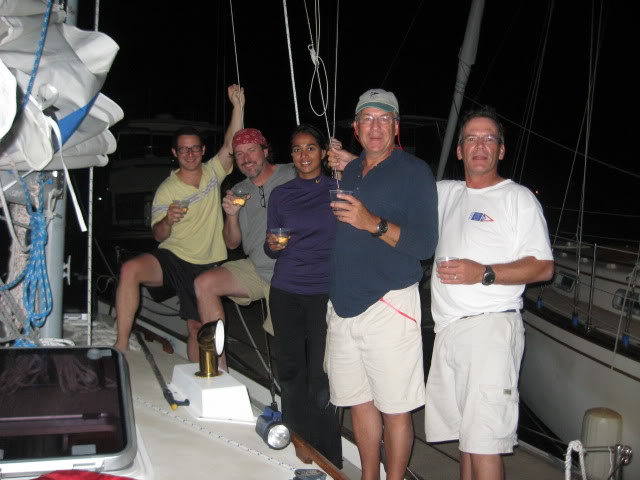 After a couple of toasts and some showers, Ginny, Riddhi and Maarten left for friends' houses while Jim, Dan and I lost consciousness on the boat.
I awoke at some unholy hour with a raging hangover (I had barely drunk a thing, but exhaustion and dehydration is always a good kicker for the booze). We cleaned up the boat, cleaned up ourselves, then headed over to the finish party.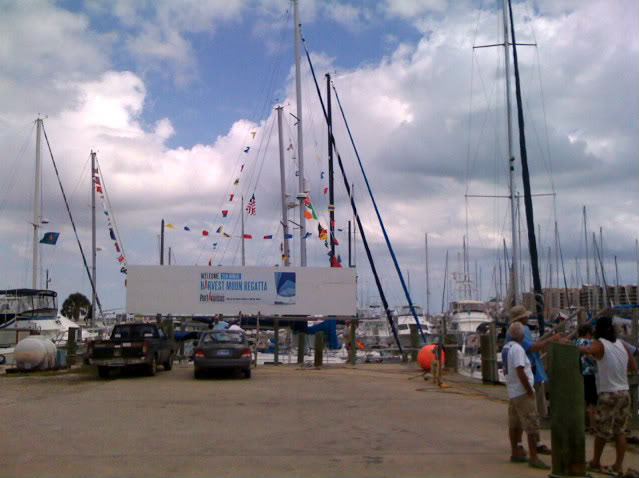 It was then that I realized how smart Jim had been getting a slip at another marina. This place was a madhouse, with over 150 boats crammed into a tiny marina. That means armies of sweaty, drunk people stumbling over your foredeck to get to their boat. Some people love that stuff. I ain't one of 'em. Yet again, a good skipper always thinks ahead.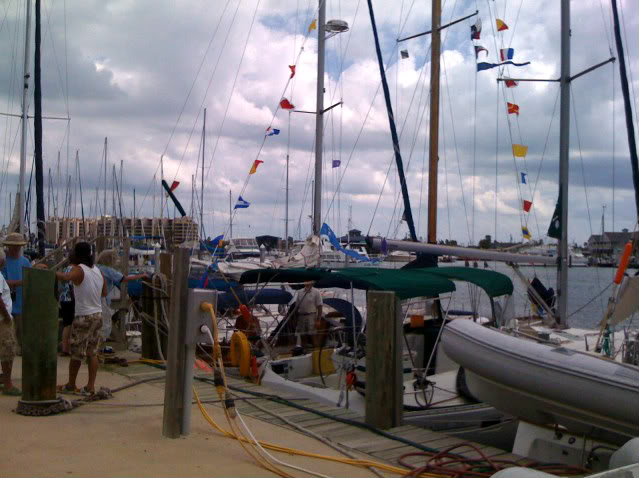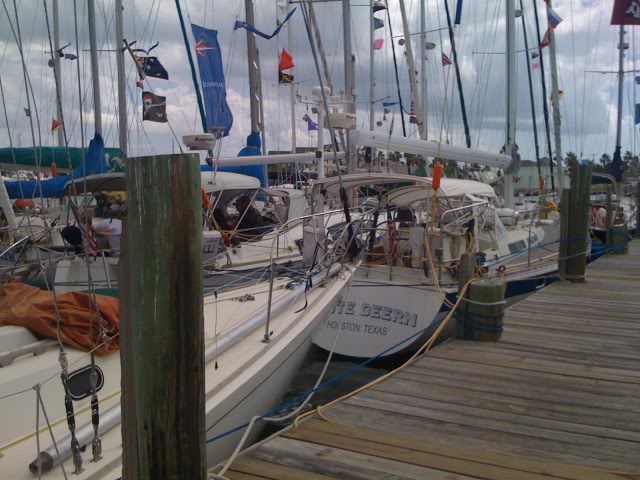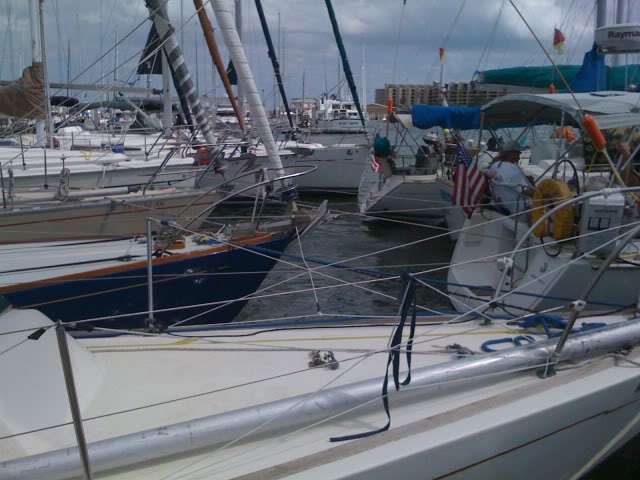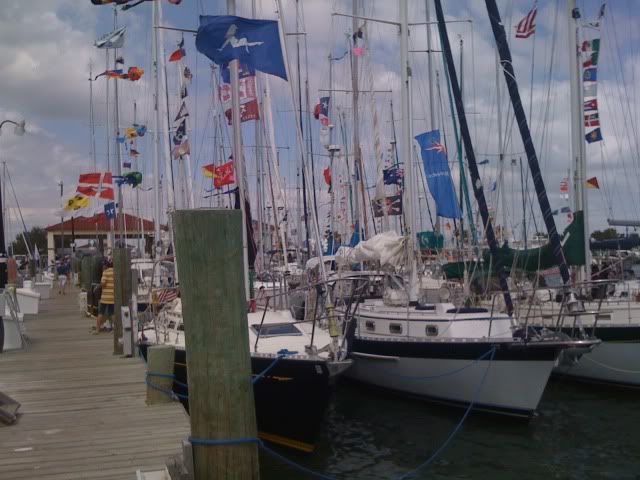 The BBQ was smokin', the booze was flowin'…and Kelly M was throwin' down the sailing music. Life was pretty good.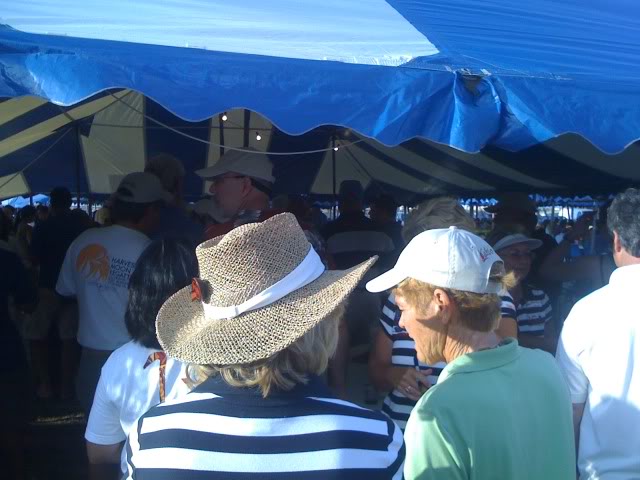 You'll also notice that the skipper and crew donned the mothership's tee…flashing The Colors for all to see. That's right. Pimpin' it baby.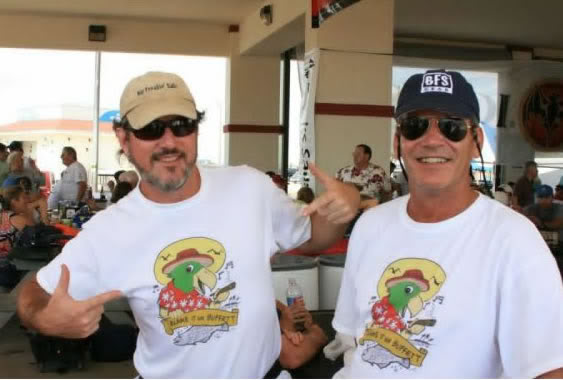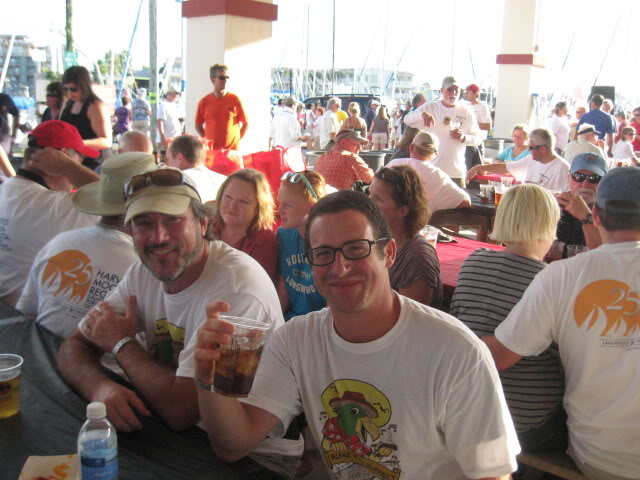 Then Maarten and his wife showed up flashing the BIOB colors…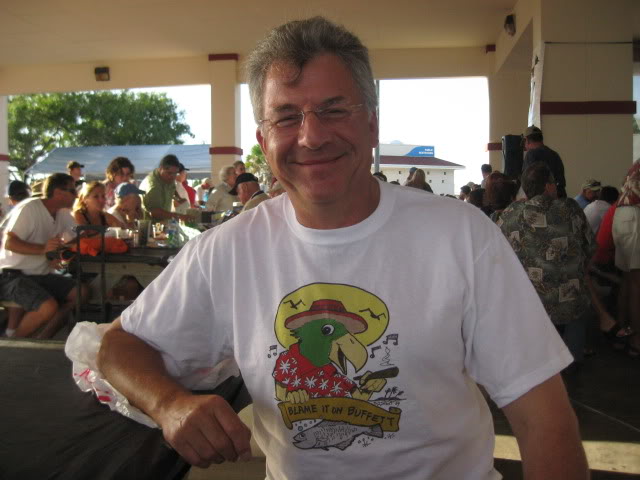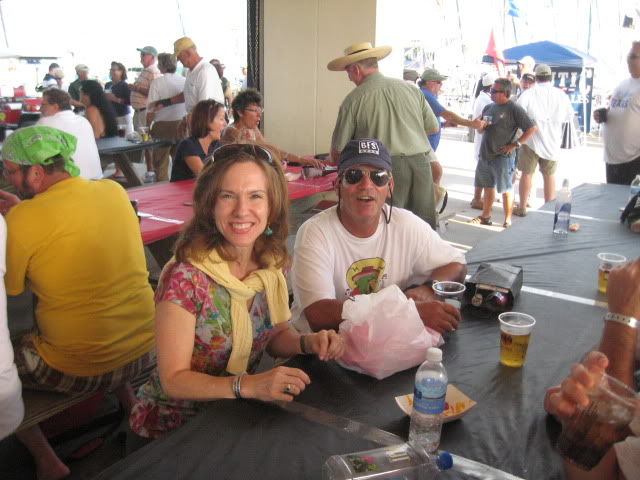 And finally came Riddhi, completing the posse…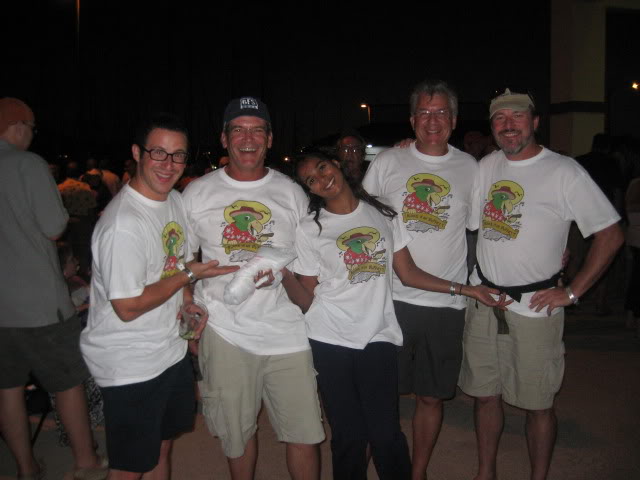 It was about this time that we noticed a gaggle of 4-5 seductively dressed, silicone laden, high-heeled ladies starting to work their way through the crowd. To that point, the only short-dressed tarts had been the fine, young Bacardi girls throwing shots of rum down everyone's gullets. Everyone else was in grungy sailing togs. But this new babe-bevy was strikingly different. Way blingier. The bar of skank had definitely been raised…or lowered…I don't know which way that really goes. In any case, it was clear that the 2011 HMR Finish Party had attracted its very own wave of hookers. Of course, I guess this place was actually a gold mine in that regard.
But, really, can you imagine some Viagra'd old dude ponying up for a half-n-half – then walking his prize back to his Valiant…ACROSS A FREAKIN' RAFT-UP? Seriously? High heels across 15 foredecks? Please. And she's going to keep her balance how? Do you run jack lines across all the boats for the hookers and give them black leather harnesses? And then what about the walk of shame 7 minutes later after your Valiant has been scratching up your neighbors' gelcoat? Hookers at a raft up. Freakin' brilliant.
We finally said good bye to Maarten, Ginny, and Riddhi, and called it a somewhat early night. We had to head back to Galveston as early as possible the next morning to beat a cold front that was coming down on us with some very big winds.
THE RETURN:
We left the marina at around 0900 and set sail for the 165 miles back to the marina. Inspired by our miraculous finish, Dan and I followed our skipper's lead to encourage the wind machine…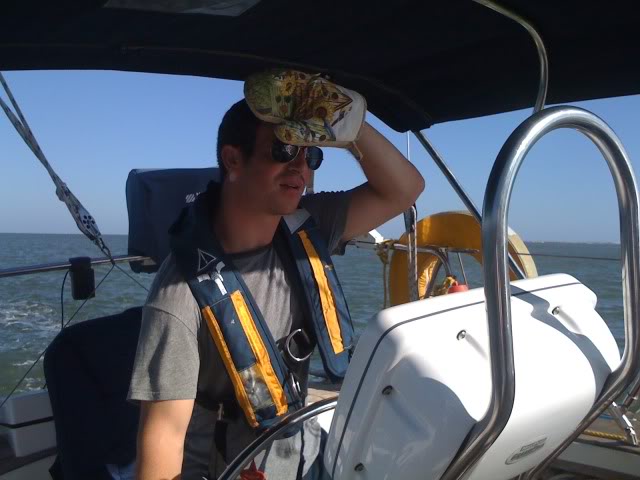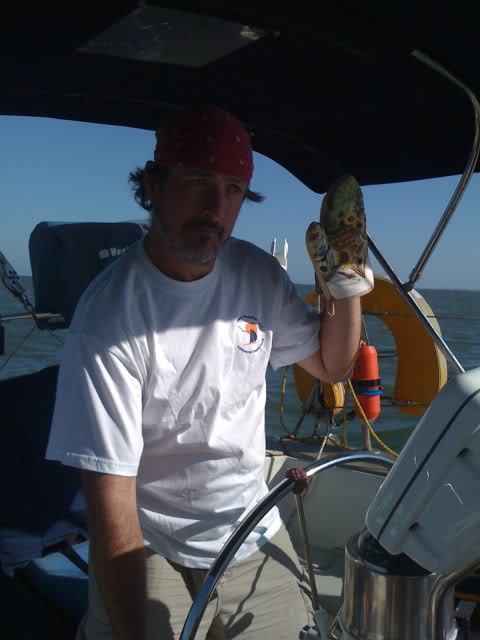 Worked like a freakin' charm! We had 10+ knots all the way home! I highly recommend the Speed Mitt technique. Maybe we should come up with an official "BFS Speed Mitt". Let me know what you guys think. I'll set up pre-ordering.
Speaking of critical gear…have you seen these babies???? Holy crap! That thing's like a La-Z-Boy for the cockpit! Super comfy…AND it holds your beer for you. I gotta get me one of these!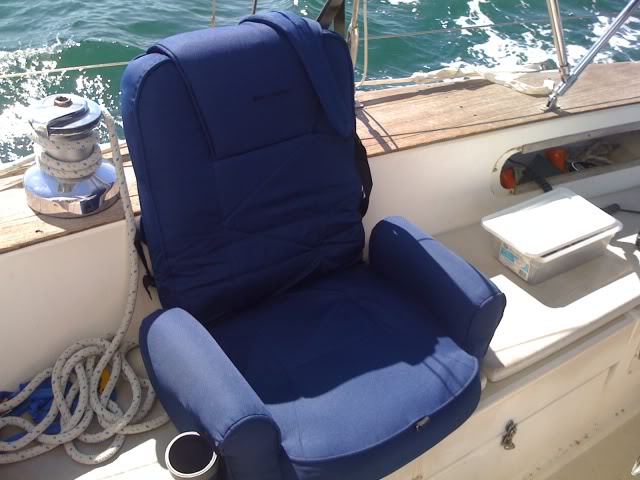 The other amazing, new-fangled device I discovered on this return was auto-pilot (or Otto). Holy crap does Otto make life easy or what!?!? On the last boat, you'll recall that we busted Otto all to pieces just as we were backing out of the slip. Not this time. I'm telling you, not having to stand at the wheel for hours on end, balancing yourself and the boat in rolly seas? Kinda nice. Don't get me wrong, I love hand-steering for a race…that's what makes it a race. But on the way home? Otto is The Man. It makes long passages with a small crew completely doable.
Even with the fresh breeze, because of the approaching front, Jim decided to keep us motorsailing so we could maintain 6+ knots. So it would be a noisy, yet fast ride home. And the perfect trolling speed for the two rods Jim put out earlier.
Right then…zzzzzzzzZZZZZZZZZZZ!!!
I was at the helm when one of those reels started screaming. Jim had made a rule that whoever was at the helm was the "owner" of the bounty – even though Jim was the only fisherman aboard. This gave us something to bet over…specifically the Triple Nickel (first, most, biggest). I had just won 10 cents my friends…and I wasn't even fishing.
After a short fight, we landed this beast. 36″ of pure King Mackerel.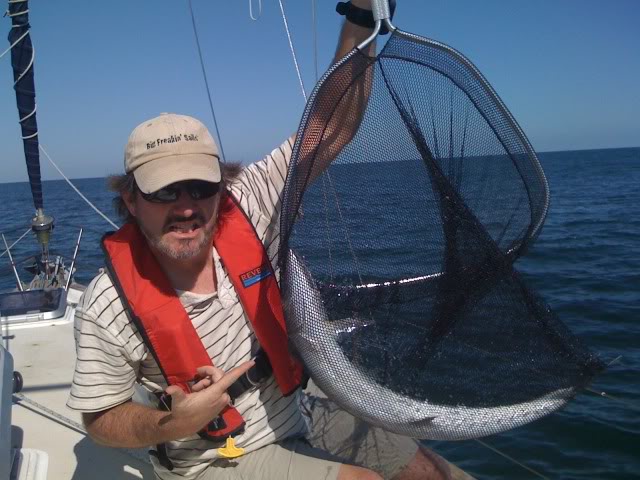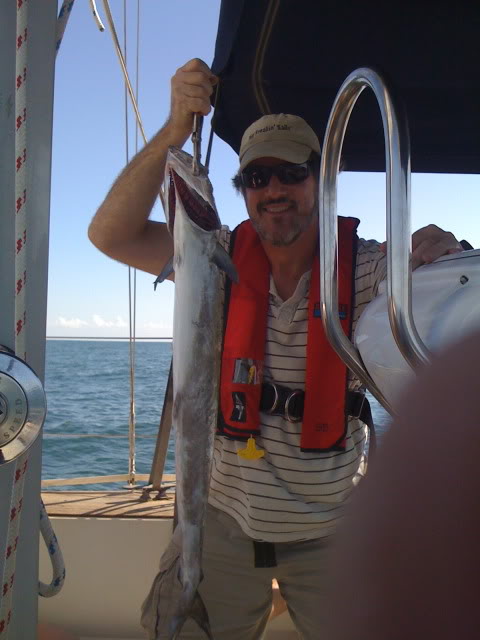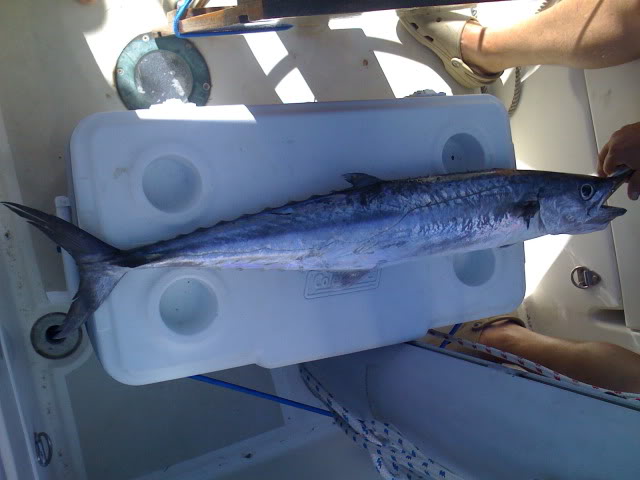 What could possibly beat this fish? The thing was freakin' huge! 3 feet! Just then, with Dan at the helm, Jim's other rod started REALLY screaming. Smiles all around…it sounded like I was out a couple of nickels.
Sure enough another King was on the line…but this one was bigger…much bigger…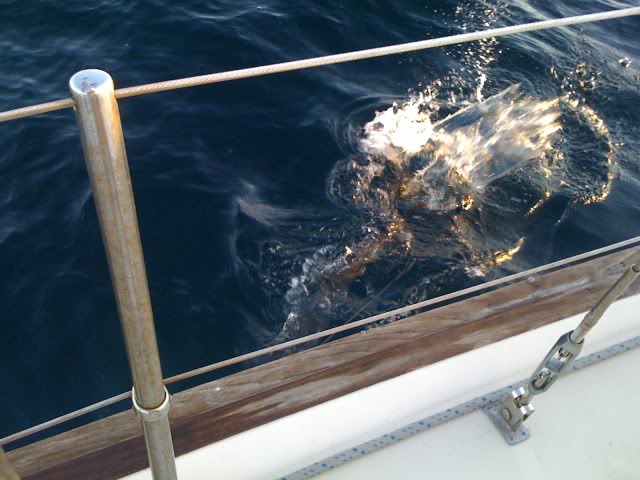 There was no way this thing was going into the net, so we had to bring it aboard with a gaff hook. The thing was a monster. Easily the biggest fish caught aboard Jim's boat.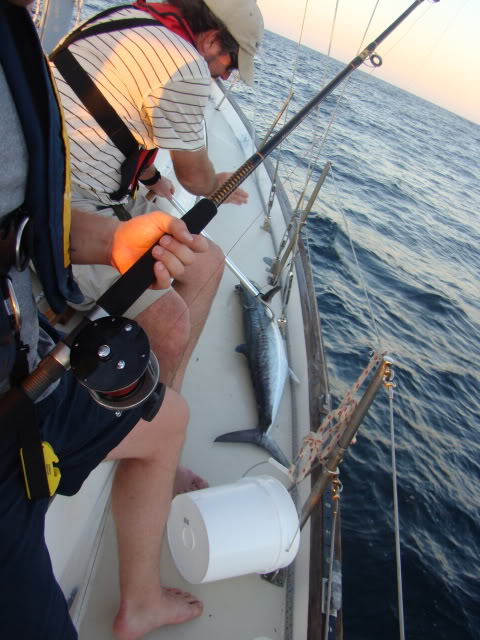 50 inches!!! The fillet knife couldn't even get all the way through the meat!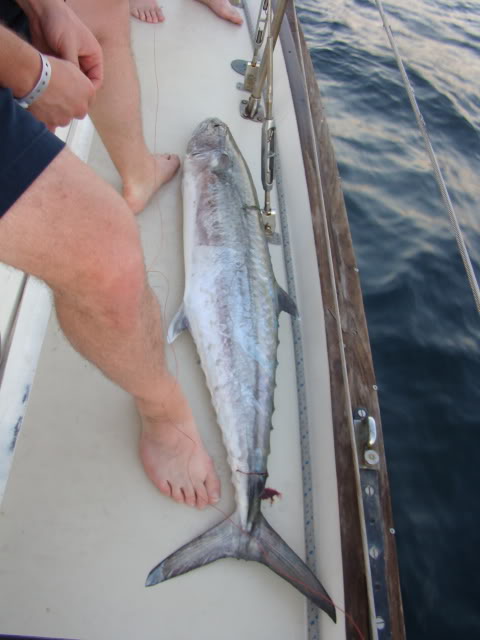 Dan totally owned us. Big time. The dude is a master angler…even when he's not fishing but just driving the boat!
We got everything iced down and cleaned up, then did what every good sailor does at the end of a perfect day in the midst of nature's beauty: stink up the place.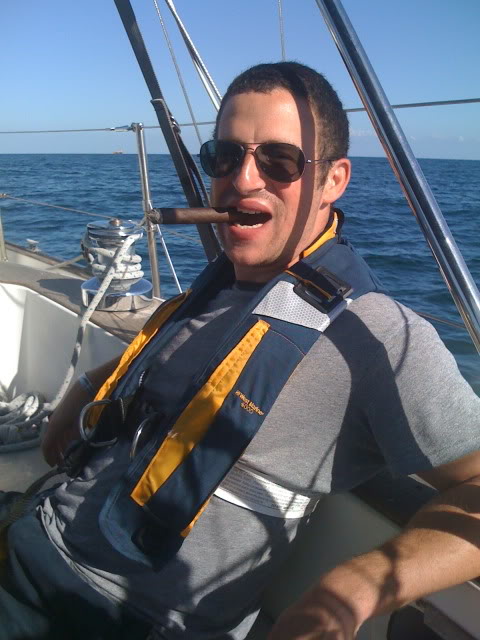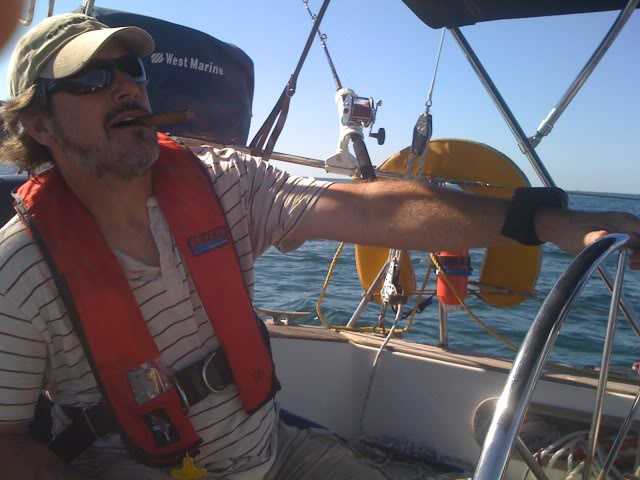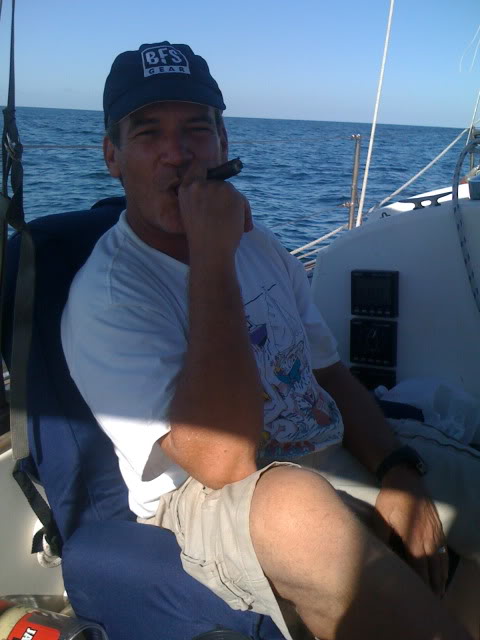 During our last night we had a couple of scares. First, the alternator stopped charging and our power started draining quickly away. This meant that we had to cut off all the electronics except the running/steaming lights or we'd go dark before dawn. No chart plotter. No auto-pilot. Nothin'. Remember that whole paper chart lesson Maarten ran us through? Well luckily we weren't that desperate yet. I pulled out my iPhone and Jim pulled out his iPad, both with the iNav app. We were back in business.
What we still did not have, however, was radar. And we were smack dab in the middle of the fields – with no moon. So we were extra vigilant. Even so, while I was below, Dan and Jim saw a huge, unlit rig pass by only 40 yards or so to starboard. And they only saw it because it blacked out the sky above it. Close call. And scary. I now understand why people dread these things so much when sailing the Gulf.
In the end, the boat ended up repairing herself (the best kind of boat you can have) when the alternator suddenly started charging again. We brought the electronics back up and had no further problems. I'm still convinced that Maarten had somehow set things up to test our seamanship on that last night. Sneaky dude.
The rest of the return trip went off without a hitch. And thanks to Jim, one of the best and most generous skippers I've ever sailed with, and thanks to an incredible crew that worked very, very well together, I had the BFS of a lifetime.
I can't wait to do it again. Raise your glasses (or cigars) to Blame It On Buffet!!! Huzzah!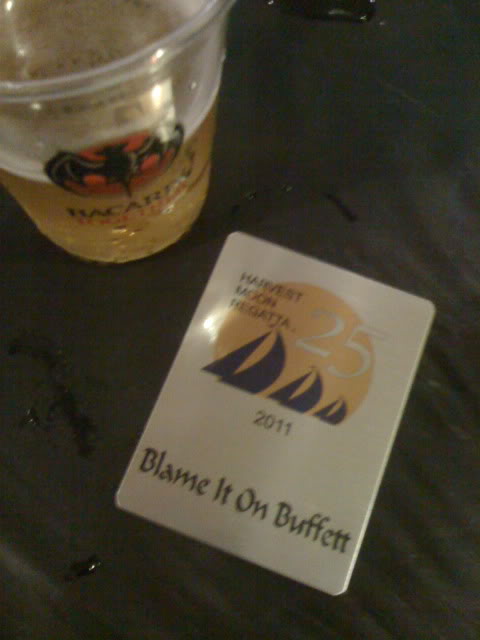 (PS – The above is actually the second plaque that was made. The first read "Blame It On Buffet". That one missing "t" took it from a fun-in-the-sun-island thing, to a celebration of those little scooters at WalMart laden down with 500 pounds of Grade-A All-You-Can-Eat obesity. I won't put up a photo of that one. You'd need eye-bleach.)
In conclusion, one of the best things about the trip was that Jim immediately invited me to crew on all his future off-shore races. Maarten even invited me to crew for him on his boat as well. Despite tons of little mistakes during the trip, I had at least proven my worth to these experienced skippers enough to be invited back. That actually means a lot to me. Because, I freakin' LOVE this off-shore racing stuff! BFS Forever!
Thanks everyone! See you next time!
Steve