Disclaimer: The following post contains a minimal number of screen-grabs and/or quotes from both web-based products being reviewed. Furthermore, these screen-grabs/quotes show only the information that is immediately and publicly available via the application. The purpose  and intent of this post is education, criticism, comment, news reporting, teaching, scholarship and research. It is intended to be a truthful, non-deceptive side-by-side comparison of the products for the benefit of the sailing public – including my opinion regarding the strengths and weaknesses of each. Neither I nor bfsshop.com, nor any other entity with which I am affiliated, are being compensated in any way by any party for this review. Furthermore, I have no affiliation whatsoever with the organizations behind these applications. Therefore, I am claiming Fair Use on these screen-grab images and quotes.
---
As some of you know, I publicly asked the owner of ActiveCaptain (AC) to nuke my account after witnessing some of his actions on my favorite forum: Sailnet. I wanted nothing further to do with it.
Now, I'm stating the above in the interest of full disclosure so you can make up your own mind about the following product review. I'm not interested in talking about this guy. This isn't personal. I'm interested in talking about his product and how it compares to another.
So, although the forum thing was the initial reason I began looking around for alternatives to AC – it is not the reason I'm taking the time to research and write this review. I'm writing it because I truly believe that, all things considered, Waterway Guide is superior to AC. In fact, I personally think it beats AC all to hell.
Now, if you're not familiar with Waterway Guide's "Waterway Explorer" web app, or you just know the company from the outdated, rum-stained hard copy that you have tucked way in the back of your nav desk, you should definitely have a look. Because if you're coastal cruising or, especially, using the ICW to get around like we are, this type of guide is invaluable in helping you plan your voyage:
Waterway Guide | cruising guide, fuel pricing, navigation alerts and news for boaters and yacht enthusiasts
It's all chart-based, with great information about bridges, anchorages, marinas, fuel prices, hazards, you name it. Furthermore, it offers an invaluable feedback tool to cruisers, giving them the ability to directly provide updates about each feature. This crowdsourcing approach means what you're seeing in Waterway Guide can be continually updated by knowledgable people on the scene – improving accuracy and objectivity.
Most importantly though, the Waterway Guide has been around since 1947. So it's got a tremendous amount of pertinent experience and reliable information upon which to draw in the first place. This web app is just an extension of that rich heritage. And that's rare these days.
So – how does it compare to AC?
Let's Take A Look
Let's do a side-by-side comparison of the two: Here is a screenshot from Waterway Guide showing a couple of anchorages along the ICW in Louisiana. One of those is selected showing a pop-up with additional information such as the Mile Marker, depth, and quality of holding and protection.
You can see two other links in this pop-up. One of these provides More details about Bayou Petit Anse on a separate page as shown here…
In the case of marinas, etc. this same pop-up provides much more information such as the phone number and even the ability to compare this marina with others in the area in one easy click!
Like with the anchorage pop-up above, the "More details…" link here takes you to a separate page that includes a wealth of information such as address, email contacts, website links, VHF channels monitored, slip accommodations, etc.
You'll even notice information for the facilities, what to expect when you get there, and even Repair Services – which is an extremely useful and innovative feature.
The other link in these pop-ups and info pages allows you to Provide feedback on this item which takes you directly to a submission form. You can easily submit a review, updated information, or a question (via the Subject pull-down).
No muss. No fuss.
BUT most importantly, it's all free and requires no account whatsoever to participate. In fact, I don't think you even CAN set up an account. I don't see that in the interface. And THIS is where Waterway Guide really begins to shine on many levels when compared to AC.
For example, let's compare this same area on AC – zoomed out just a bit…
You'll notice that the information is similar, but with some important distinctions.
First of all, you immediately see that the southern anchorage shown in the Avery Canal on the Waterway Guide is missing here – and instead there is a  blue "Inlet" icon at the bottom of the channel.
So – does this mean that the second anchorage shown in Waterway Guide is not there? And what does this "Inlet" tag tell you that the map/chart doesn't? Is it really necessary? (We'll check that in a moment.)
Now, is any of this a big deal? It can be. For example, take a look at the blue "3" icon to the west for "Bayou Tigre Inlet" in the image above.  If you zoom in a bit, it becomes "1" as you see below. And if you're still in Map view you'll see that you're in for a very dry ride if you take this "inlet". There's no water.
"Well no sailor would be dumb enough to use Map view to evaluate a passage", you might say. Maybe. But it is the default mode of AC.
So let's switch to Nautical view and look at the same area…
Ah yes, there is indeed a canal ("Inlet") there. But why the need for the "Inlet" marker if this waterway is clearly marked on the chart – which you should be using by default anyway? How does this blue icon help the sailor? It seems redundant. Maybe more information is in there? So I click on the icon and get this:
The first thing I start to question is why it's called "Bayou Tigre Inlet" when the channel is marked "Oaks Canal/Bayou Hebert" on the chart? Is the chart wrong – or is AC wrong? If you look to the east there is another canal that is above "Tigre Lagoon". And it looks somewhat passable (an actual inlet) – where the one indicated above looks to be very shallow (no depth indicated on the chart). Wouldn't that eastern canal more likely be "Bayou Tigre Inlet"? Maybe the "Show Details" and/or "More>" links in the pop-up will explain it. So I click.
And this brings us to the second important distinction between the two products. If I click on either of these links in the pop-up, I get the following…
Hmm. I have to register simply to see this information – much less offer any comment or correction?
In my opinion, this is a fundamental flaw with AC. In this scenario, registration comes before crowdsourced accuracy. And, to me, it brings up the question of just how usable AC is, if at all, without an account – but more importantly how accurate it is if you do choose to sign up.
Is Accuracy Important To You? At What Cost?
This goes back to what I was saying above about the benefit of the tool to the sailing public. Is it more important to ensure accuracy for the sailing public or to increase membership for ones site? I guess it depends on who you ask. But remember, both tools are commercial enterprises – so it's a relevant question – because one of them asks a hell of a lot more than the other. But more on that in a moment.
On this issue of accuracy in AC, many posters in the forums say AC is "more accurate because the info comes directly from the cruisers and is not 'filtered through editors' like it is with Waterway Guide" (see the "Local knowledge" tag in the AC pop-up). It's this community aspect of the app that draws so many. But is this assertion correct?
THE OWNER of AC posted the following comment on this blog (a very good read):  False Gods along the ICW: Fetishizing ActiveCaptain and the Magenta Line
"I'm the software developer behind ActiveCaptain and the person who verifies and validates all hazards and anchorages. I've personally evaluated each one that has been entered. I also read every comment written on every hazard to determine if some of the details need to be updated because of dredging, aid-to-navigation replacement, or other factors. At this moment, there are about 3,000 active hazards throughout the world listed."
So, is this "one guy validation" approach really superior to submissions going through the editors at Waterway Guide? It certainly doesn't seem so to me…especially in light of the questionable Inlet marker above – which clearly seems to conflict with the very chart right below it. Maybe he did personally check this marker himself (along with the 2,999 other hazards). I don't know.
But it gets worse…
This is what the guy in the above blog said about one specific area he was transiting using AC in the linked post above:
"Seeing as how we had barely made it through that part of the ICW, I became a bit more nervous about St. Andrews Sound, which had promised to be difficult.  On ActiveCaptain, the northern half of the sound was littered with shoaling hazard markers, indicating Horseshoe Shoal to the west was extending towards the ocean and that the shallow areas to the east of the channel were encroaching further in. But the most troublesome part seemed to be around red marker "32," which we would round right before passing into much deeper water. Numerous people had revealed they had trouble finding sufficient water in this area. Since it was at the furthest point seaward in the channel and we would be passing within an hour and a half of low tide, I worried that we might run aground and then be bounced around by wave action from the ocean."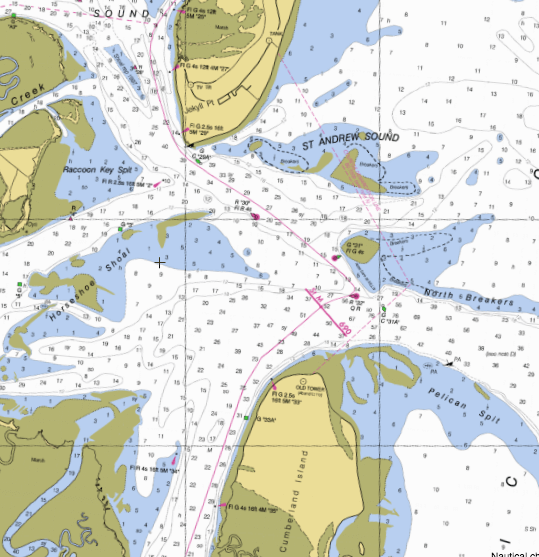 Image from his blog post showing the area.
The point of his post is that this plethora of hazard markers in AC was largely inaccurate due to the fact that these sailors seemed to blindly be following the charted Magenta Line which lay outside the physical channel marker (see image above). Hence the "False God" title.
These many cruisers had gotten it wrong – and passed that info on to AC which then "validated it" (along with the 2,999 other hazards mentioned above) and incorporated it into its app. It makes you wonder if these cruisers were actually using AC to navigate.
Here is what it currently looks like in AC…with the hazard markers and the still errant Magenta Line.
On the other hand, here is the same area as shown in the Waterway Guide…
The Magenta Line is where it should be – and there is no "littering" of markers indicating hazards that are not really there according to the writer above. See a pattern?
A critical aspect here is that the charts on the Waterway Guide are updated WEEKLY with all new charts released by NOAA. This is their requirement, regardless of the underlying map/chart vendor. And this obviously shows in the differences between the two charts above.
Yet people continue to claim that AC's data is "more accurate because it's directly from cruisers".  That argument really seems to be falling flat in these examples.
And it certainly brings up the question of accuracy vs. noise.
So, let's say you want to help correct some of this "litter" on AC. Unless you're a member of AC, you can't comment on any of these apparent inaccuracies. It's a closed community. Which brings up the other far more pressing issue…
What's Your Personal Info Worth?
Your personal info is not required at all with Waterway Guide. Granted – there is a form that asks for some info (including personal info) when you submit a comment…
…however, all that is required is an email address, subject selection, and message. No account setup. No personal information.
More importantly, all the info on Waterway Guide is free to the public and is there for anyone who needs it and/or wants to review and/or update it. Again, no account. No hassle. No personal information.
From a crowdsourcing standpoint, Waterway Guide's model is far superior in terms of ensuring long-term accuracy.
On the other hand, with AC, you are pretty much shut out unless you give up your personal information up AND agree to this…
"…you hereby grant us a non-exclusive, transferable, sub-licensable, royalty-free, worldwide license (the "IP License") to use, reproduce, modify, perform, display, distribute, and otherwise disclose any content that you post on or in connection with the Sites for any lawful purpose. You represent and warrant that you own or control all rights in and to such Intellectual Property and have the right to grant the license granted above to us and our licensees, successors and assigns."

-AC's Terms Of Service
Now have a look at Waterway Guide's Terms of Service as to what of your stuff it has rights to. Wait, I can't find a link for a TOS. Just the Privacy policy. So never mind.
Anyway, let's say you go for it and AC now has your personal information (they have/had mine since I had a membership with them).
The quid-pro-quo here (what you get for giving out your info) seems to be "AC Points" which is an incentive program based on the amount data you add to its database (the primary value of the site)……well, as long as its "accepted" by AC (just like with Waterway Guide), otherwise No Soup For You!
It's 1 point for updates to existing markers (accuracy) and 10 points for reviews and new markers (volume). Interesting ratio.
These points get you stuff like hats. And who doesn't love hats? We sure do around here!
The ActiveCaptain Hat
Highly desired!
For Captains with 250+ points
And it actually seems to be quite the hat according to this proud wearer…
"My boat runs better and I swear I'm getting better fuel economy when I wear the hat."
– LREaton
So, it's about volume of participation (which translates to traffic and stickiness for sponsors – marinas in the case of AC according to its site). But does that volume translate into "better information"? Apparently not in the case of Tigre Lagoon and St. Andrew Sound. In fact, I would argue that, in cases like this, volume of information can actually be a hindrance to accuracy. We see that all the time in Big Data – the old noise-to-signal ratio.
In other words, could that littering of markers at St. Andrew be the reflection of rescue tape and hats? After all, new markers equal 10 points. And each user has to get 25 of those for the hat….25 new markers (or reviews)! So they add stuff. How many markers can a chart bear before it just becomes "litter" as the writer above put it.
Obviously, I'm by no means personally convinced that this is a beneficial model. But I digress, let's continue with the personal info discussion.
With a little more personal info, including your geo-location data it appears, there is the "eBoat Card". This is a social-media-style add-on to the AC service which, among other things, shows "friends"/events/etc. in your vicinity. And in return, you let AC know where you are with each use, who your "friends" are, etc. It's a brilliant, Facebook-type model for growing an app's user base and increasing the value of the data. But to me, that's starting to get pretty invasive.
Now, granted, these kinds of things are obviously important to many people and are worth the trade-off of giving up their info. And that is completely their choice. Also, I have to say that AC's technology is impressive in what it does – especially for AC itself and its sponsors/licensees – which is something I understand quite a bit about. So I have to give credit where it's due.
But, to me, the bigger question is what exactly are YOU getting back in that trade? Remember, there is a reason Big Data is so valuable. And there is no doubt that AC is doing a very, very good job of collecting it for this niche market of ours.
So, it's something you should think about when evaluating these tools. I do.
The Mobile Versions
The last item to compare is the mobile app for each product. If you take a look on iTunes, the ActiveCaptain Companion is rated only 2 stars in 25 reviews for the current version (down from 2.5 on previous releases). V1 was posted in November of 2013, then updated in March of 2014. And judging by the number of stars – it has only gotten worse.
Not exactly beautiful – but beauty isn't everything.
At the same time, the much newer V1 version of Waterway Guide Marinas Listings app released in January 2015 and updated in February and April is also rated 2 stars in 5 reviews.
Definitely much more pleasing UX/UI, but with plenty of room for improvement as well (it's only a few months old after all).
So that's kind of a wash.
CLARIFICATION: Apparently I wasn't clear above that the "Waterway Explorer" web app, which is the basis for the majority of this review above, is different than this "Waterway Guide Marina Listings" mobile app. The latter is exactly what it says it is – all about marinas – and doesn't offer the full functionality of the "Waterway Explorer" web app – or of the AC mobile app (e.g. – no anchorage info, bridge info, etc.). So, you could look at the above user ratings a couple of different ways. One of those would be that even with "limited functionality" as compared to the AC app, it still holds its own. 
BUT…then I discovered something really cool!
If, like us, you are a user of iNavX on the iPad as your chartplotter, THERE IS A WATERWAY GUIDE OVERLAY FOR SHOWING THIS INFO DIRECTLY ON YOUR CHART!!!! And this for only $10 per region! This is what it looks like at the same spot as above…
This is important because one of the things that makes AC so prevalent is that other companies license its data to integrate with their products*. And that's generally a good thing.
So seeing a very popular chartplotting app like iNavX do the same with Waterway Guide is very telling on many levels.
Add to this the Theyr grib upgrades, etc. from X-Traverse, and your iPad-based chartplotter turns into a serious nav tool.
*NOTE: From what I'm told by a forum and AC member, the AC data is free in the products that license/integrate it (only if you're an AC member I presume), where you have to pay the $10 for the Waterway Guide integration above. But, as I've clearly pointed out in this review – you're paying one way or the other – with your money or your privacy. Personally, I'd much rather pay the $10.
Conclusion
So, at the end of the day the question is, when you need help planning a trip what exactly do you really need? A free, no-obligation tool that is provided by a company that's been providing this kind of service since 1947? Or a product like AC that asks a hell of a lot before it gives anything substantive back to you – then keeps asking?
There is absolutely no denying that AC is popular, and likely has a much larger user-base than Waterway Guide right now. And some might argue that this equates to a better quality app. I'm not one of those people – not only due to the apparent inaccuracies pointed out above, but more for the barriers to ensuring accuracy of that info through open crowdsourcing, as well as incentives to make matters worse through its model.
Add to that the amount of personal data I have to sacrifice for the same info I can get elsewhere…info that is more accurate and available for far less hassle and it's just not worth the trade to me.
So…drum roll please, Skippy…
The World-Famous SmackRating™:
Waterway Guide


ActiveCaptain


And I think if Waterway Guide instituted visible reviews for each feature (they already allow for the submission of reviews through the form above, so it shouldn't be hard) – I would add yet another smack.
Not convinced? Use both (if you feel like giving away your info to one of them) and make up your own mind. Then feel free to comment here.
–ADDENDUM–
In the ongoing discussion on Sailnet here:
http://www.sailnet.com/forums/apps-authors/202794-waterway-guide-beats-active-captain.html
…an AC advocate brought up the fact that AC had far more markers than WG in his specific area…putting this forth as a "flaw" of WG.
But let's take a closer look at those markers…
Here is the view in AC:
And in WG:
Let's start with the marinas. AC shows a total of 16 in this view (only after you filter for marinas and the errant marker numbers correct themselves – seems like a bug to me), WG shows a total of 8 (with no bugs).
Of those, the following are the "additional" marina markers in AC (click the links to see the information in AC):
Willow Point Marina (no reviews – looks shallow and very poor info in AC – although it has a single 4-star rating there! Hmm.)
Shaffer's Boat Livery (no reviews – because it's only 2′ deep)
Mystic Point Marina (no reviews – also looks very shallow and very poor info in AC)
Mason's Island Yacht Club (no reviews – a club, not a marina, according to its website)
Noank Marine Service (not a marina according to its website)
Ram Island Yacht Club (a club, not a marina according to its website)
Ford's Lobsters/Nyman's Fuel (I guess you could call the Fuel side of this a "marina" – but that's pushing it in my opinion)
Maxwell Boatyard (not a marina – according to AC in its own details)
Palmers Cove (no reviews – stuck behind a very low fixed bridge)
So, just in looking through the nine entries above, I can certainly see why WG hasn't listed any of these "marinas" in their 8 markers (Nyman's fuel notwithstanding as that one seems to be on the line for some boats from what I can see). Do the math on that and you'll see that the 8 markers in WG are really the cream of AC's 17 marker crop anyway.
Again, it illustrates perfectly what I pointed out above – volume means very little if the information is useless for the typical cruiser looking for reliable guidance in an unfamiliar area.
I had to spend an hour filtering out the above errant markers in AC, when WG immediately gave me the best quality information – even according to AC itself!
In that same view I see 5 anchorages in WG to 6 anchorages in AC. The only major difference I see is the "Mason Island East" anchorage.
So, I'm not seeing how volume of information has anything to do with quality. In fact, in this single view in AC, I'm seeing how it creates many problems. Scale those problems in this one view out to the rest of the app.
Less markers with more accurate, useful information is FAR better than more markers with less.