The upcoming America's Cup is quickly turning into "The Greatest Embarrassment on Water". So keen on returning to the "classic monohull" after several AC iterations of whinging about multis, the Emiratis and the Italianos insisted on singularity in "The Rule". And we were "back to the good old days". But…not quite…
"So, now that we have reverted back to yesteryear – how about this to make it all seem more 'modern'!?!?!? Let's get rid of stability, add some incredibly stupid-looking mechanical appendages hanging off the side, stick foils on the end of those appendages to render the hull configuration meaningless anyway, and make this 'new thing called a wing sail'….you know, like Herreshoff did a hundred plus years ago! Brilliant! That's progress!"
So, from this incredibly misguided and muddled "vision", we now have "bleeding-edge" America's Cup boats that look this…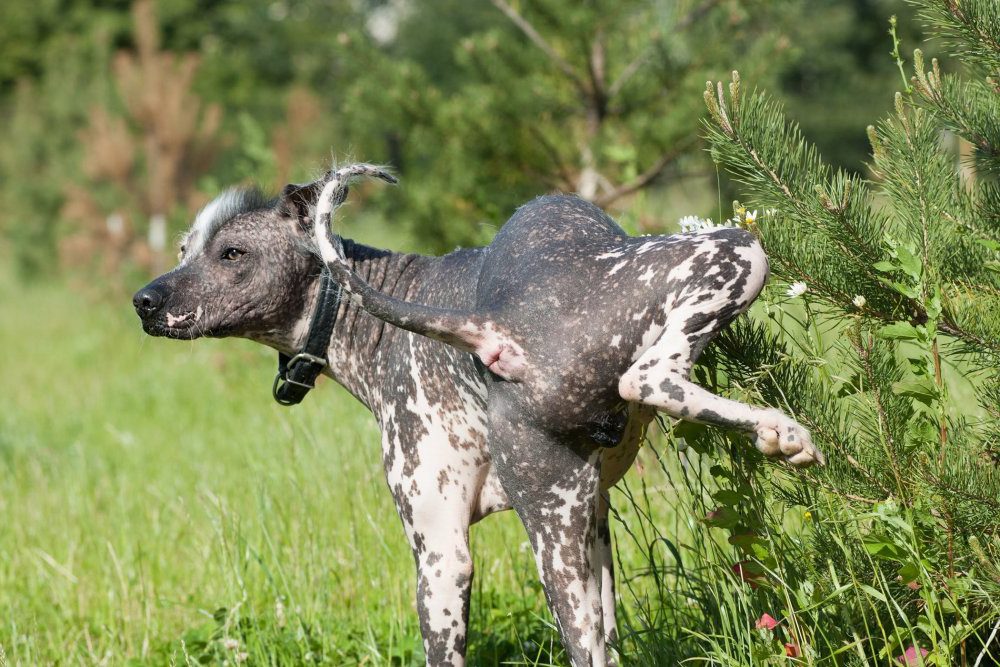 Here is the current lineup of the AC "boats of tomorrow"…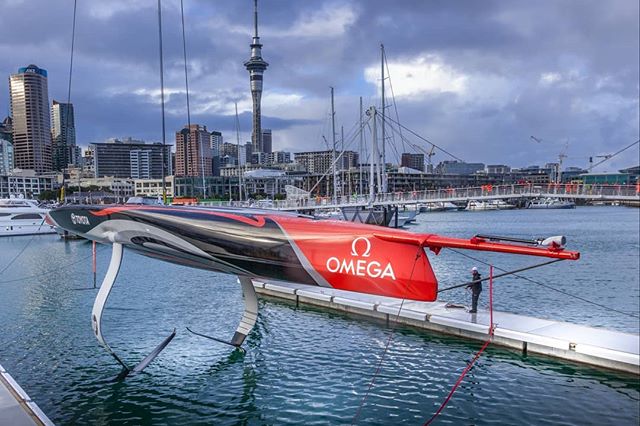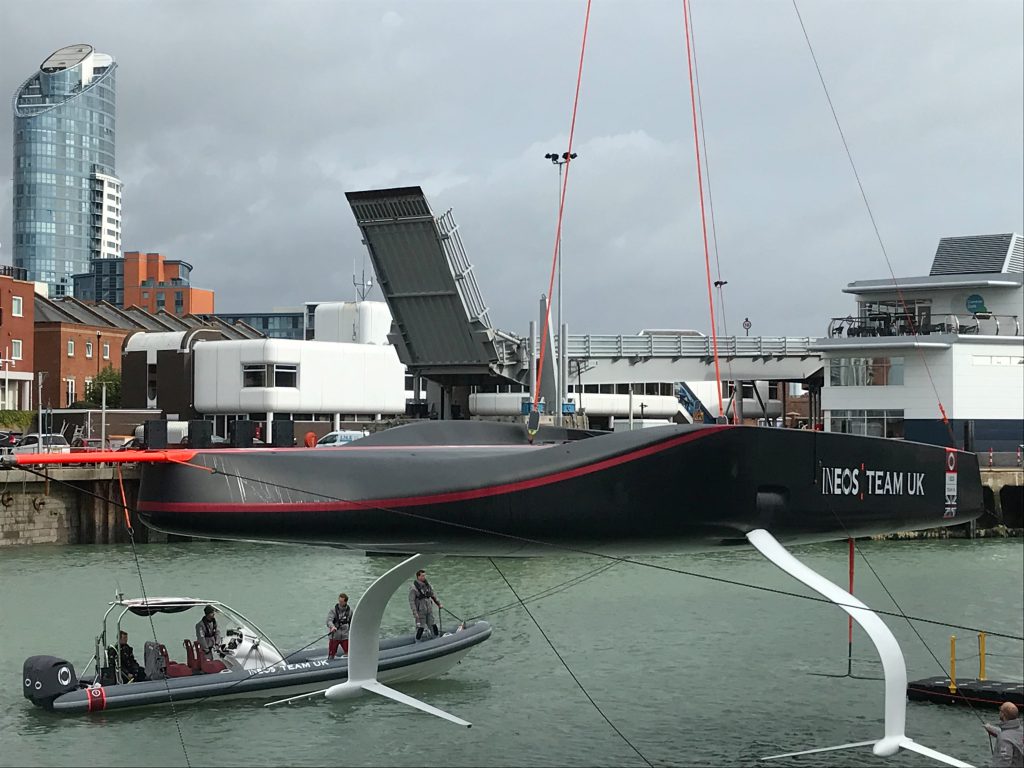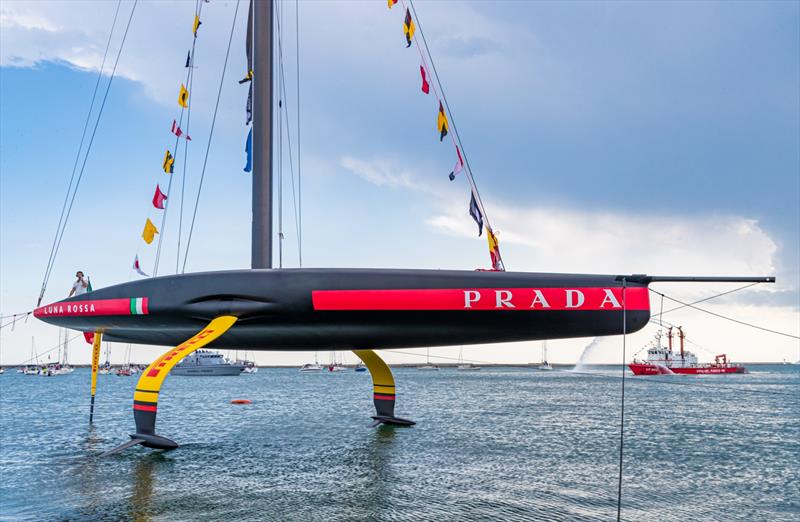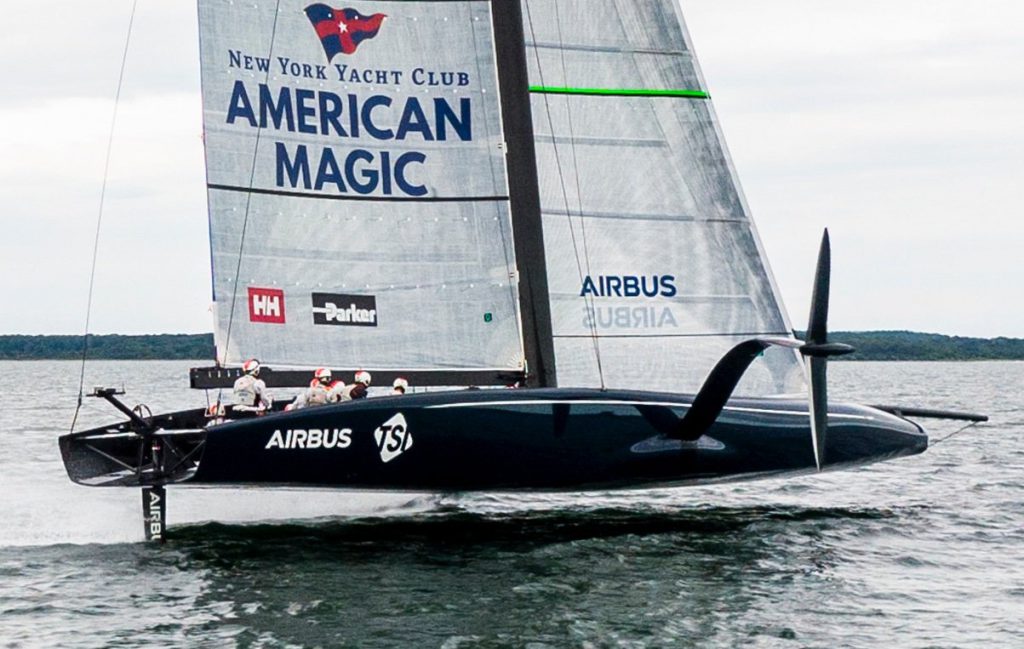 At this point, only one of these boats is actually marking territory on the water (not in the slings) – and that's DEFIANT – the NYYC/American Magic offering. Sure, it's far from "majestic" – but at least it's doing what some rule-writing idiot thought was going to be "cool" and "forward-looking" for yacht design.
So, if you're not yet convinced that this AC has become an embarrassment – consider this: Apart from the Big Ugly Stick being rained down on the world of sailing with these offerings above, you also have the fact that these boats are incredibly inefficient and unstable. To wit: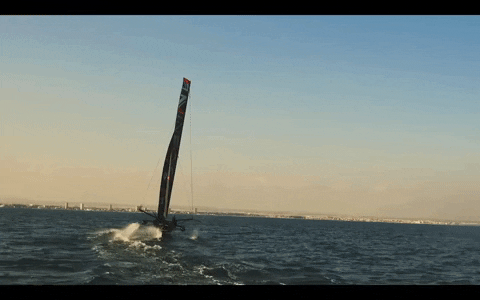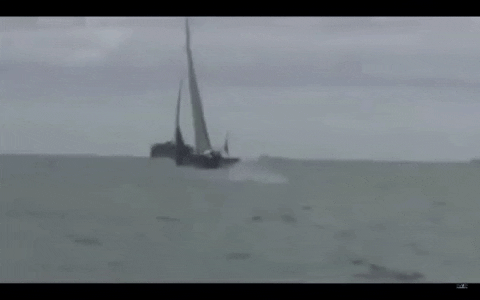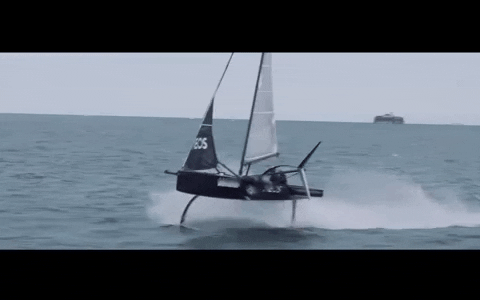 This is what we have to look forward to at the pinnacle of the sport? An event that's almost 200 years old has been reduce to "epic failures" of unsightly mutts?
Even ETNZ – who dreamed up this brilliant idea – has apparently been having to rely on a freakin' TOW to get their 75 up on the foils – then they themselves can't even control the monster they've inflicted on the world once it's "flying"!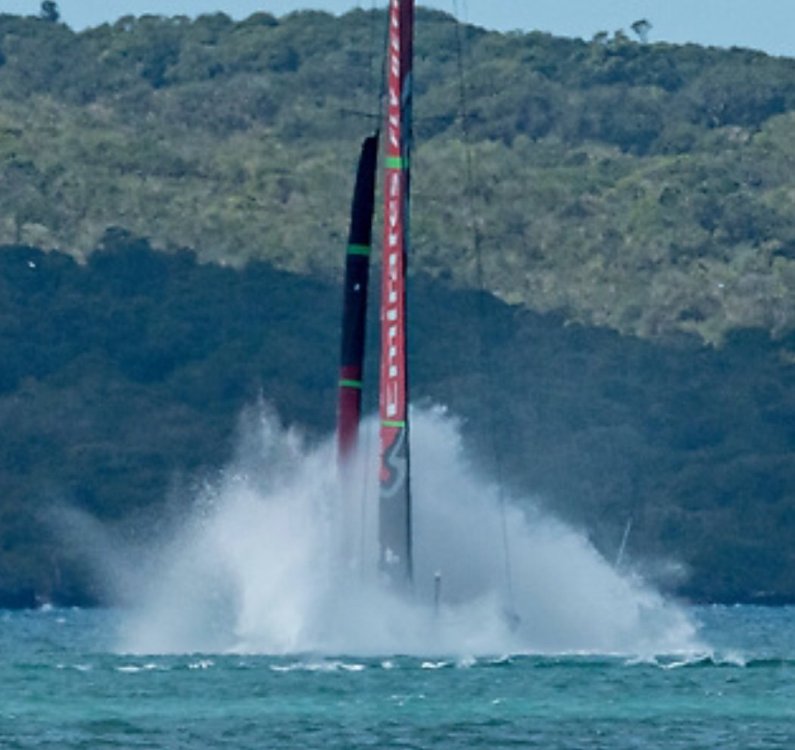 And this after tons of time on "The Simulator"?
Nice. Then limping like a shot dog back to the shed.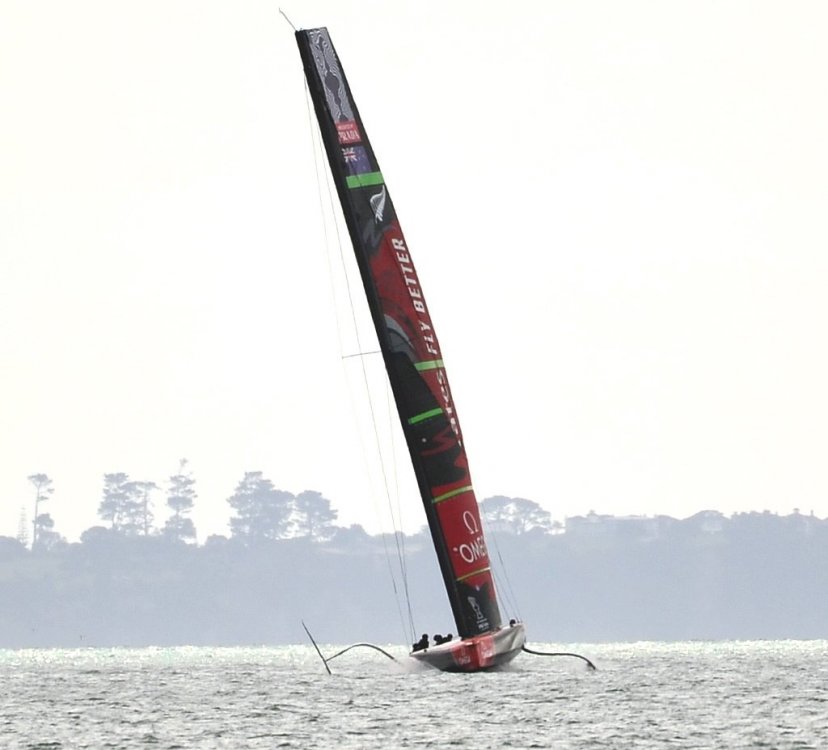 Are you starting to feel the embarrassment I mentioned above? I mean, what the hell? This is the freakin' America's Cup!
Thus far, DEFIANT is the only boat and team that have shown any promise whatsoever, foiling through maneuvers and staying rock steady at speed…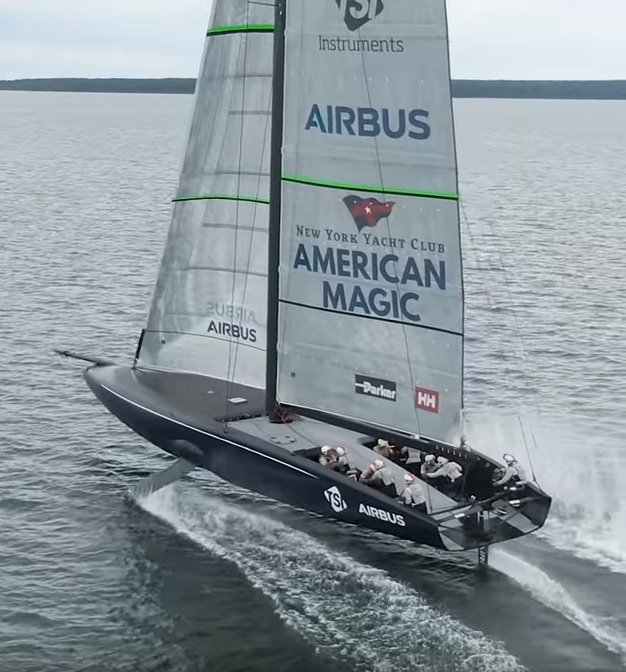 But, honestly, this isn't saying much in the bigger picture.
Think about the exceedingly narrow window of conditions these boats and teams are going to have to sail in to have any chance of not looking like fools when actually racing as opposed to traveling in a straight, unmolested line. They can't get up on foils in light air, but are really slow and will fall over if they are NOT on the foils.
These are racing boats? I think not.
Oh, and there's one other thing…remember how the America's Cup has always been exciting because it has been close-in match racing – with boats right on each other at the start and at the marks, etc.? Well, remember that stupid mutt leg hanging there in the air?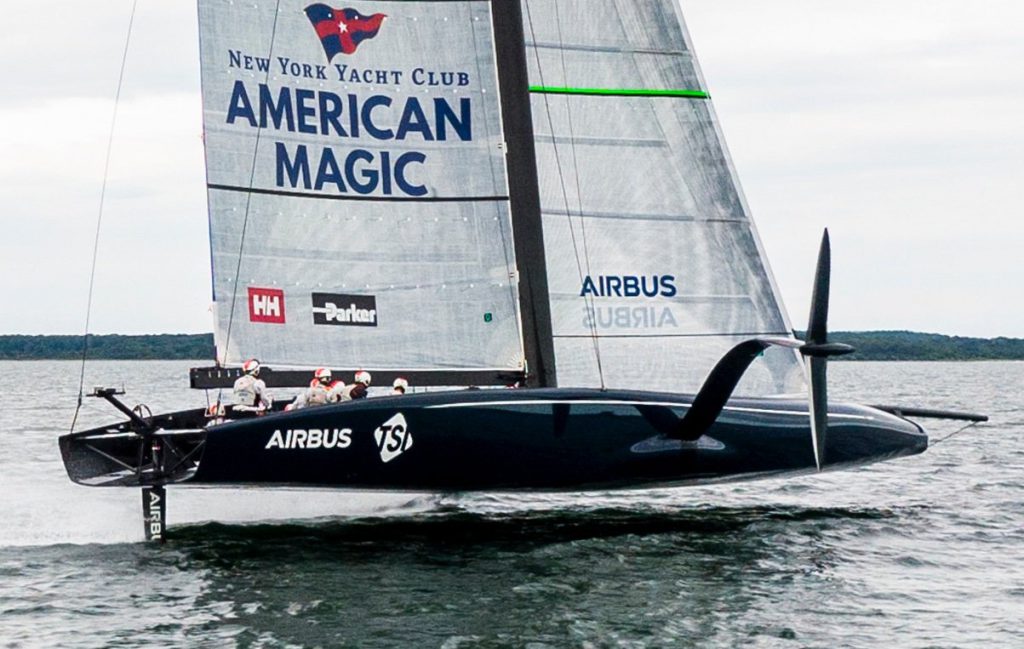 At 40 knots that will easily kill anyone in its path. So these boats CAN'T get close to one another. There's some kind of "diamond boundary" around the boats to keep them away from each other. I can't give you the details because there is no way I'm reading that rule. But it's there.
I honestly have no idea what we're going to actually see in AC36 – but there is no question the Kiwis and Italians are "redefining sailing" – by putting a bright red nose and bigass floppy shoes on it.
#clownshow
No Smacks For You