Mercy me – I walked into yet another hornet's nest in yet another sailing forum! And this one has been a doozy!
Last month, I stumbled across the inaugural season of SailGP, a brand-spanking-new and just stupidly exciting global grand prix sailing series. It's an elite annual series, much like NFL or F1, that grew out of the brilliant ACWS from when BMW-Oracle (Larry Ellison and Russell Coutts) held the reigns during AC34-35 . Those guys clearly knew what they were doing – and saw the incredible value they'd created. So, they blew off the AC and built SailGP. And this thing is mind-blowing!
I'd always been aware of and mildly interested in the America's Cup since watching clips of Dennis Conor bringing home the Auld Mug in blurry 4:3 brought to me by Mennen. Of course, that interest was soon snuffed by the movie "Wind" – having to endure the sight of 2 privileged nerds getting sweaty atop "The Whomper". [Shudder]
But I digress…
When I finally heard about SailGP in July, I was already behind. The first two events in Sydney and San Francisco had already happened. Sydney was a snoozer due to light winds. But San Francisco proved to be incredible racing – better than much of what I'd seen with even the ACWS. I was hooked. Then there was the New York event which just took everything to the next level and started the real global buzz around this thing. This dog had a new bone.
So, I went to the only forum I spend time on anymore – Sailing Anarchy – to get some more info and discuss this new-found development in the world of sailing. There are actually a handful of very knowledgable dudes there. I found the "Larry's AC50 Circus" thread in the AC forum and posted my sage insight on this complete redefinition of racing sailboats – with speeds and in-your-face excitement never seen before.
And boy did the freaks come out of their holes! I was immediately set upon by a small, angry coven of Kiwhingers™. These were dudes I'd never heard of on SA, who, as I slowly discovered, had apparently been in that thread for over a year changing their socks and screaming the exact same things over and over about how SailGP would never succeed; the boats were crap, it was just a spite event against their beloved AC, and something about national treason by one of their own, etc. It was truly the most seething vat of small-minded bitterness I've ever encountered on any forum anywhere. Even worse than Sailnet or CruisersForum! And that's saying a lot!
Well, if you know me you know I'm completely undeterred by stuff like this. So I began deftly smacking their runny little noses with good, clean wit and candor – and facts. Soon, shouts of "troll" and "ignore" and "ban" began filling the air. It smelled, once again, like….victory. Heh.
However, one great thing I was turned onto along the way by some drunk chick (allegedly) is the SailGP app. This thing takes even watching sailboat racing to an entirely new level. Seeing a theme?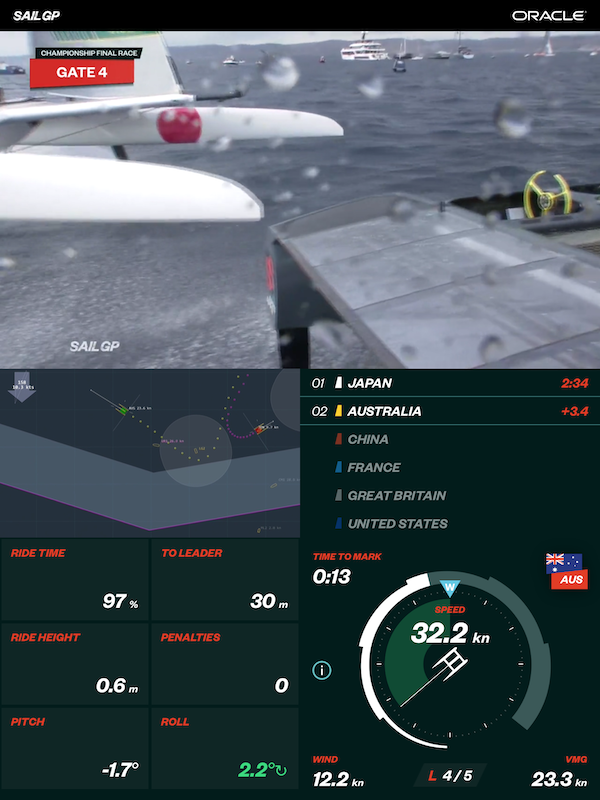 Holy crap! You not only have 8 video feeds you can switch to in real time, but you also have live data feeds coming off all the boats alongside that video. And you get all this in a customizable UI. It's just ridiculous! If you haven't seen it – download it now (Apple or Google) and watch the races. It will blow your mind.
And then in Cowes – the "50 knot barrier" fell. These F50s, as promised, are now the fastest sailboats on the planet. And this is just season one! The past ACs and all the whinging in the world just don't matter anymore. This is clearly the future. Period. SailGP is delivering exactly as promised.
So, I decided to leave behind the trail of tears in The Circus thread – sparring a bit with a certain "Mr. Clean" on the way out (who, among many other things, is also still bitter about AC past for whatever reason).
And I started a new SailGP 2019 thread in Multihull Anarchy to follow this glorious new direction for our sport.
It is already the 2nd most viewed thread in that forum over the past year and a half – and it's only a little over a month old! Again, if you know me, you know that's pretty typical with my threads. And, of course, the polite smacking has continued here and there with a small list of hysterical challengers stepping into the ring…followed by the inevitable tears as they step back out through the ropes. It makes me sad, but someone has to do it. Heh.
Probably the funniest part of the whole thing is that SA was actually turned down twice by SailGP for "press credentials" requests for the Cowes and Marseille events…with the explanation that "forums don't count as press". Ouch!
Shanghaisailor is a good guy and a good writer who just go caught in the middle of the inevitable. I mean, c'mon, a site can't spew bile on leaders of the sport for years and years and then be upset when those same leaders hang up the phone. I genuinely like SA as a forum – but SailGP certainly doesn't need to be on its "front page" for any reason whatsoever. I mean, especially when they have me! Heh.
So, take my sage advice, if you want to see sailboat racing that just puts everything else on the water to shame – check out SailGP. It is truly and undeniably the new pinnacle of the sport – and the future of sailing.
And get ready for Marseille!
https://www.facebook.com/events/281560849142711/
Finally, if you're Biscuits, let me know and I'll buy you a beer!
Sincerely,
The Ringmaster