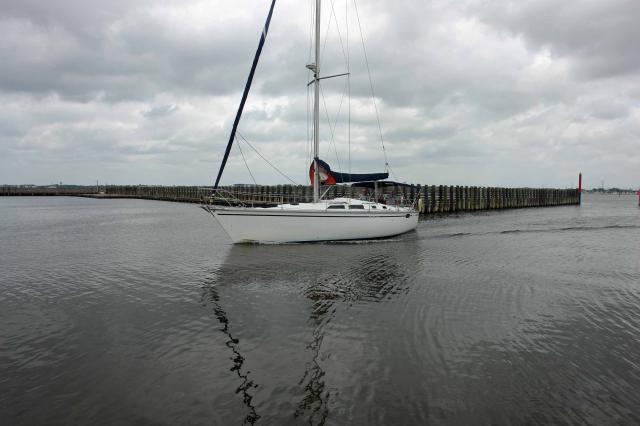 So let's face it, across virtually all the sailing forums, Hunter is probably one of the most maligned brands of yacht there is…apart from McGregor, of course. "Cheap", "Flimsy", "Ugly", etc. – you've heard it.
So why in the hell did I decide to fly in the face of all that "collective wisdom" and buy one? Simple, that sailing forum collective is just a bunch of yappin' chuckleheads for the most part. They don't know squat.
We started our sailing adventures on Mothers Day of 2008. I selfishly purchased a couple of weekends on a learning charter for Alicia's Mothers Day present. Kind of like buying her a circular saw because you need one. But she loved it…and wanted more. We then lucked into a partnership on a Catalina 27 on Lake Travis through one of our acquaintances. $26/month was too amazing to turn down…especially when NONE of the other partners actually sailed the boat. We had full access to the boat, and took advantage of that sailing as often as we possibly could. It was the perfect boat and the perfect family activity.
But that started this curious addiction…spending stupid amounts of time on YachtWorld and various sailing forums looking for and talking about the "next boat". The problem was, I had no idea what the next boat should be. This is where the yappin' chuckleheads come in.
"Coastal" Versus "Blue Water"
When you, a newb, log on to a sailing forum and ask the question, "What kind of boat should I buy?" – you need to brace for the yappin' – because the chuckleheads will absolutely bring it. The problem is there's no way to really answer it unless you provide a good deal more detail on your needs. Now, many people on the forums will tell you this and try to help you think it through a bit more. And this is good. So let me give you a bit of advice if you're gearing up for this question…have the following few details pretty well nailed down:
1. What is your budget?
–No, your REAL budget. What is the top amount you're actually willing to commit to for the purchase AND for the work thereafter to start your sailing. Set it in stone.
2. What is your intended use for the boat?
–Inland sailing (lakes, etc.)
–Coastal sailing/island hopping
–Blue water passages (crossing oceans)
–High-latitude voyaging (Northwest Passage or Cape Horn)
3. What size of boat do you want?
4. What is the oldest boat you'll consider?
5. How many will typically be sailing the boat and what is the level of experience and physical ability?
6. What kind of performance do you want out of the boat (if you care)?
7. What features are you looking for?
There are many more questions you'll need to answer down the line, but this is a good start. But, here's the deal, even if you have specific answers to every one of these questions, you'll STILL have a crap-ton of decisions to make as you wade through all the yappin'. One of the most common of these is…do you go with a "coastal" boat or a "bluewater" boat?
"But wait," you say "I just said that my type of sailing will be coastal or island hopping, not passages. I HAVE the answer for this!" Cue the chuckleheads.
See, in the "which is better" debates on the forums, "coastal" or "bluewater" doesn't just refer to the activity of the boat – it refers to the "build quality". Put quite simply, the "blue water" boat is "stronger and heavier" than the "coastal" boat. Why all the quotation marks? Because all of this is extremely relative.
The default mode for most chuckleheads is that "heavier is better" and/or "heavier is safer". In other words, even if all you're going to do is bay or coastal sailing, why not have a "strongly built bluewater" boat? Their logic is that you'll be able to weather squalls better, the boat will last longer, it will be more "seakindly", etc. Sure, for most people's budget, this logic basically means that the only "safe" boats were built 40-50 years ago – but let's not complicate things.
When you're brand new to the game, this all seems pretty hard to argue with. I mean, who doesn't want a "better/safer" boat? As a newb in the market for your first real boat, just thinking something different seems like pure idiocy. I believed it at first, and paid very close attention to the examples they offered up…boats like the Valiant, Pacific Seacraft, Pearson, Passport, Tayana, Bristol, Hinckley, Shannon, etc. It's a very long list…mostly dominated by my friend Bob Perry's designs (and rightly so).
These boats are inarguably, the real deal. They can take you anywhere. Period.
The Valiant 40
So, with those brands in mind, it was time to start looking for boats. Based on that list above, here were my priorities when I began:
1. What is your budget?
–$50K or less (with a 10% upgrade/repair budget). I could have spent much more, of course, but I wanted to buy with cash and relax in the freedom outright ownership provides.
2. What is your intended use for the boat?
–Coastal sailing/island hopping (U.S., Mexico, Caribbean)
3. What size of boat do you want?
–36′ to 45′
4. What is the oldest boat you'll consider?
–1980
5. How many will typically be sailing the boat and what is the level of experience and physical ability?
–2-4 people in good shape, new sailors but with some experience
6. What kind of performance do you want out of the boat (if you care)?
–Good performance yet tough boat. I did NOT want a full-keel pig.
7. What features are you looking for?
–Roomy cabins, centerline berths ("like a real yacht")
–Sloop or cutter (not a ketch or yawl)
–Aft cockpit
With this list in front of me I happily typed in that URL that is every dreaming sailor's productivity killer: Yachtworld.com. To give you an idea of how the typical workday YachtWorld sabbatical went for me, this was my search:
Look at the top of the page and click on the "Manufacturer" list and click on "more…" Here is the list of manufacturers I needed to start making sense of…a list likely close to 100 different possibilities. Again, as a newb boat buyer who knows very little about boat brands – how do you do that?
The first thing you'll notice is the conspicuous absence of most of the great brands listed above. Sure, I would see one or two such as a Tayana or Passport – but they typically were basket cases. It was clear most of these top bluewater brands were way out of my league (a testament to their designers). So immediately I realized I'd have to narrow my horizon. I obviously wasn't buying a sail-ready Hinckley or Valiant with my budget.
So, I started focusing on the newb's boat buyer equation: "Okay, what's the longest, biggest boat I can possibly afford?"
I quickly discounted Lancers, Yorktowns, Bruce Roberts, and the like based on their forum reputations. However, there were two boats I liked that were close to my specs and typically held in some level of "bluewater esteem" by the yappers. Those were the Gulfstar and the Morgan Nelson-Marek.
The Gulfstar had a reputation as a freakin' tank. It was built very heavily for the charter trades so it wasn't a fast boat by any means. The ones in my price range typically needed some work, but it was a lot of boat for the money – and it had the "yachty" features I wanted: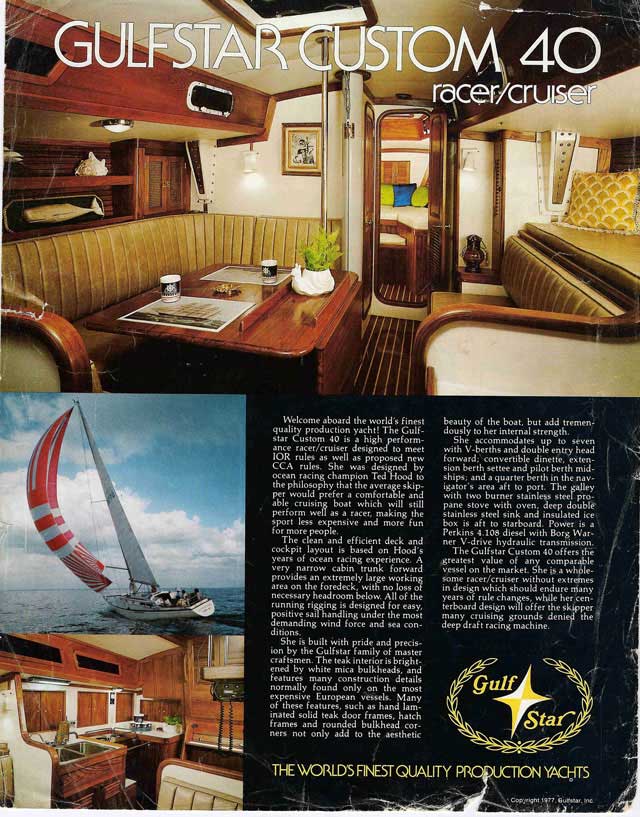 The snail planter is a great metaphor for the performance of the Gulfstar.
And I especially liked the center cockpit version that provided a very pimpin' aft cabin with centerline berth: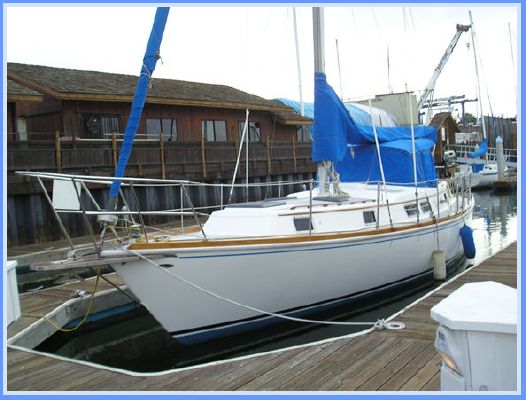 The 43′ Center Cockpit

The 43′ Layout
Then there was the Morgan Nelson-Marek 454. This boat provided the really nice accommodations I wanted – but it was also fast. It was pure sexy as far as I was concerned.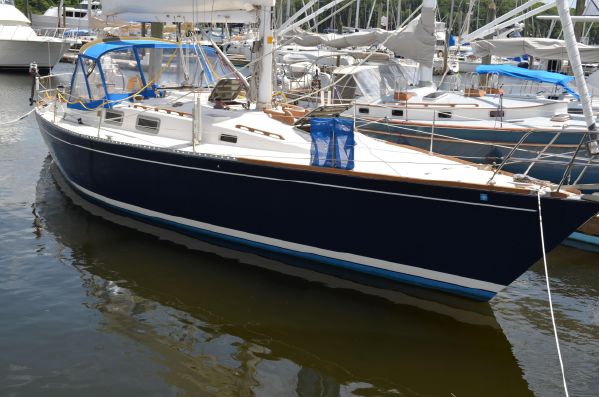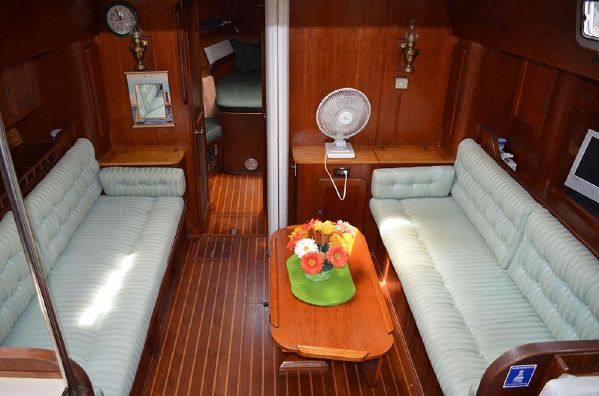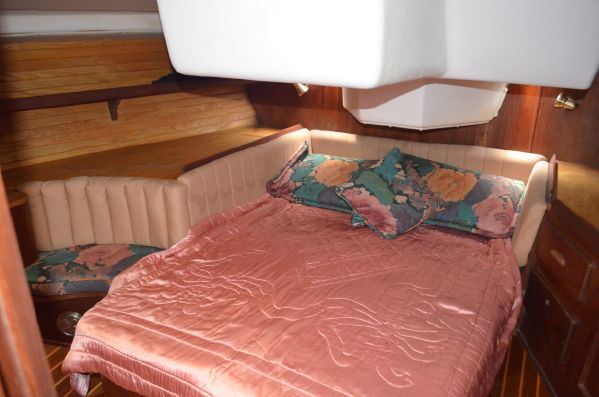 Ack. Not diggin' the pink satin – but you get the point.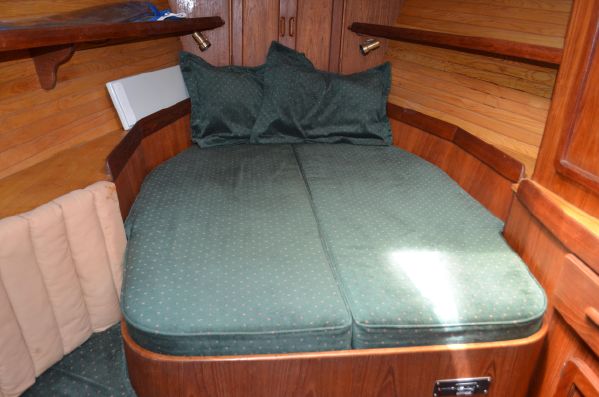 I loved this boat. It was definitely my dream boat. One of the unique things I loved most about it was that it had a roomy aft cabin with full centerline berth…EVEN WITH an aft cockpit. Overall, the 454 was my idea of perfection.
The problem was that the N/M 454 was typically out of my price range. When one did turn up in range, it needed substantial work. And I was at least smart enough to know that a boat that big requires a big repair/upgrade budget after the purchase. And I wanted to sail – not work on boats. Furthermore, 45′ is a hell of a lot of boat. Way more than I was ready for. So I just continued to dream.
I also saw a few Gulfstars here and there that were serviceable within my price range – and even a couple that looked to be incredible deals – but I just wasn't ready to buy at that point. And, anyway, I didn't love the GS like I did the N/M.
Now, remember, these two boats were just the two that felt right to me. Beyond these, I looked at every model in my range – Cheoy Lee, Endeavor, Morgan, Tartan, Pearson, etc. You name it. ALL the "bluewater" brands that were in my ballpark.
But as I did this, trying to stay true to the "bluewater" mantra, something kept catching my eye. There were TONS of "production boats" (Beneteau, Hunter, Catalina, O'Day, Irwin, etc.) that could be had for far less for far newer and far better equipped. It made me start wondering if this "bluewater" hysteria really made sense for someone who planned to cruise like 98% of the other cruisers out there…that is, not planning to cross oceans. Why did I really need "heavier" to deal with the fearful conditions of the North Sea the yappers always put forth, when I had absolutely no intention of sailing the North Sea?
So I started a thread on Sailnet to ask about this very thing:
Production Boats And The Limits
And although there were a few typical yappers, I found that Sailnet generally provides far less yapping and far more solid information than most forums. It was indeed a very enlightening discussion with great points all round by many sailors with many different boats – and even a couple of nautical architects.
I also read a fantastic book at this time by Hal Roth entitled, "Handling Storms at Sea". Apart from the valuable advice on how to actually deal with the kinds of storms the yappers always refer to when illustrating the need for "a heavily built boat that can withstand anything" – there was this quote that truly put things in perspective for me:
"During the past 40 years I've sailed some 200,000 miles on the world's oceans either by myself or with my wife. Yet in all these seagoing passages – some up to 52 days in length – I've never seen prolonged winds of hurricane strength and only one violent storm of Force 11. My point…is that violent weather is infrequent and that with care in planning bad days can be avoided or certainly minimized."
In this forum discussion and this book, I began to realize something: The level of forum-based fear driving the advice to get a heavy, bluewater boat in order to increase your chances in a storm far outweighed the reality. The storm conditions so often quoted on forums to justify this bluewater-boat-only-advice are exceedingly rare. And with good planning, especially in the context of general coastal and off-shore sailing (i.e. – not long passages), you really should be able to completely avoid dangerous weather. I mean, who are you going to believe? A bunch of yapping chuckleheads? Or Hal Roth?
So, for me, the question came down to this…if the chances of storm conditions used to justify buying a bluewater boat "just to be safe" are, perhaps, 1% – that means you will spend virtually ALL of your cruising life in a boat that is far slower and heavier than you really need…especially if you're a coastal sailor or island hopper.
To clarify the points underlying this debate, here is the typical break down of why a "bluewater" boat is better at sea than a "more 'modern' production boat":
1. The "comfort" of the boat in seas.
–This seems to typically come down to the hull design (deep, heavy and slow versus flat, light and fast).
2. The stoutness of the boat in a storm.
3. The tankage, stowage, and layout of the boat.
In my forum discussions in the above Sailnet thread and my research, including Roth's book – I was definitely questioning the conclusions drawn about #2. The fearmongering and resulting "bluewater" advice was WAY overblown. In fact, I made the following comment in the thread:
"I've always believed that most of us on the forums have so little true ocean time, that we harbor the 'there be dragons' mentality toward off-shore sailing, when it's actually (statistically speaking) more deadly sailing around in a lake or bay."
I still believe that to be true, regardless of the brand of boat you choose.
But, let's look at the other two items, starting with #1) Comfort in a seaway. There are hundreds of pages of debates on this issue in any sailing forum you go to. In the thread above, you'll find a pretty good discussion on this, along with links to other threads going into much more detail. Now, I'm certainly no yacht designer so I won't go into detail here. You can look up guys like Jeff_H, PCP, and BobPerry on Sailnet for their much more accurate explanations. But let me take a shot at generally explaining the basic issues.
In essence, the debate centers on the idea that the traditional heavier, deeper hull and longer keel configurations are more "comfortable in a seaway". This typically means that they can heave-to more easily and are more "stable" (i.e. – can "cut through" the waves) especially when beating to windward. This is compared, they say, to the more modern faster, flatter hulls and fin keel configurations which have a tendency to "pound" into/off the waves when beating to windward. Now there's no arguing that pounding is uncomfortable. That's the kind of motion that encourages projectile puking all over your cushions. The other very valid safety concern here is that beating into large violent waves for hours or days CAN INDEED tear a boat up. There's no denying this.
But, again, the issue is…you don't HAVE to beat to windward when conditions are really bad. As Hal Roth says, just heave-to or, better yet, hang out with a drogue. And we've already established that conditions are very rarely that bad. So, yet again, the percentage of this particular occurrence, especially for a coastal sailor, is going to be extremely low. Add to this argument the very real issue of a more modern, faster boat being more able to "outrun" bad weather than a heavy bluewater boat in the first place, and things start getting thin on the "bluewater's best" side of the argument.
So the main reason you'd be buying a heavy bluewater boat to cruise the coast or island hop is to be prepared for some storm that has a fraction of a percentage chance catching you – AND into which you have to beat? THAT'S what you're buying your boat for? That didn't make sense to me. It's like flying to the Bahamas and spending your entire vacation in an inland storm bunker because there is a minuscule chance a hurricane could come through. Who does that?
Finally came item #3) Tankage, Stowage, and Layout. I've already discussed the features I was looking for in my own boat – and some of these like the centerline berths, etc. were decidedly "non-seaman-like" in many an old salt's eyes. But, based on the sailing I was going to do, I didn't fully buy into the arguments that every single berth needed to be lee-cloth ready (this became much more obvious when I began to do ocean races…see below). Tankage was important. I wanted plenty of fuel and water – but since I'd pretty much always be a few hundred miles from access to these, I didn't need to over-do it. These things were just not as big a deal to me as they would have been to a passage making sailor who would need to be fully stocked for weeks- or months-long-passages.
All that said, there were some "seaman-like" layout features that yappers would typically point out that I fully believed in. For example, I wanted nice, roomy side decks for safety in working forward in a seaway. I didn't want a huge, deep cockpit or an oversized companion-way hatch to protect against possible down-flooding from boarding waves. A drogue will be my primary heavy weather tactic, so this was definitely something to consider. I also wanted all lines run back to the cockpit to make things easier and safer on us. To me these were all good ideas.
So things were coming more into focus…and bluewater boats were becoming less and less important in my purchase equation. Production boats started to look a bit more interesting – though I was still gravitating to the premium production boats like Tartan, C&C, Sabre, etc.
Then I started doing ocean races. I raced on two very nicely maintained, quintessential "bluewater" boats…
A Pacific Seacraft/Crealock 37 Cutter…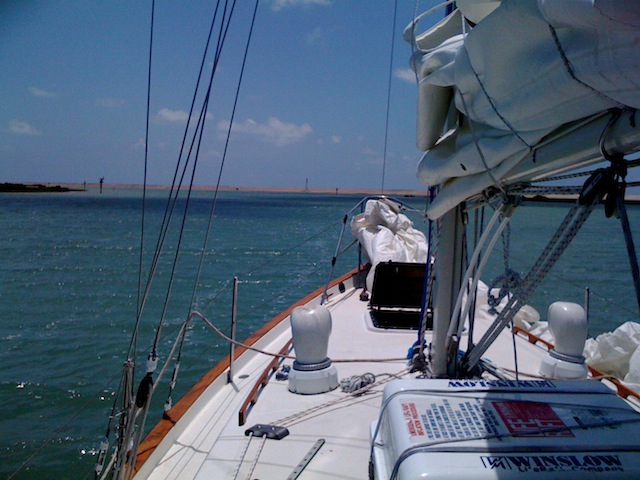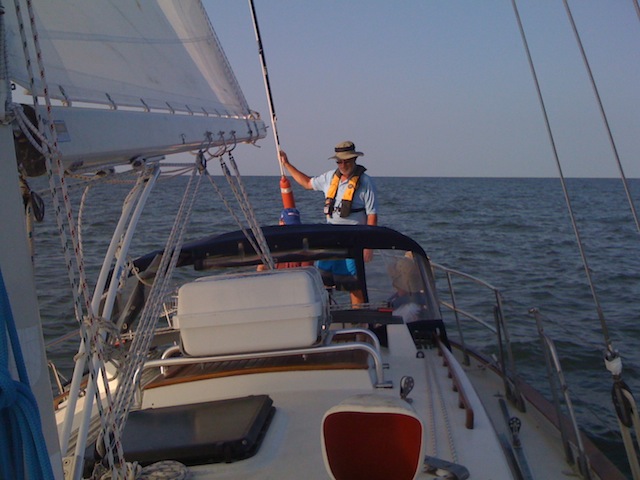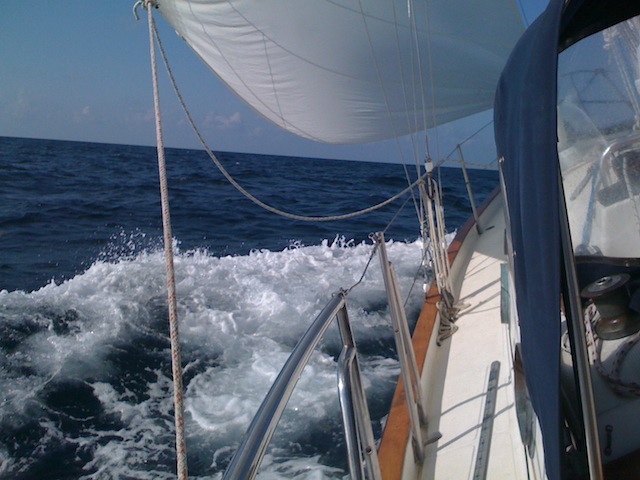 And a Pearson 365 Ketch…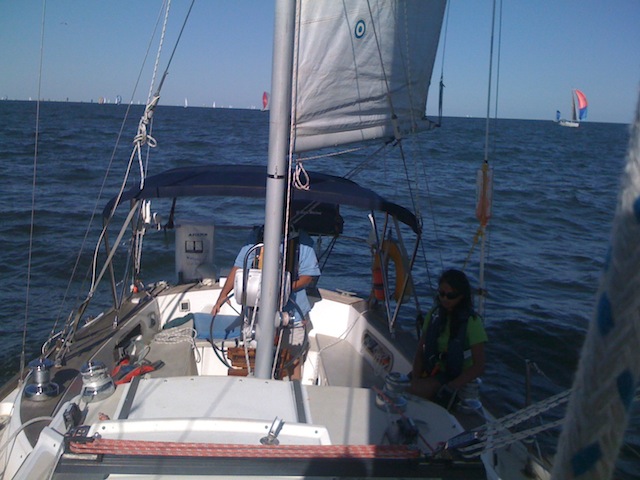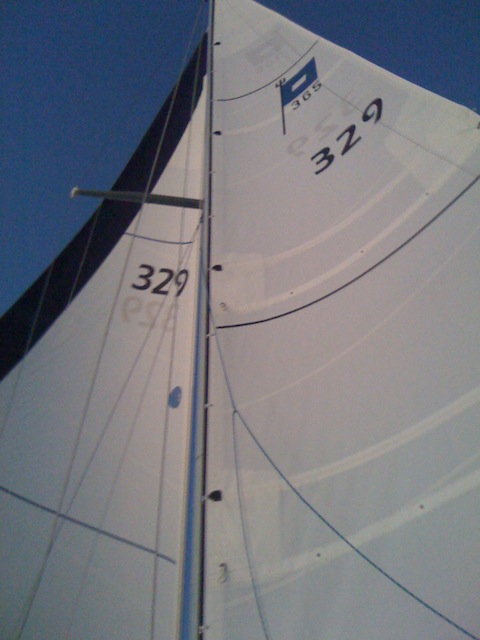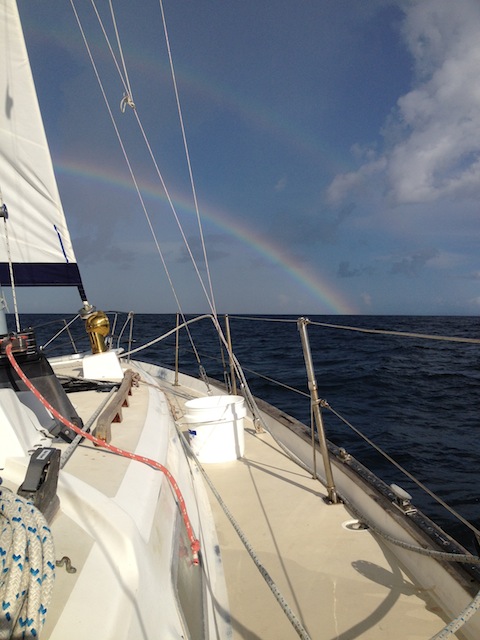 Between these two boats, I sailed over 1,200 miles in the races and returns. The worst conditions we ever faced was Force 7. And it was clear that these boats are extremely solid – even though both had the typical annoyances of older boats such as head doors that wouldn't quite close, creaks and groans underway, etc. They were easy to sail and could clearly undertake a circumnavigation – which the Pacific Seacraft eventually did.
As for the "seamanly" accommodations below, I could see that the "lee-cloth'd seaberth throughout the boat" argument (e.g. – no centerline berths) was pretty weak. We typically had a crew of 6 – and between the v-berth and the salon seats (rigged with lee-cloths), there were plenty of secure seaberths as we rotated on and off watches.
Also, to be honest, I actually found these boats a little tight down below for my taste. Great for 3, crowded with 6. More importantly to me, they were relatively slow. Granted, they were not designed to be racing boats. But though we won our cruising division in various races on both boats – it was seriously painful to be dialed in at 7 knots, then watch a parade of Beneteaus, Hunters and Catalinas sail right by us.
These boats represent some of the best, most revered, bluewater cruising boats around. And I certainly have no business or desire to take anything away from them. I just realized, they weren't for me.
BeneJeneHunterLina
So I'd now come around to the idea that production boats were not the flimsy deathtraps the yappers typically presented them to be. When is the last time you read or heard of a production boat being completely demolished offshore in a storm? Damaged – probably. Severely – maybe. Demolished – no.
I had also narrowed my boat size requirements quite a bit after the races to between 38′ and 40′. This seemed to be the sweet-spot for us in terms of room and manageability.
My search moved to the higher-end light-blue-water boats like C&C, Ericson, and Sabre, and the leading production boat brands, Beneteau, Jeanneau, Hunter, Catalina, etc. – mockingly referred to as "BeneHunterLinas" by the chuckleheads.
Now, after owning a C27, I had to agree with them somewhat. Though Childress did it after some beefing up, I would NOT have taken my C27 across oceans. No way. It was obviously a lightly-built weekender/coastal boat. I might have taken it on the same off-shore race trips we'd done in the same conditions – but nothing bigger than that. So I was still a bit cautious in wanting a more heavily built (e.g. – full glass, non-cored hull) boat.
The problem for me was that I was still dreaming about that Nelson/Marek 45. The layout of those full-blown cabins and roomy salon was perfect as far as I was concerned. I didn't like the split aft cabins or, worse, half cabin-half head layouts I was seeing in virtually all the boats I was coming across on YachtWorld. And I definitely did not like the open quarter berth set-up. Just not my thing.
That magical N/M combination I was looking for knocked out most of the "premium brand" light-blue-water boats and the raft of Catalina 38s continually popping up in my price range. The Catalina 36 had a layout close to what I wanted, but it was too small. Then there was the Hunter Cherubini 37 that the "blue water" chuckleheads had at least some amount of respect for. But I just couldn't get excited about it.
On the other hand, Beneteau had some interesting possibilities. The Idylle was a pretty well regarded "blue water capable" boat. But it looked a bit frumpy to my eye. Kind of like white nurse's shoes. Just not a lot of sexy. On the other hand the First series seemed like an absolute no-brainer in terms of what I wanted…very fast and tough. There are numerous stories of Firsts circumnavigating, blasting through horrible conditions in the Southern Ocean to win races, you name it. Bene Firsts are, without question, great boats.
So I looked at several in my price range…from 38s to 42s. But as much as I wanted to, I just couldn't get excited about them. Though they were, without question, thoroughbreds, there were two serious turn-offs for me.:
1. The damn headliner! EVERY single Bene I looked at had a seriously hot mess for a headliner. They were all saggier than a 70-year-old stripper. Who wants to put money into fixing that? Freakin' nightmare.
2. Primary color sinks. Seriously? Who does that? This is a yacht! Not a day care center!
I know…it sounds silly when you're considering a yacht…but it's not really. You have to love what you buy. And though I KNOW I would have loved sailing a Bene First…I also had to live with it.
Here is a very well-kept First 375 that I came >THIS< close to buying: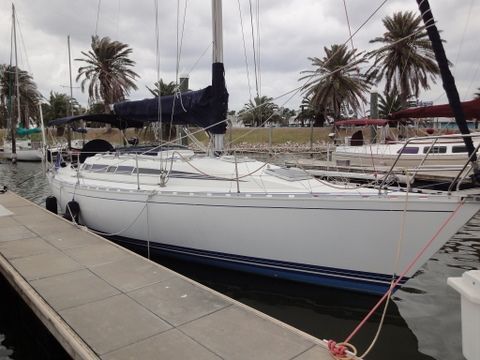 Gorgeous and immaculate on the outside. She oozes fast.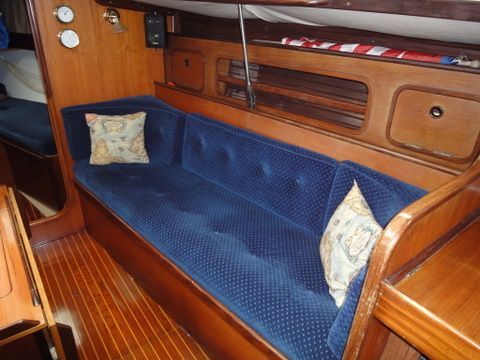 But here we have the Granny Panty headliner.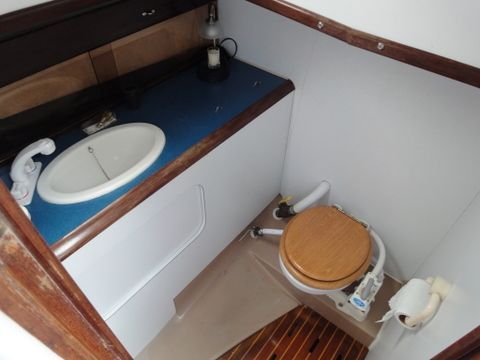 And the Romper Room head.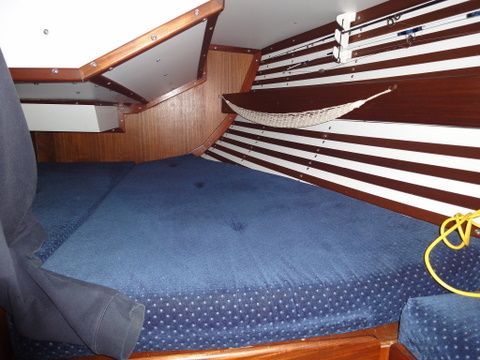 And finally the coffinesque aft "cabin".
Again – nothing wrong with this particular boat at all, in fact it was just about perfect compared to others in the market and at a great price to boot. I just personally couldn't do it. And that's actually saying something. The Beneteau First is a very well respected boat by all the yappers who hold fast to the bluewater mantra. It's kind of the perfect cross-over between a racer and a cruiser. And as much I hate to admit it, the thought of being able to brag about having that "perfect" boat was very tempting. Who could possibly hassle me for buying a First 38? No one.
But there was another boat that kept coming up in the searches – and calling to me. It was the mid-to-late-80's Hunter 40. As for the look and feel of this boat, it doesn't take a rocket surgeon to see why it appealed to me:
The N/M 454: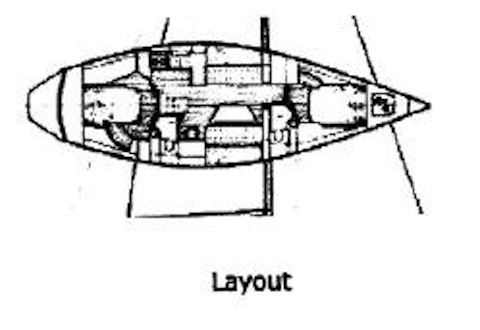 The 454 layout.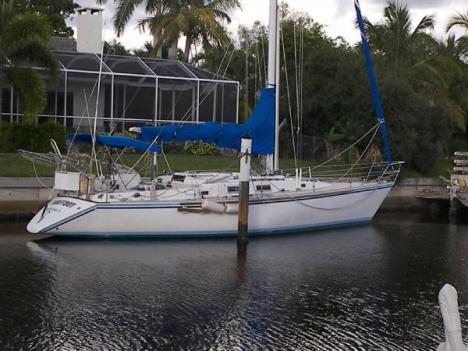 The 454 profile.
Our 1989 Hunter 40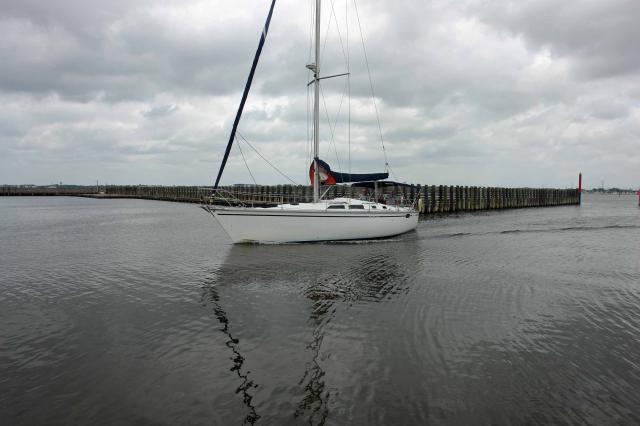 The H40 profile.

The H40 layout.
See the similarities?
It had virtually EVERYTHING I was looking for. Spacious layout, no sagging headliners, a VERY respectable NE-PHRF of 96, and great off-shore design features on deck (great cockpit, minimal companionway hatch, nice side-decks)…but…
…it was a Hunter.
With all the yapping on all the forums about how crappy Hunters are in terms of build strength – how I could I possibly go on a forum again and say I chose a Hunter 40 over a Beneteau First 38? This was blasphemy!
Then came two very interesting pieces of information that made me understand this strange anti-Hunter hysteria of the forums was completely ridiculous.
The Facts and S/V Sequitur
Many of the things the forum yappers have decried about Hunter designs and build-quality were things like "the arch" (moving the traveller onto an overhead arch to get it out of the way), or a rig with no back-stay, etc. Yet, within a few years of Hunter's introduction of these "ridiculous and dangerous ideas" – several other higher end yacht designers and builders picked them up as well. The yappers tended to be quiet about this as it turned out many of those "ridiculous and dangerous ideas" were actually great innovations. They were clearly wrong. So, as I've said above, I'd already blown off most of their blather.
To me it was purely about this…how tough is the Hunter 40 really? Could it handle a Force 7 off-shore blow, Force 8, 9? Would it just fall apart in the waves due to poor build quality like the yappers implied?
The first real evidence of the collective idiocy came in an interview between Sailnet's own Jeff Halpern and Jim Bohart of Hunter Marine. The interview, conducted in 1999 can be read here:
Interview of Hunter's Jim Bohart
I encourage you to read through the entire interview. It's great. But here's the takeaway – Hunters are built to be bluewater boats.
AAAAAAACCCKKKKKK!
Now, I promise, 90% of the forum yappers out there STILL refuse to believe this. Hunters are bluewater boats? Never!
And here's why they are all wrong. How do you think a Hunter would fare in an F10/11 Southern Ocean storm off Cape Horn?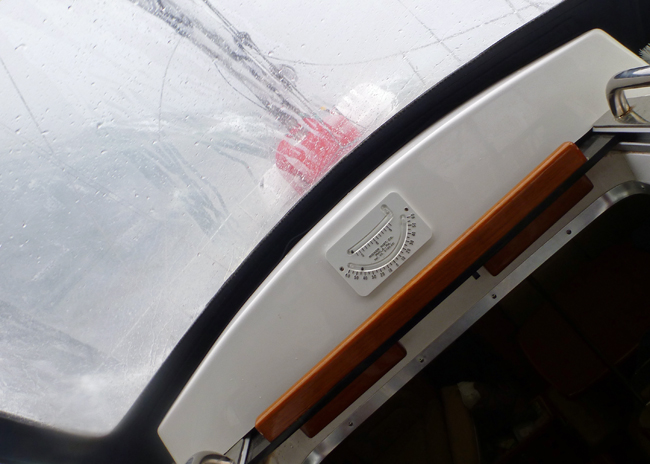 S/V Sequitur, a Hunter 49, off Cape Horn in 52+ knots.
The answer is…just fine. But, I'll let Michael tell you…
"I set-up a plot on the iPad to track our drift, and we laid down on the main salon couches to relax and watch the storm happen.
The port sidelight in the salon was looking bottom-ward a few times as breakers hit our starboard beam. Overhead, through the skylights and hatches we watched as great depths of green water sluiced over the decks. We remained dressed, with boots on and covered ourselves with duvets and napped."
Now how is it possible that a Hunter 49 sailed around Cape Horn in F10/11 conditions? Isn't this the absolute definition in every possible way of "bluewater"? Shouldn't a flimsy Hunter have been ripped to pieces?
The answer is simple – Hunters are built the way Jim Bohart says they're built. They can take it.
So, here was my conclusion in the Production Boats thread:
"Okay – so – after studying and discussing this issue for over 4 years now, I have reached a conclusion…
There are virtually no limits on any production cruising boat. You can sail most any boat around the world…as long as the weather is right, and as long as you are a pretty good, pretty conservative sailor.
The whole "bluewater boat" debate is crap. We can go ahead and lock this thread now."
And here was my conclusion on my purchase…I went out and bought a 1989 Hunter Legend 40.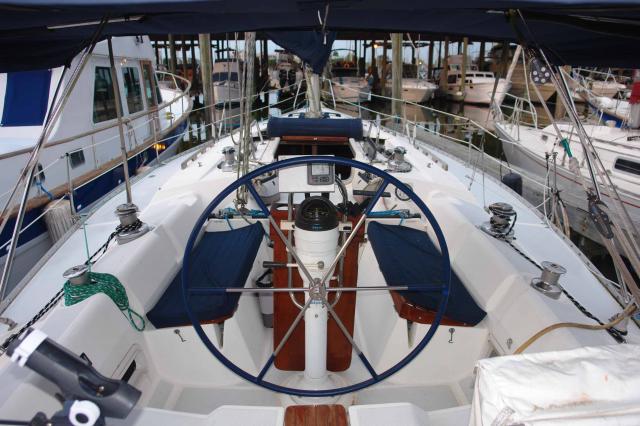 And I'm not a bit scared.