Unfortunately, I had to miss my favorite ocean race of the year, the Harvest Moon Regatta. It's a 150 mile race across the Gulf of Mexico from Galveston to Port Aransas. And this year was a spanker!
The start for "Blame It On Buffett" was just about as perfect as anyone could ask for…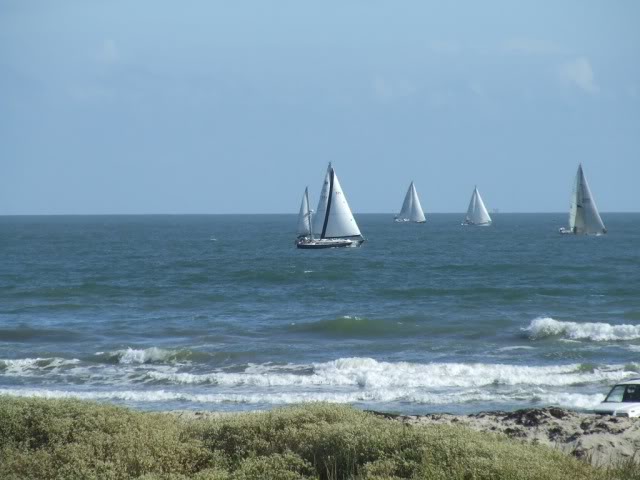 But 8 hours in, the fleet was hit by a cold front that brought 30+ knots and some confused seas as those winds blew against the swells…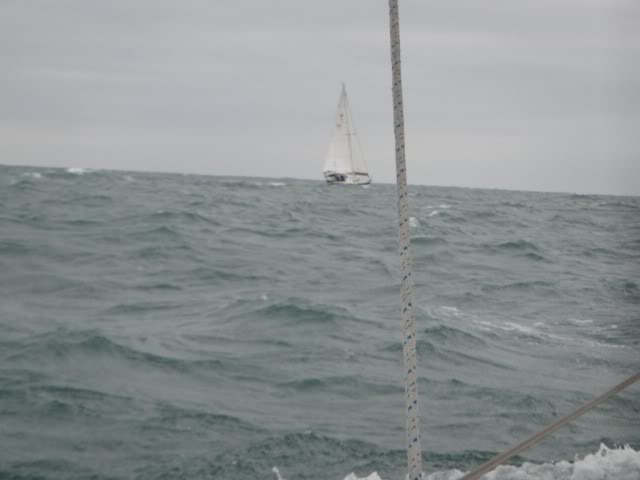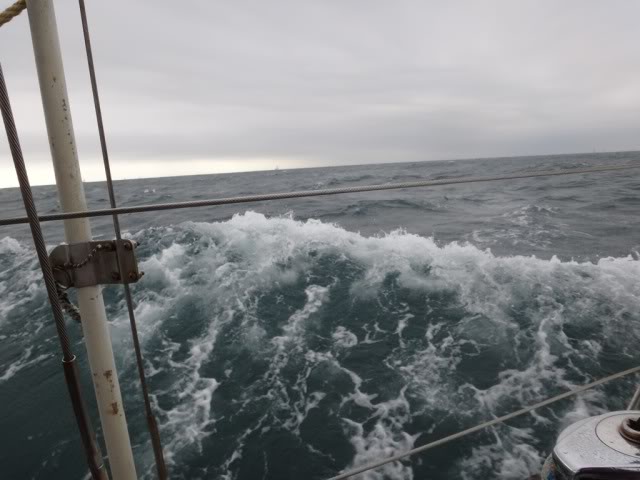 So while Jim (the skipper) and my crewmates were out enjoying a bonafide BFS…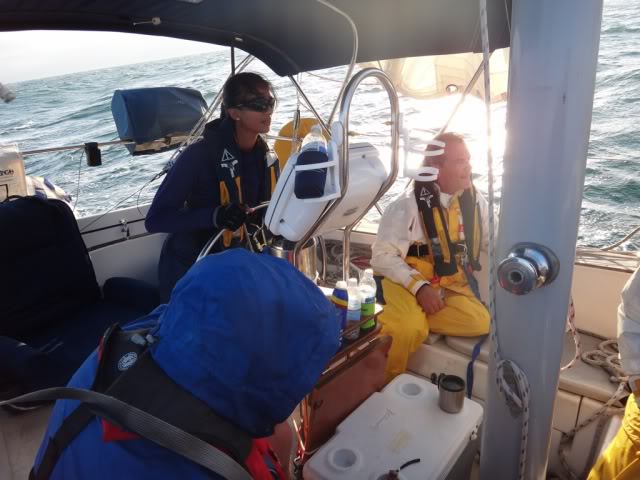 …with Super-Sailing-Chick Riddhi cranking out 9.5 knots SOG (you read it right) while driving…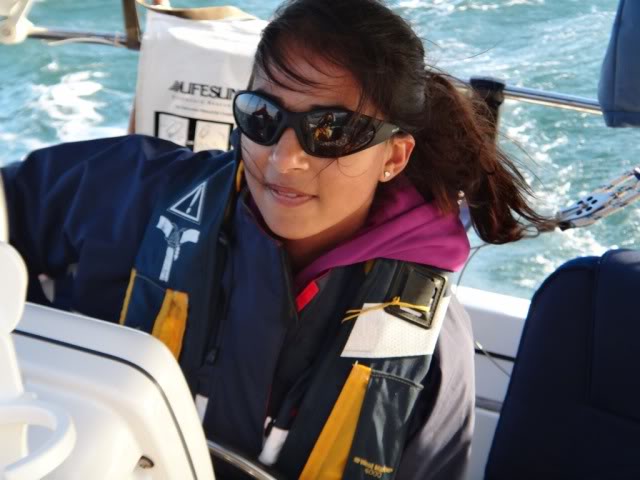 (Yeah. She kind of rocks.)
…I was stuck at the office handling some last minute fires that flared up. It absolutely and utterly sucked. Work getting in the way of ocean racing is just wrong on every level.
BUT AT LEAST JIM INVITED ME TO CREW ON THE RETURN! WOOHOO!
So, I hopped a Greyhound bus in Austin at 0120 and started toward Corpus Christi. After enduring hours of the cacophony of people snoring and mumbling to themselves or a dead president…I finally arrived in Corpus and talked a cabbie into taking me to Port A for $75 (down from $95!). Ouch.
I met Jim at the marina gate at about 0700 and as we were walking down to the boat we came across another last minute fire that flared up…this one literal…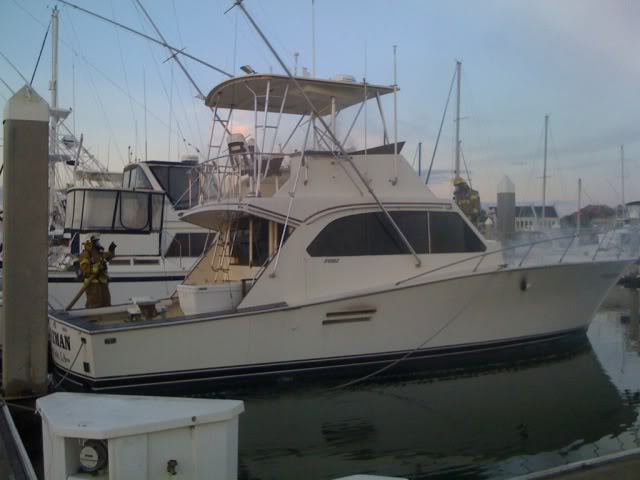 The boat had apparently been smoking for about 30 minutes – and 911 had been alerted. Another dude and I grabbed hoses from the slips and sprayed a pathetic amount of water on the boat….trying to do what we could. We finally heard sirens and the FD jumped into action…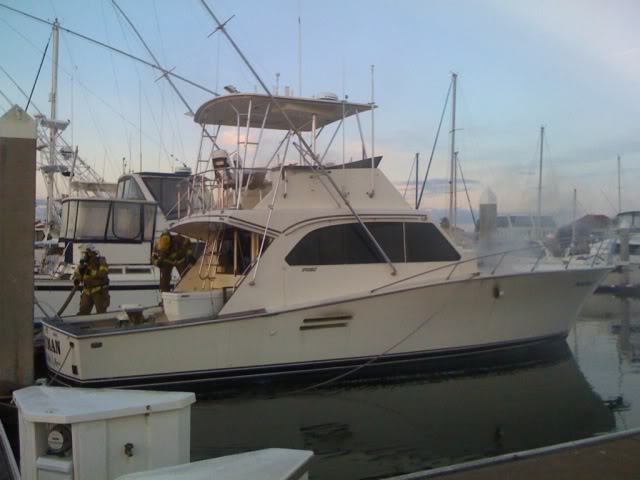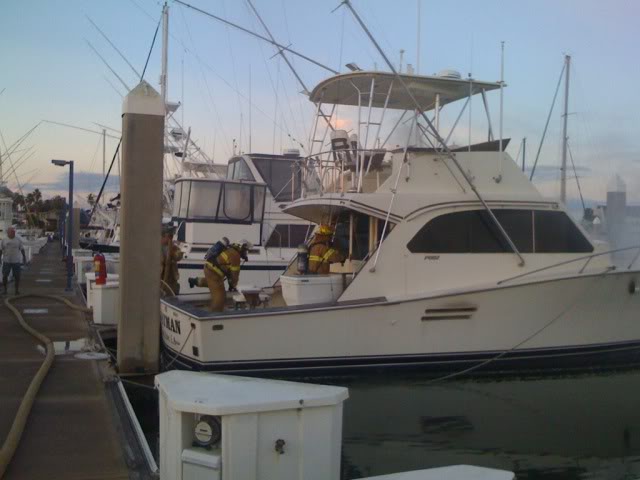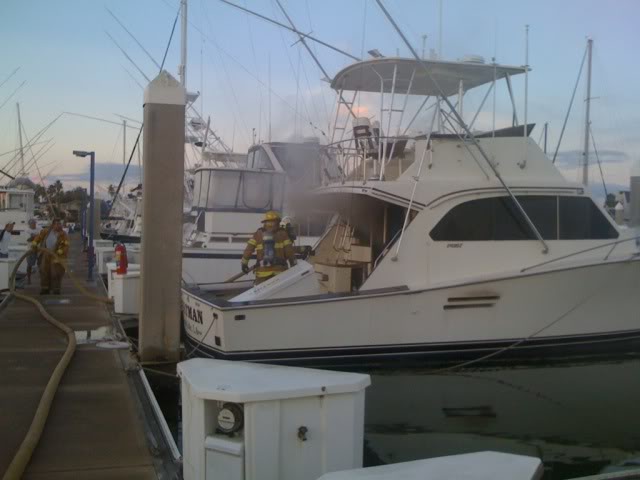 Once that door was open, it all happened pretty quickly…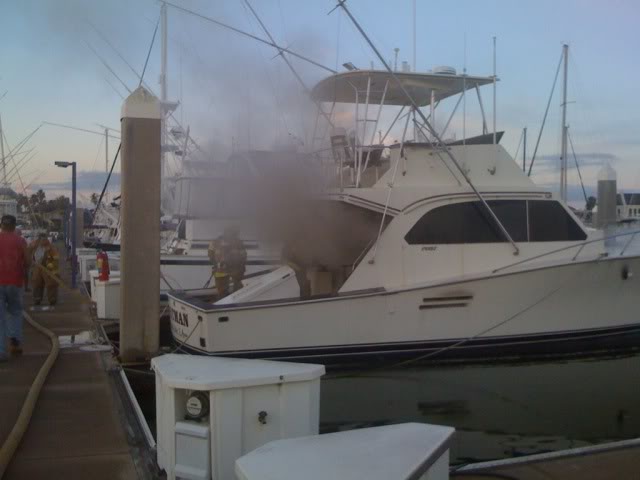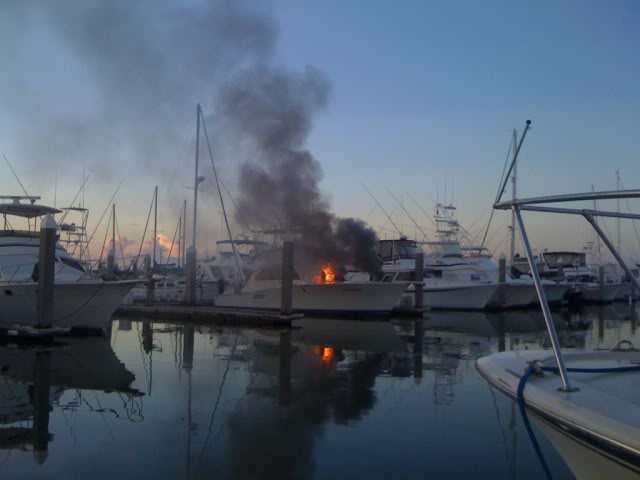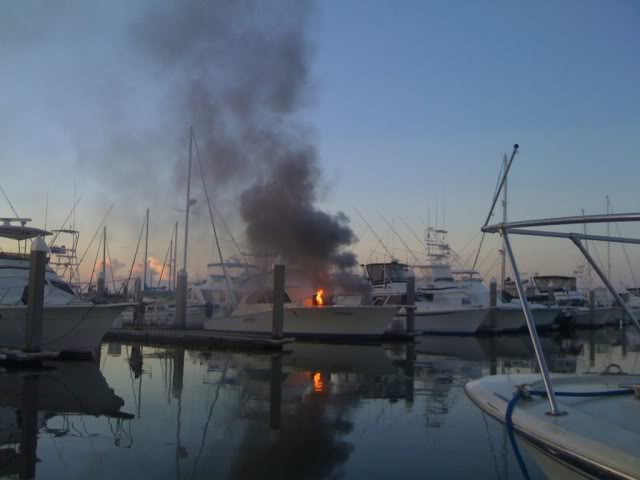 One of the firefighters jumped on the deck with a hose, which made me cringe thinking about that thing being weakened. He blasted hundreds of gallons down into the cabin, finally extinguishing the fire – and making what I can only imagine to be a complete disaster of the interior.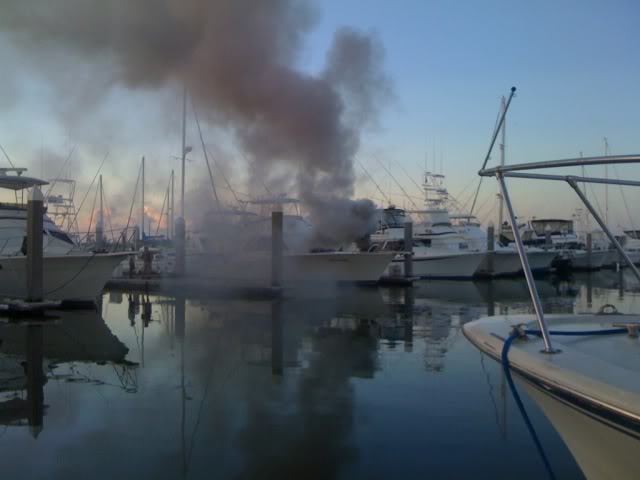 Brave dudes. And they did a fine job of not letting the thing go supernova and take out all the surrounding boats with it.
So, another fire handled, it was time cast off and go sailing! First, the crew…
There was Jim (the skipper) and his lovely wife Jo (some of the nicest people on the planet):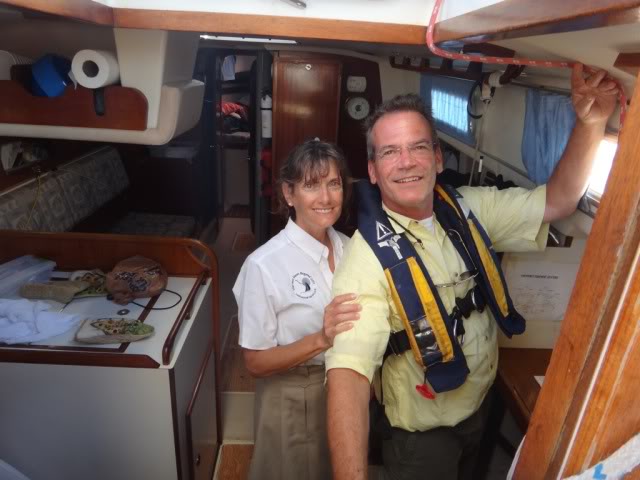 Also joining us were John (pictured below) and his wife Julie, owners of a gorgeous Pacific Seacraft 31 and along for the ride on this return. They proved to be a very cool couple – with John and I quoting "The Holy Grail" to each other in excruciating detail while the ladies rolled their eyes. Hey, it's what dudes do!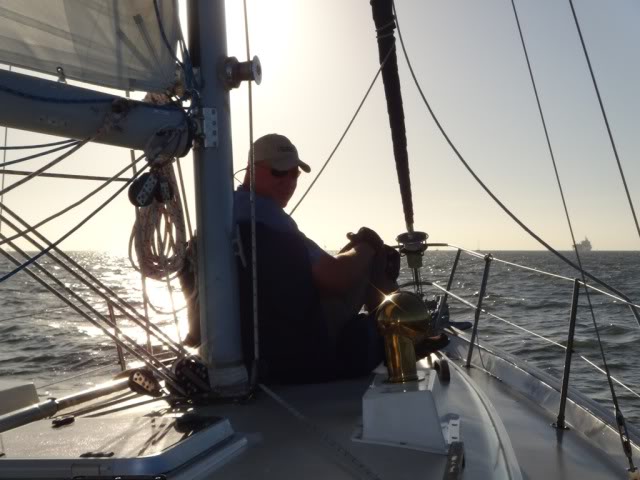 Finally, there was yours truly, providing the much needed hilarity (as you can tell by the expressions and body language of my mates)…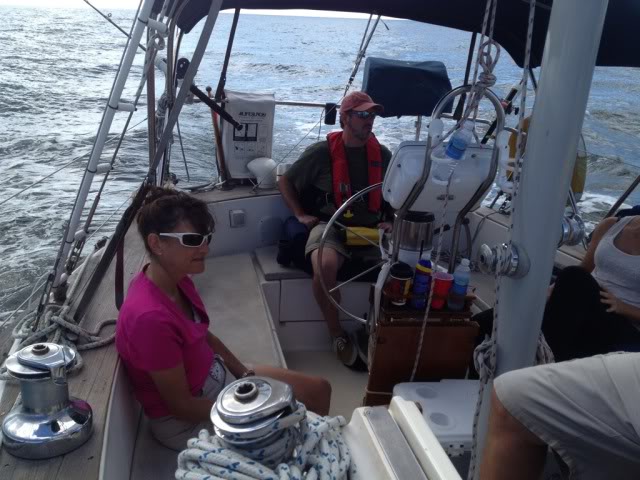 The wind was light (in the 8-10 range) so we had to motor sail most of the way. Now, personally, I can't stand the motor. Every time the wind came up enough, we'd cut it and sail. And every time we'd cut it, everyone would breathe a sigh of relief at the glorious quiet of wind and waves. Then we'd slow to 3 knots and have to fire it up all over again. We wanted to keep moving at around 6+ knots to make our time. After all, there was shrimp and rum awaiting us the follow evening. You do what you gotta.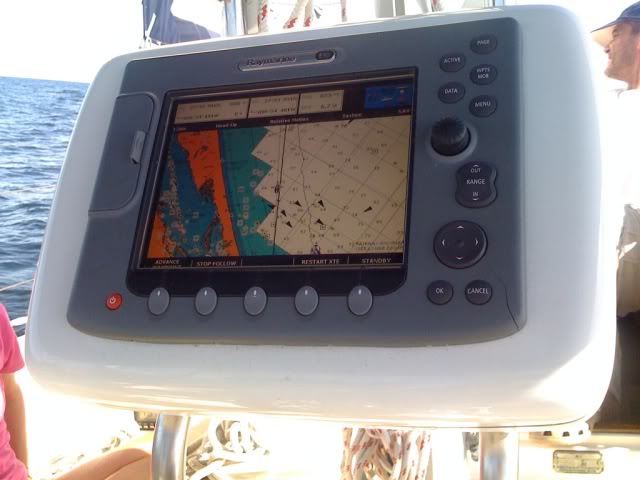 The nice thing (for me at least) was that we had some killer squalls around us all day providing some awesome views and short bursts of BFS. The swell increased to 6′-8′ as these blew through, providing some GREAT surfing.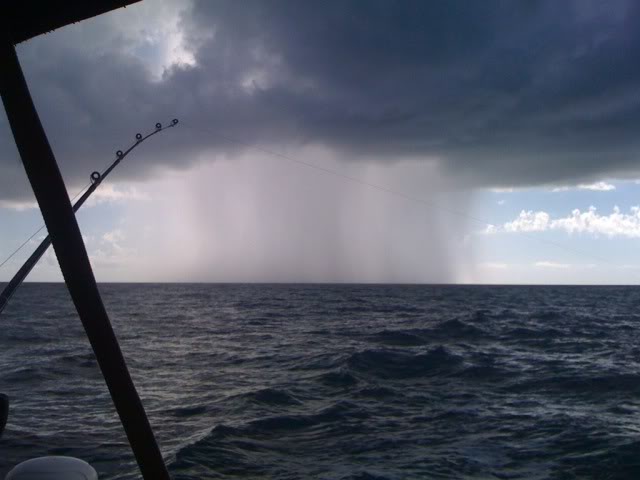 We just dodged this one, but ran into the next one square on. Jim and Jo were off-watch sleeping below and I was helming with John and Julie manning the sheets. We were fully canvassed (150, main, mizzen) – and as we approached I was debating on whether I should call for a reef. However, the previous squalls we'd seen had dissipated quickly without stirring up too much trouble – so I figured we could risk it.
I told John and Julie to watch for white caps as it came closer so we'd be ready. As it approached we eased everything out and got ready for the ride. I could tell by the water it wasn't going to be too bad, but I was ready to luff up if we need to reduce sail. We got hit with 25+ knots, but it wasn't violent…just fresh. We put a rail in the water and I called for an easing of the main and mizzen. John and Julie worked it like pros, and she immediately got back on her feet and took off! I wasn't watching the knotmeter, but we were seriously cranking along, surfing down the growing swell and RIPPING IT UP!
And this is all we have to show for it…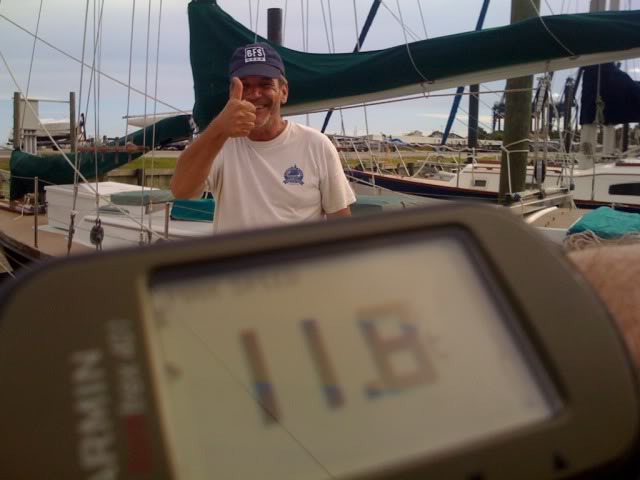 Yes…it says Max Speed 11.8 knots. THAT'S WHAT I'M TALKING ABOUT!!! And this is a freakin' Pearson 365 ketch, baby! Can we sail that thing or what???
It was a performance obviously worthy of a heavenly DOUBLE fist bump.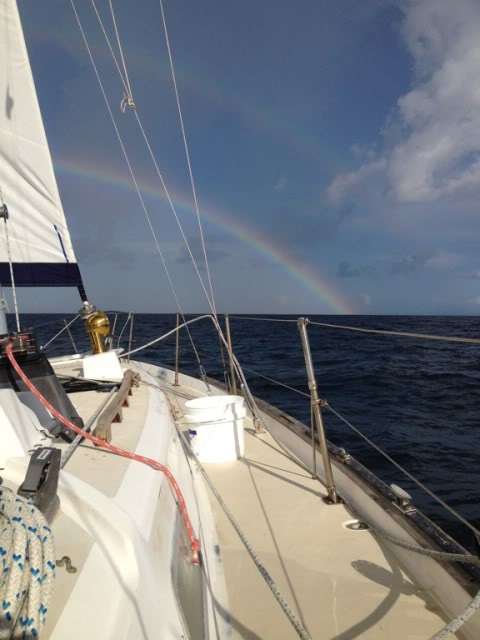 That's what I'm talkin' about!
Then, to top things off, twenty minutes later, we heard the lovely "zzzzzzzzz" of the reel. We were in the fish…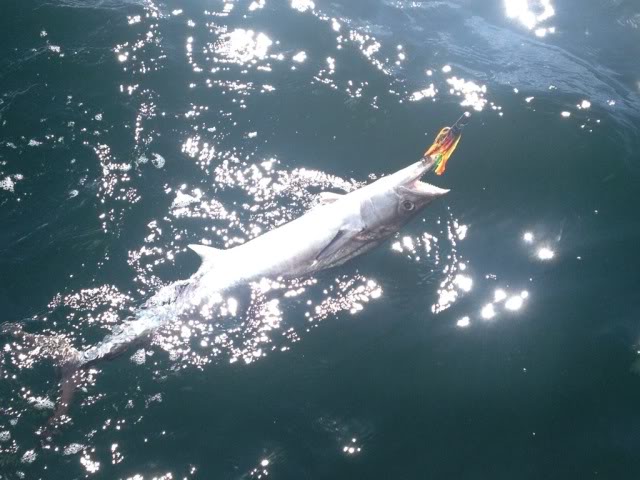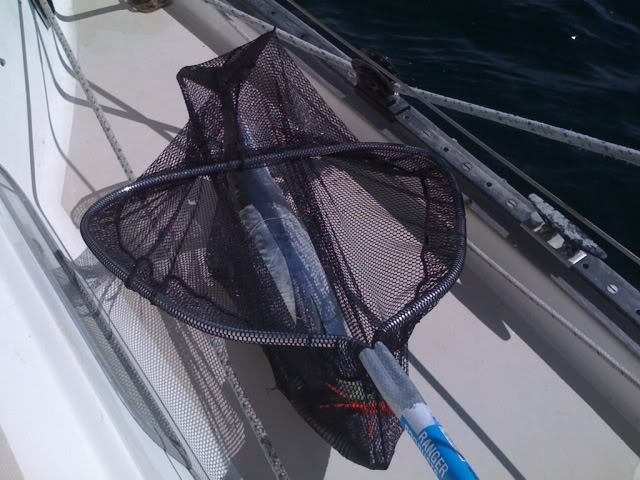 A 3-1/2′ King Mackerel was the first in the net, followed by another, then 2 Bonito tuna. We were well set for fresh fillets, baby!
We ended the day with a gorgeous sunset and another amazing meal cooked by Jo (BTW – Have I mentioned how insanely awesome the food is on this boat?)
It just doesn't get better than this. Seriously.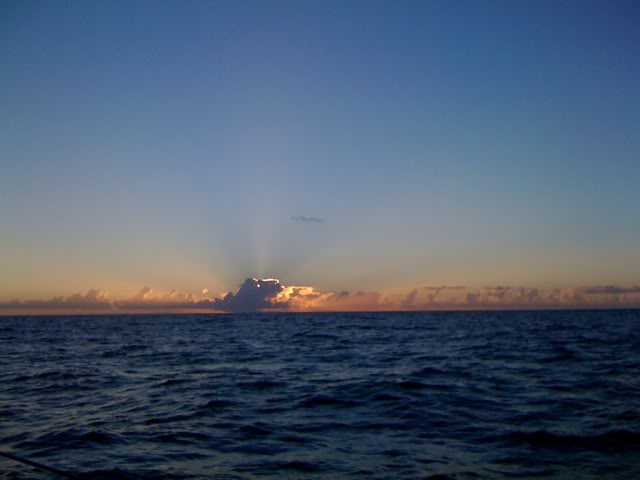 Then came the dreaded passage through the unlit rigs. I've talked a good deal about this in my past write ups, but we ended up threading our way through more completely dark boat killers on this trip than on any other before. And because the moon didn't rise for several hours after the sun went down…it was very, very dark.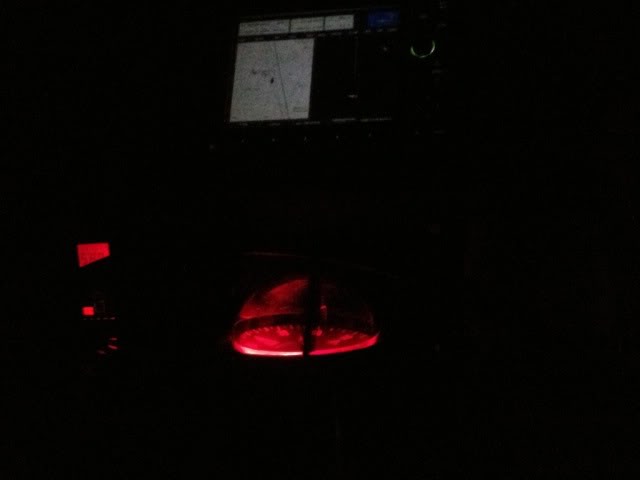 Fortunately, Jim has radar as you can see on the right side of the nav screen. So we could detect most of what was headed our way. But it was still seriously nerve wracking.
For example, the chart shows the following area of rigs.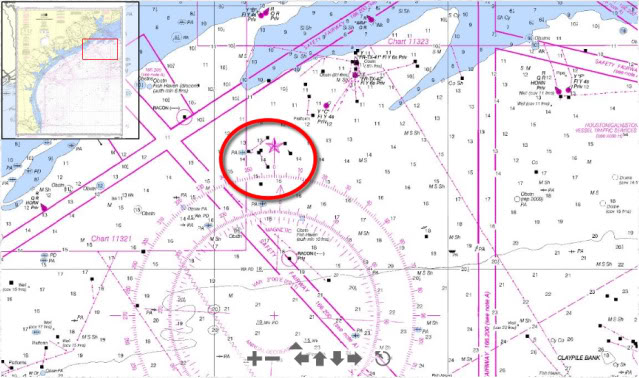 Most, if not all of these, are dark. No lights whatsoever. Furthermore, one of them is this monstrosity…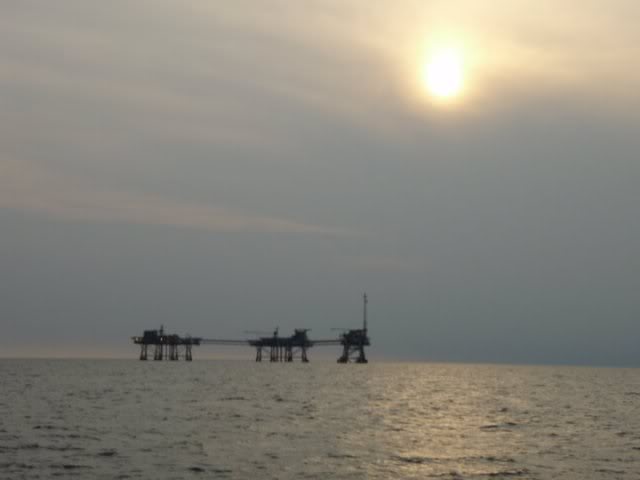 Several towers for sinking your boat. Catwalks between them for dismasting you. All completely blacked out. Nice.
Radar rocks. For sure. But you STILL need a good set of eyes on top of that. It'll put hair on your chest…AND give you a unibrow like Frida Khalo.
The sun rose the next morning with us less than 30 miles from the Galveston jetties. We were smelling the barn.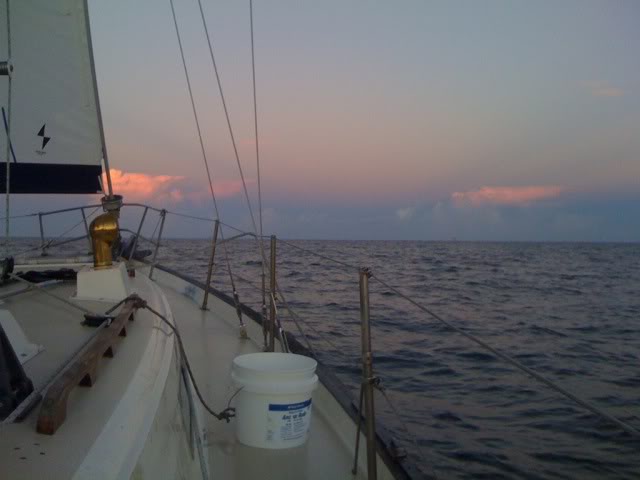 We entered the ship channel with plenty of time to make the 4 hour run across Galveston Bay to the marina – then prepare for the shrimp boil and booze awaiting us that evening at the Houston Yacht Club.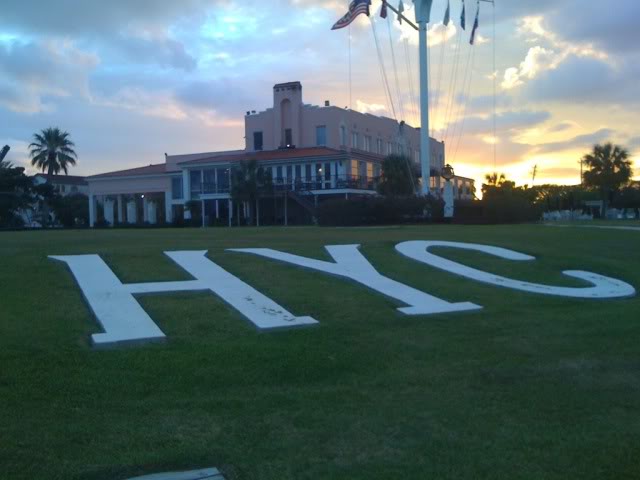 All in all, what an awesome trip! Another 200 offshore miles!
Thanks Jim, Jo, John, and Julie!!! Wait…do I see a pattern there?