The Rundown and Analysis of Fleet Race 5
Very light winds again…mellow seas…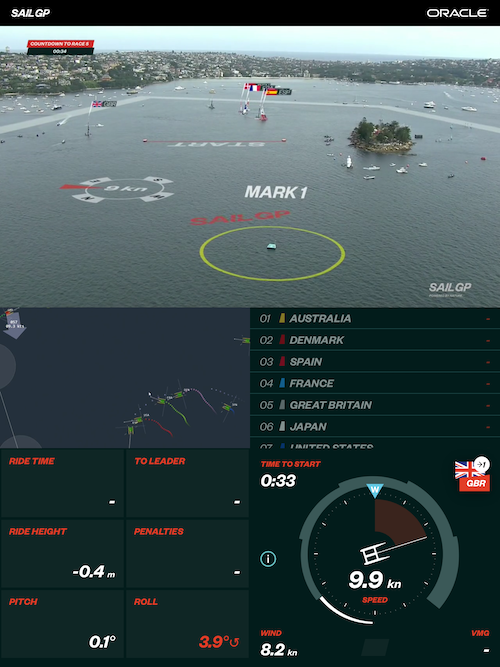 Might be some problem with GBR dead in the water out to the left as the others begin to jockey for position…or maybe they just want to keep clear and ensure everything is good for the final match.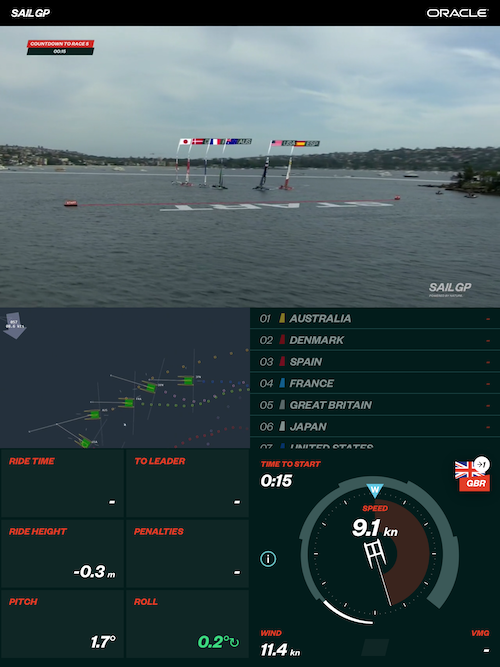 The others push toward the line with 15 seconds left…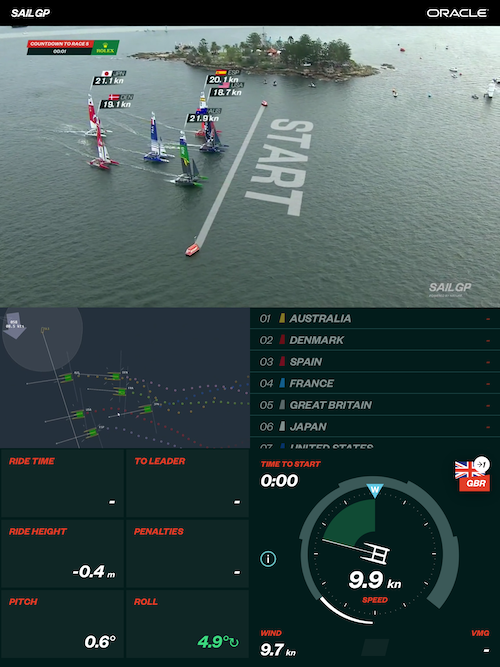 AUS and USA dominate the line. USA has had good starts – but they just can't keep up afterward…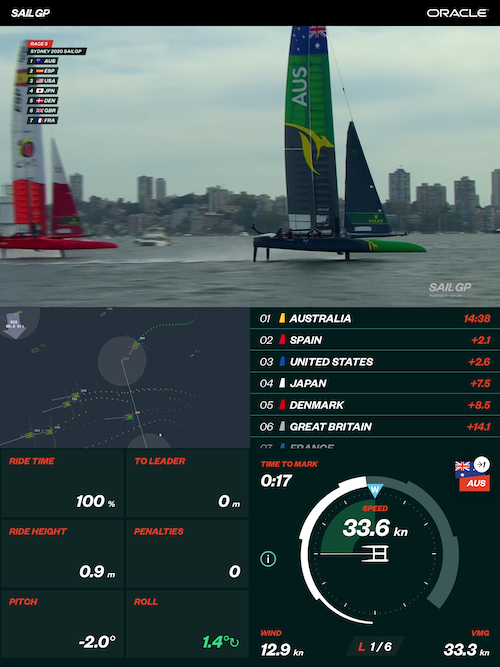 ESP, as always, is right there in the hunt…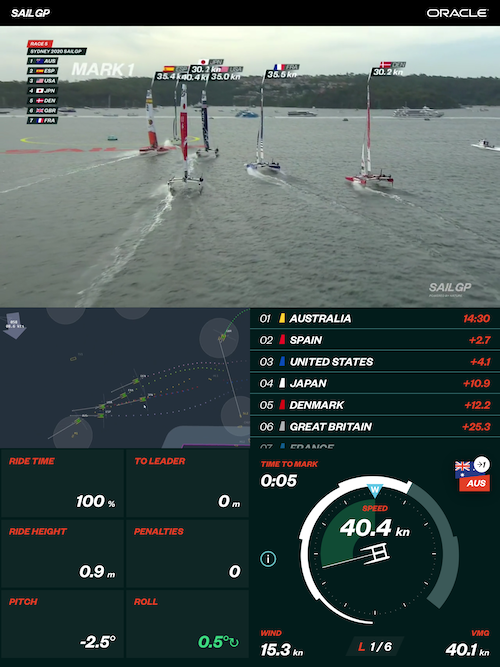 40 knots with AUS leading into the mark and ESP right on their heels. Not quite sure what happened with GBR (and they don't give any clarification in the broadcast – so who knows?)…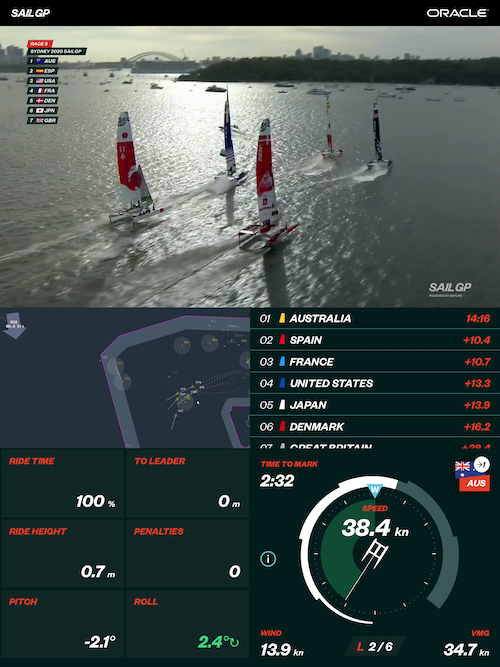 I've been really disappointed in the broadcast quality of these races. Not nearly as good on any level as S1. That needs to be fixed. But you can't beat beautiful shots like this…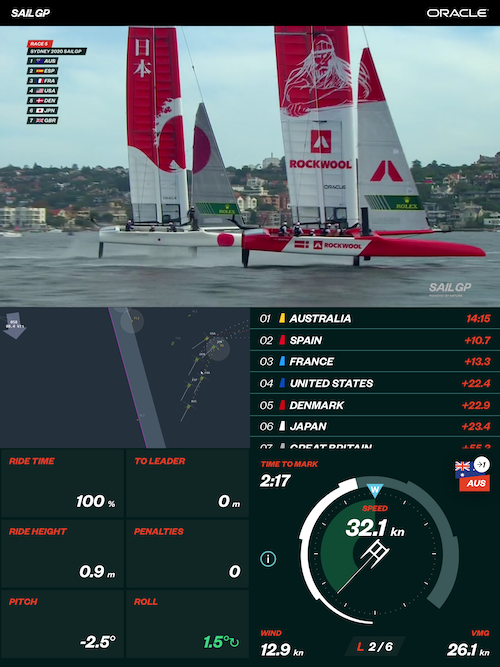 FRA and ESP are looking fast as they chase AUS. JPN is really crawling with GBR way, way back…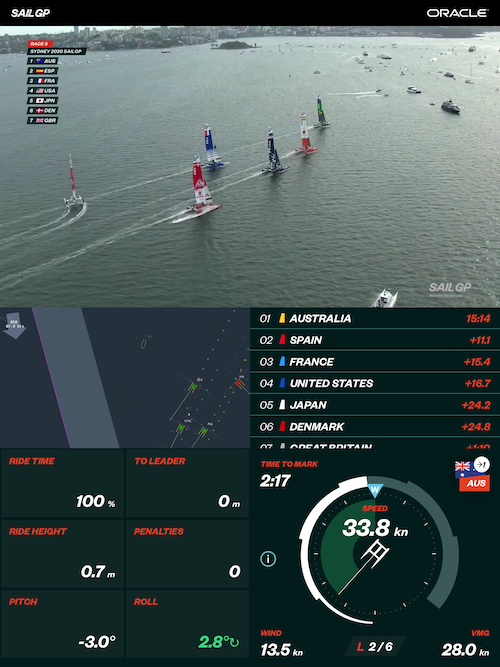 Top 5 staying close and running the same lines…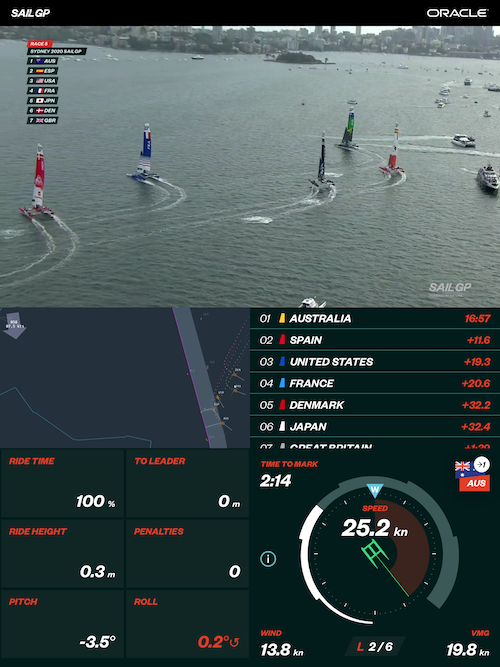 Now USA pulls in front of FRA as everyone gybes…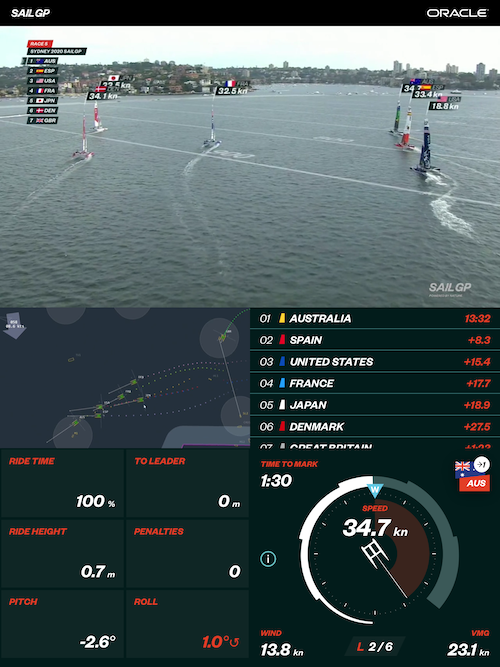 USA just can't seem to keep her on the foils, allowing FRA to sneak back up…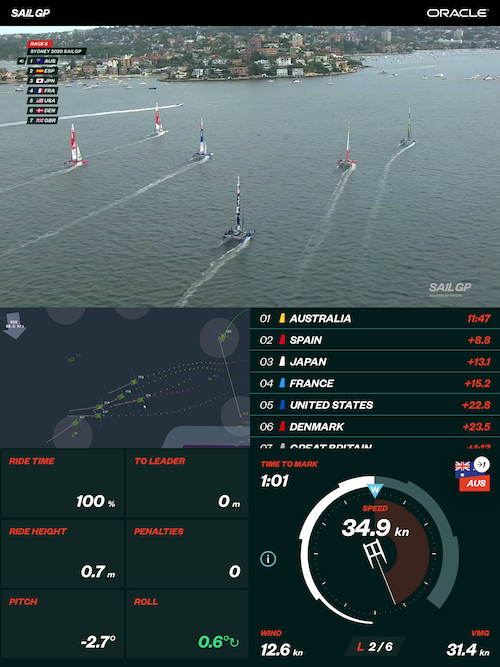 And USA falls behind both FRA and JPN, with the latter gaining another spot…though still off the pace of AUS and ESP…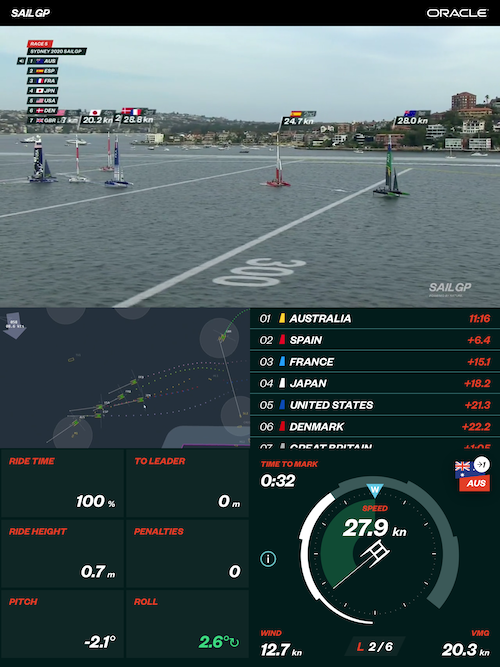 FRA and JPN continue to battle as they begin to close on the top 2…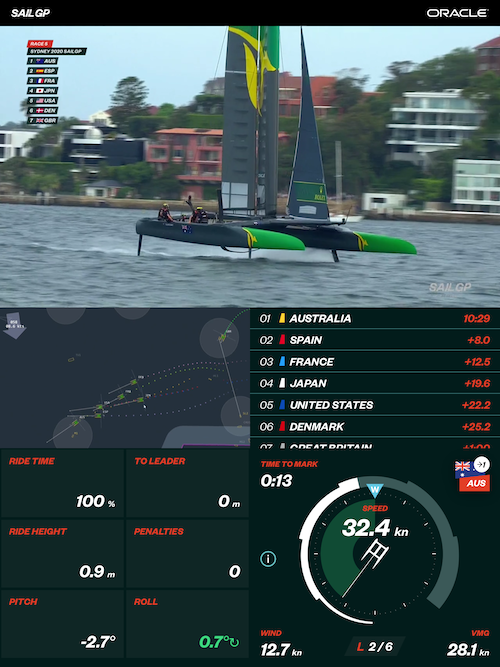 AUS is looking like the team we knew from S1…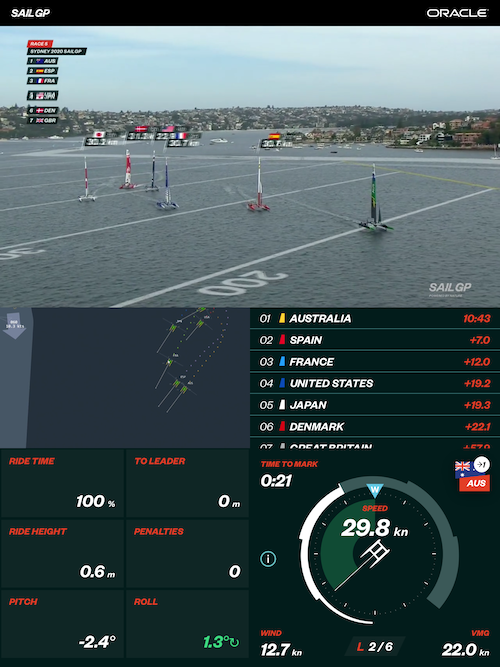 And now USA battles with JPN as FRA pulls in tighter to 1 and 2…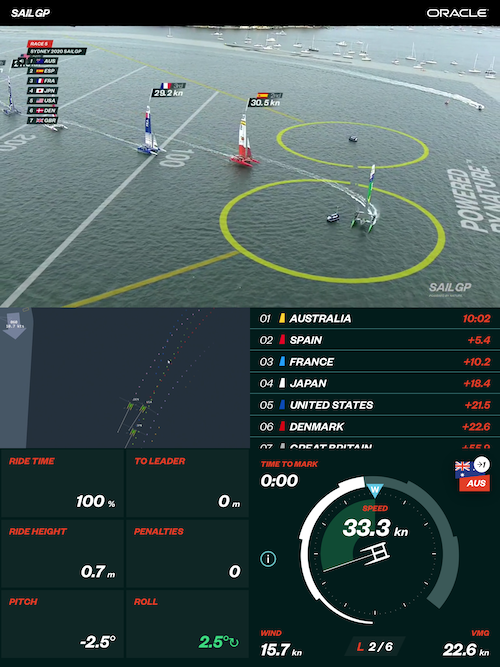 AUS rounds with a tightening ESP and FRA on their tail…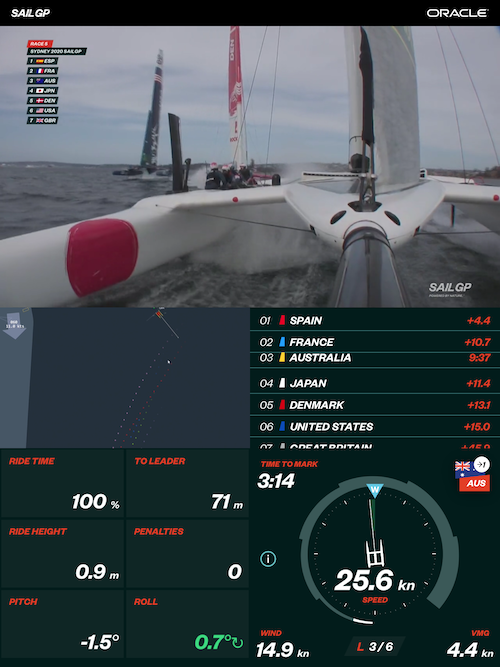 And here we see DEN starting to make a move on USA!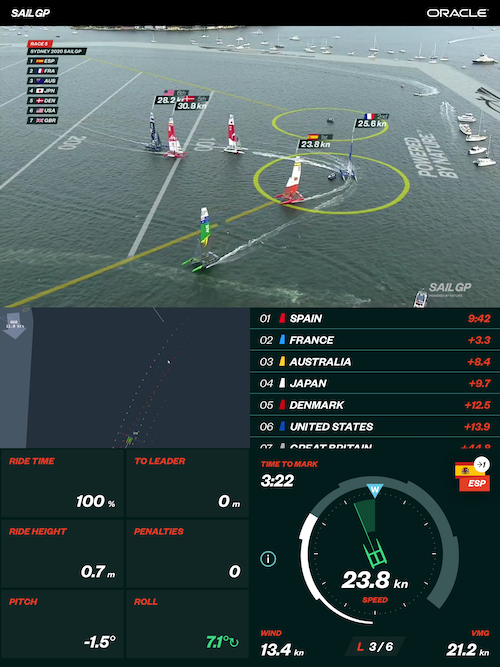 Pretty impressive racing for DEN to come back so far. This is definitely tight racing…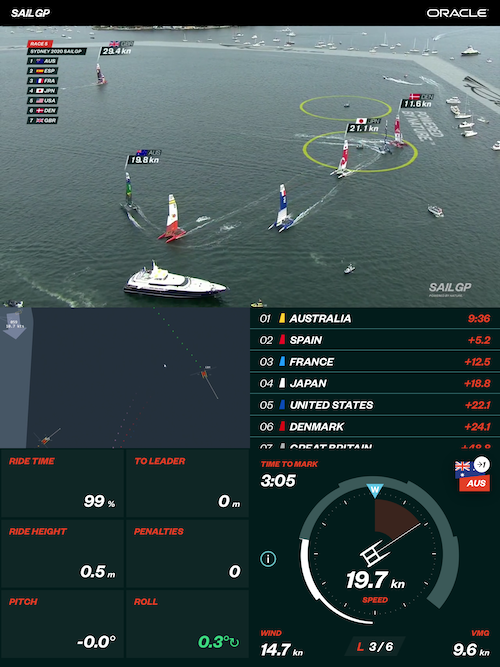 Everyone staying tight to AUS – and GBR just watching and eating popcorn way back (for now)…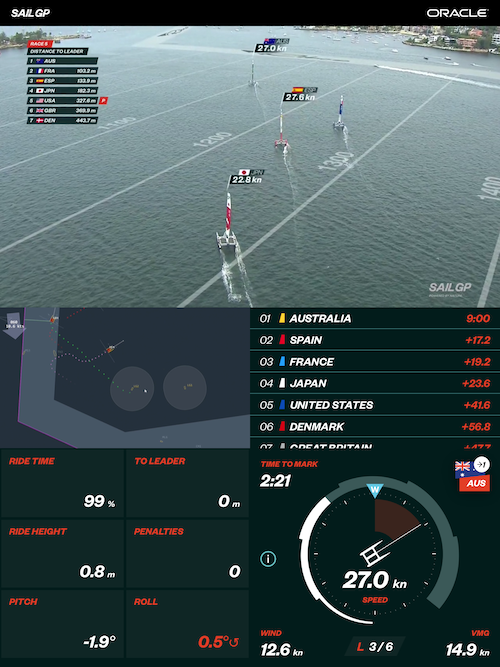 AUS keeps a commanding lead last ESP and FRA continue to battle. This is the best FRA has looking in a long time…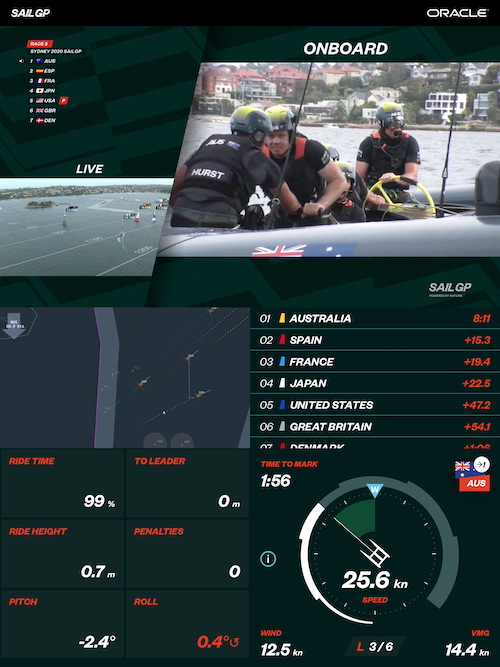 Great use of multiple-split-screen. All the tools are there if they can just clean up the overall broadcast! Notice GBR is starting to climb up the board! WTH????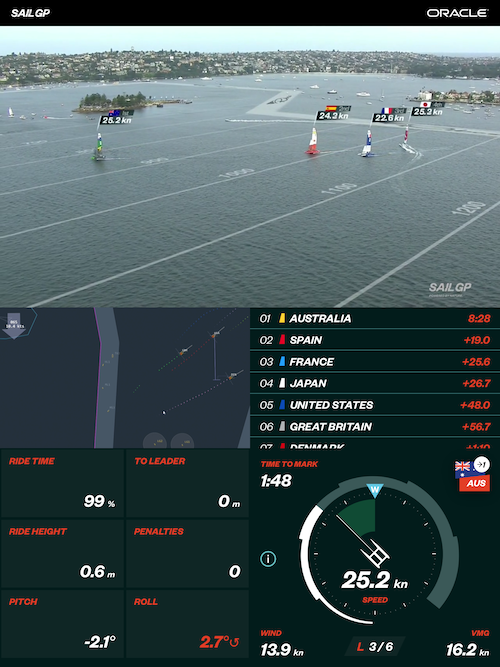 USA is just living through another nightmare as GBR is now breathing down their neck, while the same top 4 keep it tight…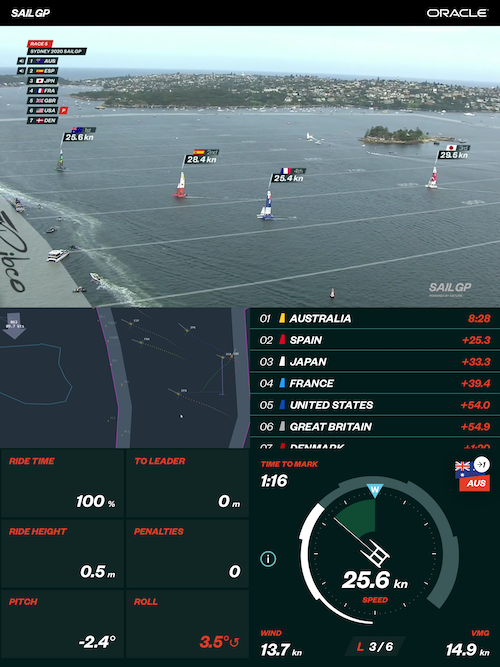 AUS pulls further away as winds go light…while JPN overtakes FRA for 3…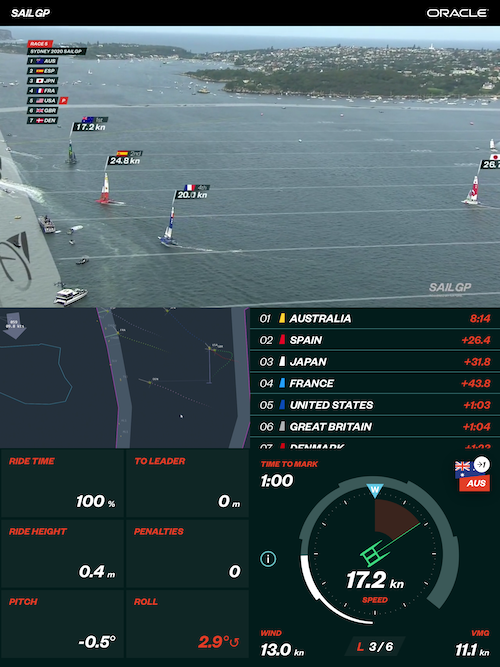 JPN in good position to make up ground on ESP as well…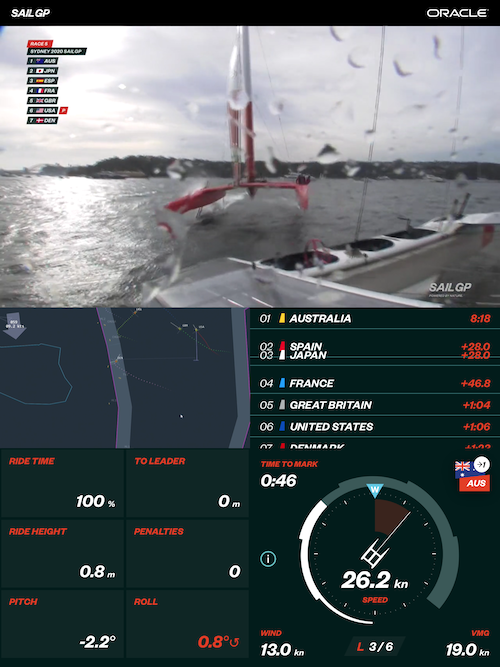 And the crossing between ESP and JPN is crazy tight…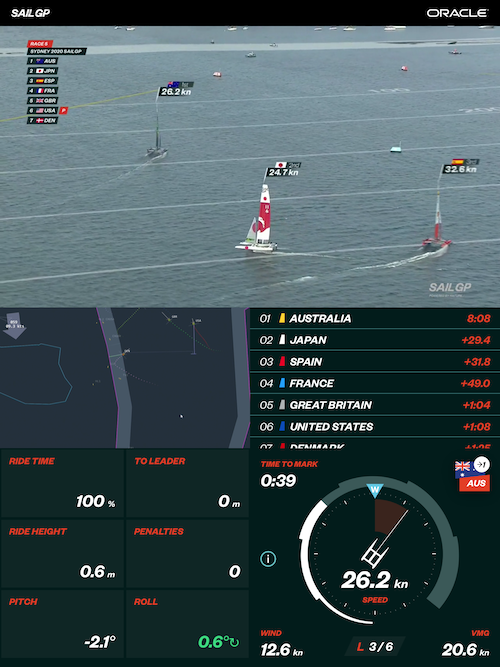 JPN pushes ESP down and takes 2…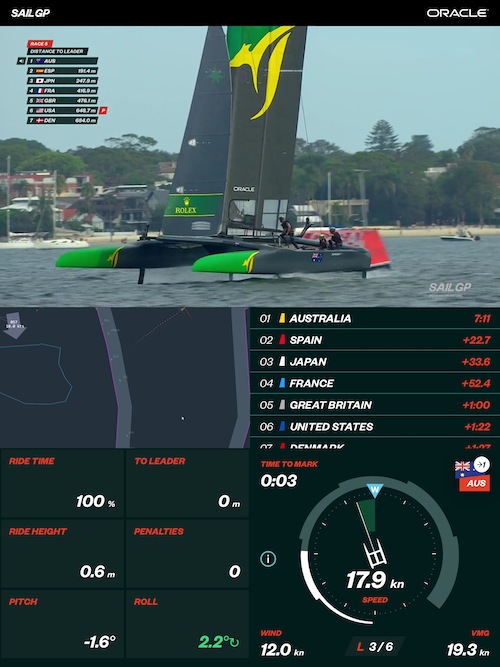 While AUS holds it steady and continues to pull further ahead…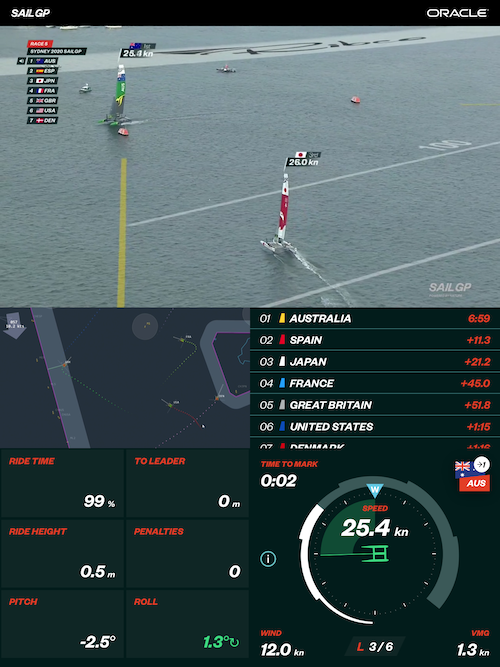 AUS rounds the mark with the same 3 still chasing. And GBR continues to climb up the board – leaving USA and DEN back at the dock…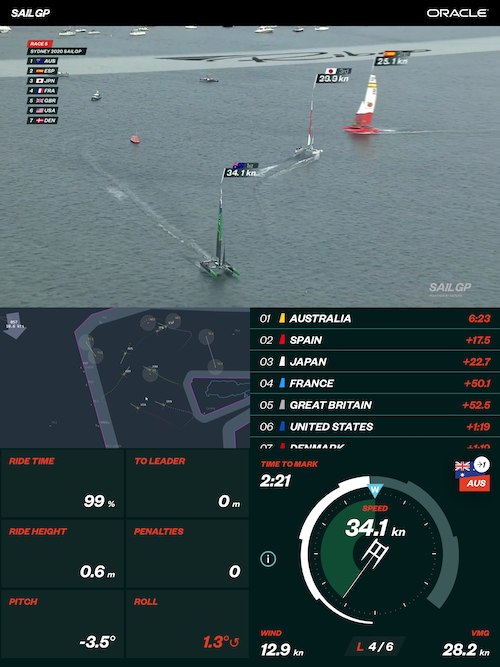 ESP runs a brilliant line, pushing JPN down and taking 2. Great move…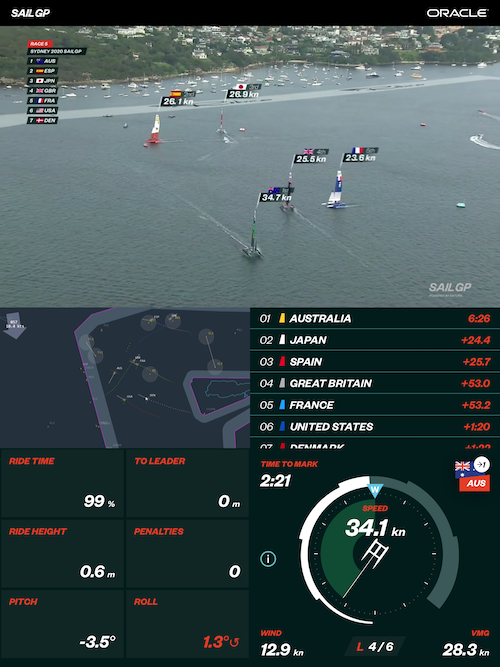 And now GBR overtakes FRA for 4th. BA is just absolutely ridiculous. These guys are sailing flawlessly…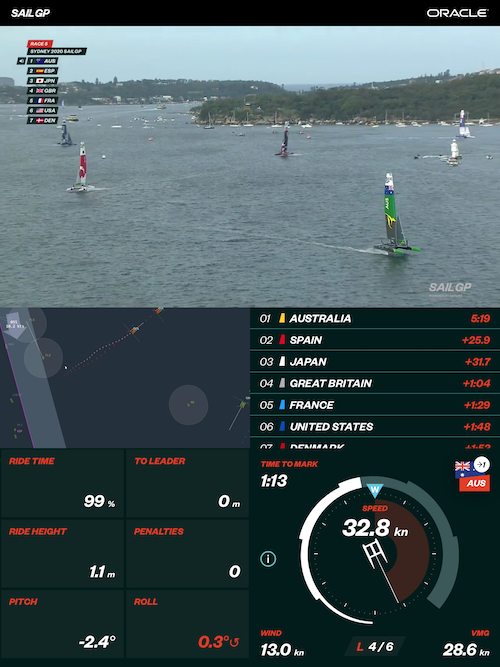 When GBR gives everyone else a 1 minute head start, it turns into a really competitive race!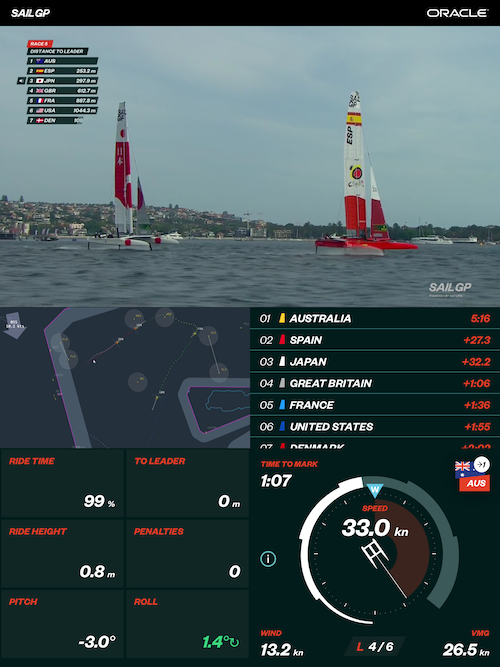 ESP and JPN continue to battle for 2 as AUS looks really strong. But you know Outerridge is looking over his shoulder and cursing…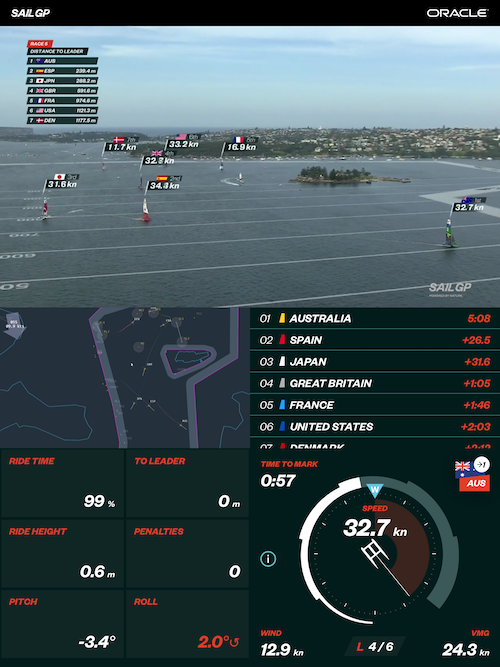 Fleet spreading out now as winds go lighter and patchier…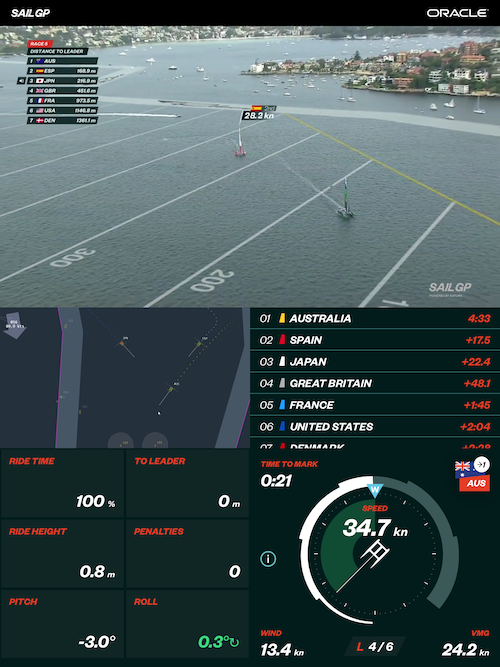 Over 100 meters between AUS and ESP…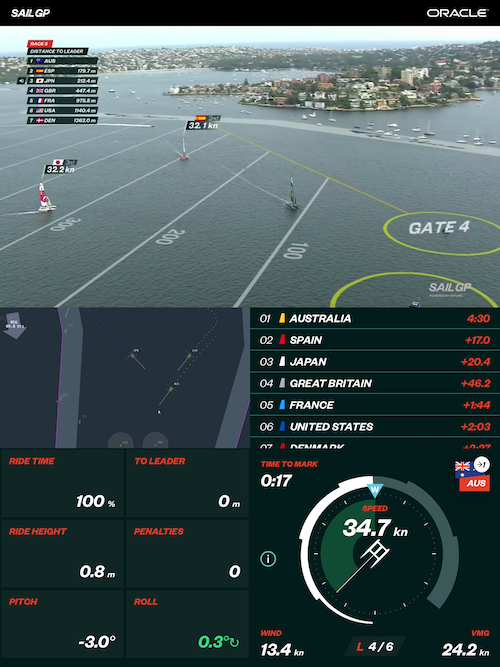 And as they come into the mark, JPN is trying to pull the same push it just got from ESP at the last mark…and will now have to gybe again…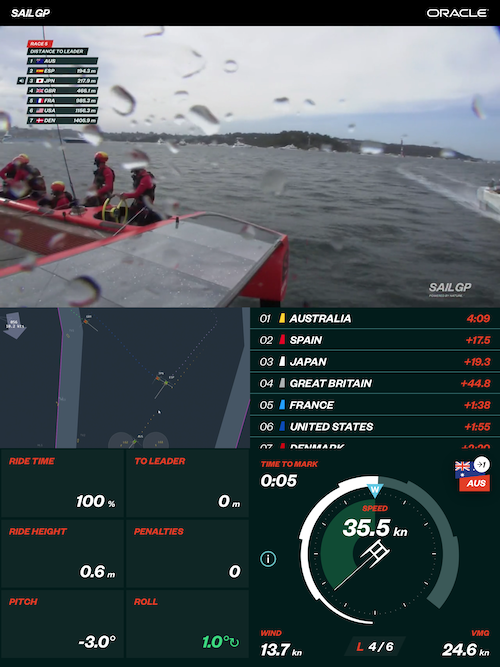 But they just don't quite have the speed and slide behind ESP…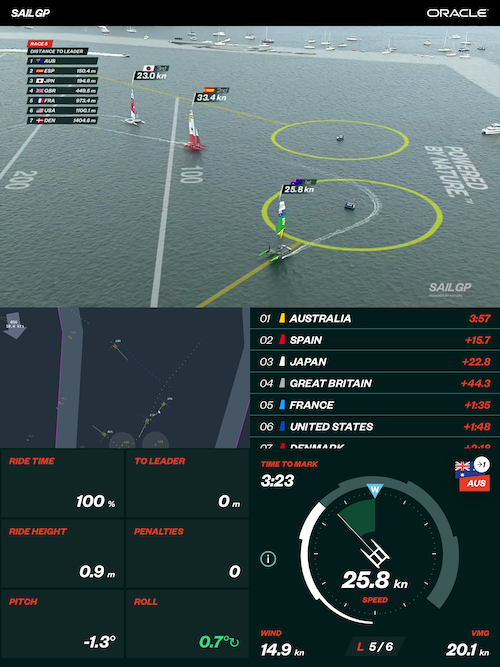 AUS is smelling the barn as ESP and JPN keep a great battle roaring…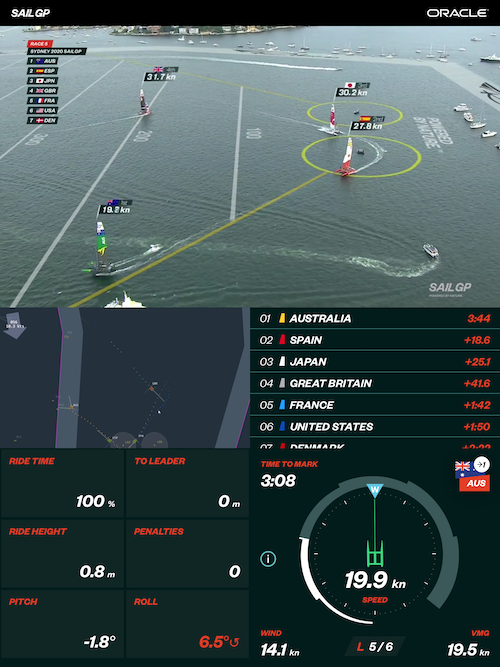 AUS takes a moment to full-crew-moon the GBR boat, then it's back to business…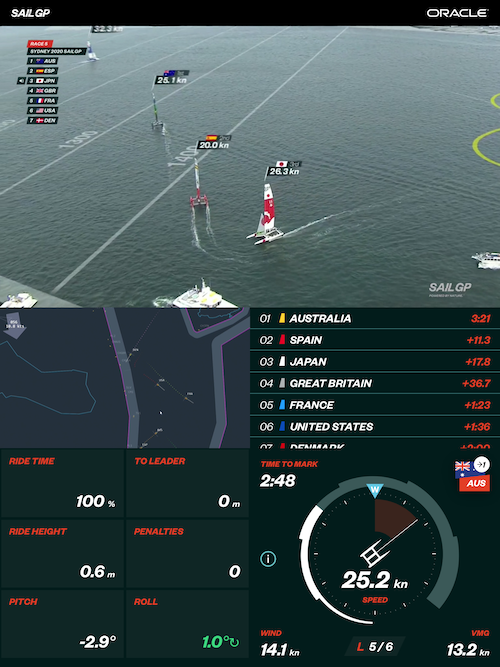 A bit of a bobble by ESP let JPN tighten it up a bit…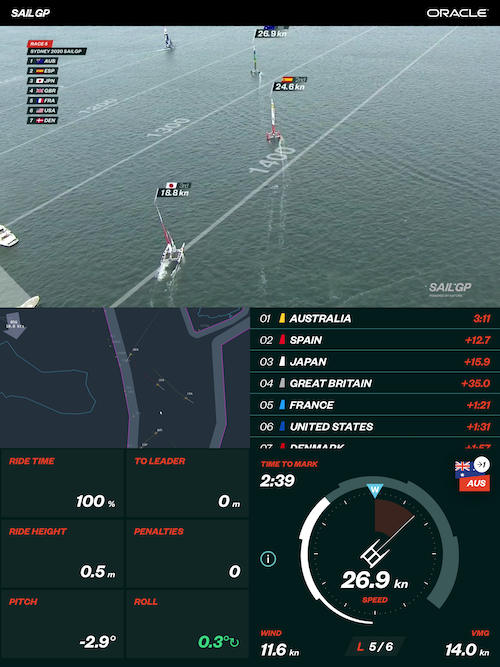 But then JPN stuffs a bow and lets ESP get away…USA is just crying into their hull…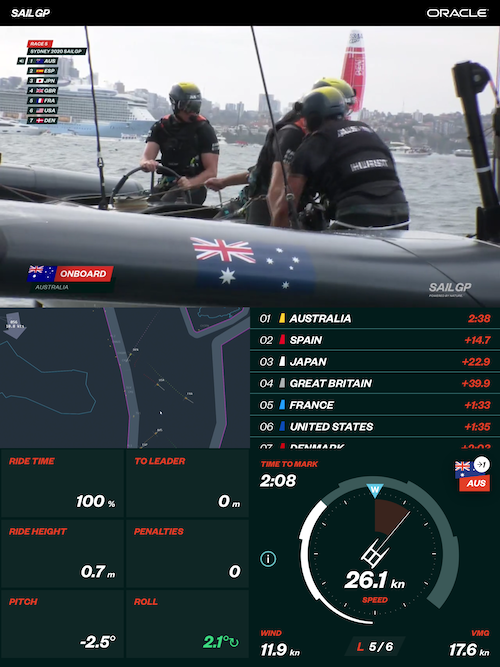 While AUS is feeling much better about things…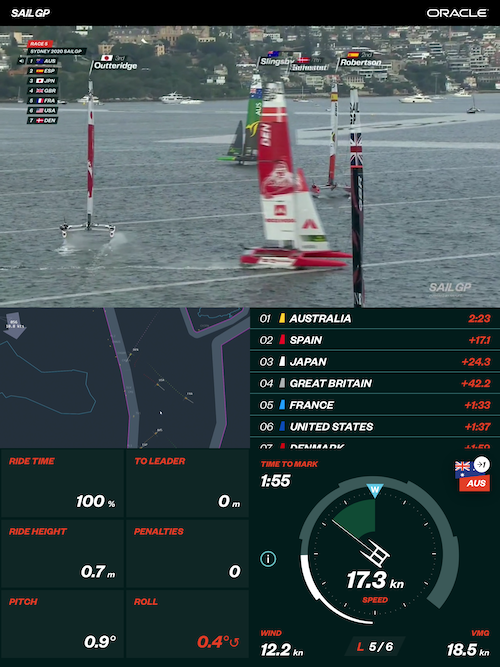 More close crosses between ESP and JPN. This has been truly awesome racing between these two…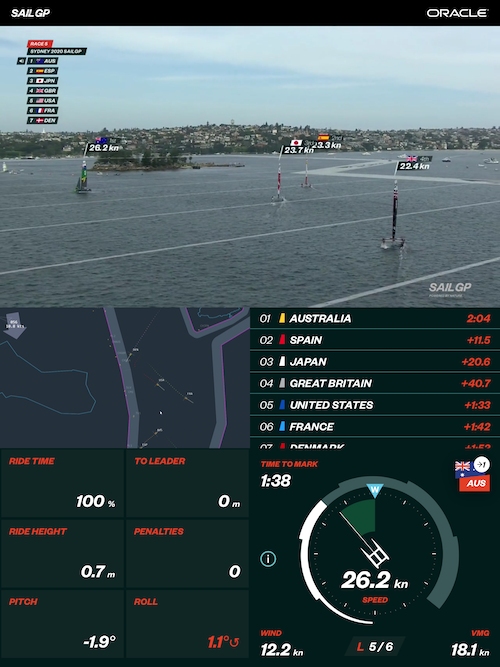 And GBR continues to close…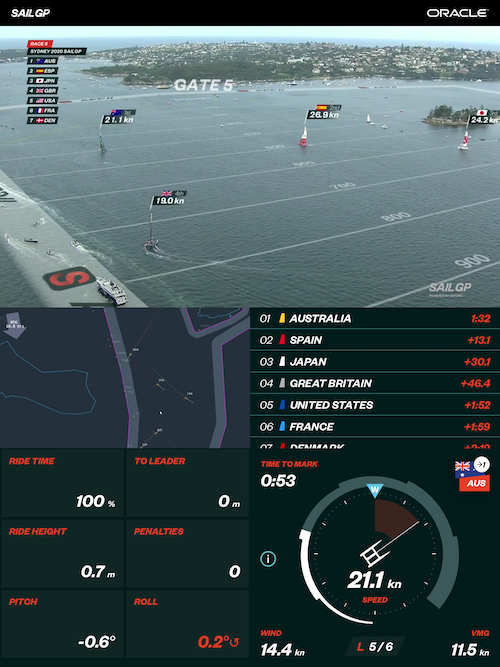 Getting close now and it looks like 1-2-3 are set…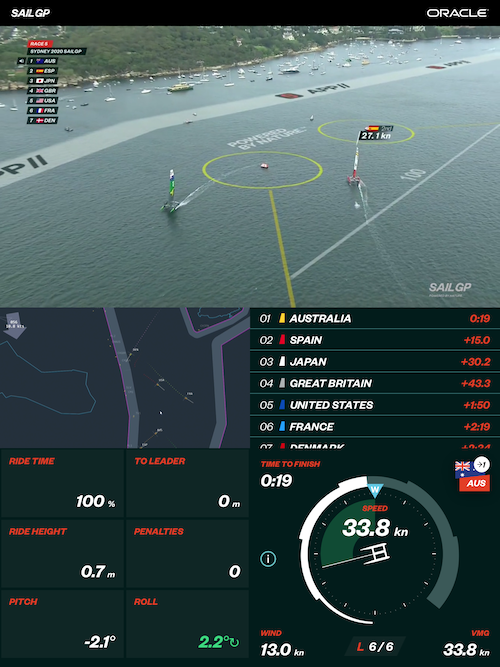 AUS screams toward home as ESP chases them…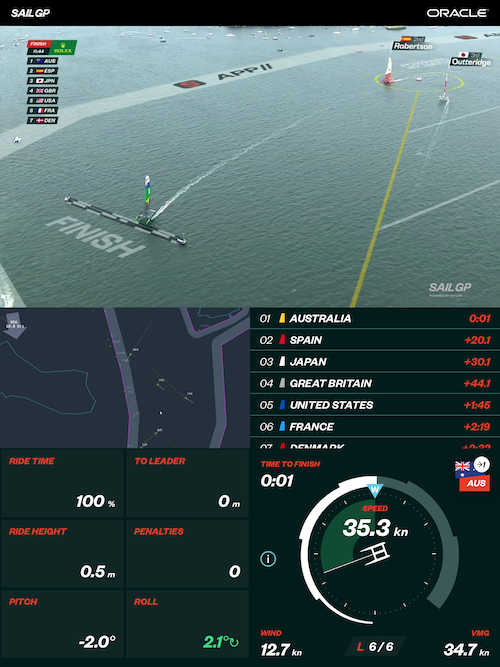 And AUS takes a comfortable win as ESP falls off and allows JPN to close again…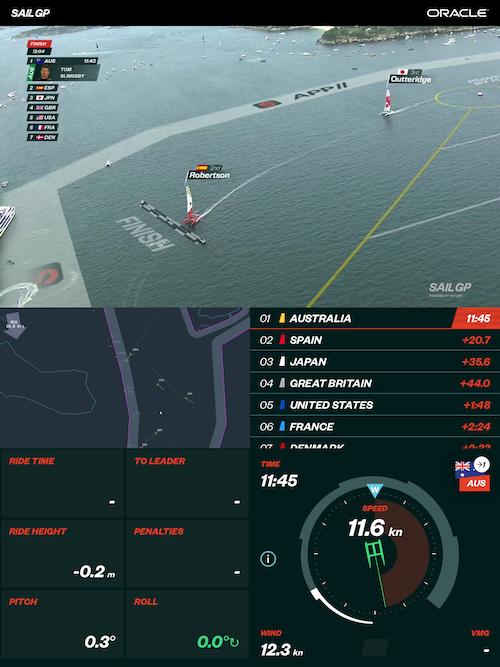 But JPN make a slow turn as well, allowing ESP to bring it home for 2…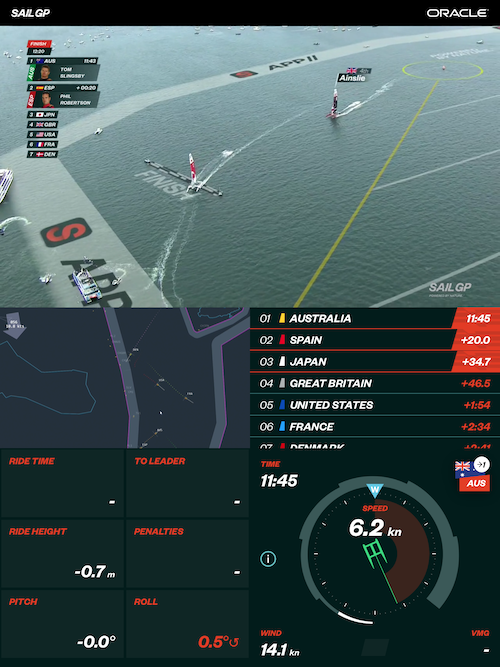 And finally JPN crosses in 3 – with GBR humiliating the bottom tier.
So, overall assessment?
PRESENTATION: Sorry – this has just been really bad. RC needs to definitely have a word…
2 SMACKS

RACING: It is crystal clear how incredibly good GBR is. BA puts the boat where it needs to be every single time – AND THEY DO NOT MAKE MISTAKES. This is the main difference. The race showed how closely matched everyone else is – and how dominate BA is (comparing the same GBR team to last year). #MASTERCLASS. At the same time, the race for 2 and 3 was awesome between ESP and JPN.
4 SMACKS

Multiple exciting crosses with ESP and JPN.
USA needs some serious help.
FRA look great until they blew the clew.