The Rundown and Analysis of Fleet Race 2
Wind coming in around 14-16, sea state is pretty mellow for this run…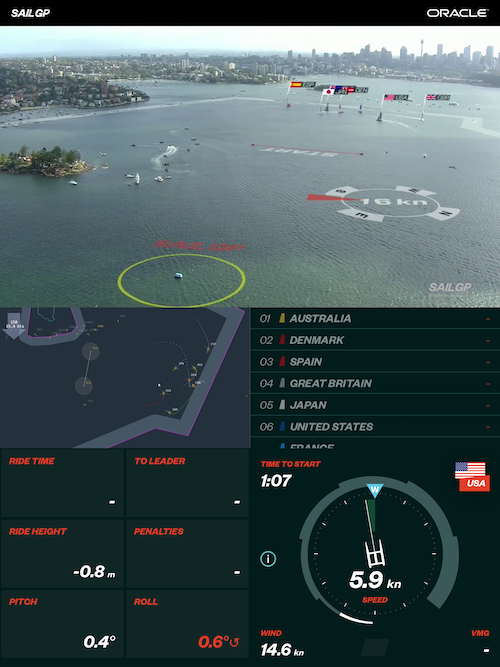 GBR, AUS, JPN, and DEN are bunched to the leward side of the start – with ESP and USA up to windward…GBR starts a hook to push the other 3 together as JPN tries to cross and challenge…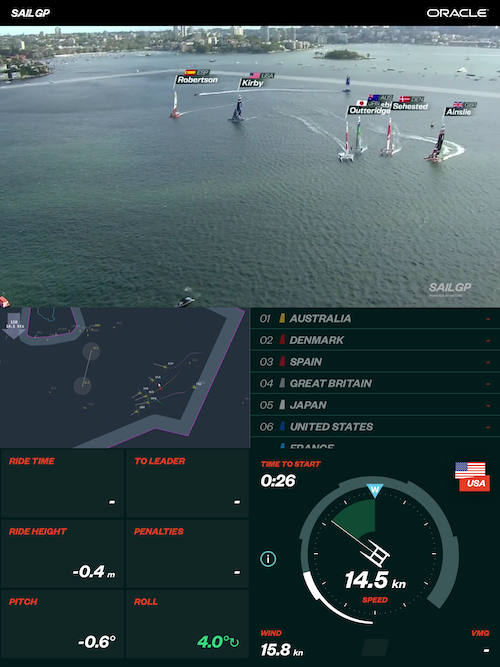 All 3 of those boats get over the top of GBR, with JPN making another great start move. But a lot is about to happen…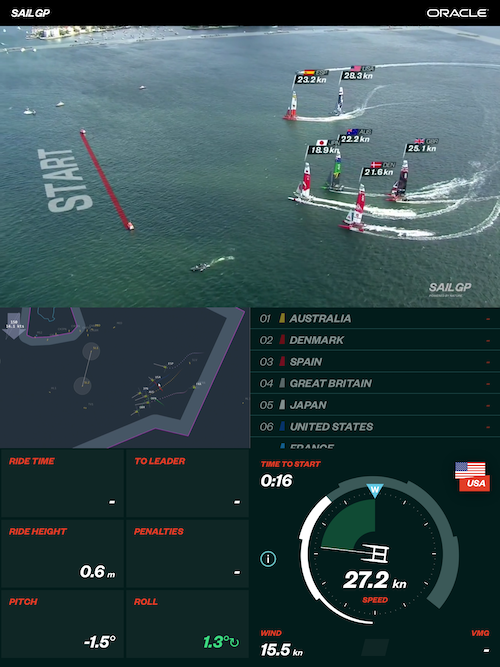 GBR finds a lane to cut out JPN and AUS while DEN and USA make a run for the line. BUT, you can see both USA and ESP falling off the foils right at the start…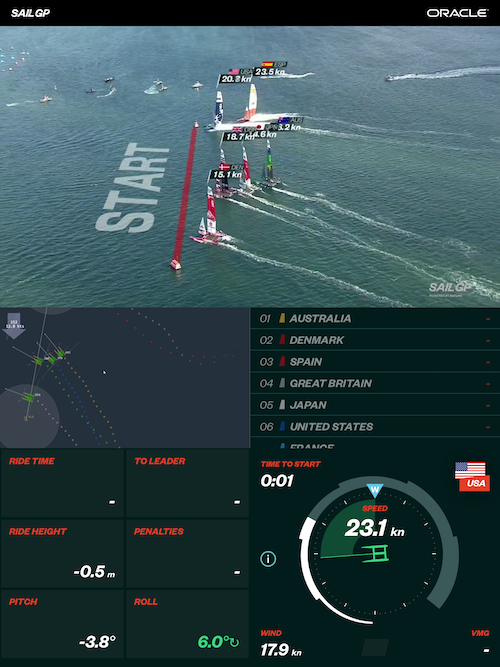 DEN hits the line just in front of USA as it loses speed…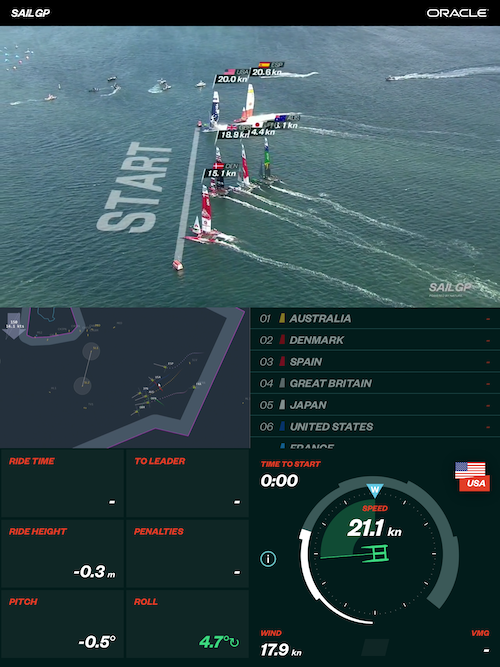 And this opens the door to GBR – with a super-tight 3-deep jump off the line. JPN and AUS have been completely shut out…which is not usually the case…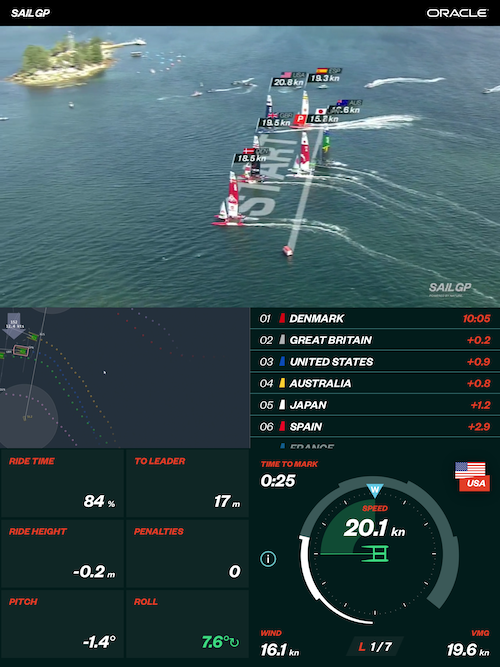 And now begins the drag race to the first mark…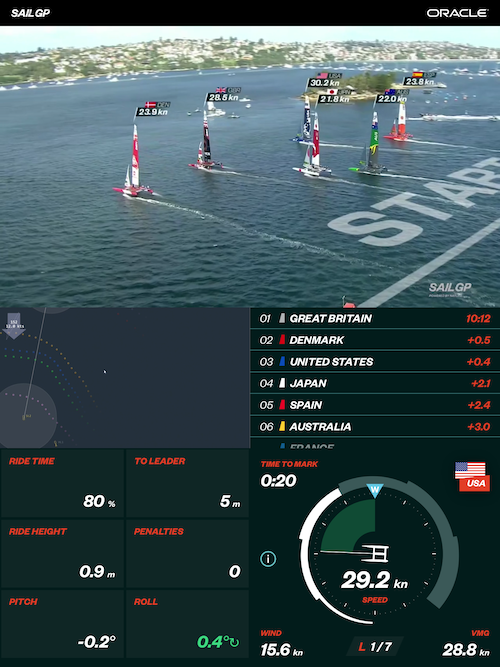 USA has recovered nicely and is giving GBR a proper run…as AUS brings up the rear…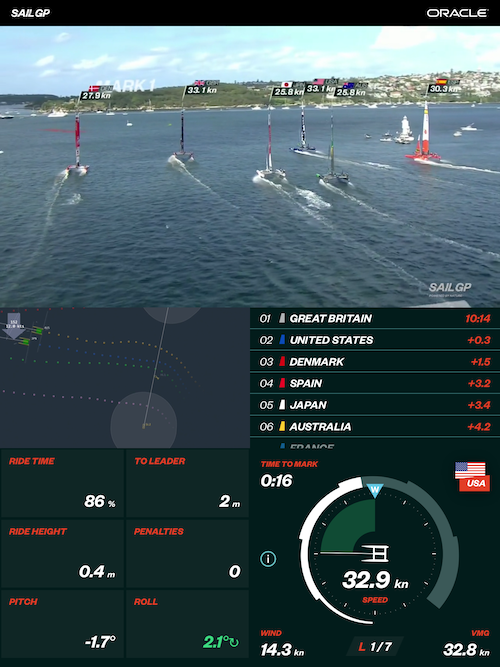 GBR screams into the mark at 44 knots, with USA matching them and ESP right behind. DEN has come back across from a wider angle and is pushing ESP…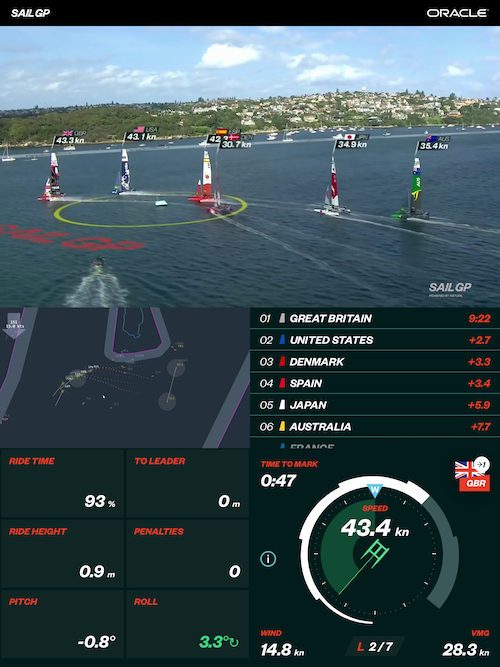 GBR is carrying just a bit more speed than USA, but USA is holding them tight. DEN has blown their speed at the turn due to the angle as JPN and AUS come in hot…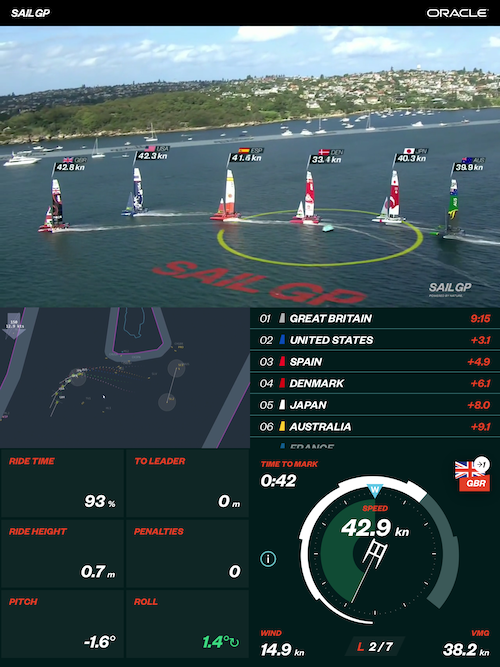 AUS breaks across to try to make something happen as the top 3 begin to pull away…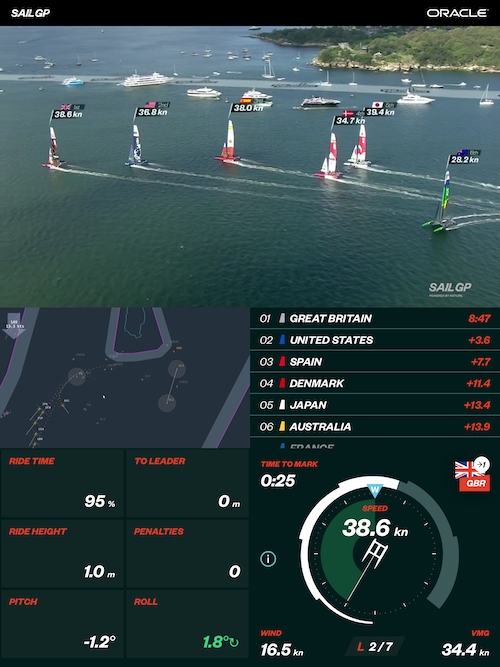 USA splits with a gamble – showing that RK is willing to take chances. ESP follows across…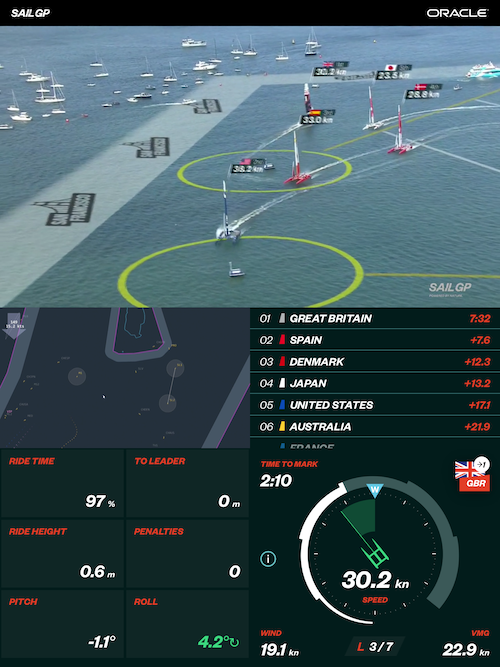 Another bobble by USA as they round, but they are clearly carrying more speed than GBR. Maybe a payoff?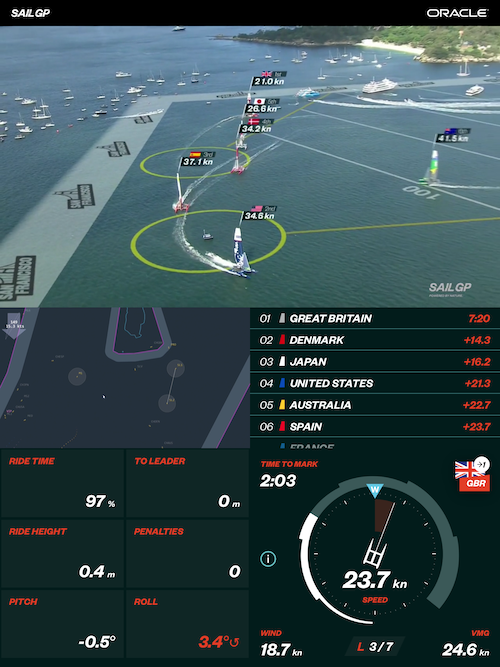 Leaderboard is screwed up – but USA and GBR are fighting it out.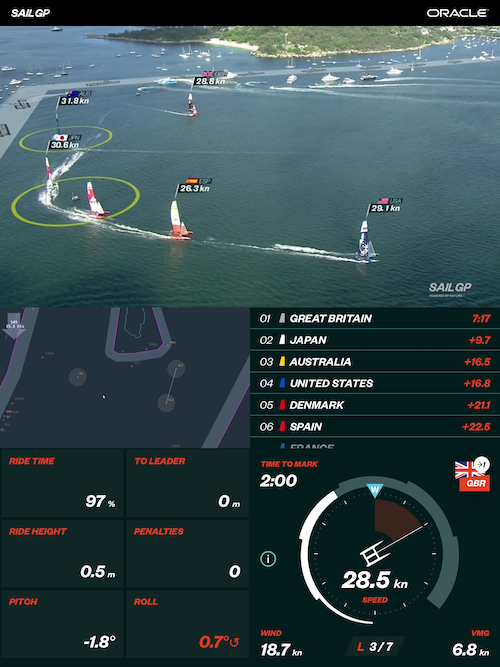 Leaderboard is coming back online as GBR has pulled out front, with USA now 12 seconds back. But USA has more wind as you can see on the water – and by their speed. RK's gamble is looking good. But notice AUS. Not in the picture as they are leward of USA – but also gaining and now 3…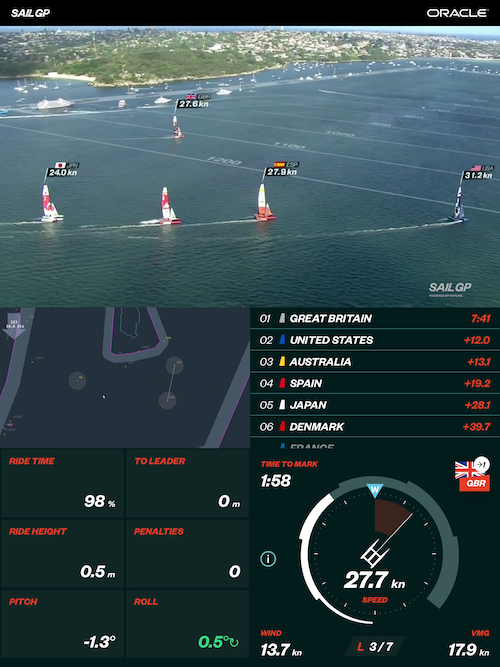 JPN is being pushed out the back door as GBR and everyone else flies…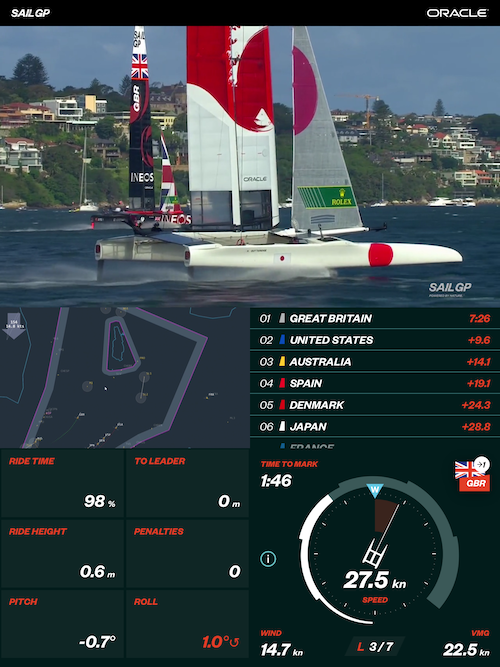 USA is still 12 seconds behind GBR. And GBR is looking for that pressure on the windward side of Shark Island, while USA is taking another gamble on the leward side. ESP and AUS are battling for 3-4 as JPN falls further behind…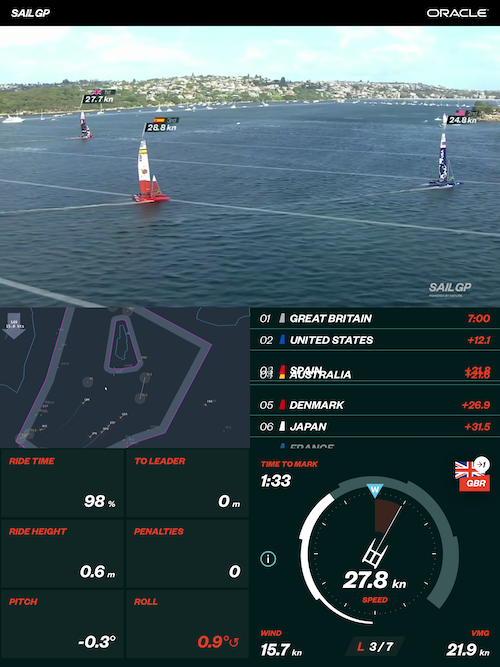 USA is looking remarkably fast and steady – though they've lost another second to GBR as they near Shark Island…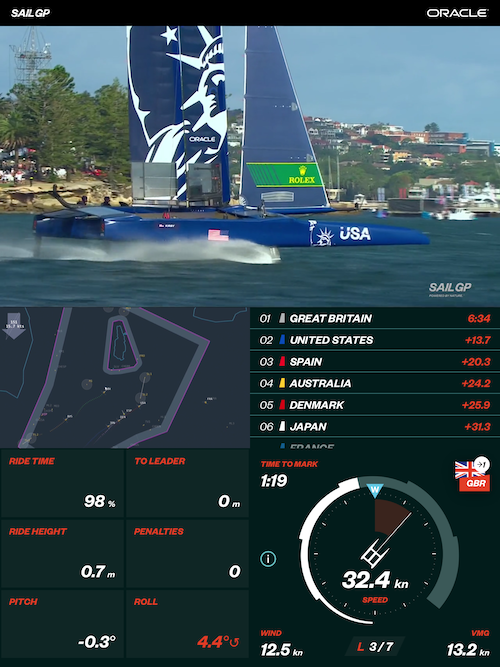 But they are now beginning to find more pressure…will it drop off behind the island? ESP and AUS are battling 10 seconds behind USA…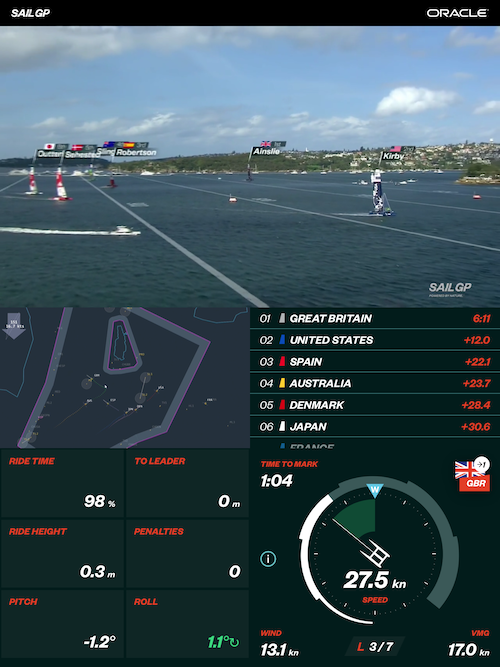 Now at the island, GBR is carrying more speed but has pushed up higher on the line…USA makes up a couple of seconds…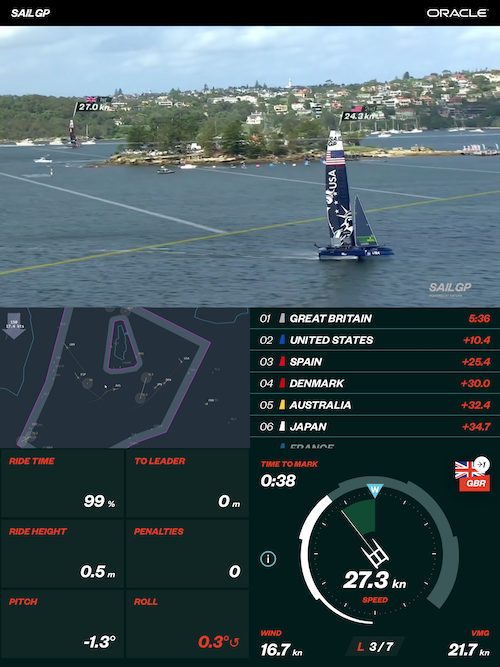 GBR starts losing pressure as USA begins to close the gap…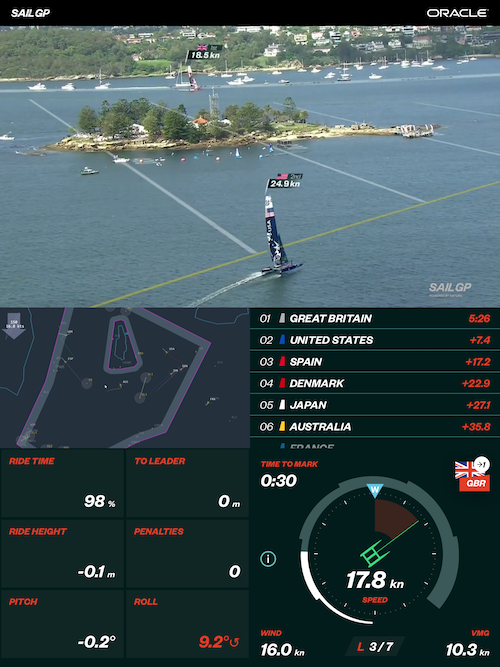 GBR loses even more pressure as they struggle toward the mark…USA now only 1.3 seconds behind them…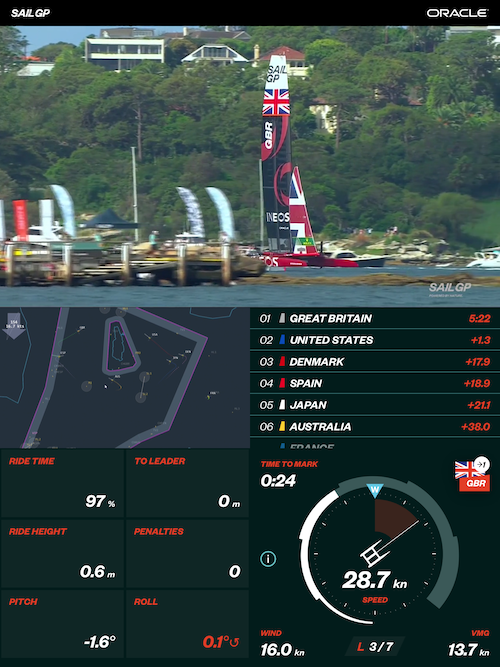 USA now even with GBR heading toward the mark. Looks like RK's gamble has hit big…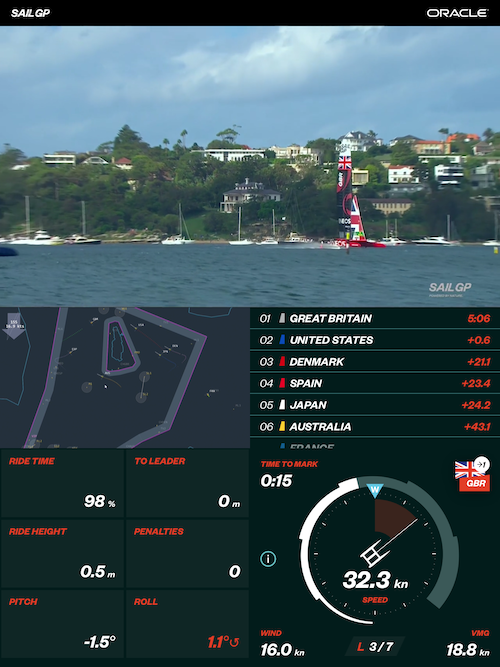 This is what tight racing is all about! Meanwhile, the other 4 teams are STILL changing leads, with AUS now dropping all the way back and DEN push ESP out of 3.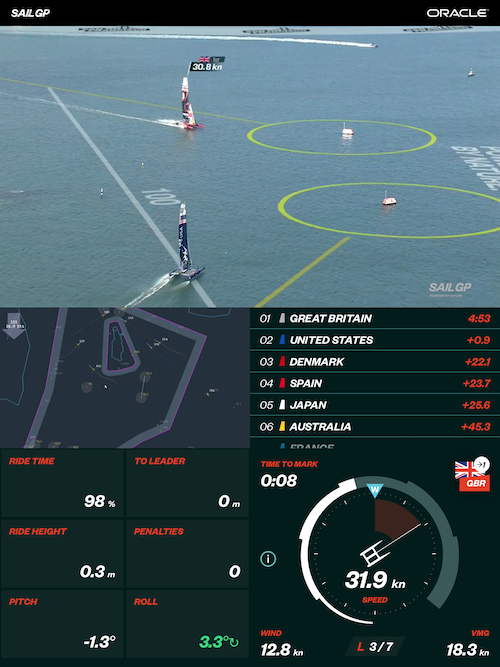 GBR just squeezes past USA who has rights…but watch what's about to happen…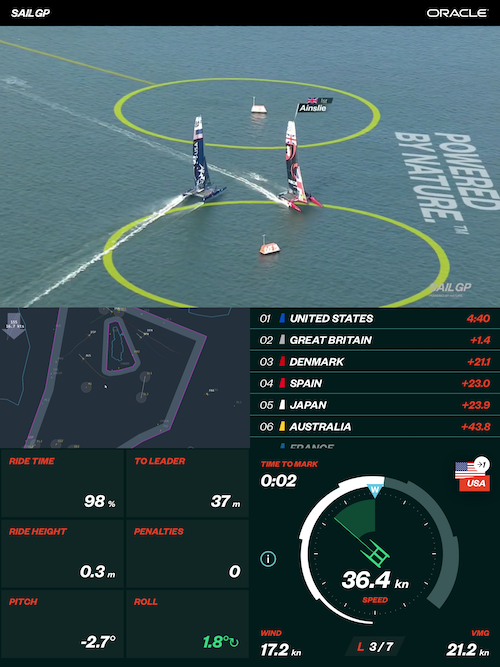 GBR opens up another 5 second lead and is going where USA just had that better pressure, while USA is doing the opposite. The rest of the fleet is coming in hot with Slingers cursing a bluestreak in last place…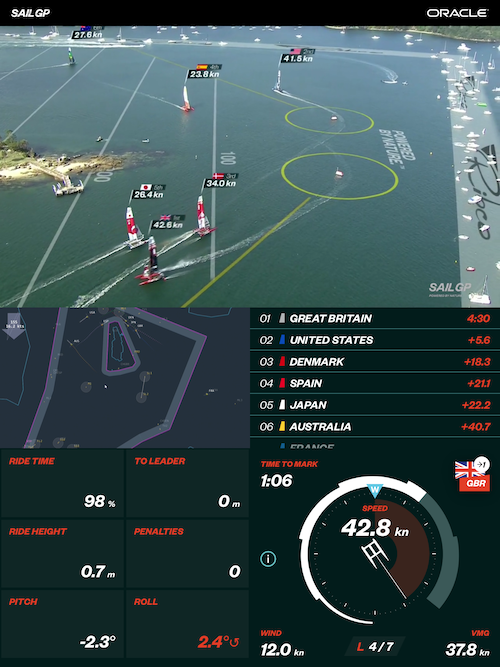 Though out of the picture, it's clear GBR has hit a hole as USA takes the lead and opens up a 4-second lead. THIS is why I think USA is underrated – just volatile. DEN and JPN sneak past ESP in 3 and 4. But then…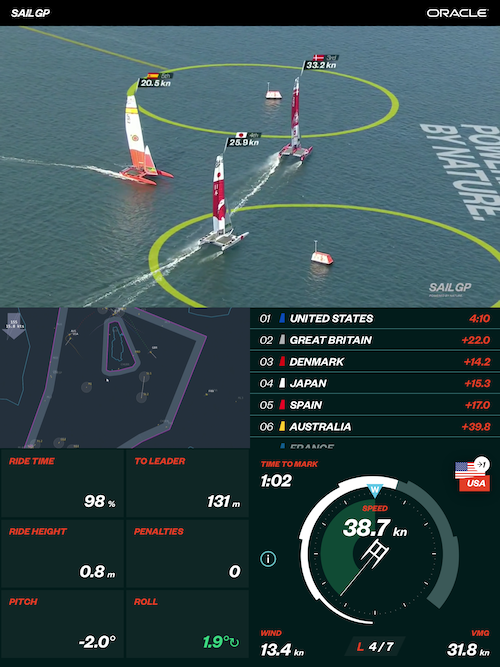 USA, though completely out of the picture has some kind of huge stuff-up, dropping down to 7 knots…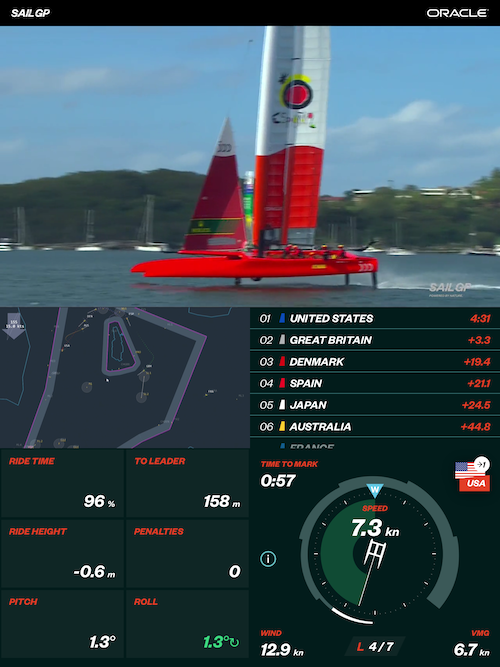 I tried to check the USA boat feed for what happened – but it was down as you can see here…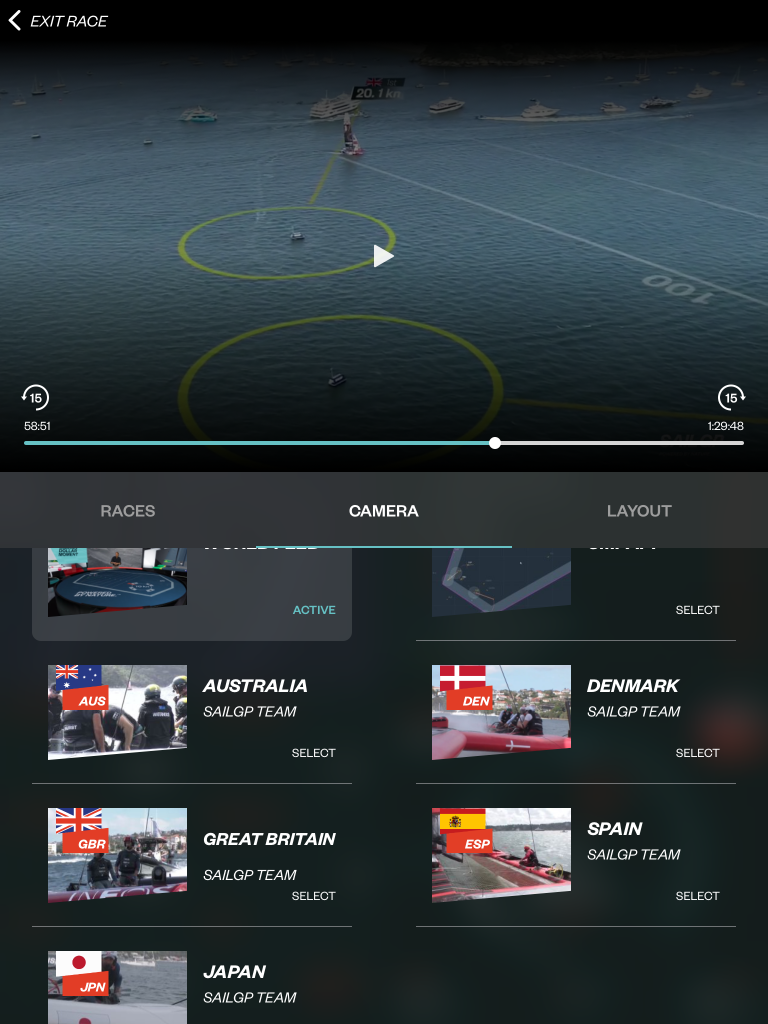 I was wondering why they didn't do a replay of the incident like they usually do. Now we know.
And just like that GBR jumps back in the lead and opens up a 10 second lead over USA…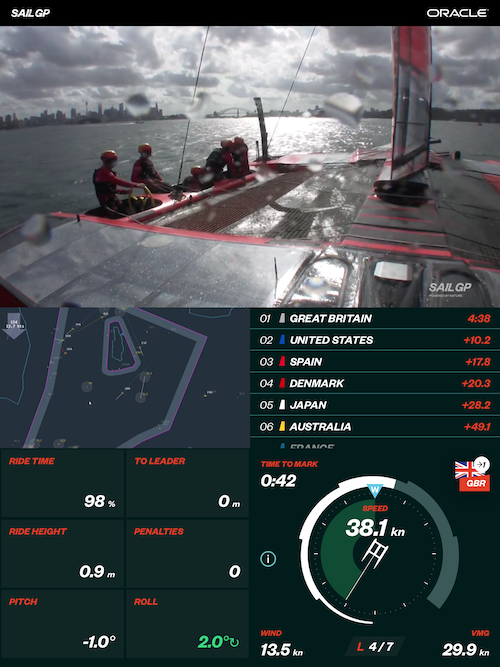 USA is still struggling in the background as ESP starts to overtake them, while DEN and JPN come up hot just behind…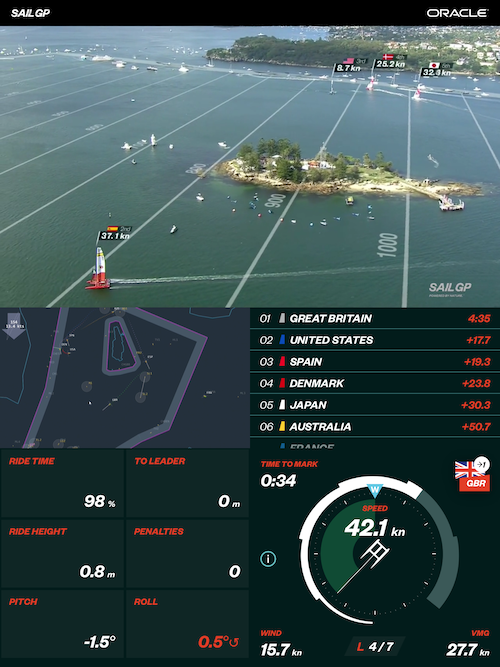 Thy are finally starting to recover here but have already been passed by everyone except AUS…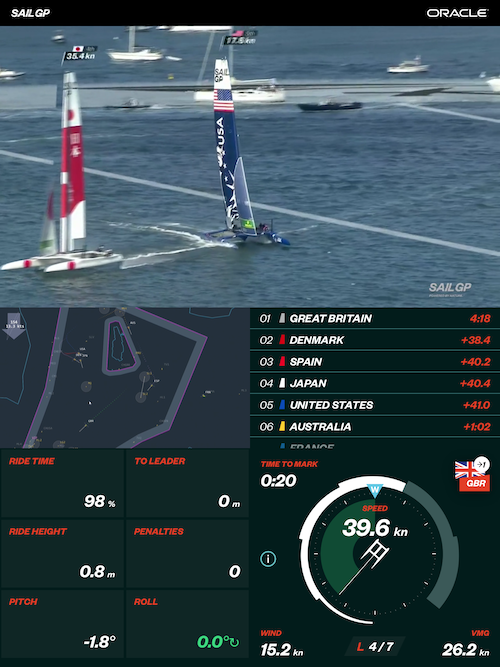 GBR rounds the gate way ahead, with JPN and DEN chasing. Yet, this isn't yet the complete blow-out of the first race. There are small cracks here and there – these other teams just have to be perfect to exploit them…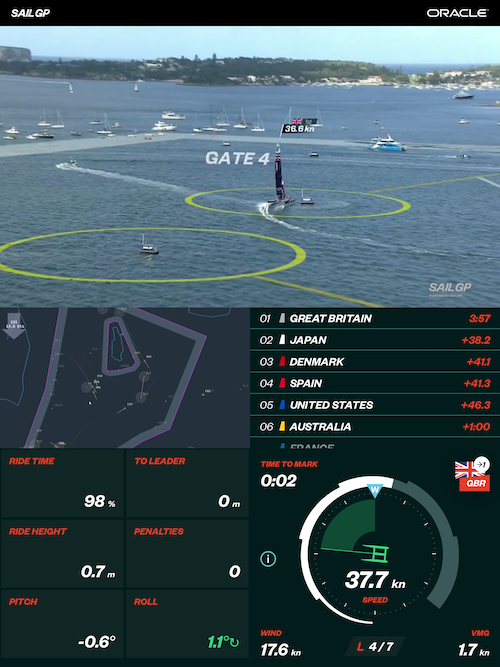 USA has just passed DEN and is climbing back up the board. AUS is still back at Shark Island having shrimp and whiskey shooters with the ladies.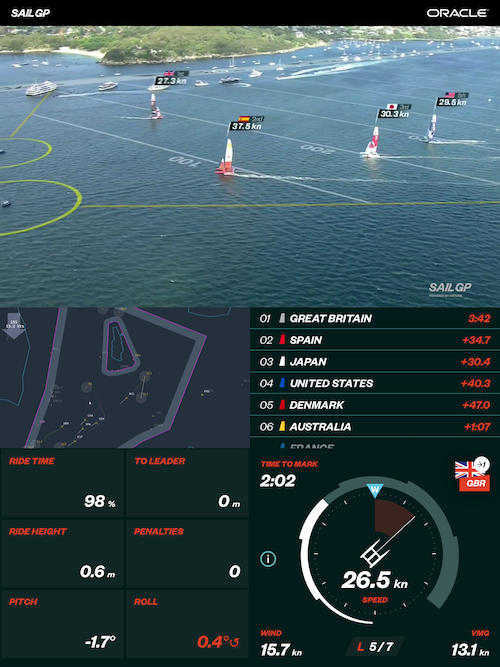 USA sees the pressure up high and heads to it as ESP and JPN turn down…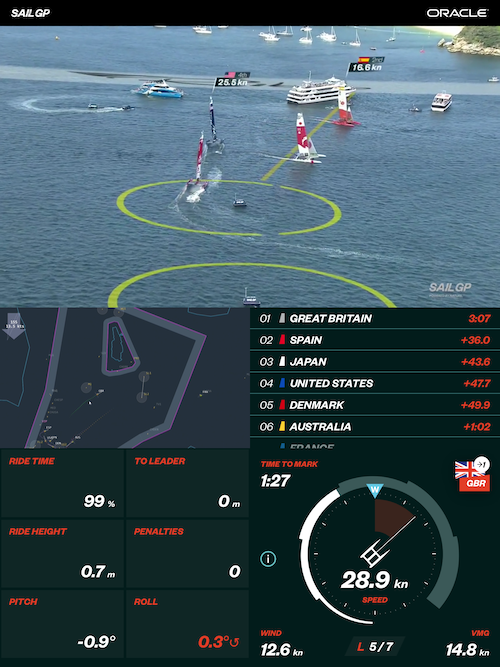 ESP is doing a great job chewing into GBR's lead…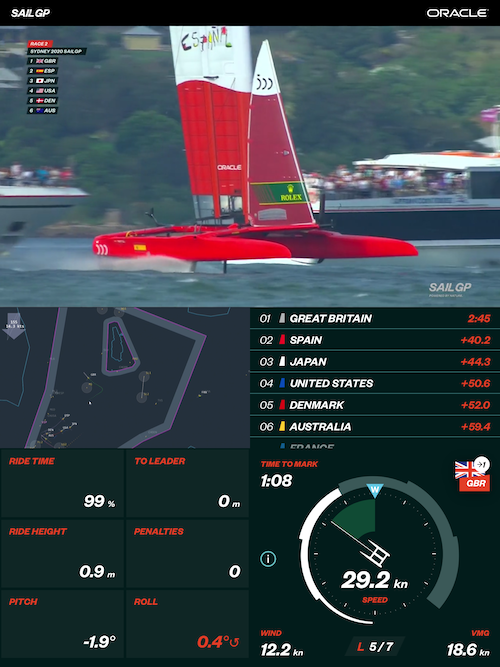 While USA and JPN are battling for 3…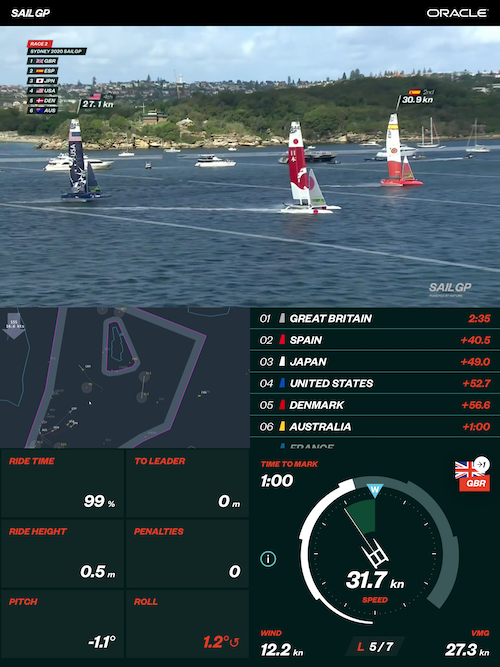 ESP continues to make up time on GBR, but you can see the pressure and speed GBR is enjoying while ESP is headed toward a hole…USA has worked back into 3rd over JPN – which is really amazing…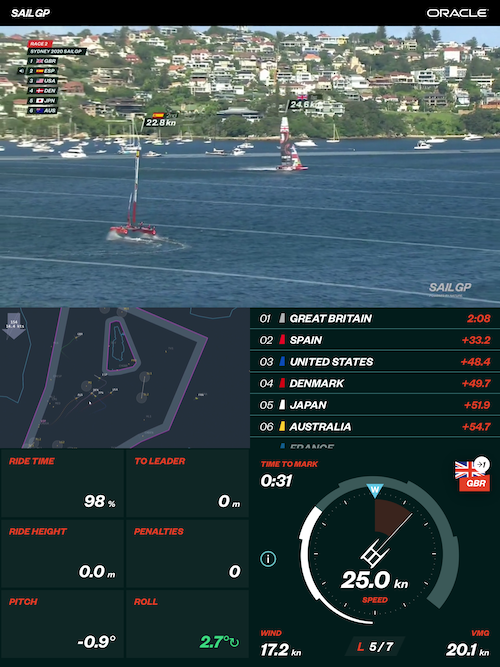 But with the spotty wind, there's nothing in it between USA, DEN, and JPN. And AUS is actually starting to gain now…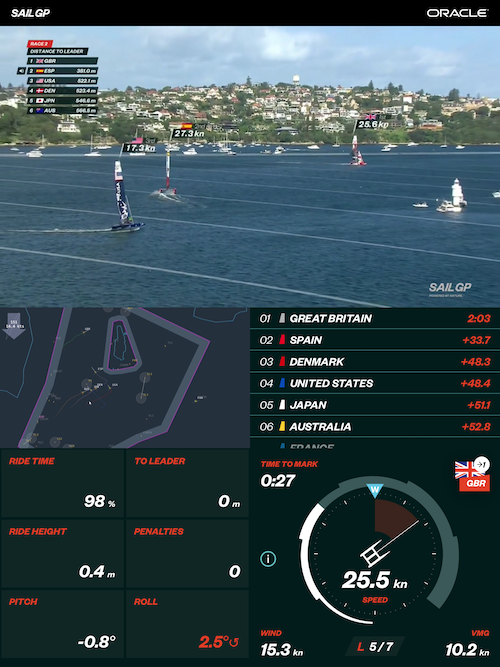 More lead shuffling between the very tightly pack rear fleet…while
ESP continues to gain on GBR…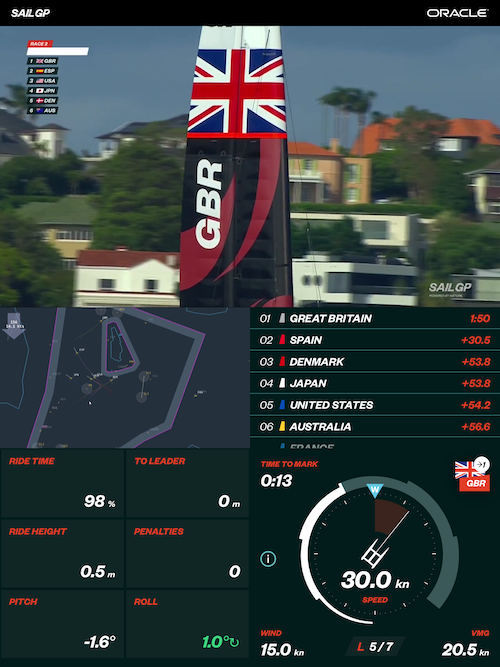 USA has amazingly grabbed 3 again with a 3 second lead over DEN. And AUS is battling with JPN at the back.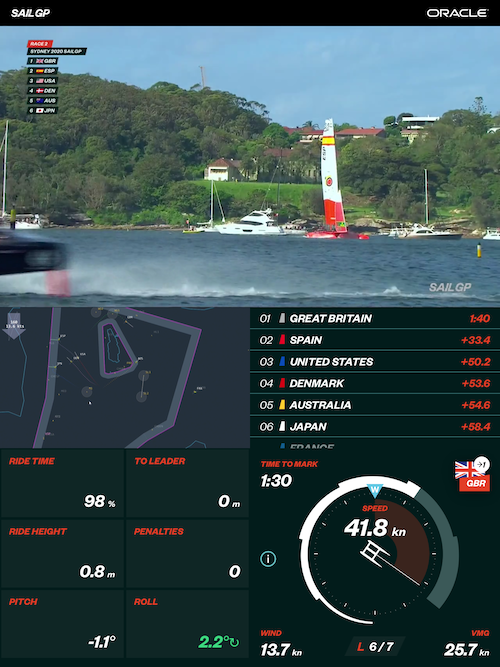 Have you KiWhingers ever run across a tramp at 39 knots? Didn't think so.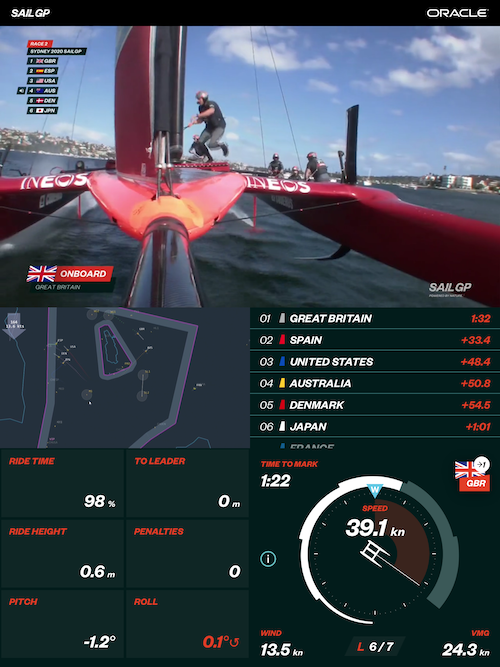 AUS is completely off the screen on the leward side of the course where it's clear they've found air. They are now in 3, with USA, DEN, and JPN locked in a death-match…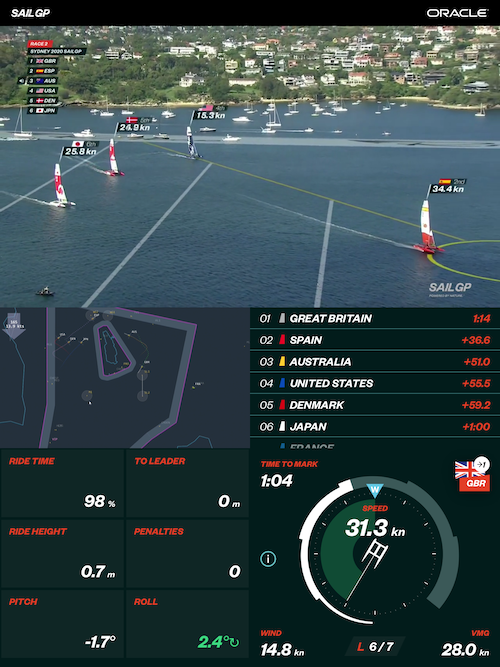 And now we see AUS screaming in toward the mark – BARELY in 3rd place – but clawing back from the very bottom of the pack. Whoever thinks this racing is "boring" is freakin' moron. It's that simple.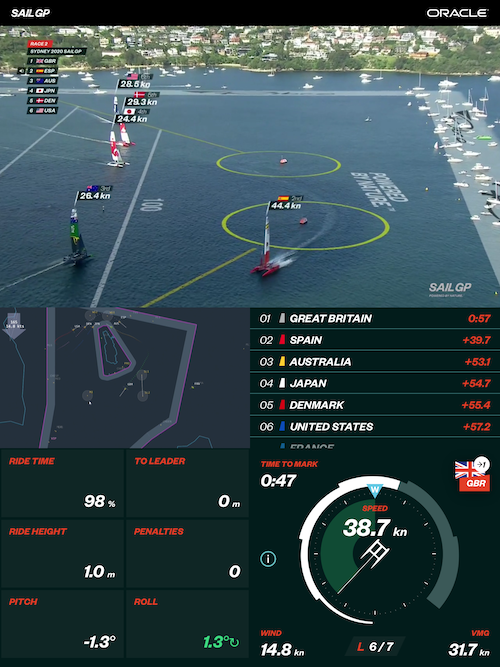 But JPN and DEN just squeeze past as USA has to dip, leaving AUS to be the sole windward boat of this pack…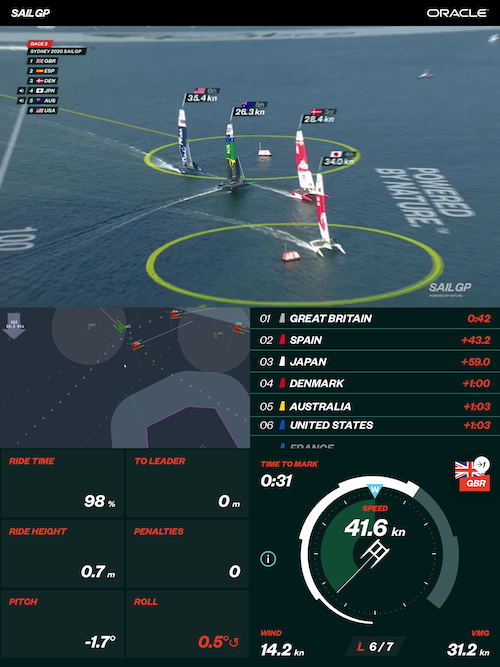 Tight crossings at 80 knot closing speeds, anyone? USA now at the bottom as DEN and JPN have found better air at the turn – but still only 4 seconds separating all of them – in this final leg of the race…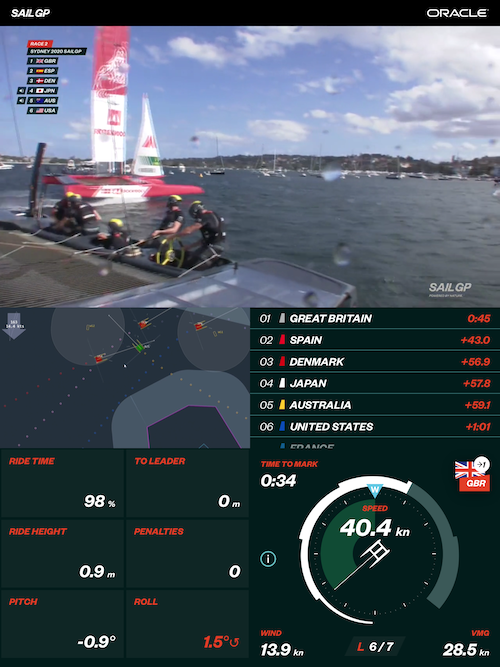 Smoking it toward the final mark…glorious…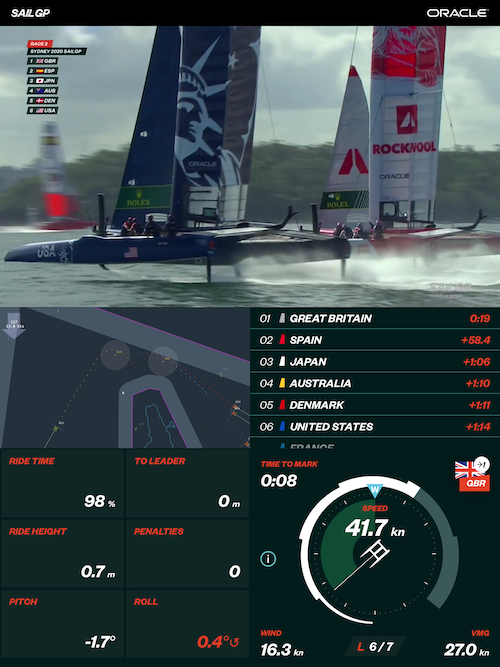 But, yet again, GBR is leaving everyone else in misery – 1 full minute ahead…(PS – I don't think they ever really did 77 knots as shown – yet another technical let down in this race)…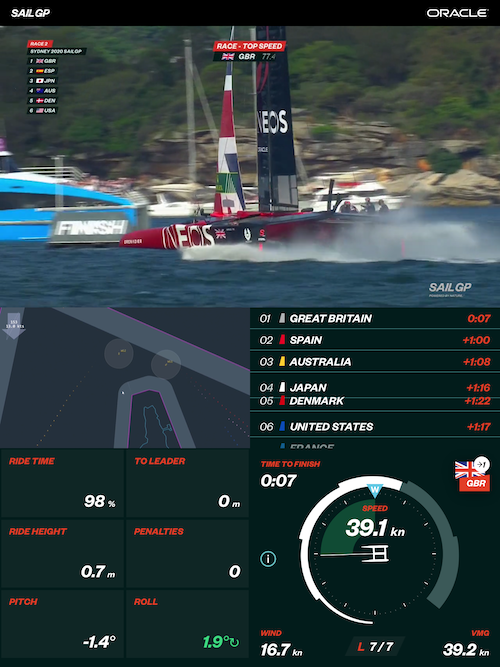 GBR easily takes race 2…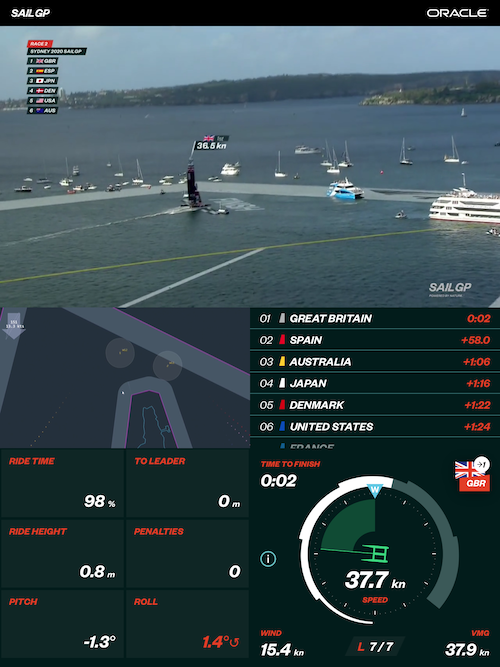 As ESP nears the final mark with AUS in hot pursuit…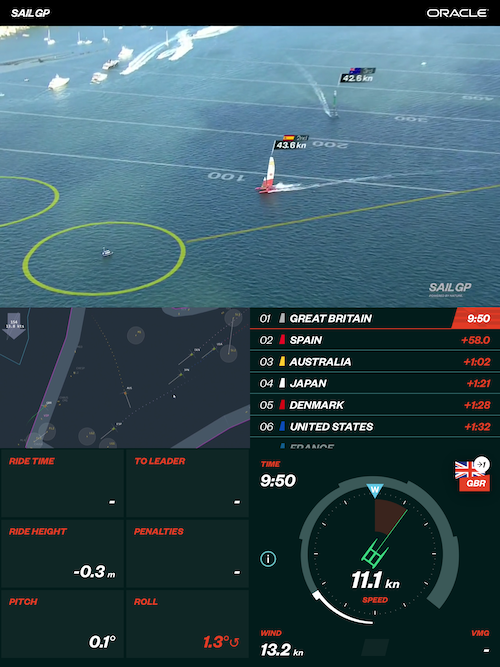 And the other teams now fading…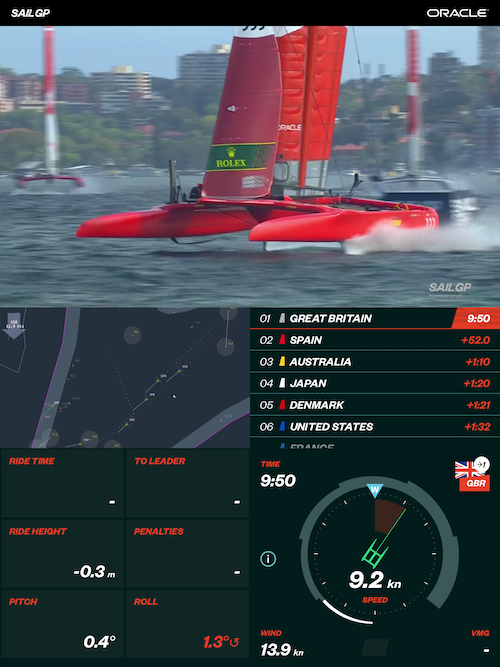 ESP takes 2…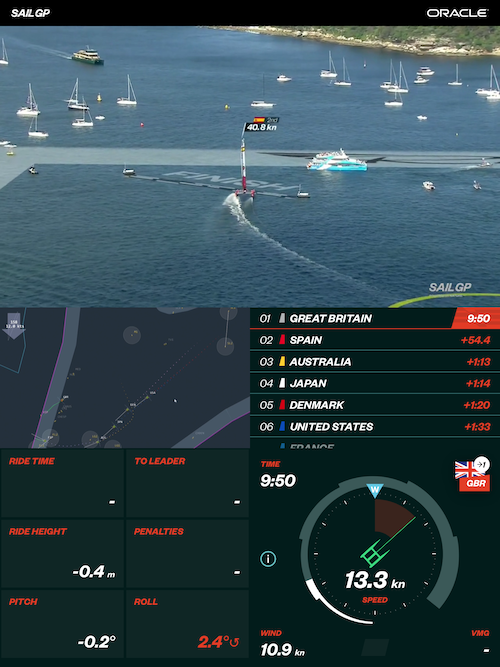 As AUS comes across 3…which is impressive…followed closely by JPN and DEN.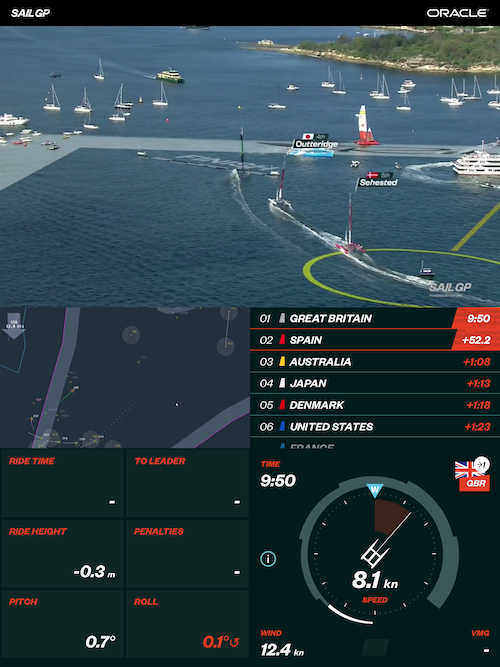 NOTE: Watch the end of the race as JPN crosses the line and nearly capsizes as they turn to starboard and almost t-bones the blue beast…
So, overall assessment? I think I'm going to need to break this into 2 pieces – Presentation and Racing.
PRESENTATION: The commentary was a little better, but due to the continued glitches, especially missing the USA crash…
2 SMACKS

RACING: This is just flat out incredible racing. I can understand some idiots grumbling about GBR being so dominant, but from what I've heard, that kind of describes Ben Ainslie. Even still, USA was giving him a run for his money and things never let up behind them. So…
5 SMACKS

46+ knots in medium conditions.
Ben Ainslie is – again – a monster. BUT he's showing some cracks here and there. Even so he will never be caught until these other boats find a perfect run through much better handling and tactics.
There were 22+ PLACE SHUFFLES in 2-5 throughout the race. If that's not close racing, I don't know what is.
The commentary was a bit better, but still not good by any measure.
Way too many technical issues. Sure, only the second race – but when you are starting to question the data you're seeing, that's a problem. And the loss of the USA onboard camera really sucks because we don't know what happened.
Yet again, it is AMAZING how quickly these races go. Less than 10 minutes of non-stop action. Rob even mentioned as much.
Great race.