The Rundown and Analysis of Fleet Race 3
Wind coming in around 14-16 and building a bit, sea state is pretty mellow for this run…but getting a bit more choppy as well…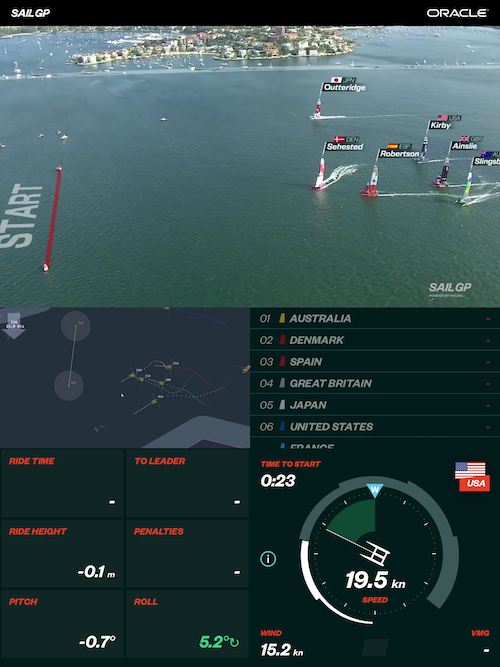 JPN staying very high and looking to blast the top end while AUS is doing exactly the opposite. USA and GBR are laying back…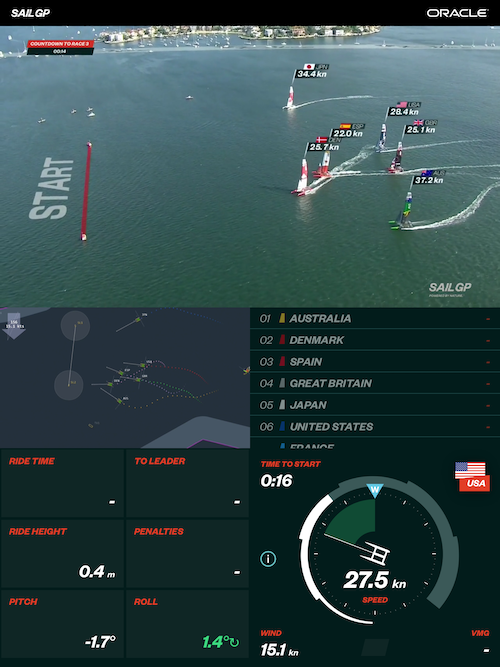 AUS breaks for the middle as GBR swings low. JPN is screaming and trying bleed some speed, while DEN is making its move…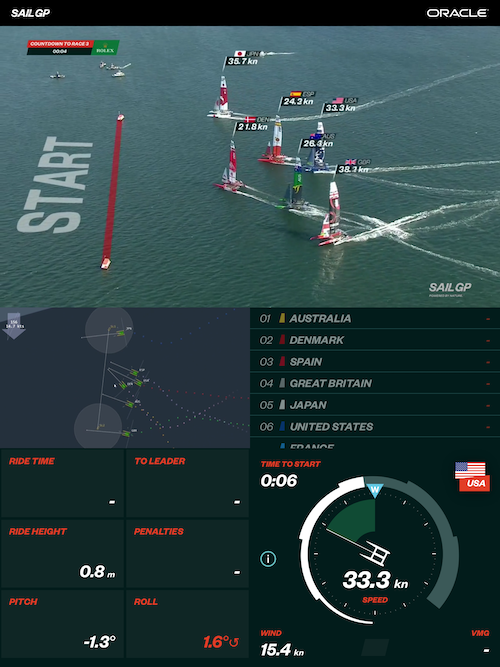 JPN is way over with blinding speed, while most others except for USA and ESP are also over…just…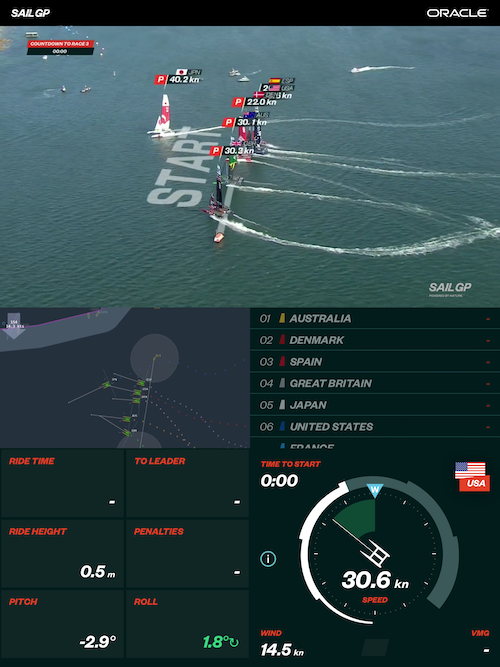 And the shuffle begins as they all blast toward the first mark…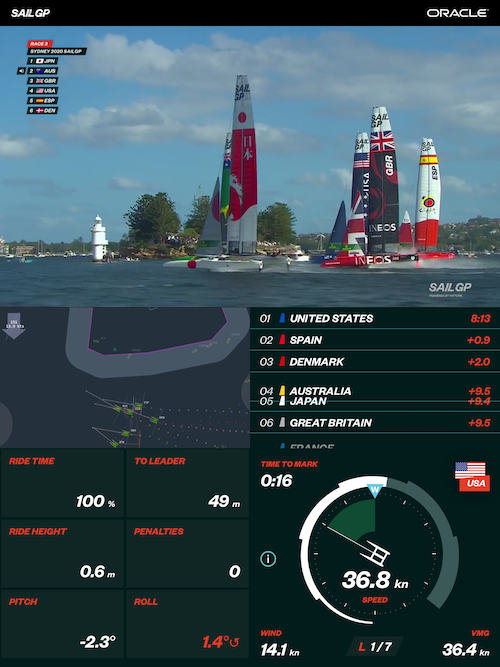 USA takes it first, with ESP and JPN just behind. AUS is still carrying its penalty.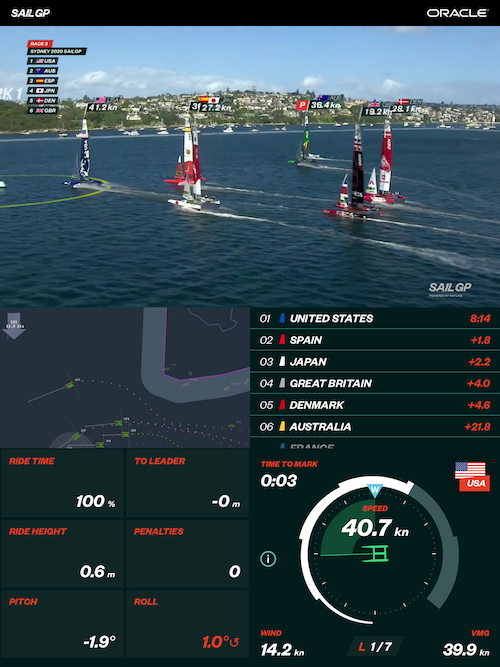 USA roars around the first mark at almost 43 knots, with everyone else in the pack right behind them…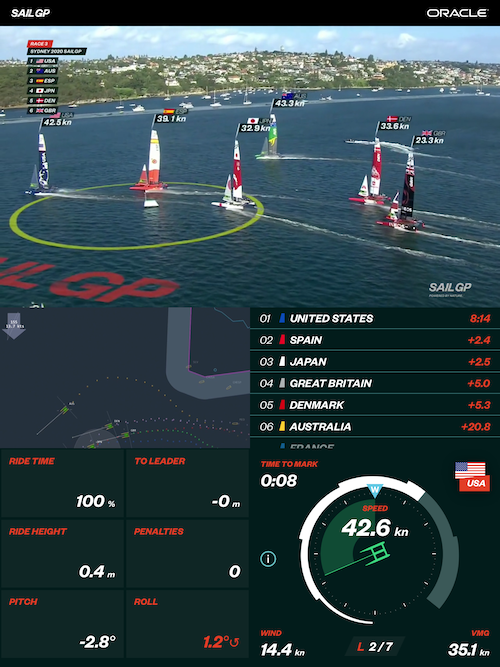 GBR drops to last after getting stuck in a hole, while USA and ESP begin to open it up a bit…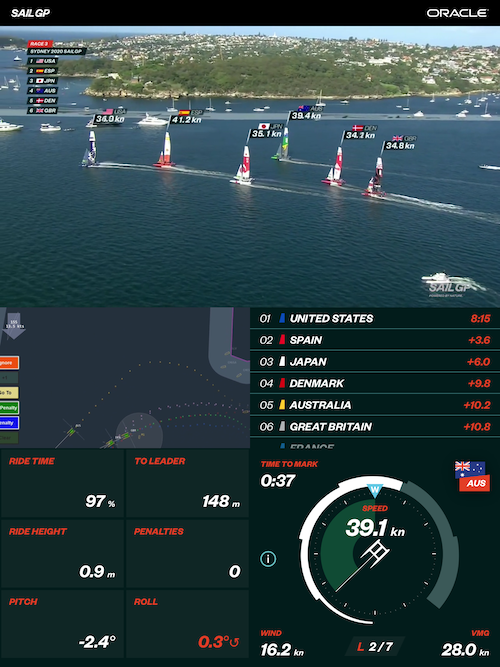 USA is once again looking very good early. The question is can they hang on to the boat?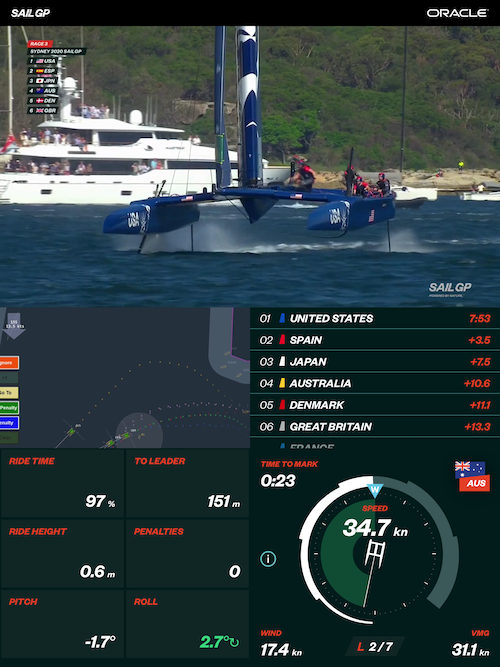 The leaderboard is stable as everyone nears G2….wind is increasing a bit…still a tight race…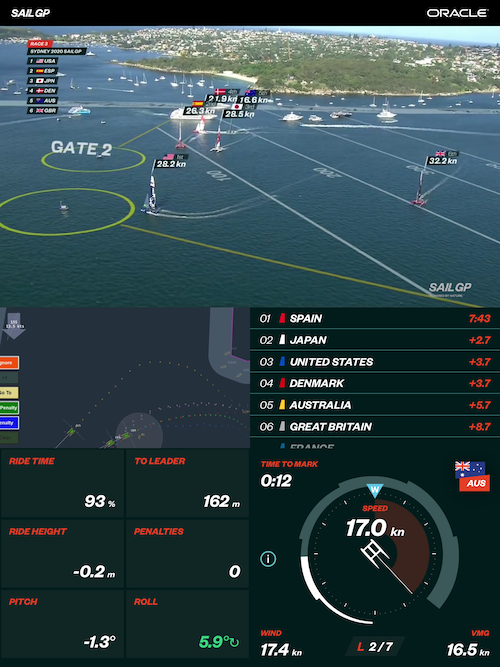 Some very close wrangling and crosses…great racing…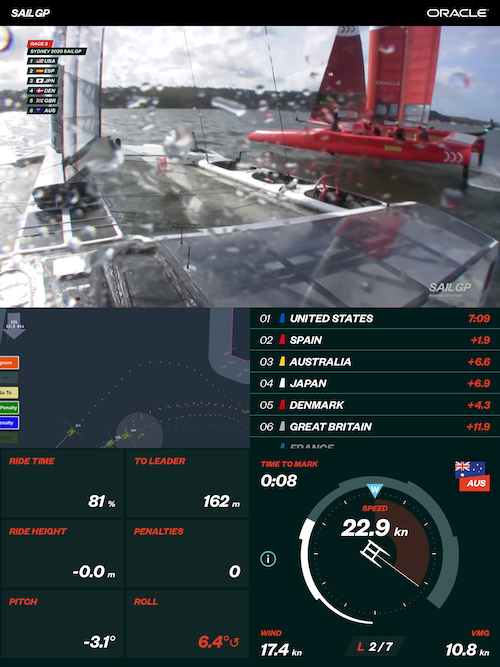 USA begins to open up the lead a bit as ESP splits and JPN ducks under…AUS is struggling…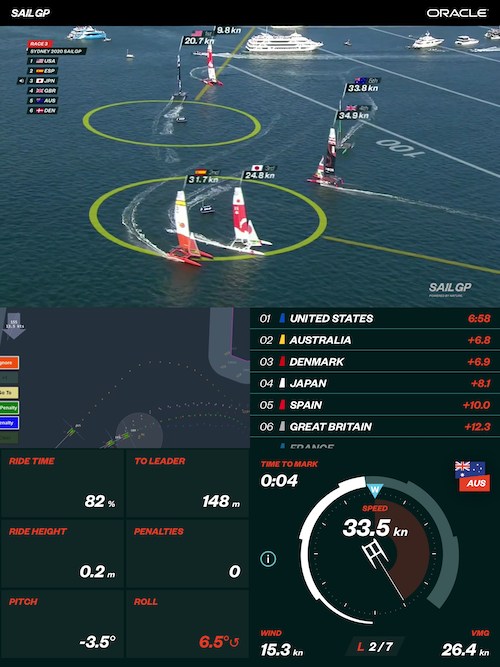 Leaderboard starts to shuffle now as ESP and JPN begin to battle while DEN follows USA and GBR and AUS bring up the rear…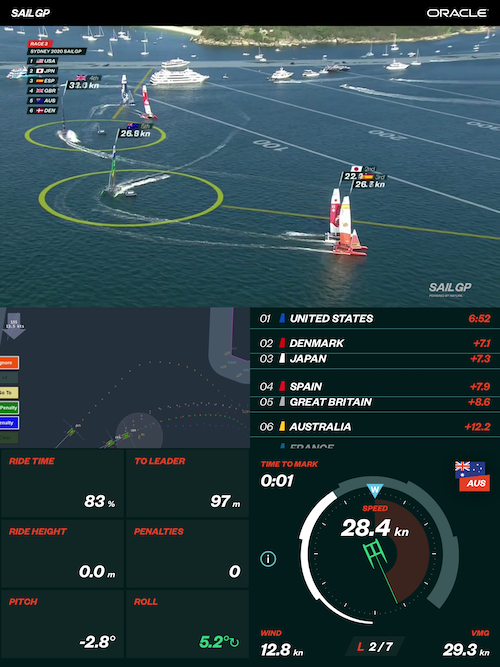 JPN is right off the stern of ESP…as GBR has obviously found wind somewhere and is now climbing up the board…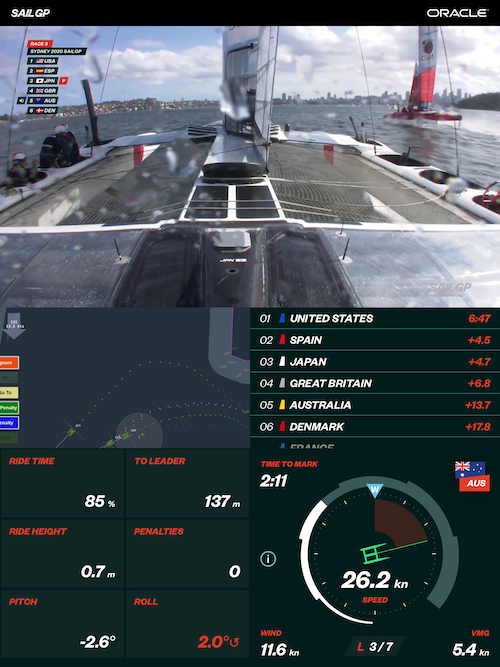 JPN has now just edged ESP as it breaks across the course, while GBR has moved into 2 behind USA…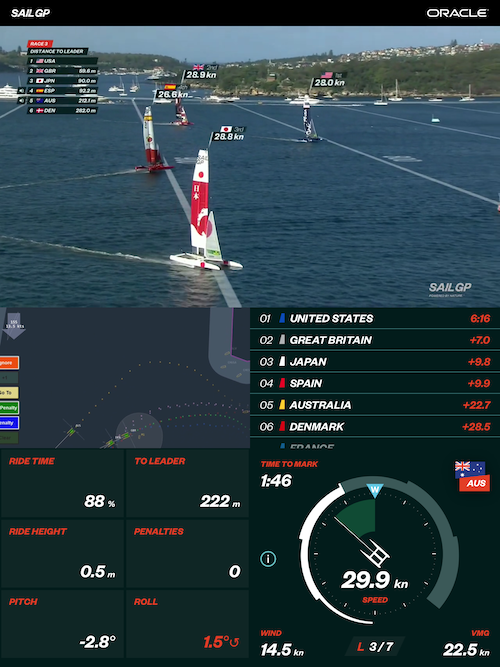 ESP has worked across and has now edged out GBR. Things are really tight with the top 3 as JPN splits. The patchy conditions are evident on the water as wind has come down to 13 knots…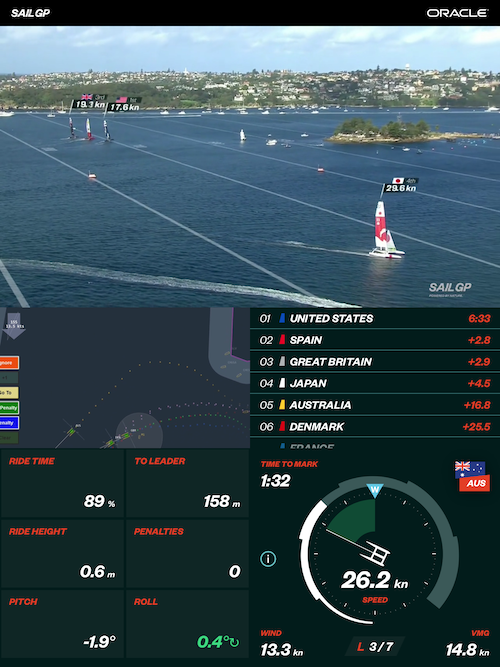 JPN now edges out GBR as ESP also edges out USA. And AUS is slowly climbing out of its deep hole…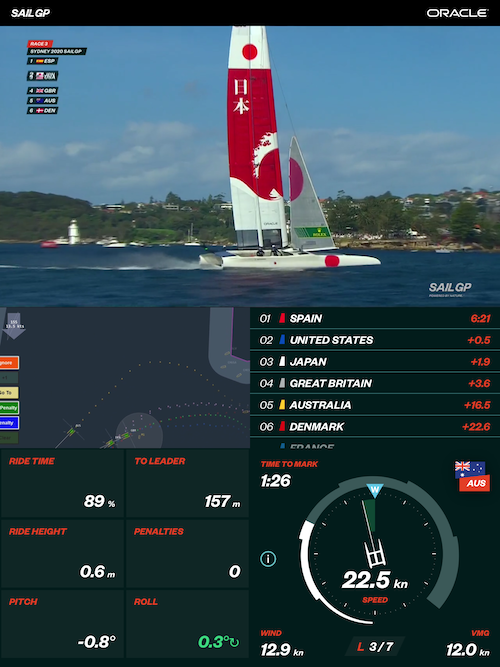 ESP has found a vein of pressure as it pulls away from the very tight pack, opening up about 4 seconds over JPN…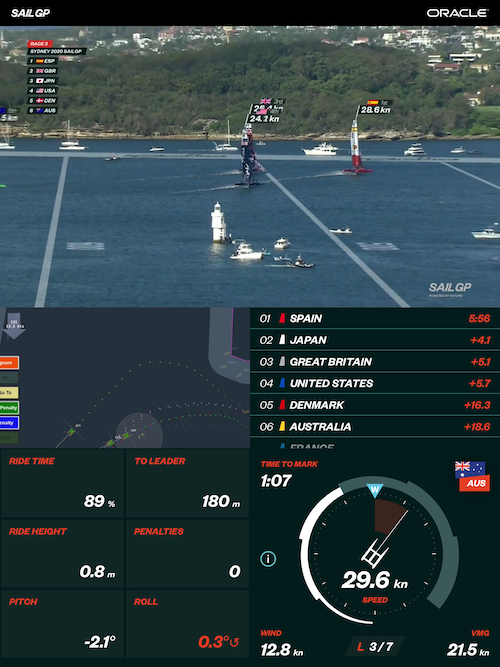 JPN stays leeward of Shark – still right in the mix, while GBR gains on ESP. The wind continues to mellow…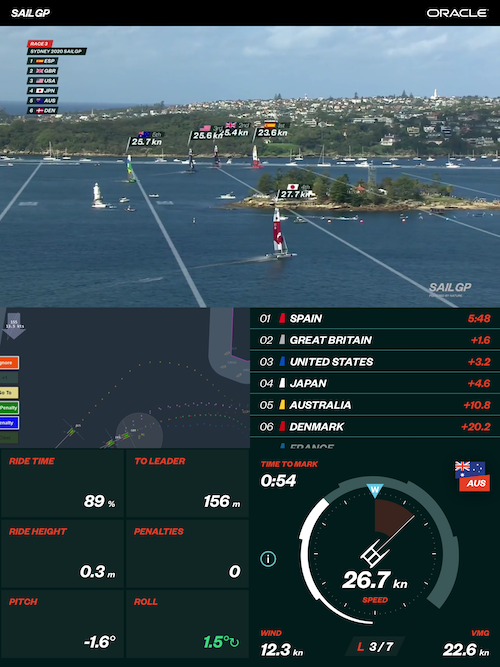 JPN has made a smart call, now edging ESP as they near the mark. USA has a slight edge over GBR if they can hold it into the mark. Great racing…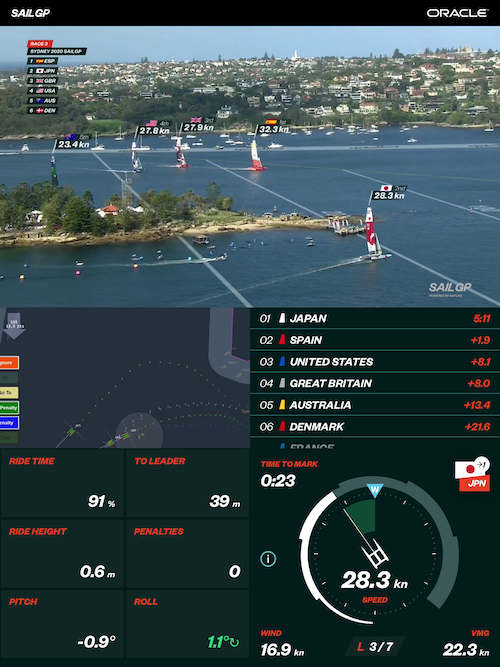 ESP sees JPN head to the mark as GBR edges past USA…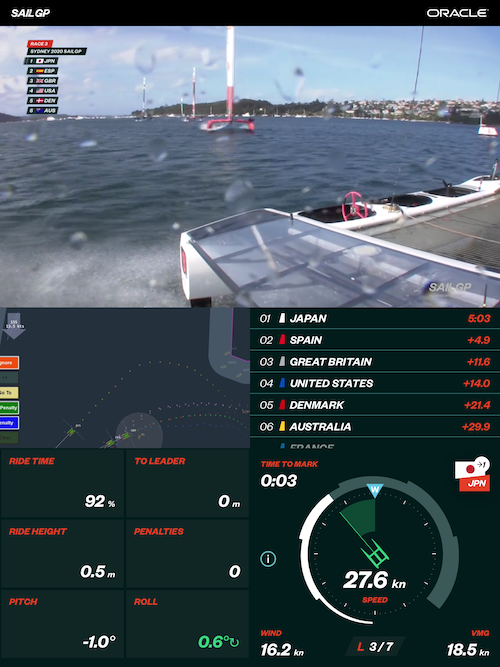 USA is starting to fade as GBR is starting to push. Wind coming back on…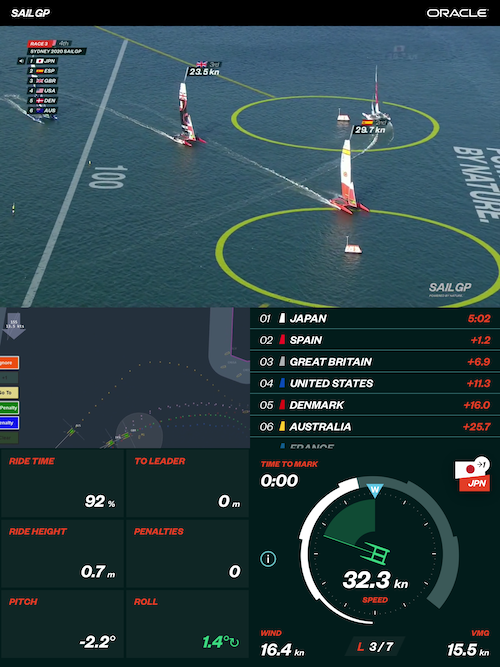 DEN has come out of freakin' nowhere to snag 4!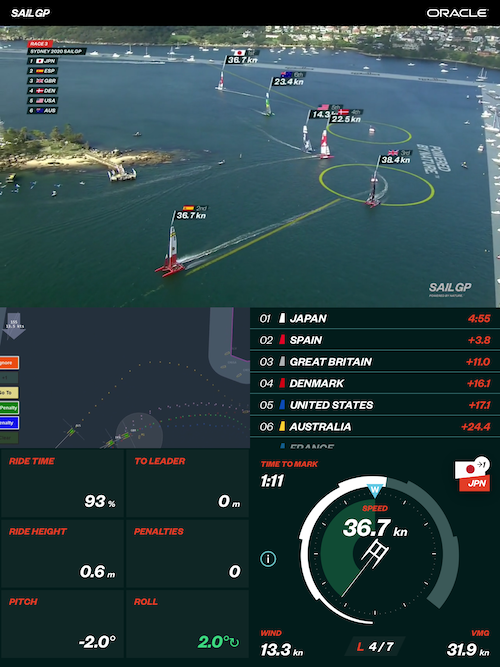 JPN really starts to open it up now – as the wind dies again….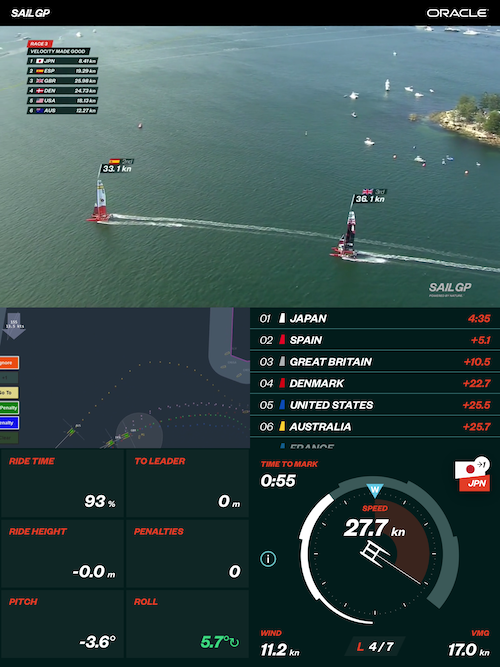 GBR breaks before ESP, finds pressure and edges them – but JPN is still way out in front…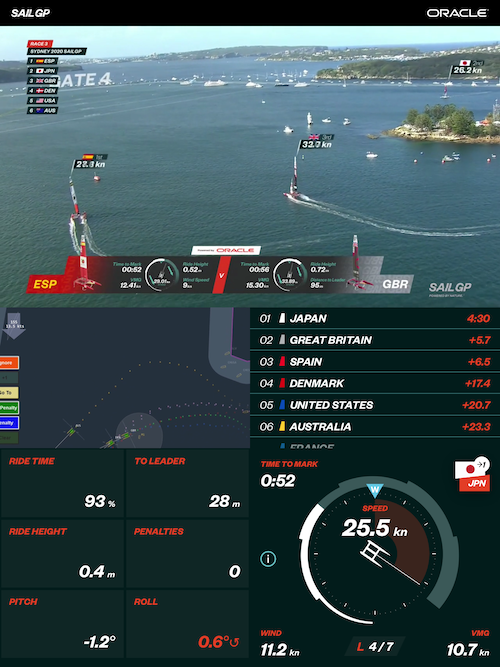 GBR stays in that pressure though and now edges JPN who crosses really close behind…closing at 42 knots as the wind builds again….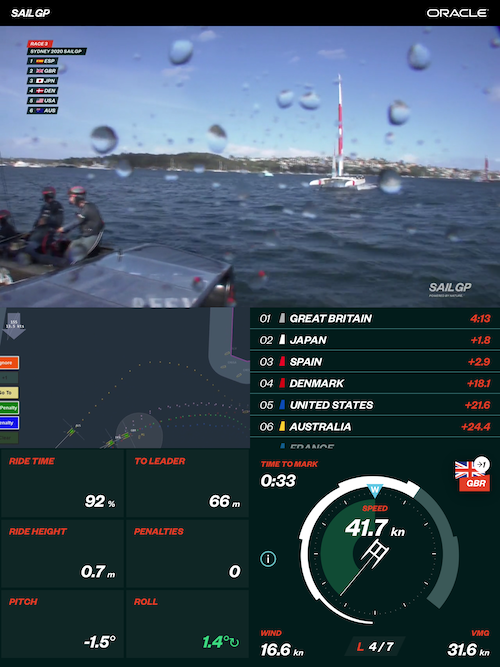 But ESP finds it own pressure and now edges GBR. So yet another lead change as DEN keeps USA behind them. AUS is humiliating itself…just edging out FRA…who isn't racing.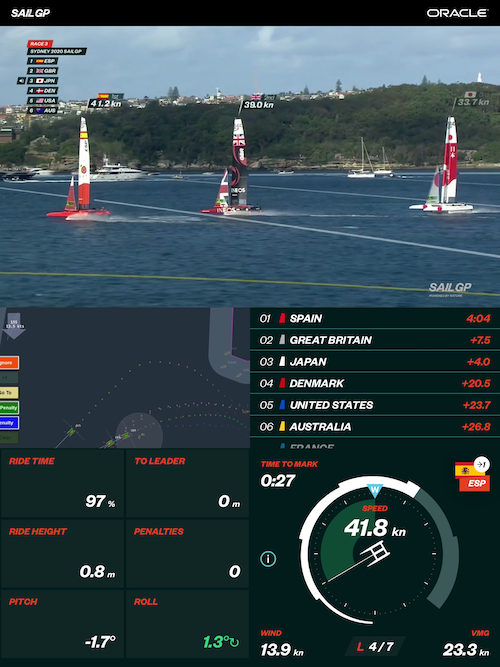 GBR is really pushing and threatening ESP. Super tight racing…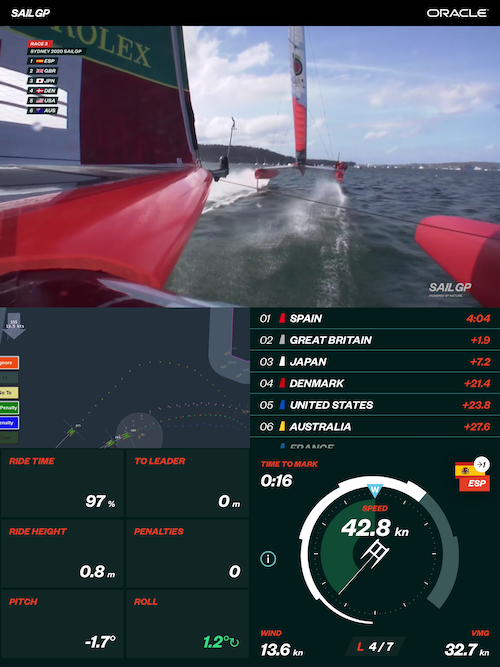 ESP just keeps GBR off its tail as JPN chases these two around the mark…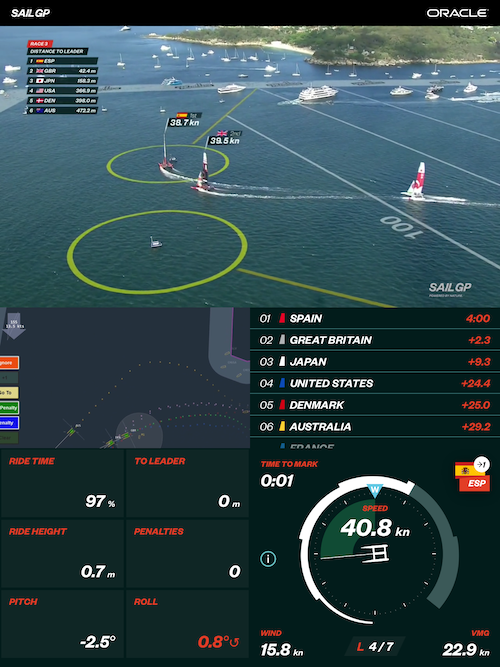 As JPN comes into the mark, it drops off the foils. Remember, this is a boat with a VERY new FC and WT crew – so it's AMAZING that Nathan has kept JPN in the hunt even with these challenges. The guy is freakin' Godzilla…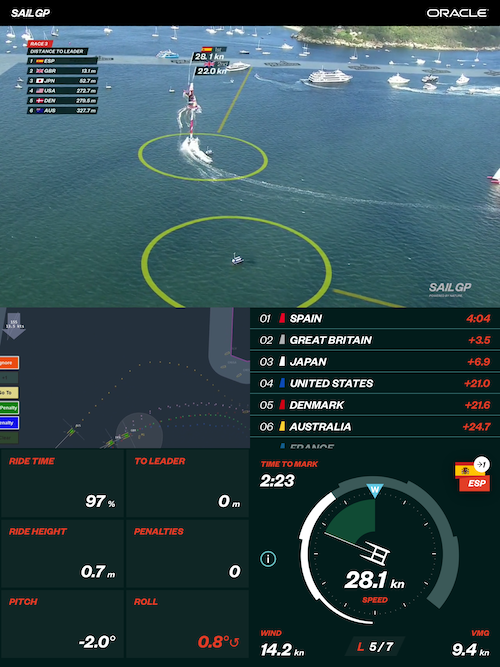 USA continues to fade as it splits from the pack and tries to make something happen. Judging by the smooth water and low speeds of that pack – they may be onto something…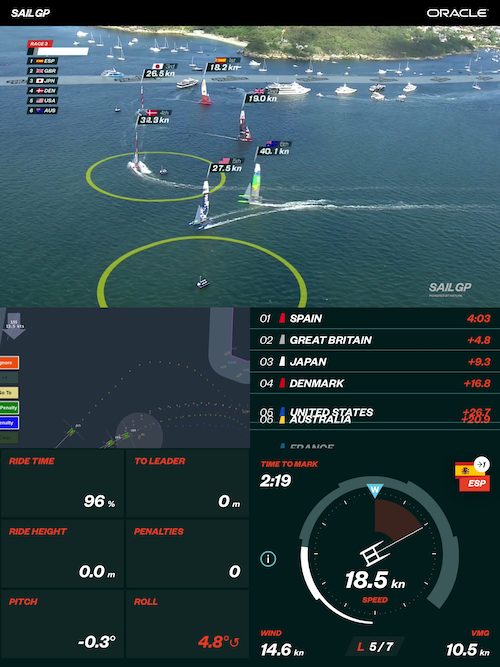 But not yet as AUS and USA struggle to catch up…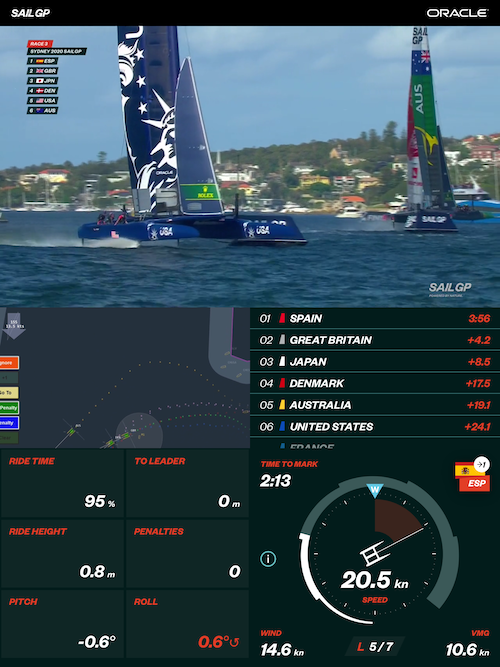 And GBR and ESP still fight to the death at the front…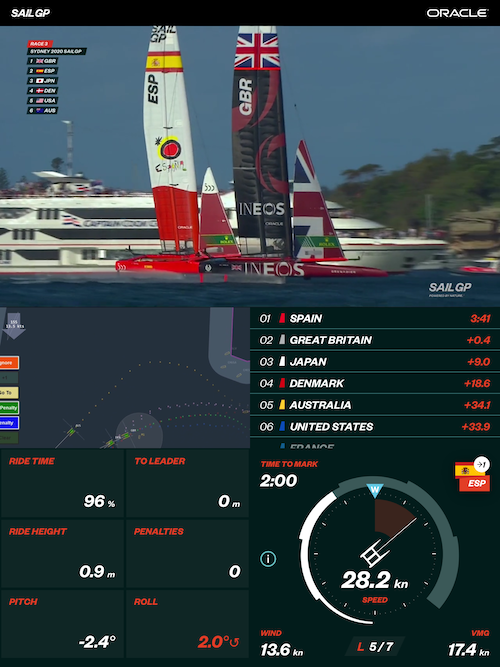 And it doesn't let up for another full minute…incredible racing…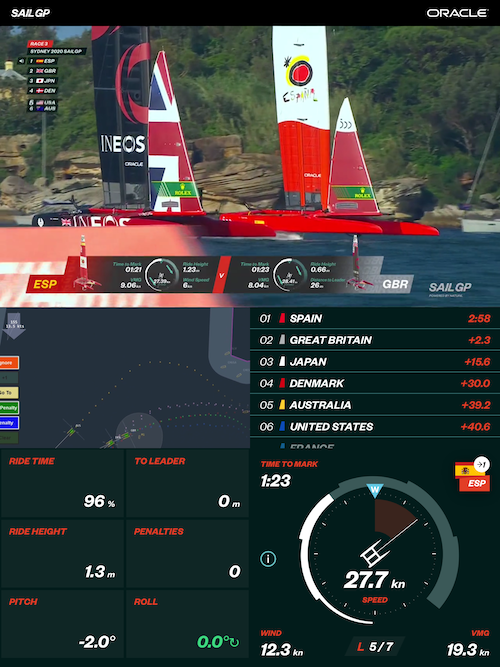 ESP finally breaks and starts heading across with rights…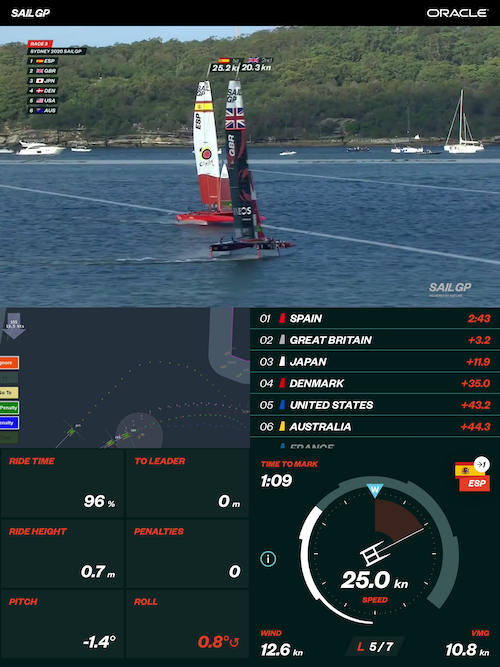 GBR has to dip at the very last second…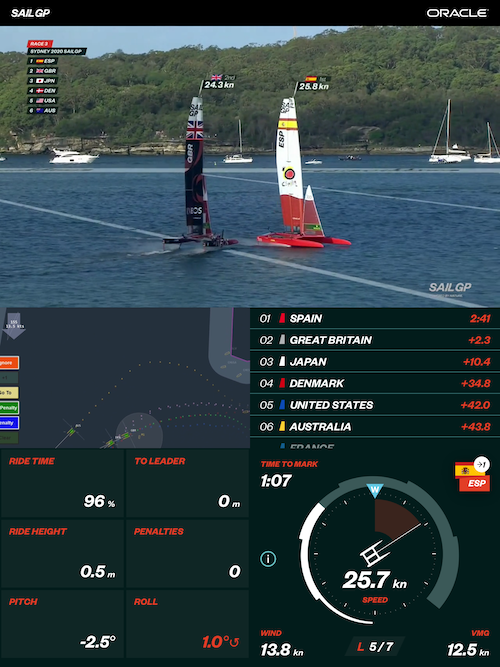 But GBR finds the right pocket and edges ESP – having climbed all the way up from last into first – again!!!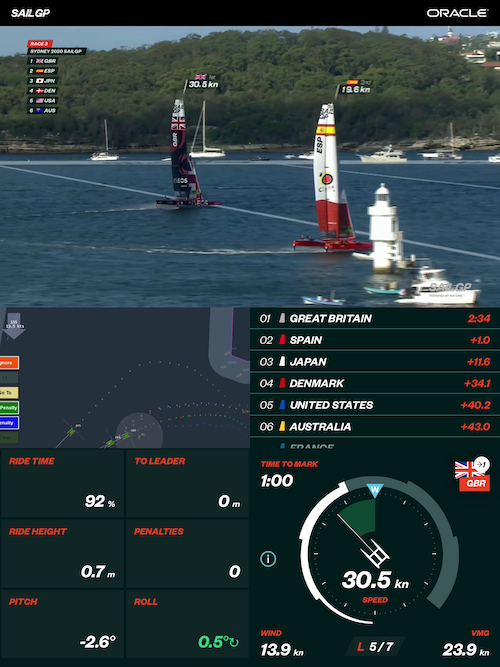 A seriously epic battle playing out for 1-2 as ESP screams back at them…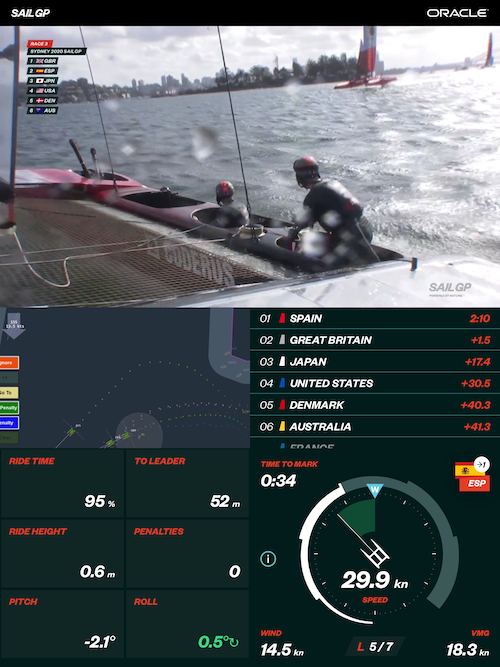 But GBR JUST manages to hang onto the lead and clear ESP who has rights…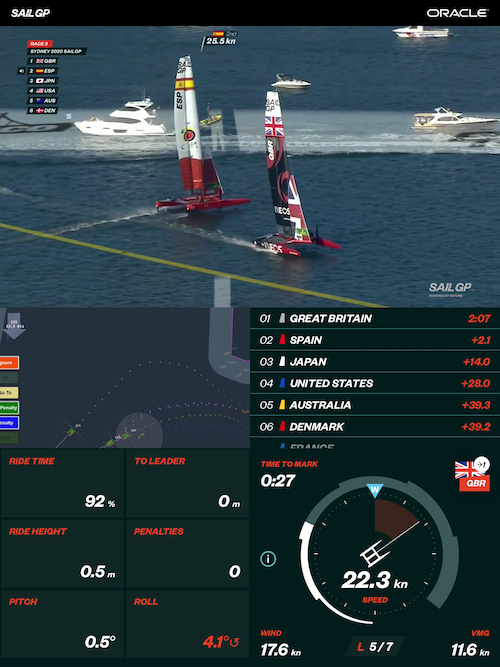 GBR heads into the mark with ESP right behind and JPN still in the mix. USA has also found some pressure and is climbing back up the board…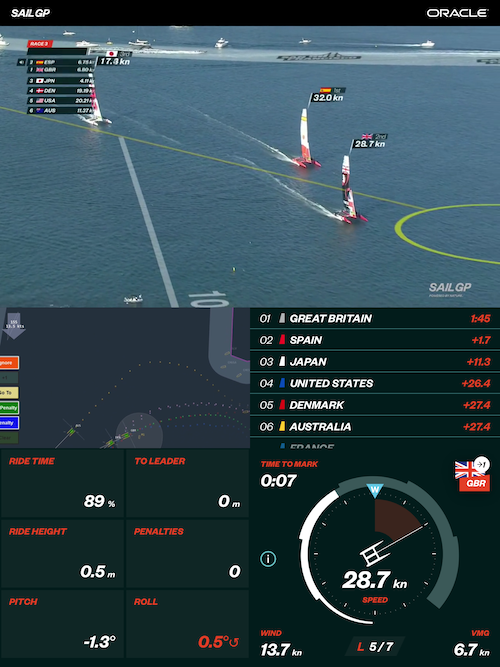 But now JPN finds a hole, allowing USA to gain some ground…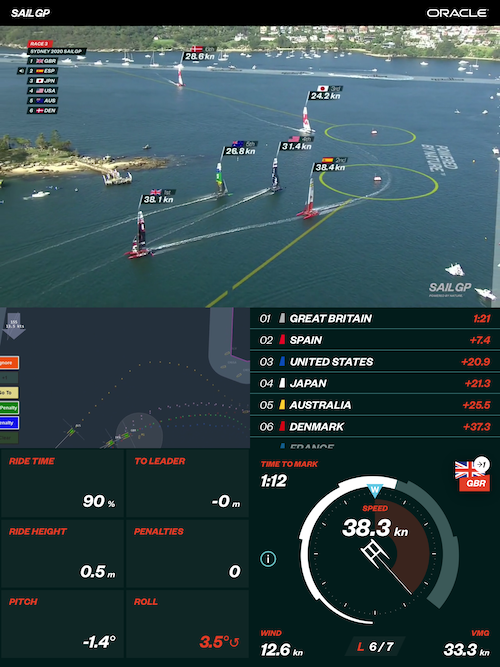 Getting very tight at the mark…with AUS somehow climbing up into the mix as well…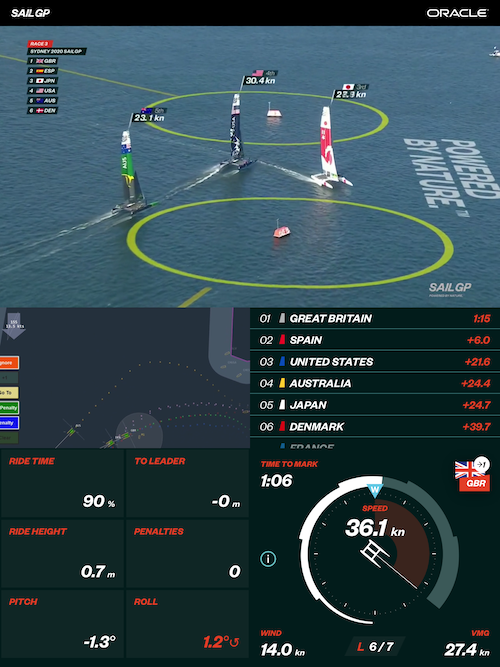 While the laggers battle it out behind, GBR and ESP keep it close in building conditions…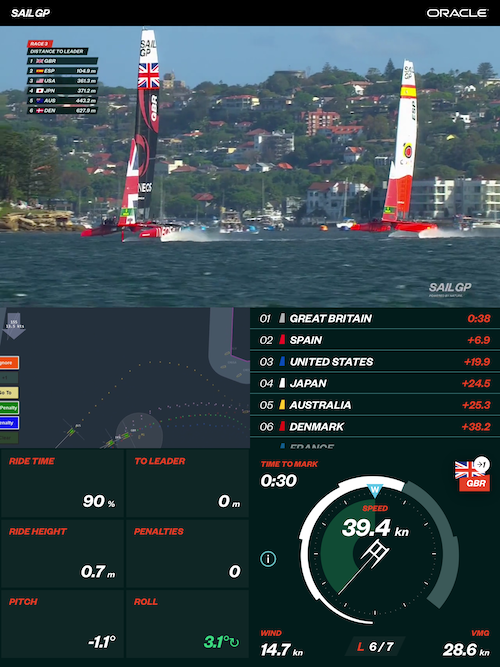 GBR manages a couple of extra knots over ESP – as it always seems to do…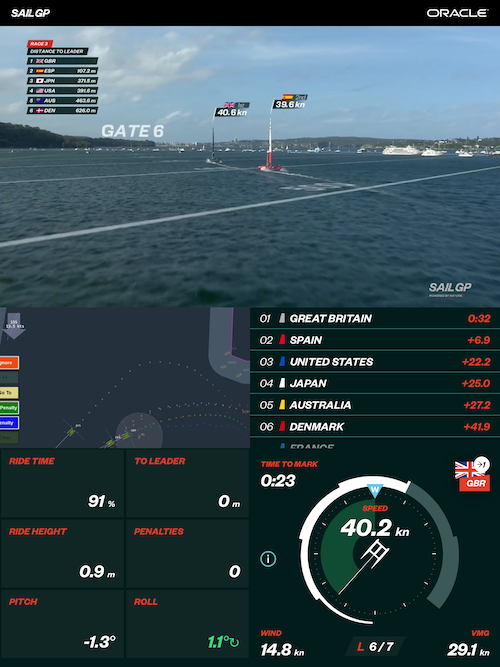 GBR clearly has impeccable boat handling and stability. It's clear that experience in the AC45s and AC50s has paid serious dividends for this team…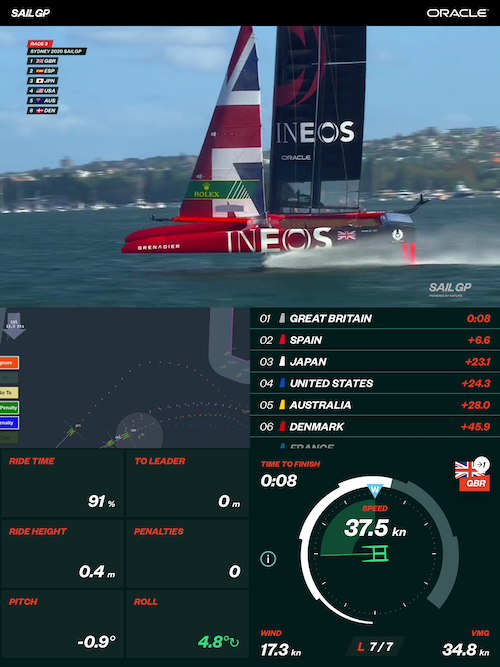 GBR cruises to the win as ESP comes in behind. JPN has now edged USA and is pushing for 3…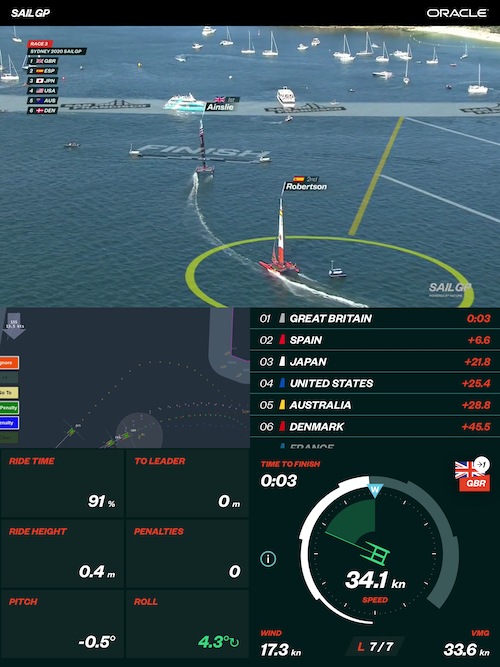 JPN edges USA (again – Go The Godzilla) – and AUS has maintained some dignity with 5.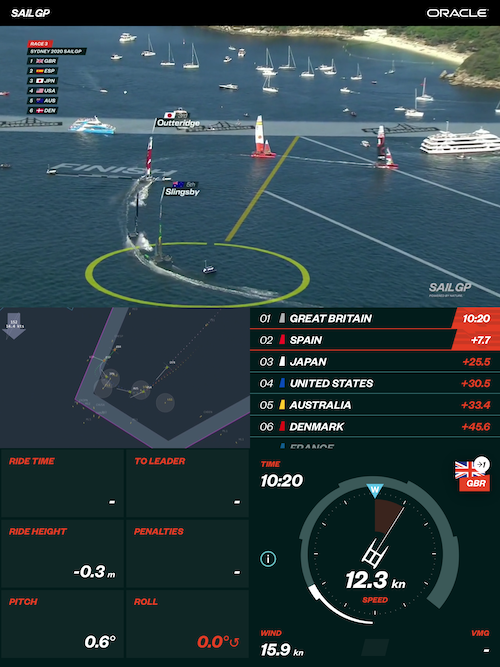 So, overall assessment?
PRESENTATION: The commentary continues to improve – but there are still a few technical glitches. But overall, it's getting better…
3 SMACKS

RACING: Yet again, just flat out incredible racing. There was NEVER a time when this one was "sewn up"…
5 SMACKS

43+ knots in medium conditions.
Not as many place shuffles – but that was because it was really tight across the fleet from start to finish.
Yet again, it is AMAZING how quickly these races go. Less than 10 minutes of non-stop action.
I have to give immense props to Nathan O. That guy has built such a competitive team so quickly. He is…