The Rundown and Analysis of Fleet Race 1
Everyone bunched and pushing at the start – JPN over early and cops a P…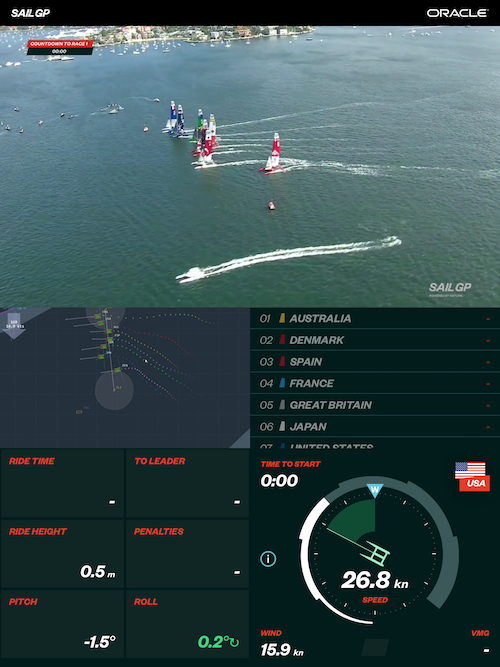 JPN to the back as GBR, FRA, and USA rip into the course at 35 knots…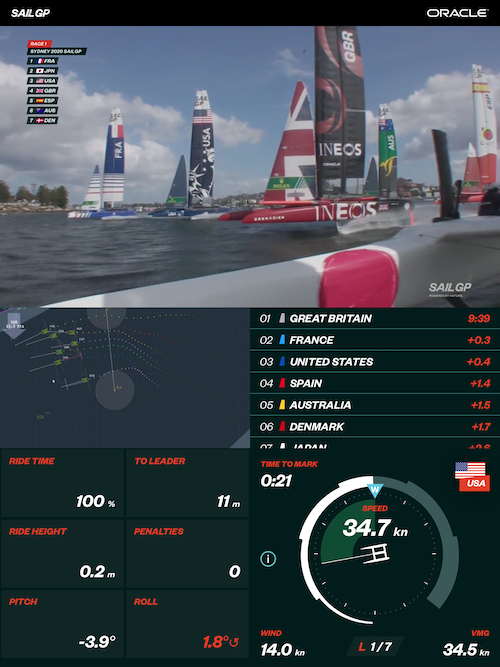 Very tightly bunched as they gain speed and scream toward the first mark…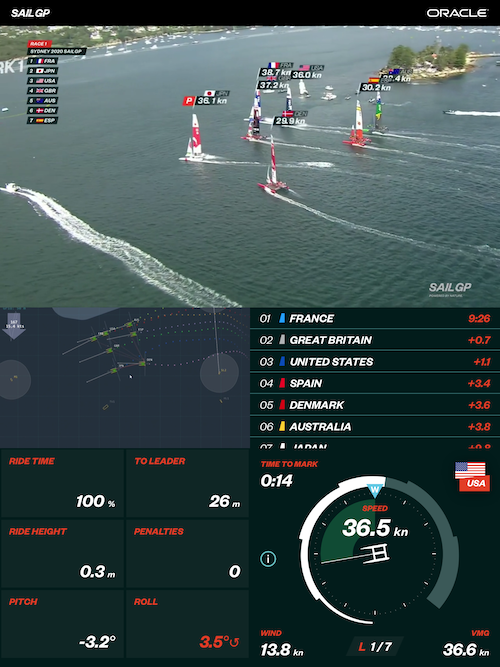 Course overlay graphics are spotty…but FRA has moved past GBR, with USA right behind. Now up to 42 knots…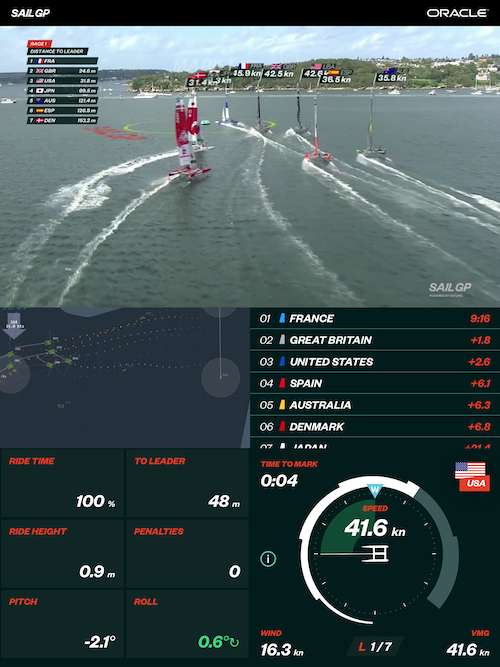 USA pushing 48 knots on the outside, challenging GBR. FRA is fending them off but losing ground…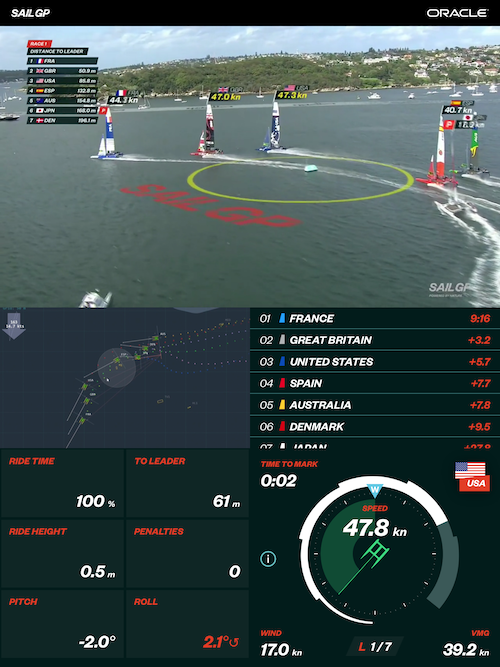 But ESP and AUS are not letting the front-runners get too far out. Still a close race at these speeds…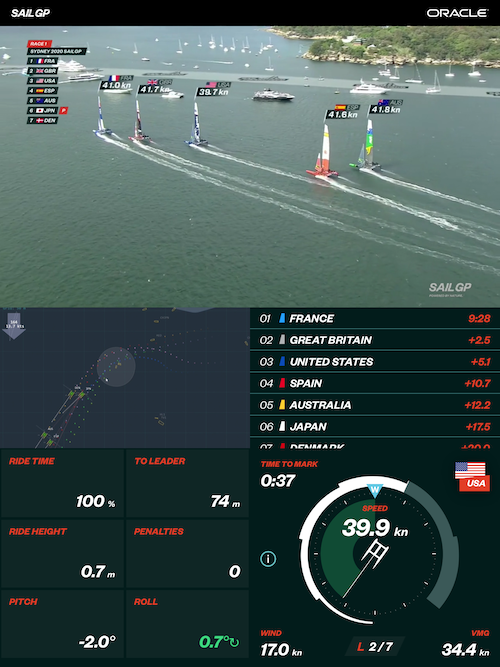 GBR is climbing up on FRA. USA is still in it, and ESP and AUS are neck and neck…DEN is chasing…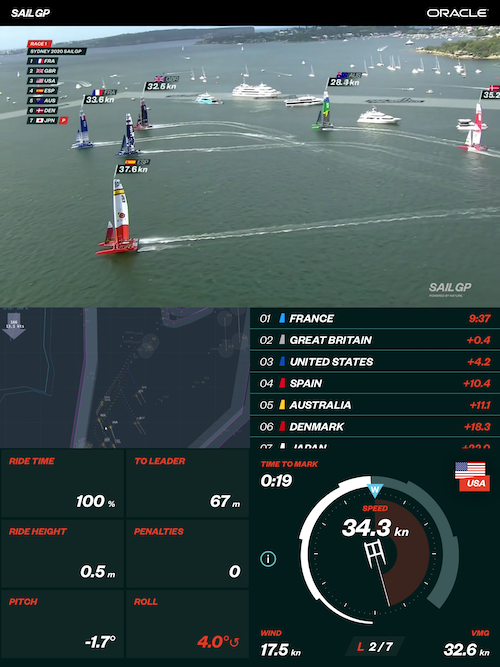 Super tight racing coming into the mark. ESP and AUS inching back into it. JPN still way back…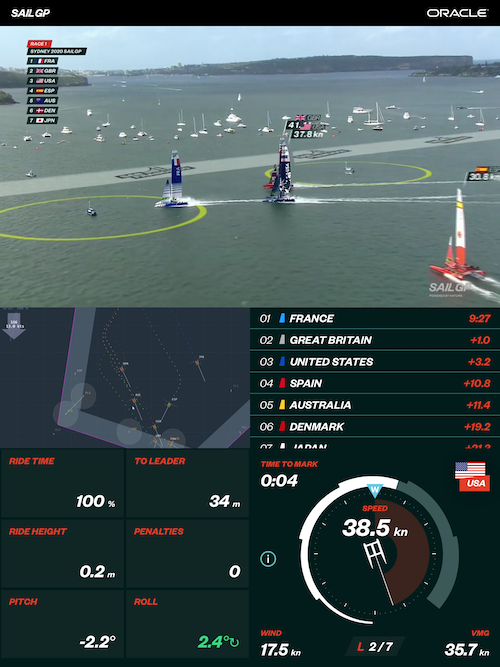 Clean rounding by all 3. But the leaderboard is whacked…definitely some technical bugs on this one…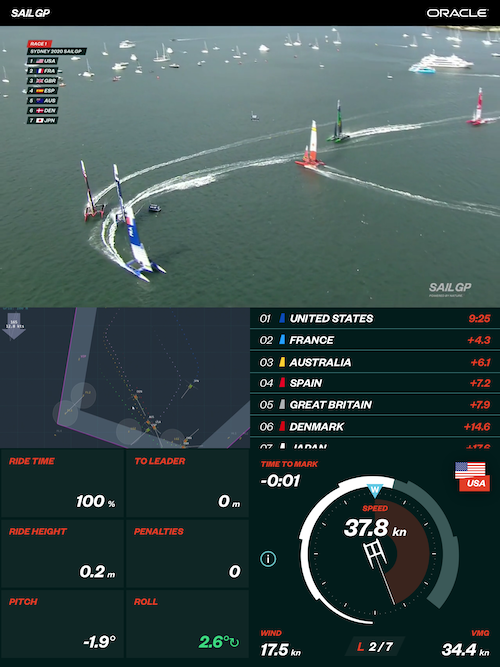 GBR drops a hull, but recovers…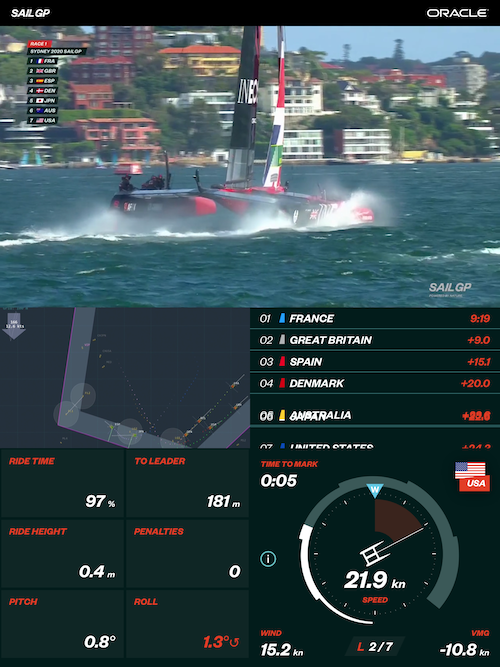 This lets FRA pull away a bit, with GBR and USA are right behind…but AUS is starting to claw back in…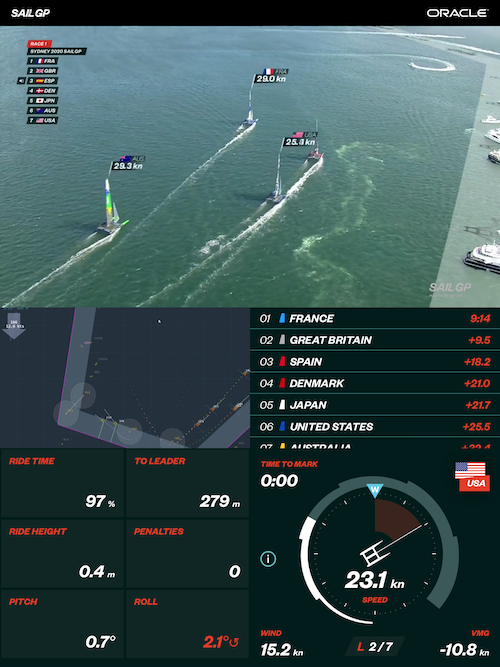 Leaderboard still whacked – but only a couple hundred meters separates these 5 boats…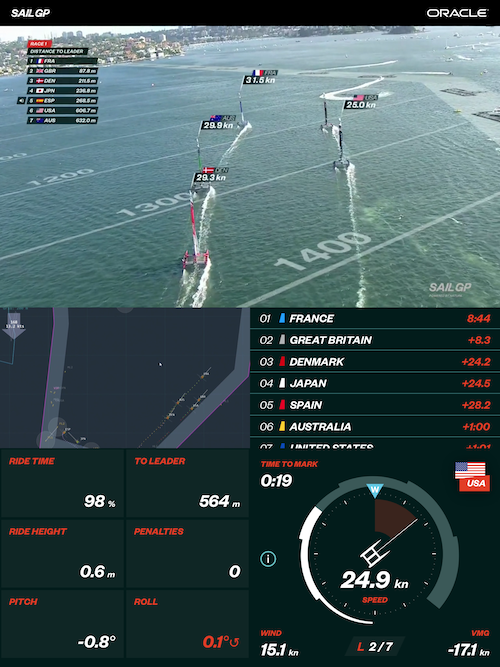 Ainslie and crew are incredibly calm. It's a bit scary…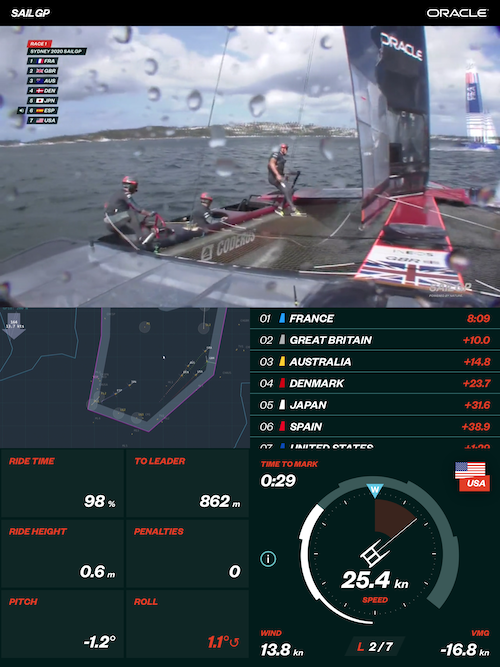 Leaderboard still whacked, but AUS has worked back in and DEN is now pushing up. USA fading…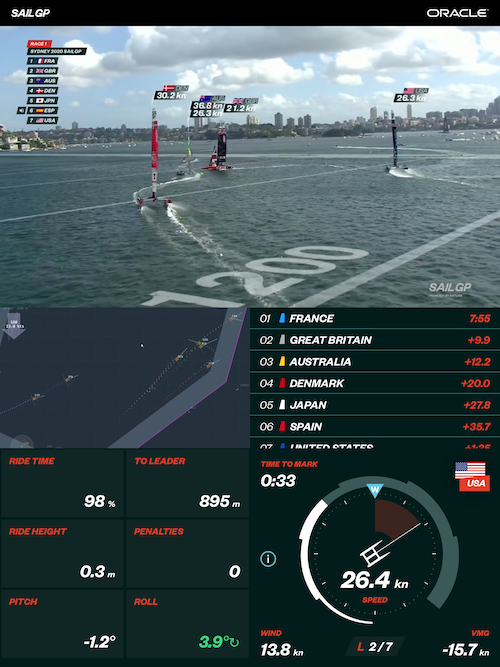 FRA is looking better than I've seen them in a long time…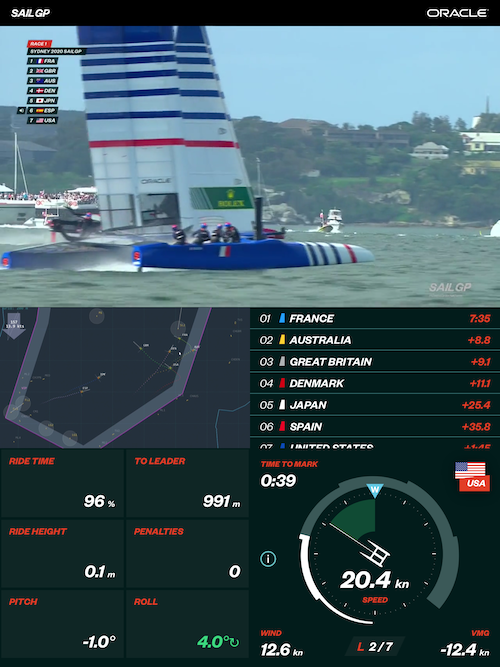 But GBR not concerned…they are continually carrying a couple more knots of speed than everyone else…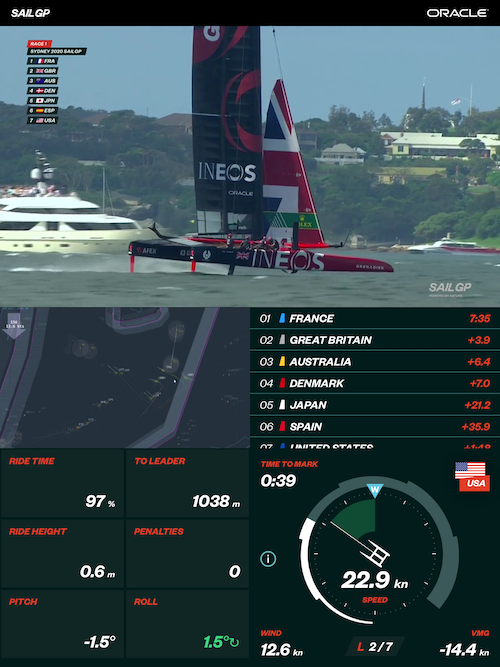 GBR has now passed FRA. AUS still moving up. DEN moves past USA as they continue to fade.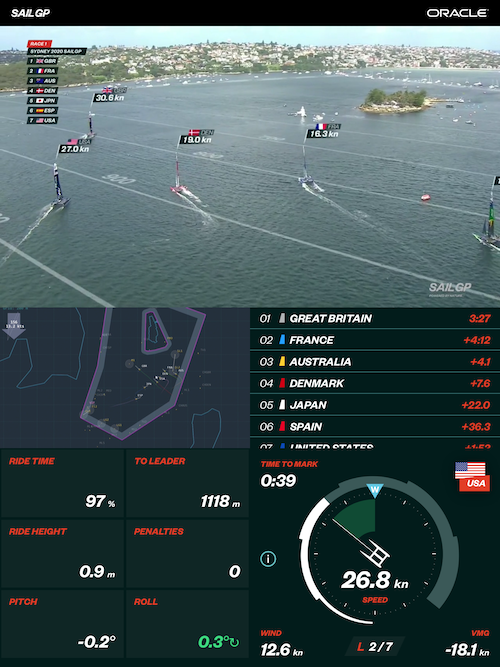 Leaderboard still clearly whacked. USA now challenging DEN again, while JPN is starting its move.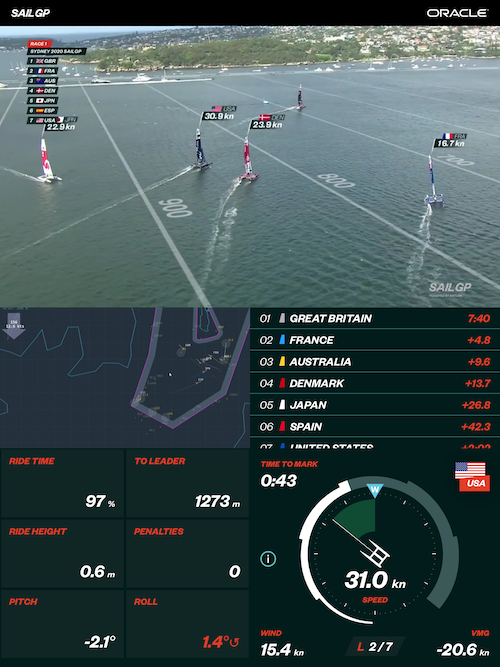 GBR has turned on the afterburners. Just crazy. But it's good to see the second-tier teams from S1 pushing past last season's winners. Really shows the improvement across the board. And the newb DEN is showing some speed as well…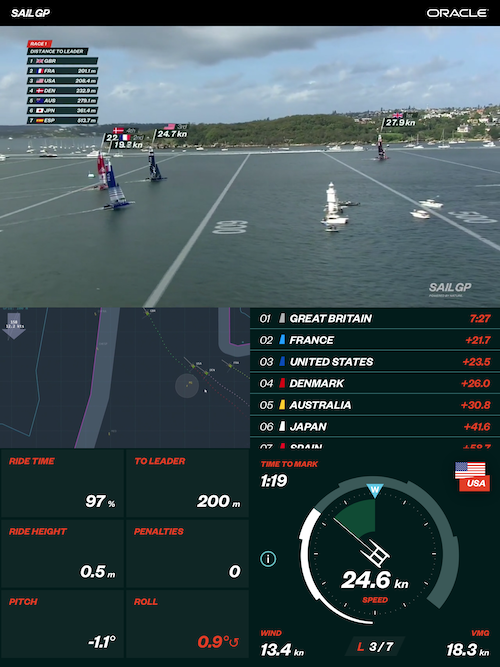 GBR catches some lighter air and has a bobble – allowing the 4 chasers to come up closer…AUS really starting to threaten now…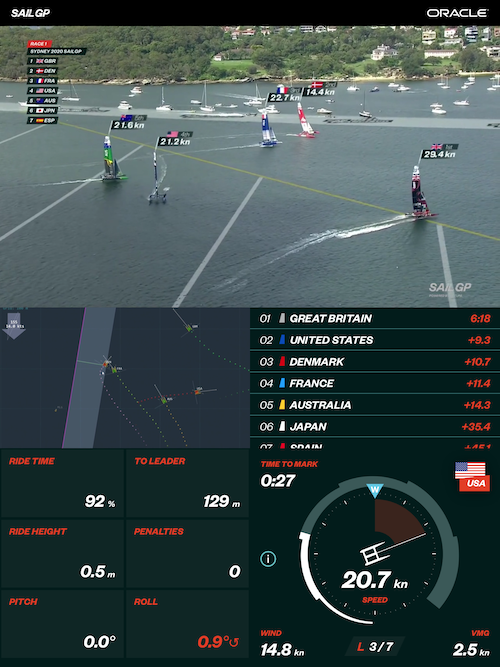 Bunched as they come into the upwind mark…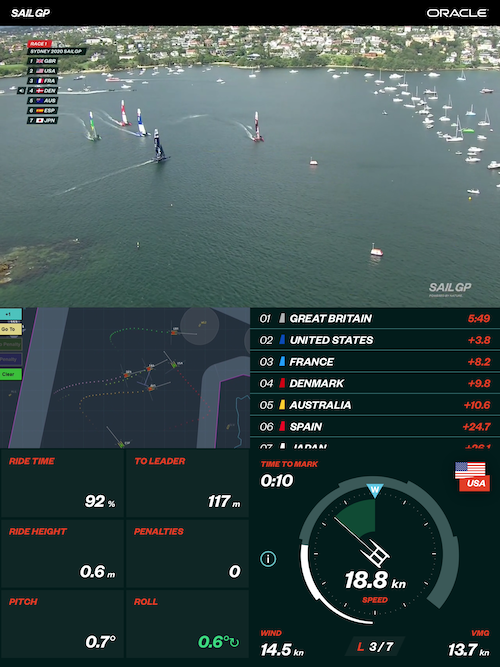 GBR blasts around with these 4 still packed and chasing. THIS is racing my friends…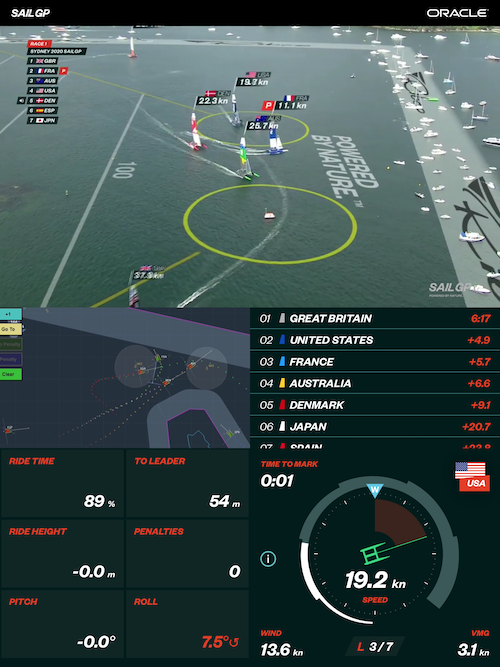 USA claws its way back into 3 as AUS starts to push on GBR…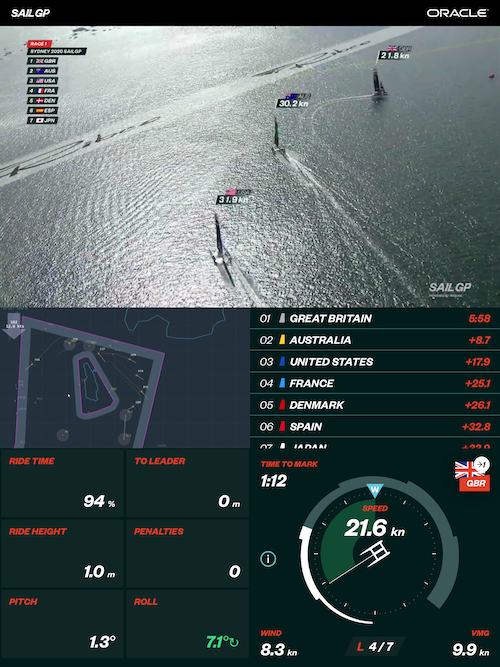 GBR is loaded and on fire…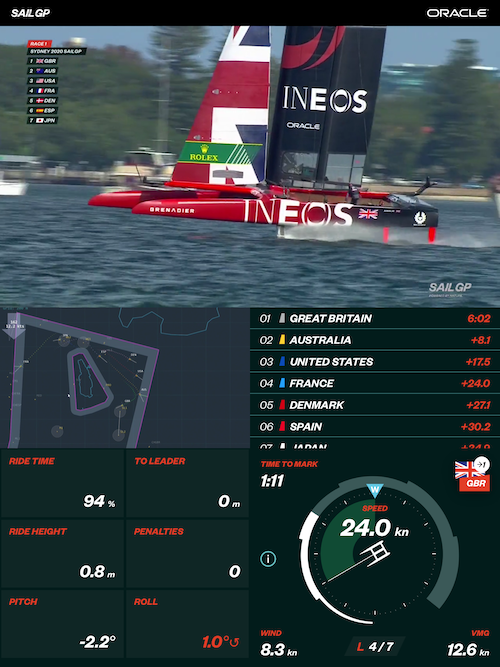 GBR rounds but has another bobble…allowing AUS to inch up…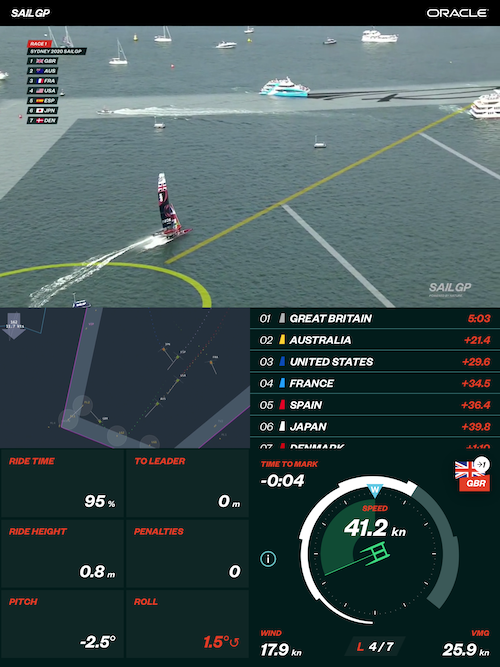 Still a tightly packed bunch of boats midfleet…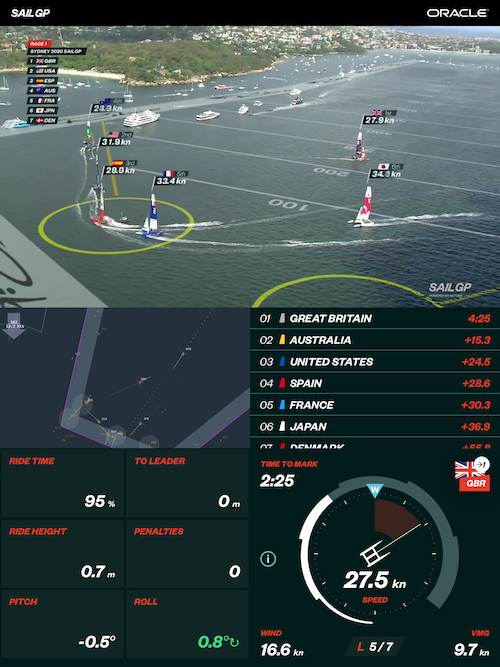 Suddenly, ESP tacks directly into FRA for a HUGE collision…lucky a grinder didn't get pinched…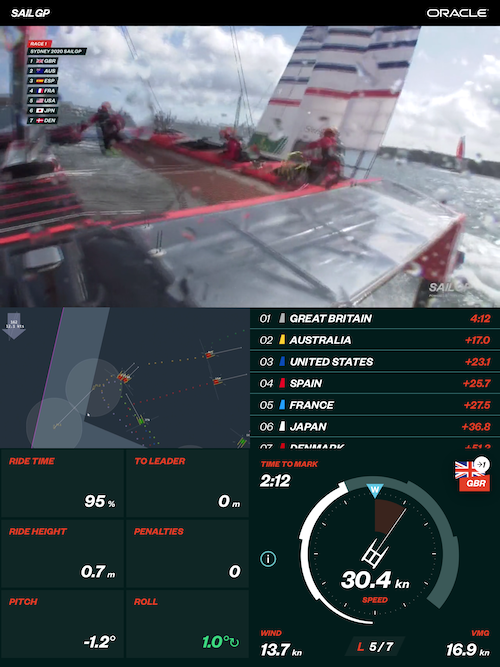 FRA will withdraw with damage and ESP will be penalized so many points they should have stayed home. Oh look, there's DEN!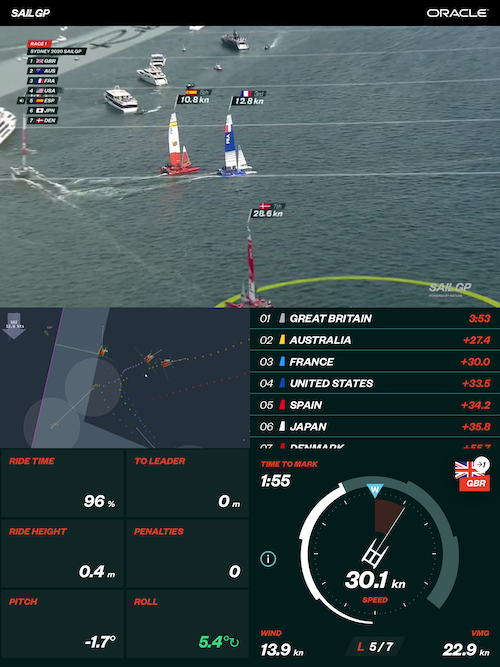 Meanwhile, GBR continues to just blow everyone off the course, with AUS and USA chasing – and the above disaster allows JPN in. I don't know what happened to DEN – they are still back in the fjords.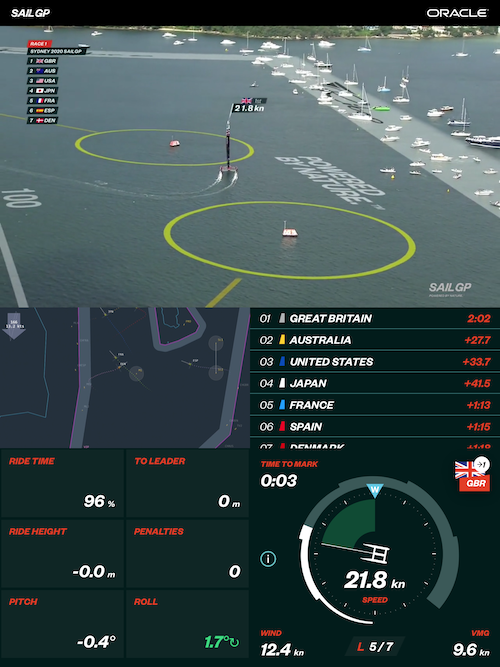 GBR is now so far ahead they're no longer in the picture. AUS, USA and JPN are now battling for 2-3.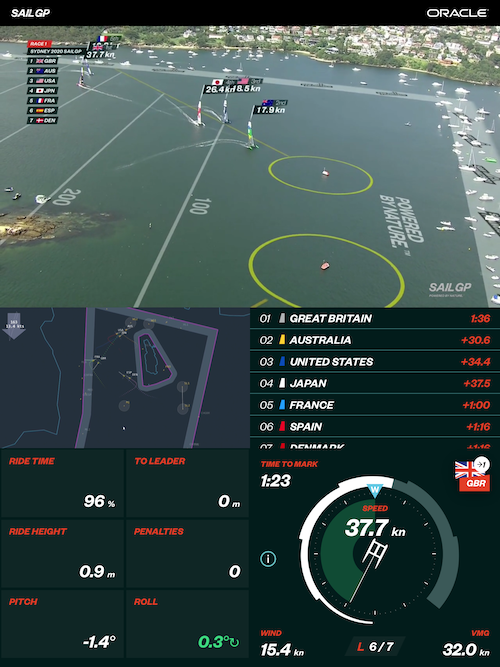 It's tight, with USA hanging on trying to keep a suddenly surging JPN out…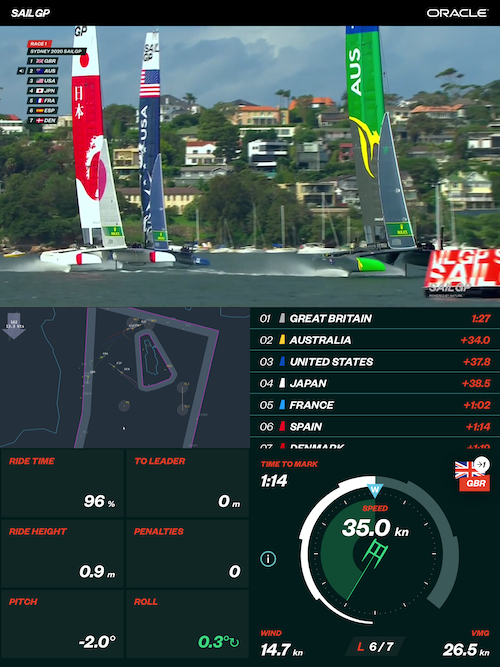 But JPN makes a clean move underneath and takes 3. Great sailing.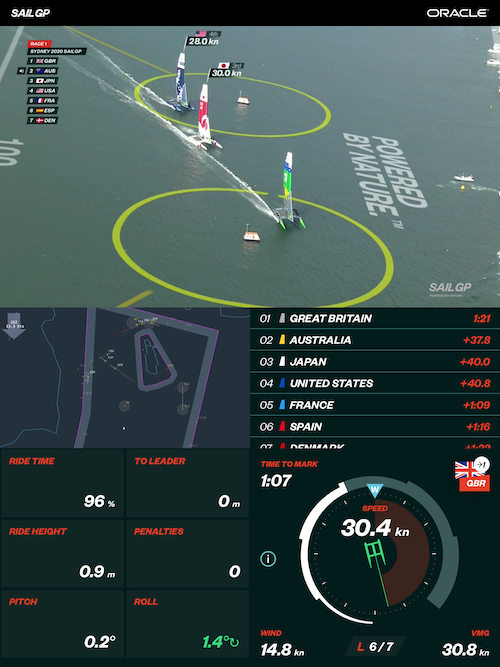 FRA is limping along as they, ESP and DEN get left behind. Still curious about what happed with DEN. Someone take a look at the onboard and let me know…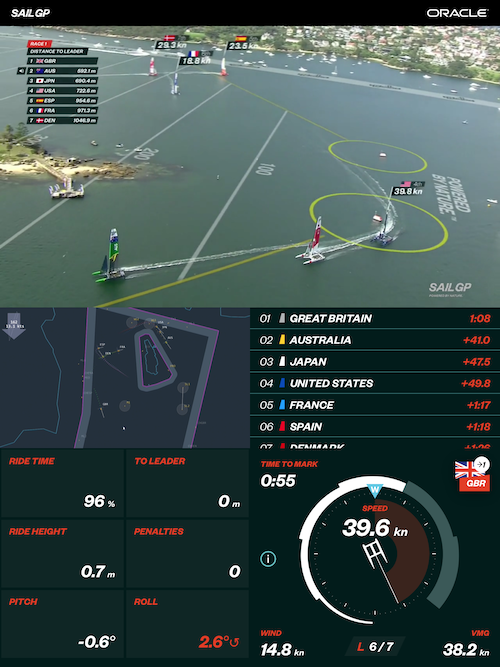 USA is not going quietly – pushing for podium as AUS opens it up a bit…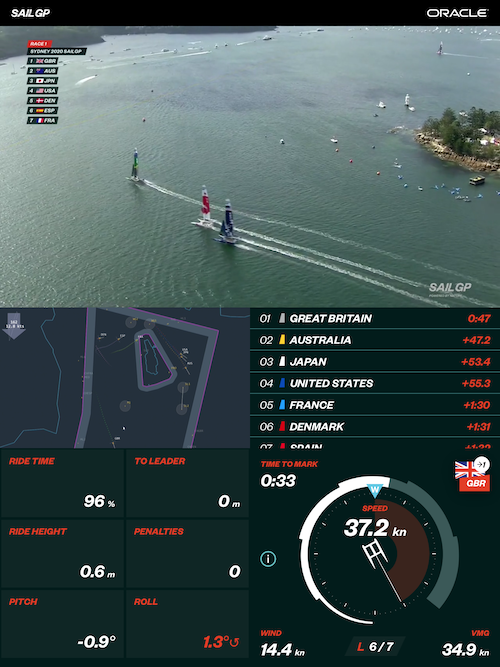 Meanwhile, GBR…A FULL ONE MINUTE AHEAD!!!!…screams for the finish…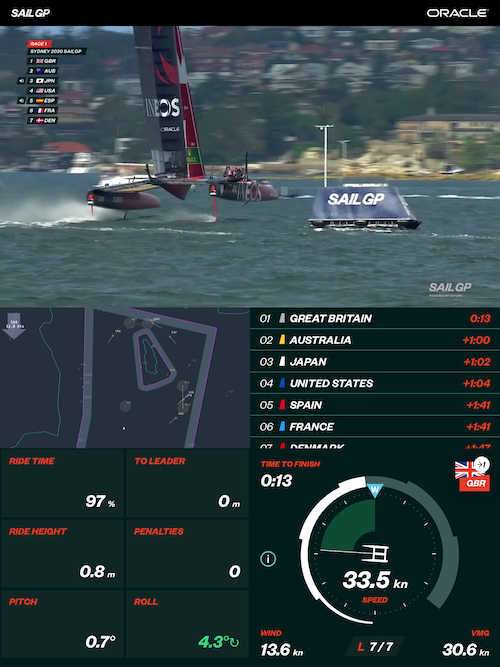 And GBR takes the win for R1…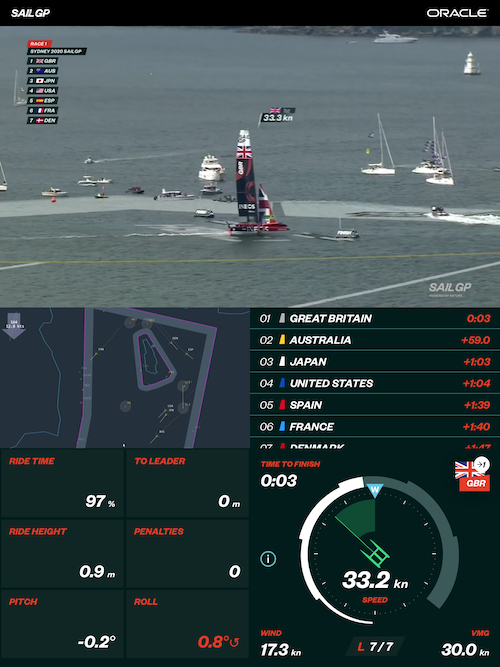 AUS heading in for 2 as USA and JPN are absolutely in a death match for 3…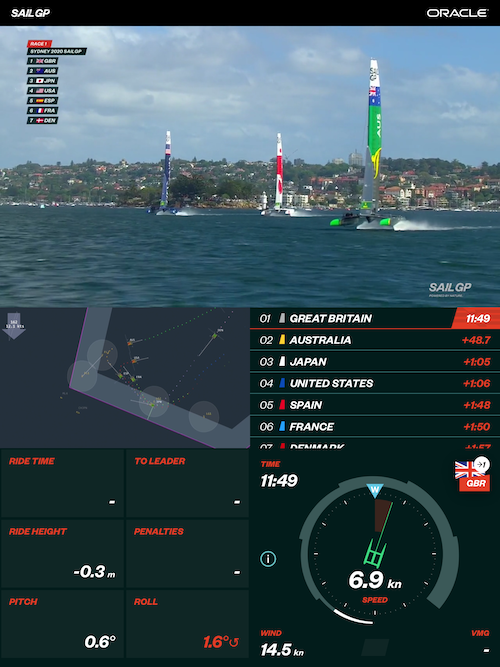 AUS cruising across for 2…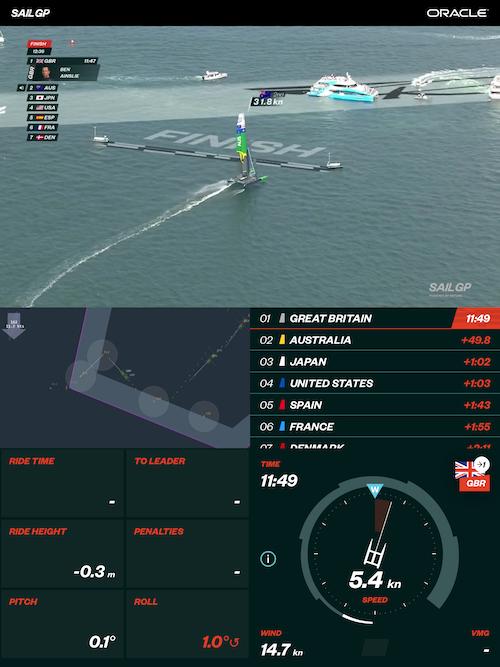 And JPN edging USA for 3…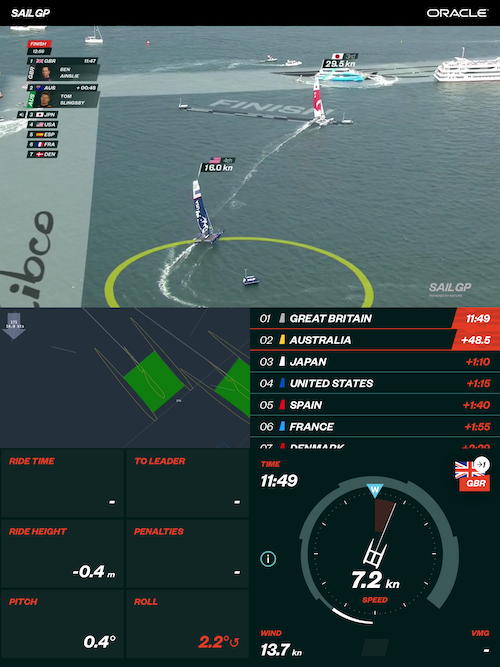 Below is the video of MattC breaking down the above collision in the new "Analysis Hub" segment. This is one of the coolest additions to SailGP this season – especially for non-sailors – where the data is visualized in near real-time. Here is why the penalty was assessed…
So, overall assessment? Due to the the commentary and stupid SFX…only
4 SMACKS

48 knots in medium conditions.
Ben Ainslie is a monster.
There were 15 PLACE SHUFFLES in 1-3 throughout the race. If that's not close racing, I don't know what is.
The commentary on this one absolutely sucked (sorry Rob Walker, Stevie Morrison, and Saskia Clark). "Alpha Male", "Like Super-Charge Mario Kart…a lot of banana skins, and potential rockets", and "absolutely flipso disco"? Please help us.
Several technical issues were evident. But it is the first race of the season.
Someone please slap the sound guy. The fake beach soundbed and crowd noise is a complete eyeroll.
It is AMAZING how quickly these races go.
It's a perfect product for "television". Well done SailGP.